You might think Tristan Thompson would have a hard time finding women to date after the truly WTF way he treated Khloé Kardashian (TWICE), but nope! Not so much, friends! Apparently Tristan has been hooking up with tons of people since he kissed Kylie Jenner's best friend Jordyn Woods while very much still dating Khloé—so yeah. Cool. IDEK.
"Tristan has been continuing to go out and has been partying with friends," a source tells Us Weekly. "He's been hooking up with other girls, and whenever he's out, he's had Instagram models … around him."
First of all, L-O-L at the "…" between "Instagram models" and "around him." Love it when a source gets shady. Second of all, said source says none of us should be surprised by Tristan's hookups because "That's just the lifestyle that he lives." Kay!
In other news, Tristan does seem to be finding time to bond with his daughter True Thompson, and even went to her birthday party—despite the fact that Khloé herself threw it and it was, to be frank, the most awkward thing my eyeballs have ever seen.
No for real look at them "interact" in this video—Khloé barely looks at Tristan and seems to clearly be avoiding making eye contact with him. But honestly, props to her for inviting him, and props to him for coming to a party where everyone presumably hates him. It's called co-parenting, ever heard of it?!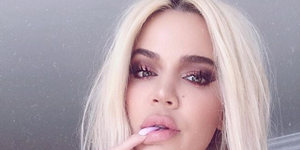 Source: Read Full Article