Every trainer needs a headline horse. And no one needs one more than a young trainer who is just starting out with a small team of horses, trying to build their business.
Cranbourne-based Sarah Zschoke has only half a dozen horses in her care and while some have potential there is only one who is putting her name up in lights and giving her the chance to show, on the biggest of days, that she has what it takes to prepare a high-quality galloper.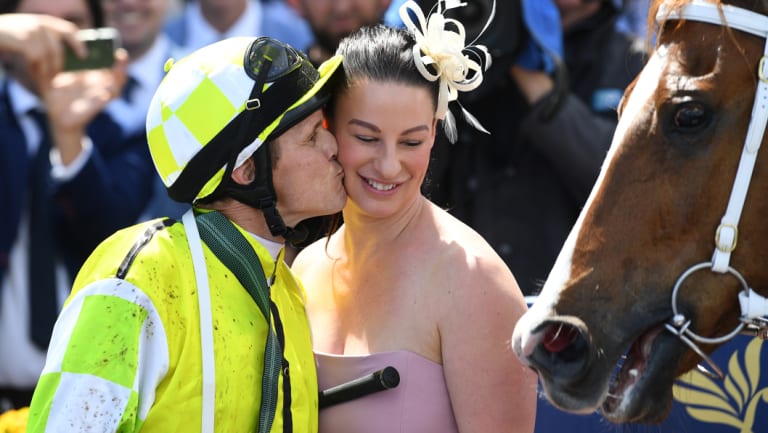 Jockey Brian Park (left) kisses his partner Eduardo trainer Sarah Zschoke gets a kiss from jockey and partner Brian Park.Credit:AAP
Eduardo is that horse's name and now, at just his fifth start, he is a group 2 winner in open company after his impressive success in the Caulfield Sprint under Zschoke's partner, jockey Brian Park.
Neither are names usually associated with success at the major metropolitan carnivals and the grins on both their faces after Eduardo's three-quarters-of-a-length win over country NSW trained sprinter She Knows showed what it meant to them both.
"It's amazing, absolutely fantastic, it was such a thrill to train my first group horse and he's won a group 2 today," said Zschoke, moments after the 36-year-old horsewoman had warmly embraced her jockey partner in the winners enclosure.
Park added: "It worked out really well, there was good pace on … I came around them and he put himself there so easily. I thought I might as well push the button shortly after straightening and with the light weight on his back, it worked out really good."
"There's not so much pressure but I'd like to see the horse run well for her [Sarah]. What she's done with this horse in his first prep, all the credit goes to her."
It's hard to argue with Park's opinion. Eduardo had not seen a racecourse before his debut in mid-June at Moe, when he won over 1100 metres. He then scored a fortnight later at a Sandown midweek meeting over 1300 before graduating to Saturday class when he ran second at Caulfield before going down narrowly in the group 2 Gilgai down the Flemington straight.
Zschoke is a Tasmanian who started in the racing business as a 13-year-old riding trackwork before becoming an apprentice with trainer Alan Stubbs.
Her first ride, amazingly, was a winner, but, as she says with a laugh, she was not destined for stardom.
Eduardo salutes at Caulfield.Credit:AAP
Zschoke says she still does not know why she decided not to pursue her ambitions to be a jockey within the first year of her apprenticeship, but she never severed her ties with the industry, riding trackwork in her home state.
"I decided that I would go to the sales and buy a horse and then I thought who better to train it than myself, so I went for my trainer's license in Tasmania and held it for a year and then moved over here.
"There's a lot more racing opportunities here and it's the best move I have ever made."
She has six horses in work at the moment and hopes Eduardo's success will have other owners knocking on her door.
"I am hoping to build a team on today. I have a few nice horses but I think he is really a nice horse.
"I knew he was good with his times, how he runs, his first and second starts, they proved his ability and he was just so natural at everything he does."
Until she builds her yard up, however, she will stick at her day job.
"I do afternoons for Enver Jusofovic. That was the job I did when I first came over here while I slowly built up a team of owners and racehorses and fortunately I've struck luck with Eduardo.
"He will probably go out for a break now and come back for the autumn tracks where the ground is soft. He appreciates that.
"He's had a pretty big prep from his first start … up until now he's only had a short let up, so although he is racing well I really think the horse is due for a nice break. I think we will just target things as we go along."
Source: Read Full Article