Sure, "hate" is a strong word, but one that's totally justifiable to feel about blow-drying your hair. The essential — but annoying — step might be your least-favorite beauty ritual, as it can take upwards of 45 minutes. (Some positives of a lengthy hair-drying time: it means that your hair is super healthy.)
Beauty brands have started to release items designed to make blow-drying suck less, such as the Revlon Salon 360 Hair Dryer, which works in less than 20 minutes. The latest label to follow suit is IGK, which just dropped its No More Blow High Speed Air Dry Spray ($29). The brand promises it will speed the process up 46 times faster than normal. That exact statistic comes from clinical testing the brand performed itself.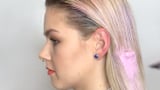 Along with shortening that interval, this paraben-free formula also protects your strands against breaking, bending, and frizz. It also provides UV protection, and it's cruelty- and gluten-free. According to IGK, this spray works by coating your hair in lightweight starches, which absorb moisture.
All you have to do to reap the rewards is section your towel-dried hair into sections, and then spray it over those. To make sure it really gets into your strands, you can massage the formula through your hair from root to tip. If your hair is curly or wavy, you can twist and scrunch this spray to enhance that texture.
Now onto the important question: What are you going to do with all that extra time spent not blow-drying?!?

Source: Read Full Article