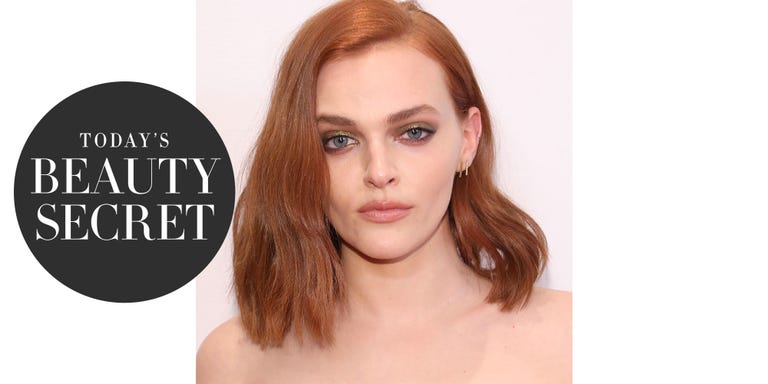 BAZAAR's beauty expert reveals the tricks and must-have products behind the prettiest hair and makeup looks on the red carpet.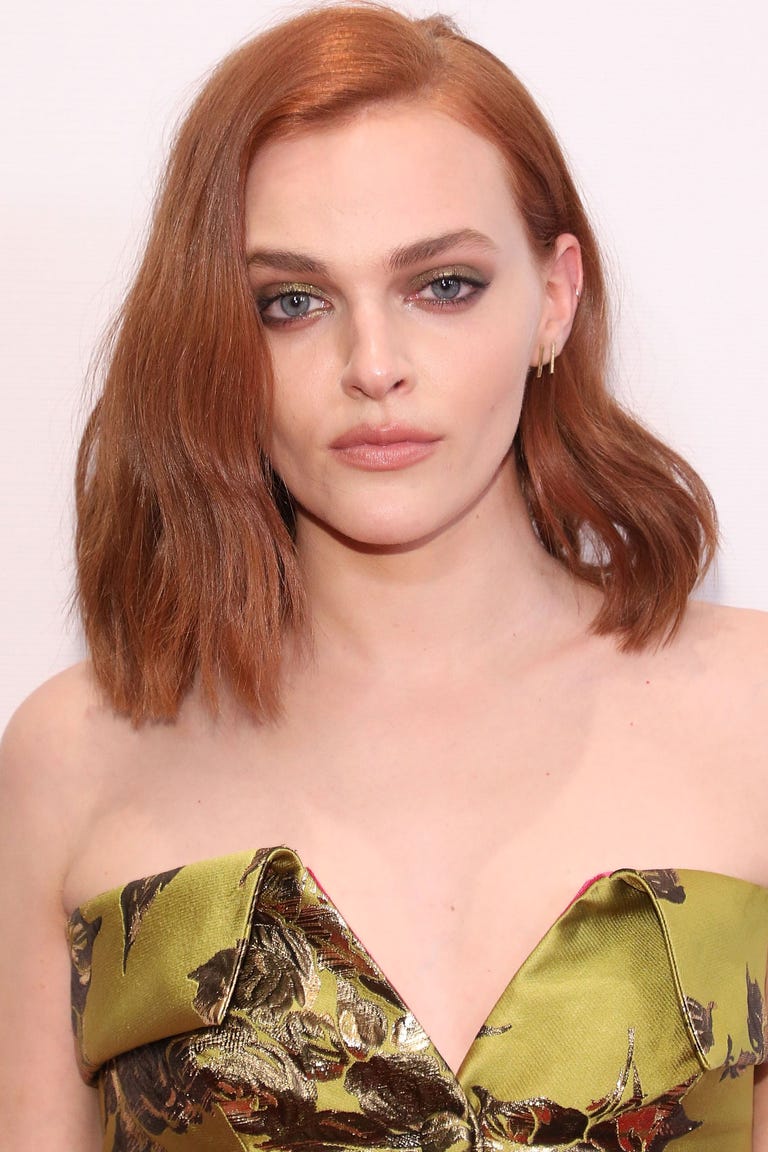 Who: Madeline Brewer
What: Green Bronze Shadow
How: The premiere of The Handmaid's Tale season two is this week, and resident handmaid Madeline Brewer looked stunning at the most recent screening. Makeup artist Nina Park picked up the metallic and green tones from her dress to create a glittering, golden and green smoky eye. We love how she kept the glitter toward the inner corner and center of the eyelid to make her eyes look even bigger.
Editor's Pick: Charlotte Tilbury Instant Eye Palette, $75, nordstrom.com.
SHOP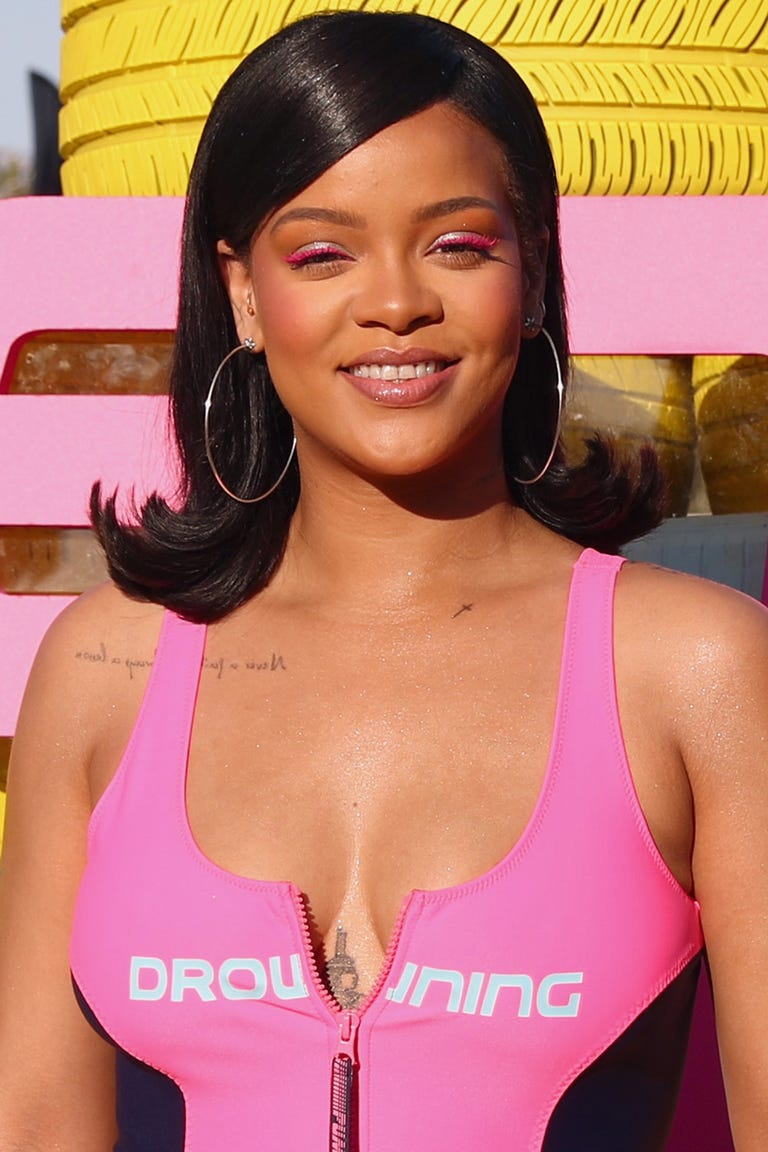 Who: Rihanna
What: Pink Mascara
How: Rihanna attended an event for her Fenty fashion line at Coachella this weekend wearing an all-pink ensemble—right down to the roots of her eyelashes. Yes, even her lashes were colored pink, with the help of a hot pink tinted mascara (in our opinion, going matchy-matchy with colored mascara is the easiest way to pull off the look). Could this be a sign that colorful mascaras are on the way from Fenty Beauty? Possibly—the singer-turned-makeup mogul has been known to test-drive new products for months and weeks before announcing them. You'll have to keep your eyes—and lashes—peeled.
Editor's Pick: Yves Saint Laurent Vinyl Couture Mascara in I'm The Madness. $29, sephora.com.
SHOP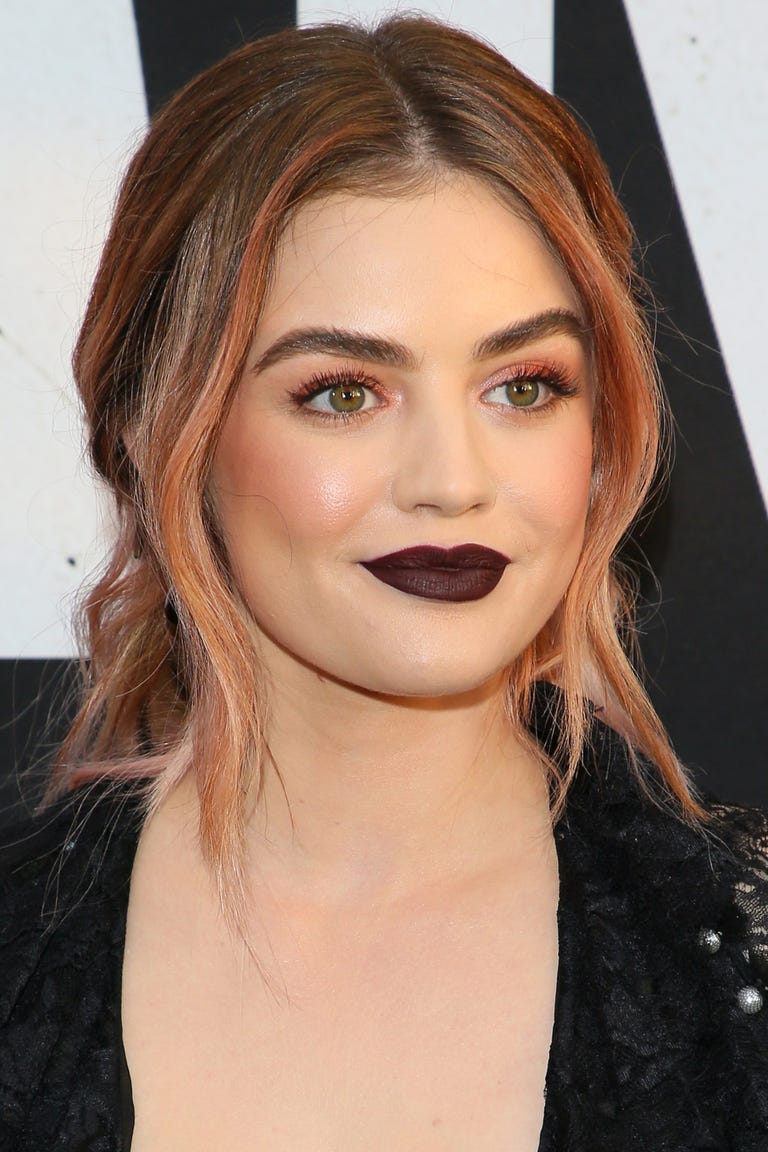 Who: Lucy Hale
What: Dark Lipstick
How: Actress Lucy Hale is really leaning in to her peach-pink highlights. At a premiere last night, she paired reddish eyeshadow with matching blush, then upped the ante with the addition of a super-dark black-cherry lipstick. The unexpected lipstick made her whole look pop and feel edgier' but by matching the warm undertones of her hair and eyeshadow, it didn't feel too dramatic.
Editor's Pick: Kat Von D Everlasting Liquid Lipstick in Damned, $20, sephora.com.
SHOP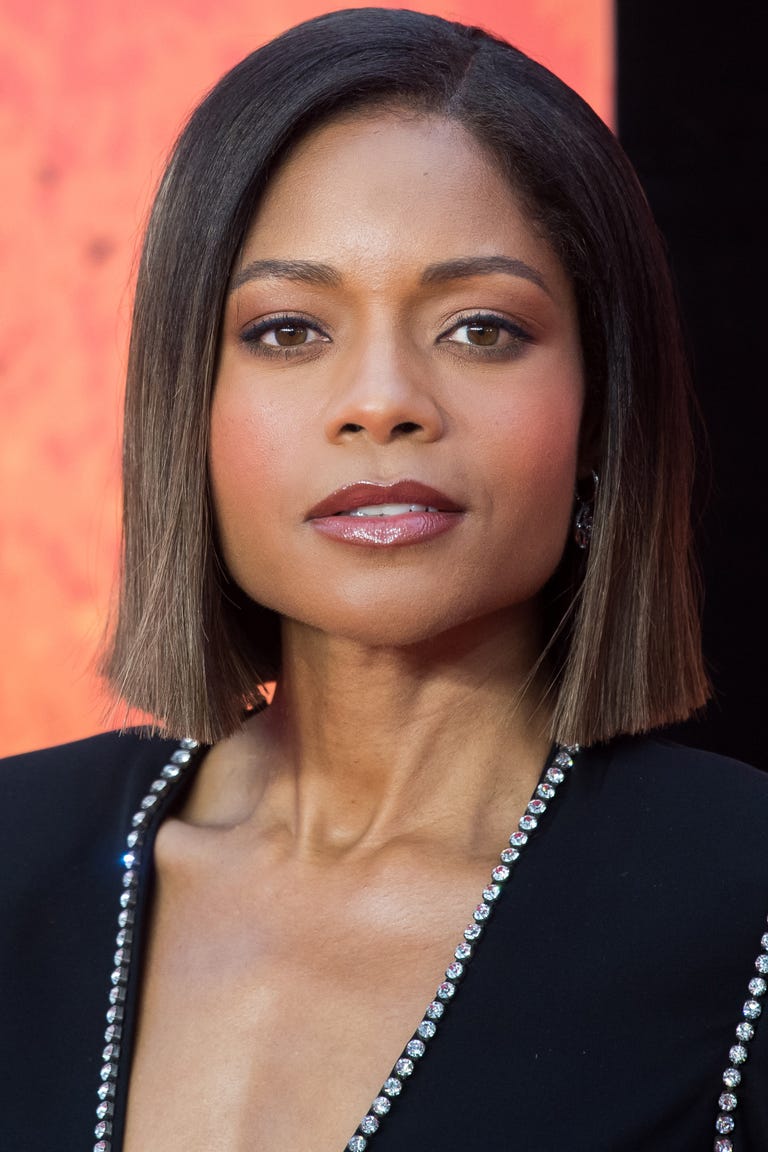 Who: Naomie Harris
What: Glossy Burgundy Lip
How: Makeup artist Kenneth Soh used two MAC Cosmetics lipliners, one Marc Beauty lipstick, and one Fenty Beauty lip gloss to get this unique shade of nude-red-brown. He first applied the MAC liner in Chestnut, mixed it with the shade Whirl, then filled-in her lips with the Marc Jacobs Beauty Le Marc Lip Crayon in Burn Notice. To add a little bit of shimmer and dimension, he finished the look with a swipe of everyone's favorite lip gloss: Fenty Beauty Gloss Bomb.
Editor's Pick: Fenty Beauty Gloss Bomb Universal Lip Luminizer, $18, sephora.com.
SHOP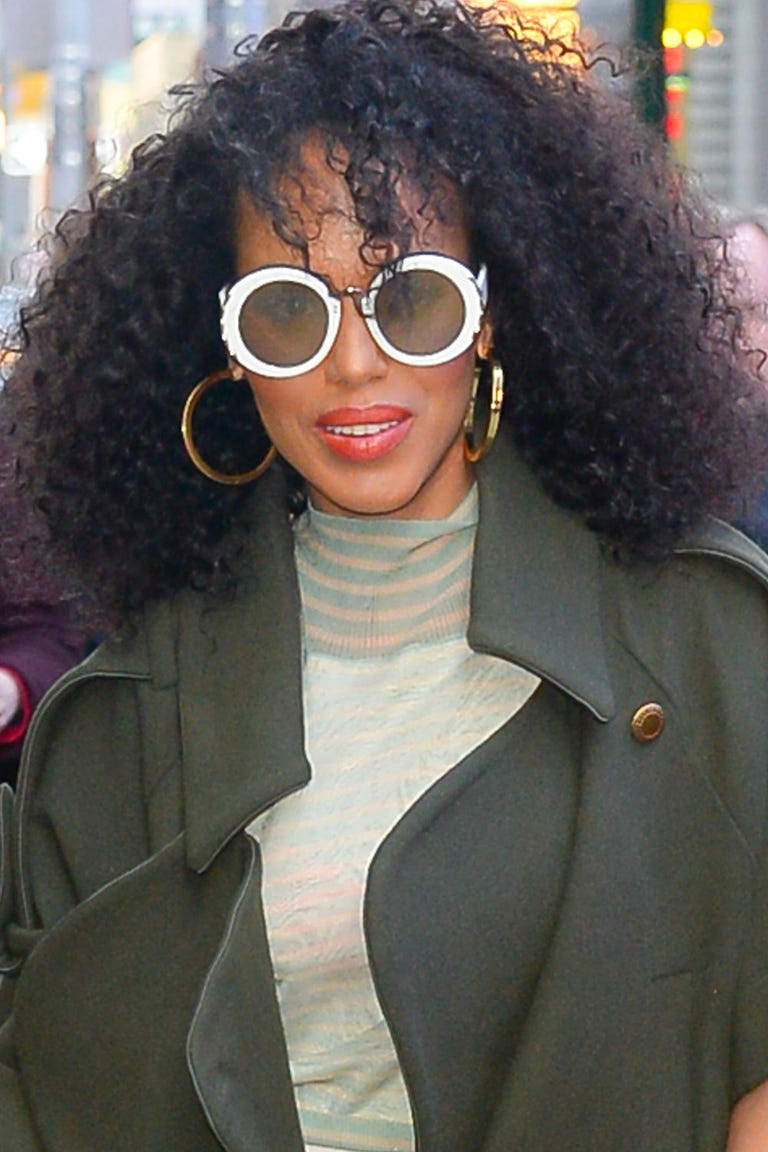 Who: Kerry Washington
What: Sunglasses and Poppy Makeup
How: Kerry Washington made a major beauty statement using a fashion accessory—sunglasses. The white circular frames actually draw attention to the color on her lips and cheeks (not away from it). The beautiful poppy-red lip and cheek shade is most likely from her brand-new Neutrogena makeup collection.
Editor's Pick: Neutrogena Essential Cheek Palette x Kerry Washington, $9.99, ulta.com.
SHOP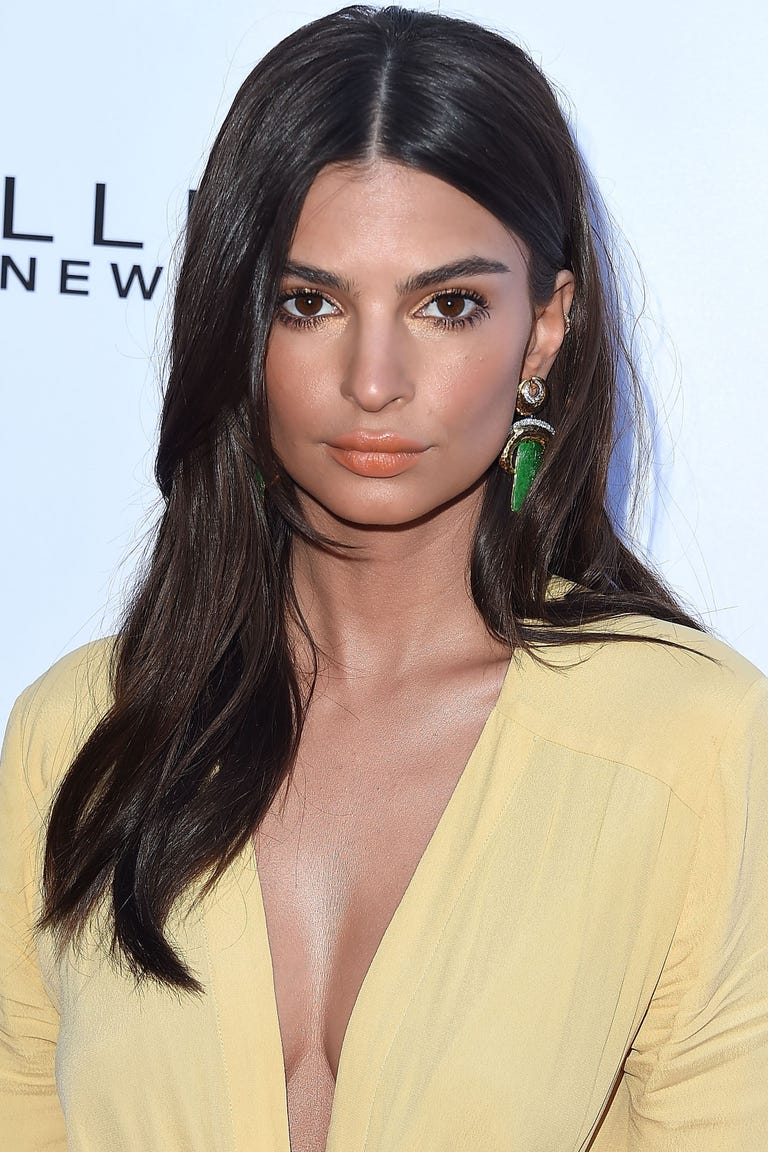 Who: Emily Ratajkowski
What: Peach and Gold Glow
How: Emily Ratajkowski just wore our favorite makeup color combination: yellow gold and peachy pink. Her makeup artist Hung Vanngo used a gold Marc Jacobs Beauty eyeshadow from the inner corner of her eye across her entire lid. Layers and layers of black mascara grounded the eye look. Vanngo matched Ratajkowski's blush to her lipgloss shade, opting for a peachy pink that didn't clash with her pale-yellow ensemble.
Editor's Pick: Marc Jacobs Beauty New Nudes Sheer Gel Lipstick in In The Mood 152, $30,sephora.com.
SHOP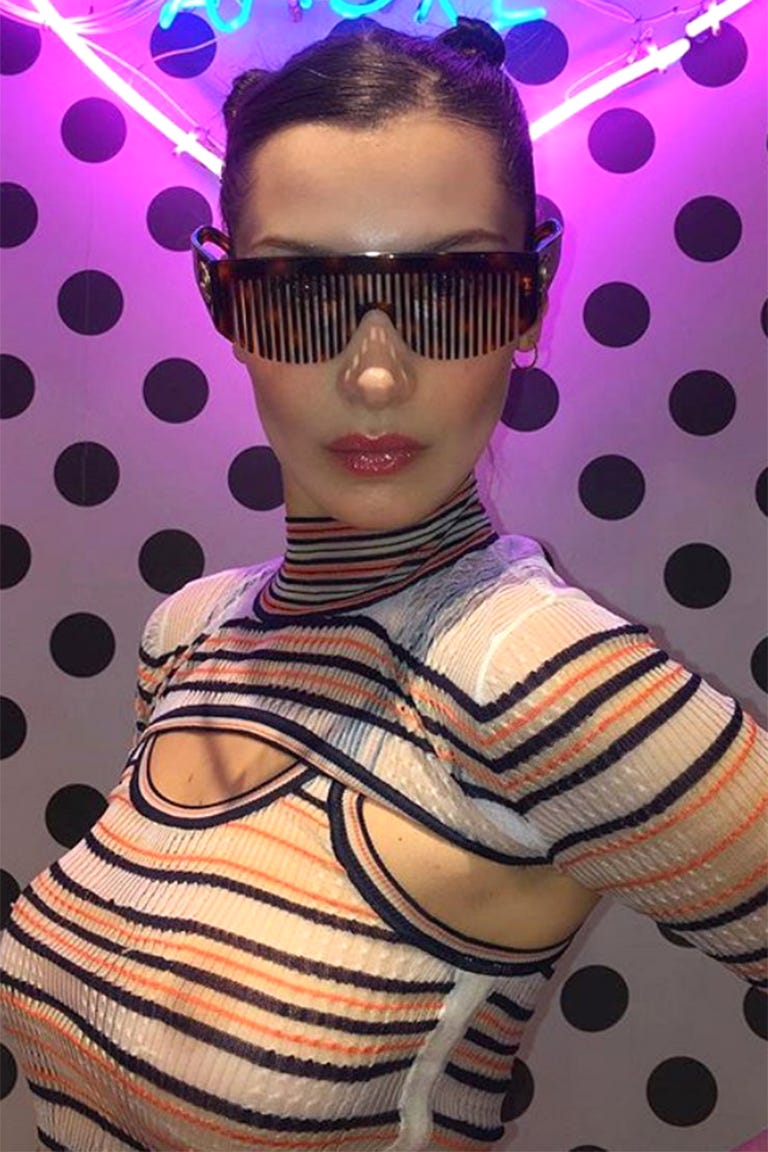 Who: Bella Hadid
What: Lip Gloss
How: Bella Hadid is 'gramming her way through Tokyo while wearing space buns and a very shiny lip gloss. We love the simplicity of shellacked lips and hair together—it's an easy and chic look for when you can't be bothered with fussy makeup. As the face of Dior makeup, Hadid is likely wearing the new plumping lip gloss that tingles, hydrates, and makes lips appear just a little fuller.
Editor's Pick: Dior Dior Addict Lip Maximizer, $34, dior.com.
SHOP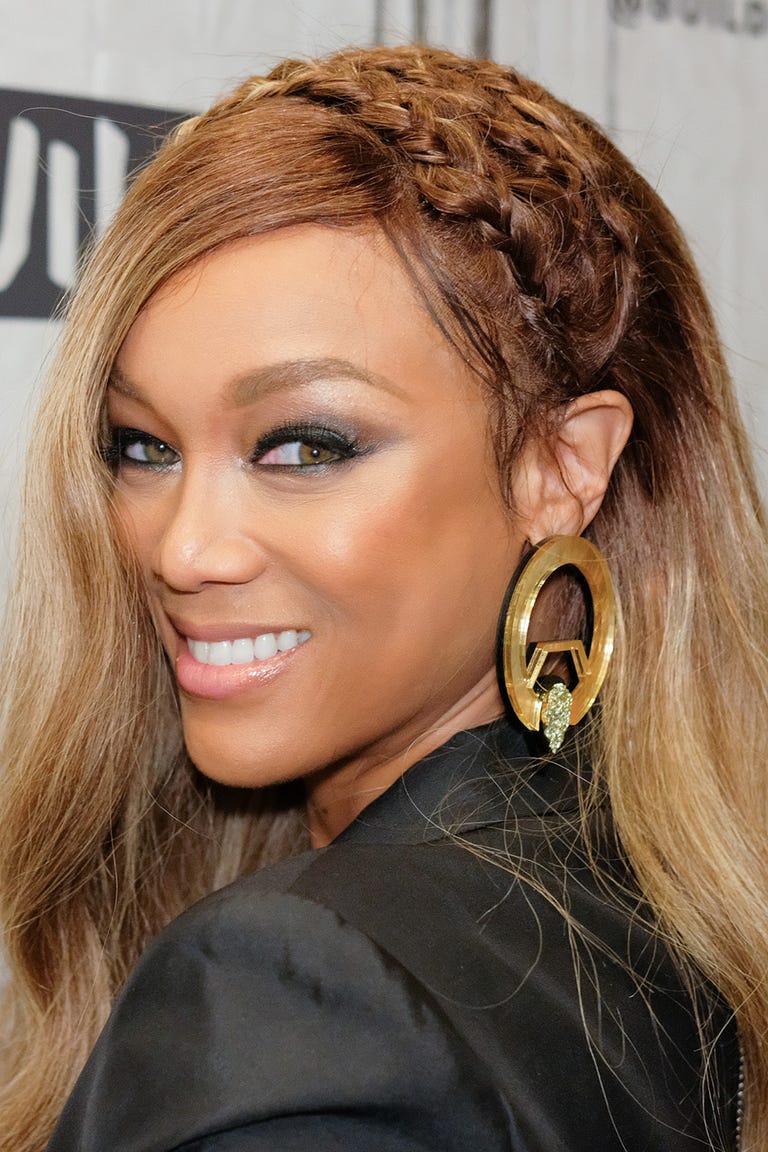 Who: Tyra Banks
What: Flipped Braid
How: Tyra Banks can do no wrong. It's been a while since we saw the supermodel on a red carpet, but she promoted her new book yesterday wearing one of the coolest braids we've seen this year. Banks wore a braid the started on one side right at her ear, then braided it over her head toward the other ear. She left a face-framing section loose to soften the look. It's a new take on the classic crown braid that feels fresh and fun.
Editor's Pick: Madame C J Walker Beauty Culture Jamaican Black Castor & Murumuru Oils Twist, Lock & Seal Lotion, $26, sephora.com.
SHOP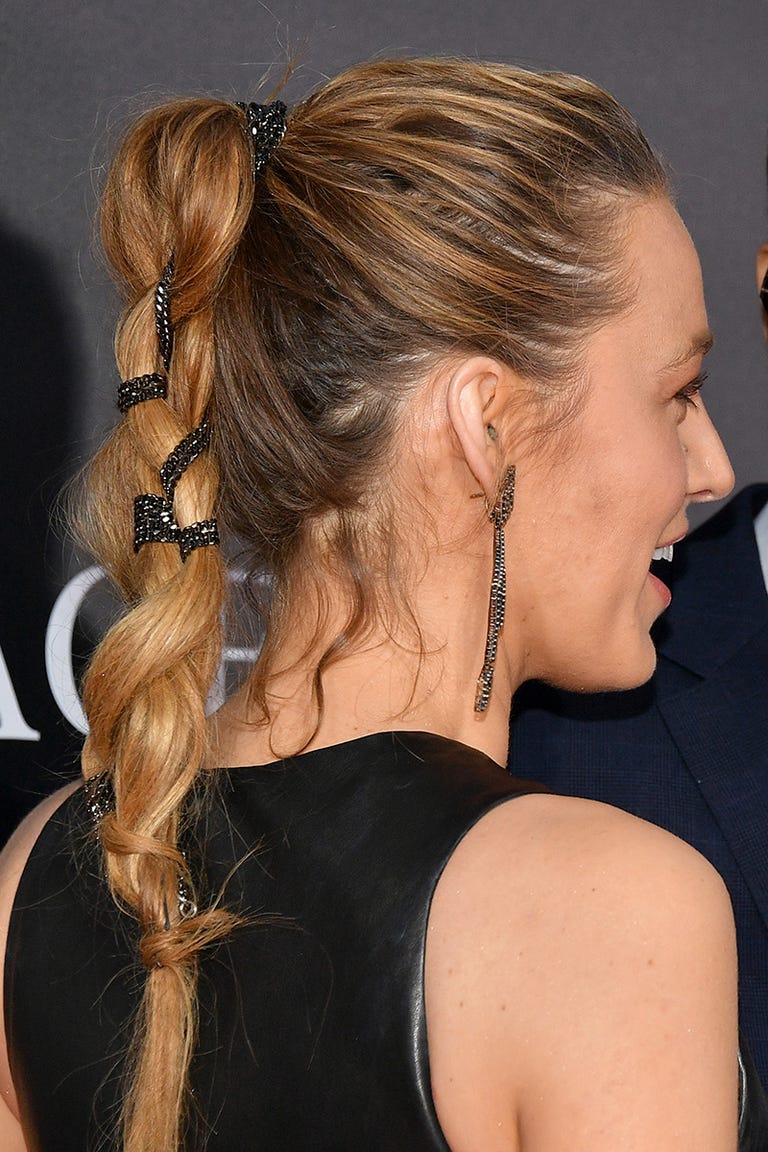 Who: Blake Lively
What: Bedazzled Braid
How: Blake Lively is the queen of bohemian braids. But it's been a while since we've last seen her wear the style that was once so ubiquitous during her Serena/Gossip Girl days. Last night, she stepped out with her husband wearing a textured braided ponytail jazzed up with the addition of a sparkly length of fabric. It's a style we can all do with just two elastics and a bit of dry shampoo or texture spray. To work the fabric in, tie it around the base of your ponytail before braiding and weave it throughout, or do the braid first and then carefully pull it through random sections.
Editor's Pick: L'Oréal Paris Elvive Extraordinary Clay Dry Shampoo, $6.99, lorealparisusa.com.
SHOP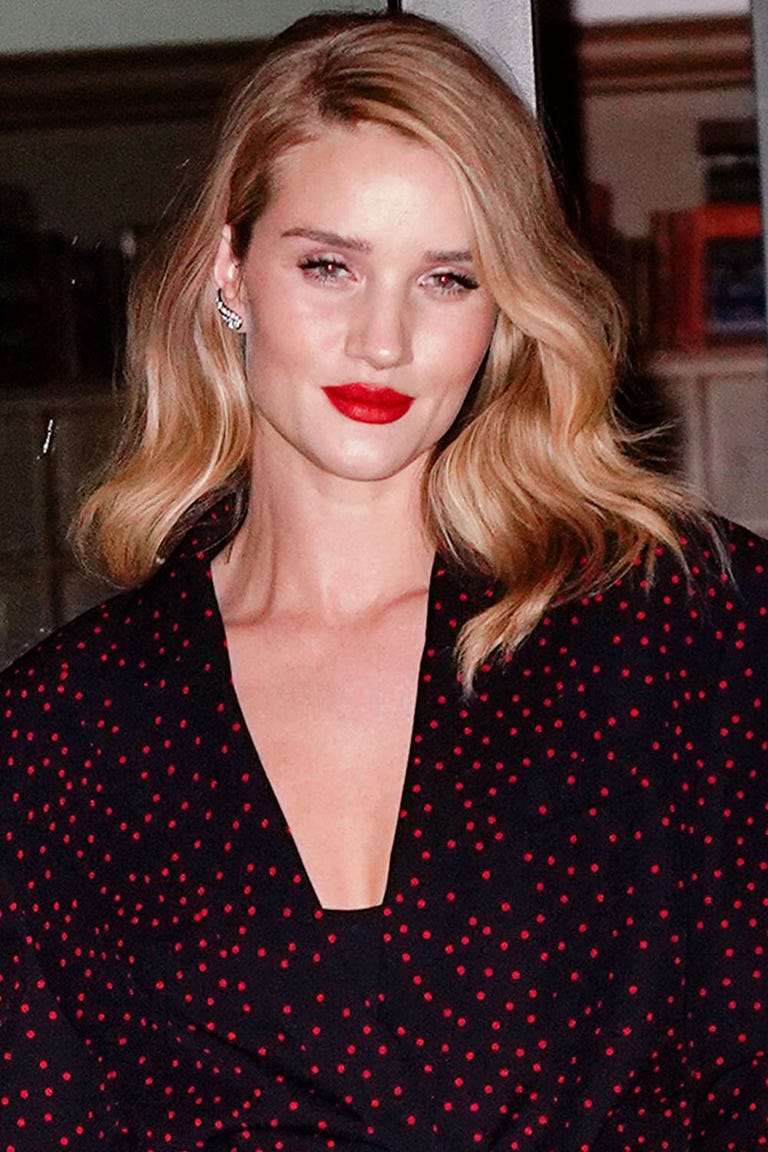 Who: Rosie Huntington-Whiteley
What: Bright Red Lipstick
How: We love how Huntington-Whiteley took inspiration from her dress and swiped on a red lipstick so bold it's almost blinding. Some women with fuller lips complain that a red lipstick is too bold, too bright, or somehow makes their lips appear smaller—but that's just not the case. Anyone can wear a red lipstick like a supermodel as long as you line your lips first and pair it with fresh, minimal makeup.
Editor's Pick: Charlotte Tilbury K.I.S.S.I.N.G. Lipstick in Love Bite, $34,nordstrom.com.
SHOP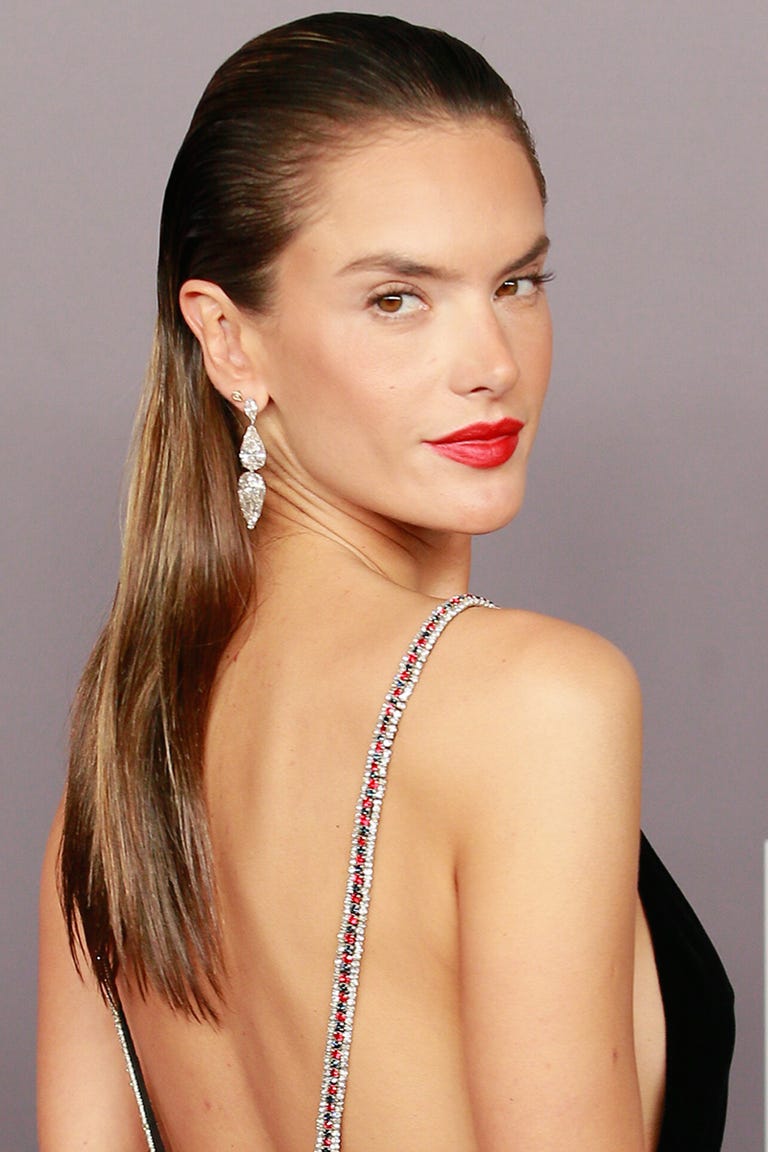 Who: Alessandra Ambrosio
What: Red-hot Lipstick
How: At last night's AMFAR Gala, Alessandra Ambrosio proved that sometimes all you really need is a red lipstick. She's wearing no other makeup, well, visible makeup. her brows are lightly filled-in and she likely has a little foundation, concealer, and blush. But the point is that the red lipstick is what pops—not mascara or contour.
Editor's Pick: Clarins Joli Rouge Lipstick in 741 Red Orange, $29, bloomingdales.com.
SHOP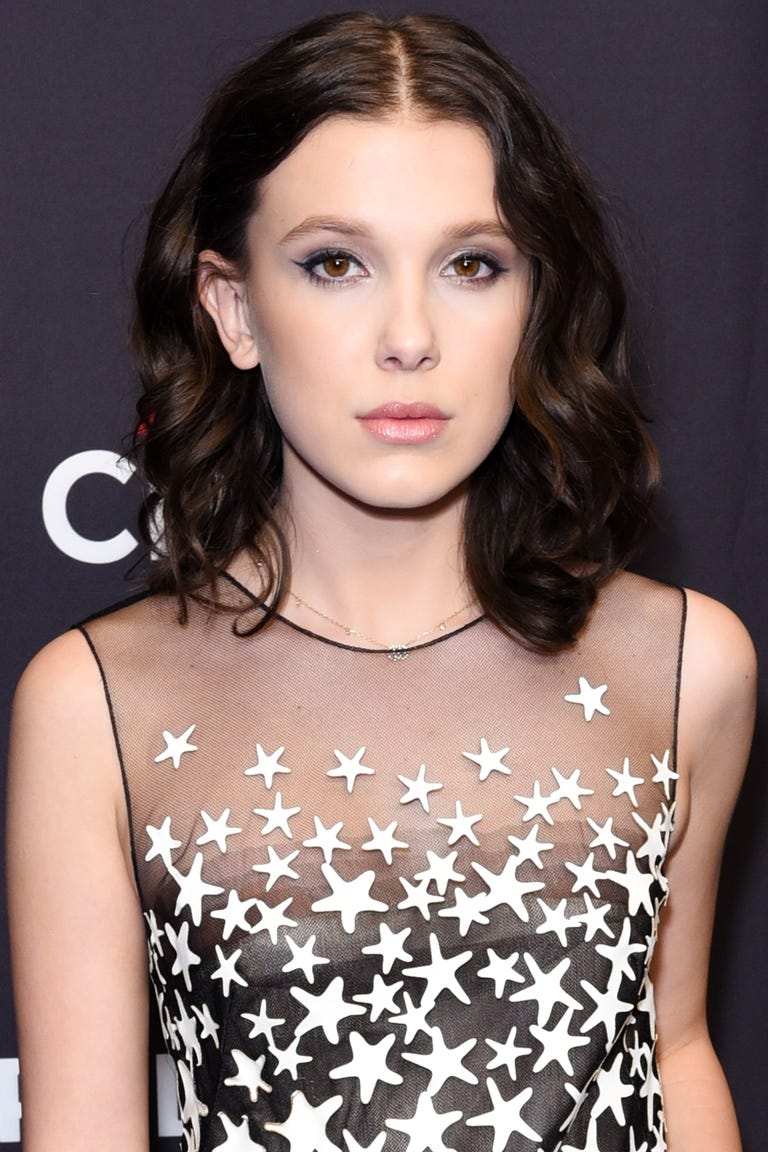 Who: Millie Bobby Brown
What: Kitten Flick
How: Millie Bobby Brown is experimenting with more mature makeup looks in a way that still looks fresh and fun. She paired a small liner flick with a glittery pink gloss, then kept the rest of her makeup soft and light. With her natural curls down and styled loose and unfussy, the black cat-eye liner looks more feminine than sultry.
Editor's Pick: L'Oréal Paris Infallible Gel Lacquer Liner 24 Hour, $9.99, ulta.com.
SHOP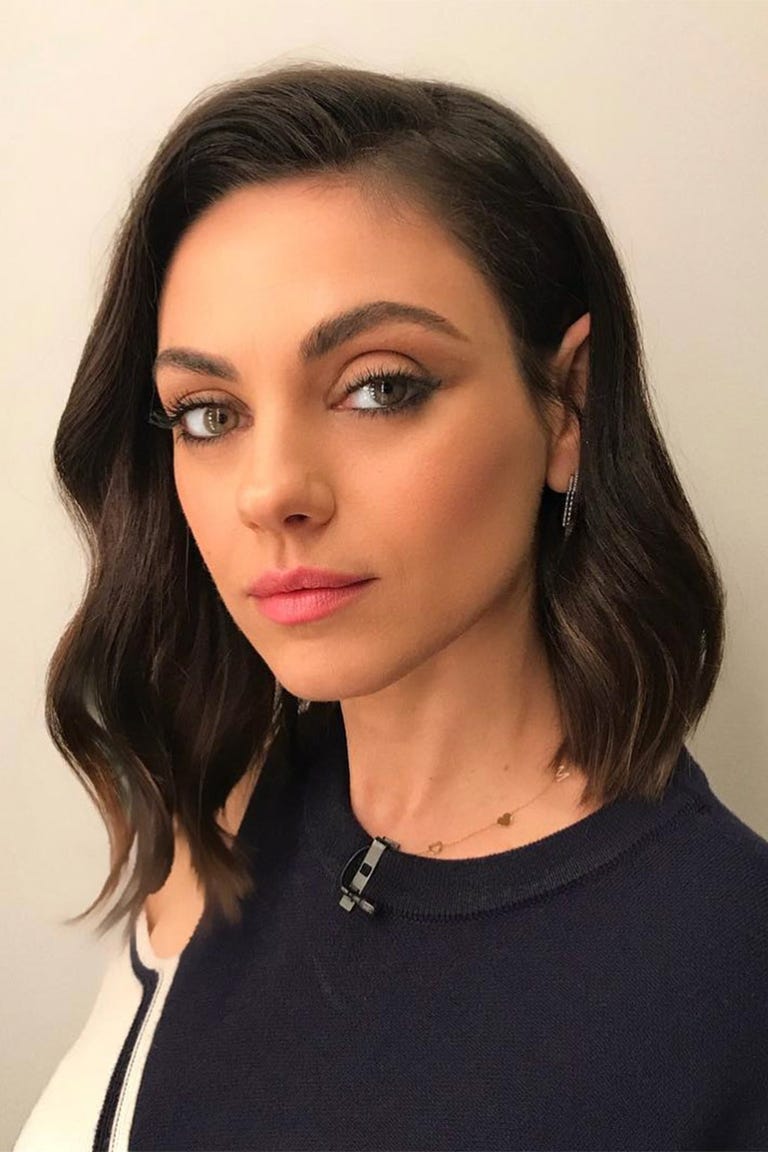 Who: Mila Kunis
What: Laidback Beauty
How: Mila Kunis stepped out yesterday wearing a glam hair and makeup look that wasn't at all try-hard. She makes soft curling iron waves, pink lipstick, and smoky eyeliner look effortless—and we all know it's not. Smoky eyeliner is Kunis's signature look, but the pop of color and satin texture of her lipstick adds a touch of polish. Her waves got a glam upgrade by being tossed over the the opposite side of her part to create a bump of volume.
Editor's Pick: Bobbi Brown Long-Wear Gel Eyeliner, $27, sephora.com.
SHOP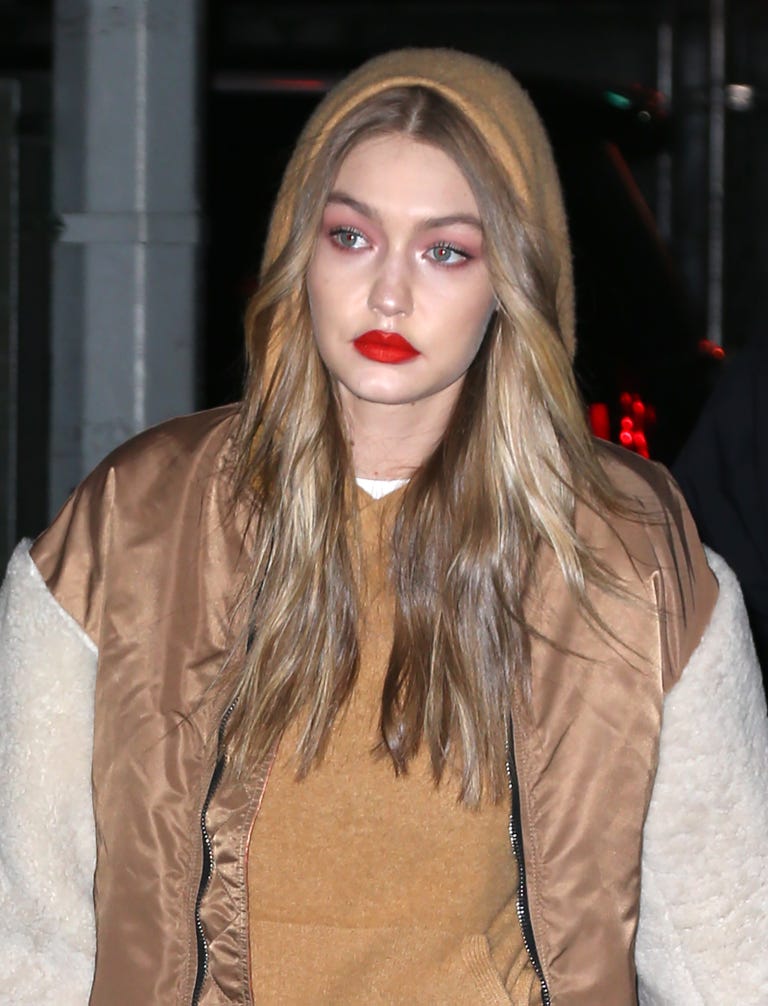 Who: Gigi Hadid
What: Red Lipstick
How: You can always tell when Gigi Hadid had a shoot day with Maybelline when she steps out wearing a major red lip or colorful eye. Last night it was both—we love how she paired a bright orange-red lip with a wash of pinky/red shadow around her eyes. Could this be a sneak peek at a new Maybelline product? Maybe—or it could be a shade from her collaboration that debuted last year.
Editor's Pick: Maybelline New York Gigi Hadid Matte Lipstick in Austyn, $8.99, maybelline.com.
SHOP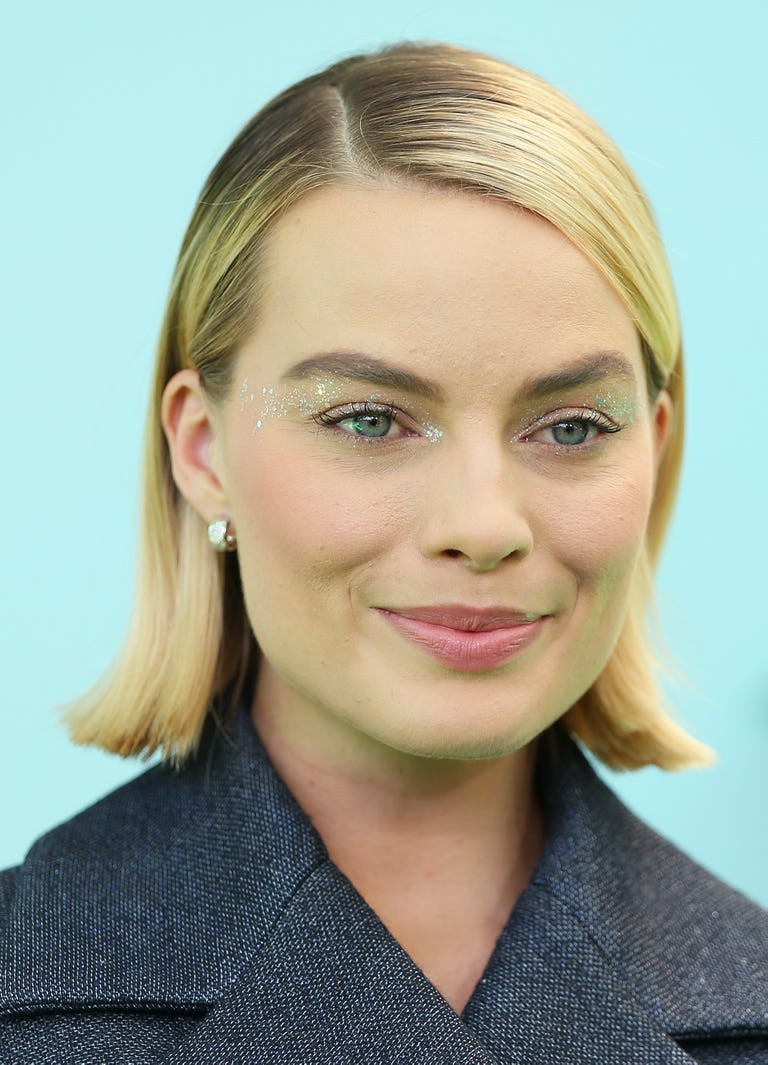 Who: Margot Robbie
What: Silver Glitter
How: Makeup artist Pati Dubroff turned to everyone's favorite glitter brand—Lemonhead LA—to create this killer eye look on Margot Robbie. It's equal parts fun and gorgeous. While you might be tempted to really layer on tons of glitter (it's really just a blast to play with), you won't get to see every fleck, star, and moon shape that way. Tap it on lightly with your finger, adjusting the flecks before they dry, so that you can see every hint of glitter. This isn't just for your eyes, either. The sticky, gel-like formula can be used in your hair, on your skin—basically anywhere you want to glow.
Editor's Pick: Lemonhead Los Angeles Midnight Society Spacejam Luxe, $32, getlemonhead.com.
SHOP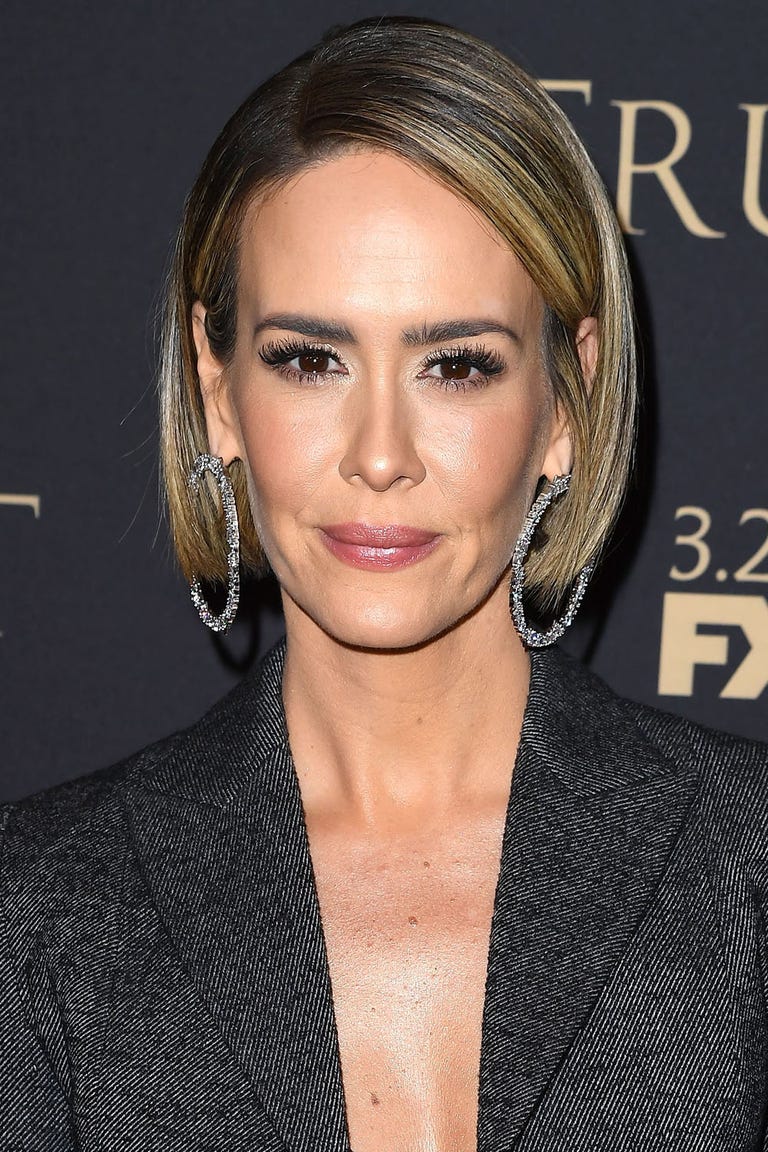 Who: Sarah Paulson
What: Dramatic False Lashes
How: Sarah Paulson attended n FX party in NYC last night wearing a set of false eyelashes that made us want to immediately go buy more false eyelashes. We love how the lashes are the only major beauty statement holding their own against her jeweled hoop earrings. She proves that you don't always need to wear a bright lip color or graphic eyeliner to nail a red carpet beauty moment. Remember that false lashes can be worn a few times before you throw them away if you care for them properly (even inexpensive drugstore ones). Remove the glue and any traces of makeup, give the lashes a quick brush with a spoolie brush, then put them back in the case to be worn again.
Editor's Pick: Ardell Glamour Lashes 113 Black, $4.99, ulta.com.
SHOP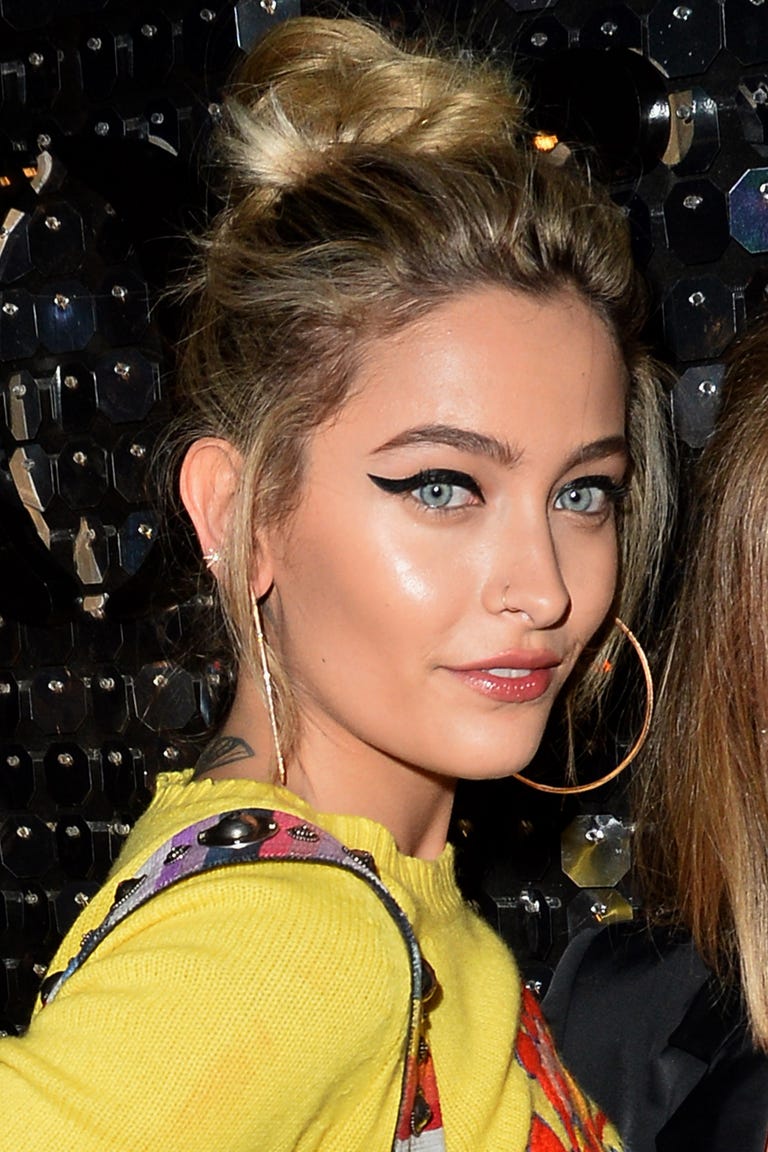 Who: Paris Jackson
What: Dramatic Cat-eye
How: Paris Jackson attended the Dior Addict Disco in LA last night wearing a cat-eye to end all cat-eyes. It's the cat-eye we all dream of wearing but can never actually achieve. With the right tools and a little practice, it does get easier. This kind of inky pigment can only come by the way of a gel liner and brush. Some people find it easier to draw the wing first on each side, then connect it to the rest of the lashline. If that's still too tricky, try drawing the shape with a pencil liner first then going over the top with a liquid liner.
Editor's Pick: Dior Eyeliner Waterproof in Trinidad Black, $30, dior.com.
SHOP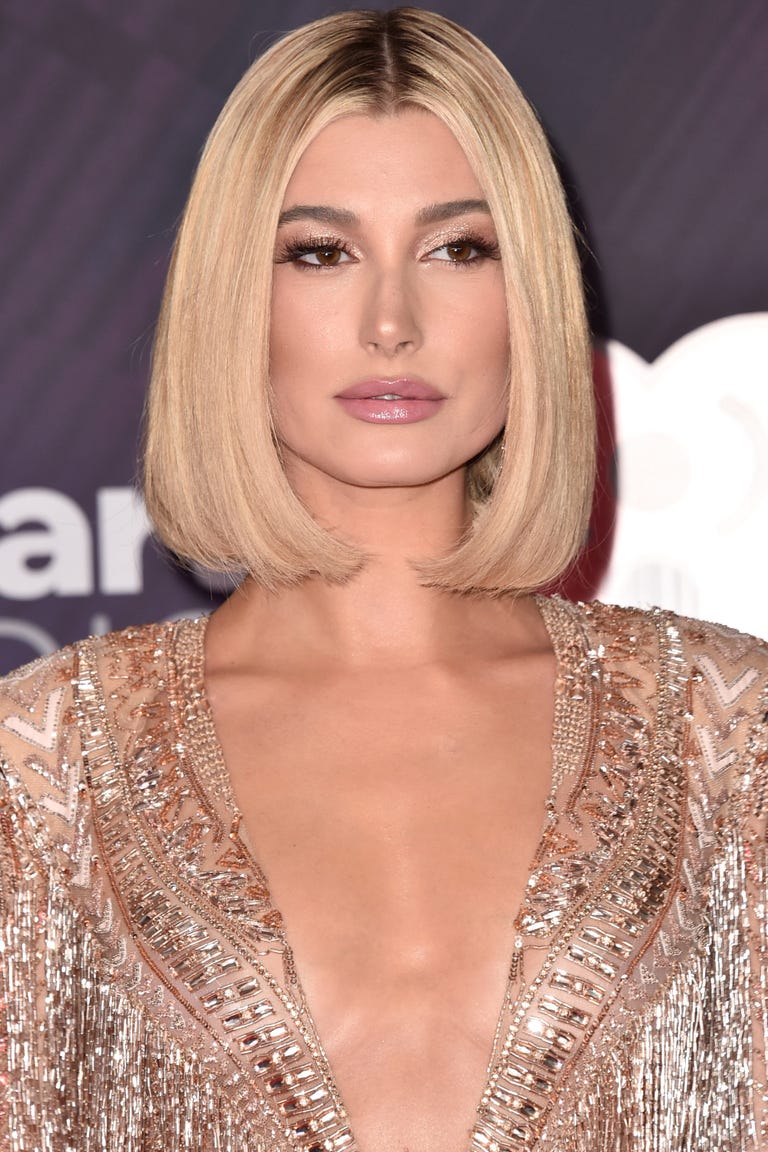 Who: Hailey Baldwin
What: Golden Glow
How: Makeup artist Dendoll and hairstylist Jen Atkin teamed up to create this killer beauty look on model Hailey Baldwin for last night's I Heart Radio music awards. We love how the look is cohesively slick and shiny—from her eyeshadow, glossy lip, to her retro blunt bob. A wavy lob or slick bun would have been so expected with the golden makeup and bedazzled ensemble—this sharp cut brings back some hardcore '90s supermodel glamour.
Editor's Pick: Ouai Hair Oil, $28, sephora.com.
SHOP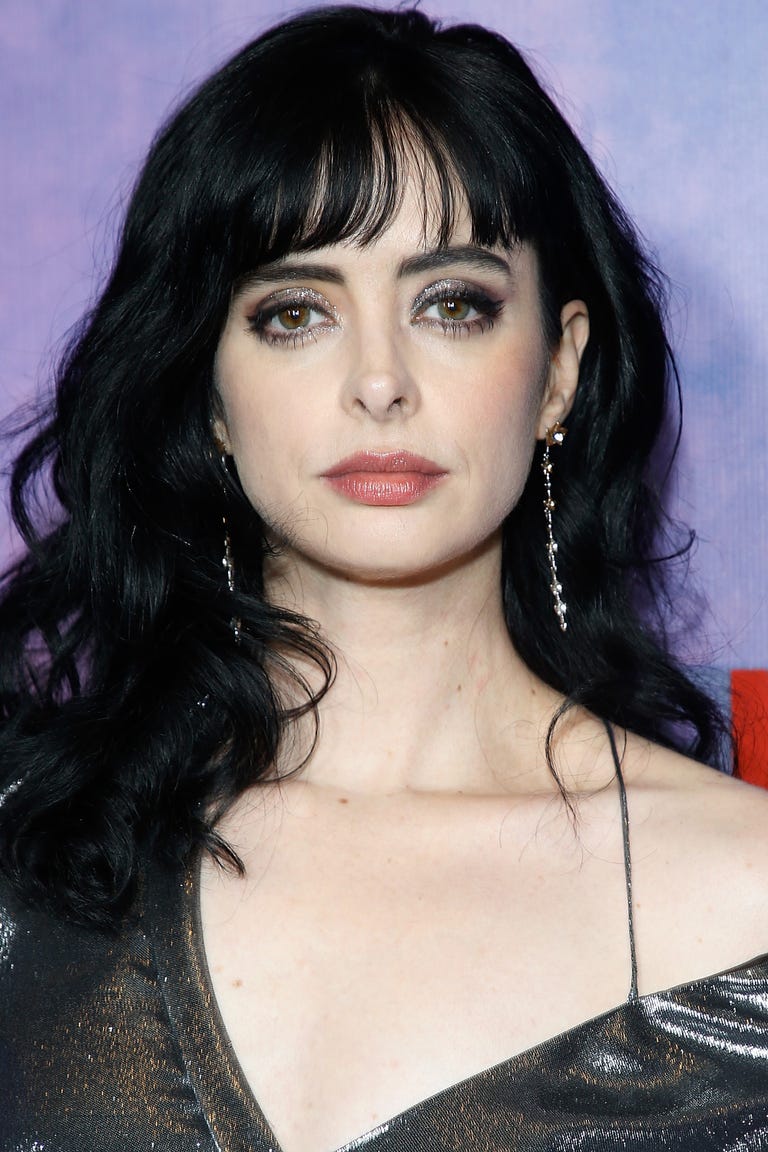 Who: Krysten Ritter
What: '60s Bombshell
How: Makeup artist Nick Barose created what he called "'60s femme fatale vibes" on Jessica Jones actress Krysten Ritter for the new season premiere. "Think James Bond #Goldfinger but like, silver," he wrote on Instagram. To get the look, Barose used a glittery silver eyeshadow and black liquid liner pen from Dior. If you want extra drama (don't we all?) Barsose recommends dabbing a liquid silver eyeliner on top.
Editor's Pick: Dior Diorshow Fusion Mono Long-Wear Professional Mirror-Shine Eyeshadow, $33, dior.com.
SHOP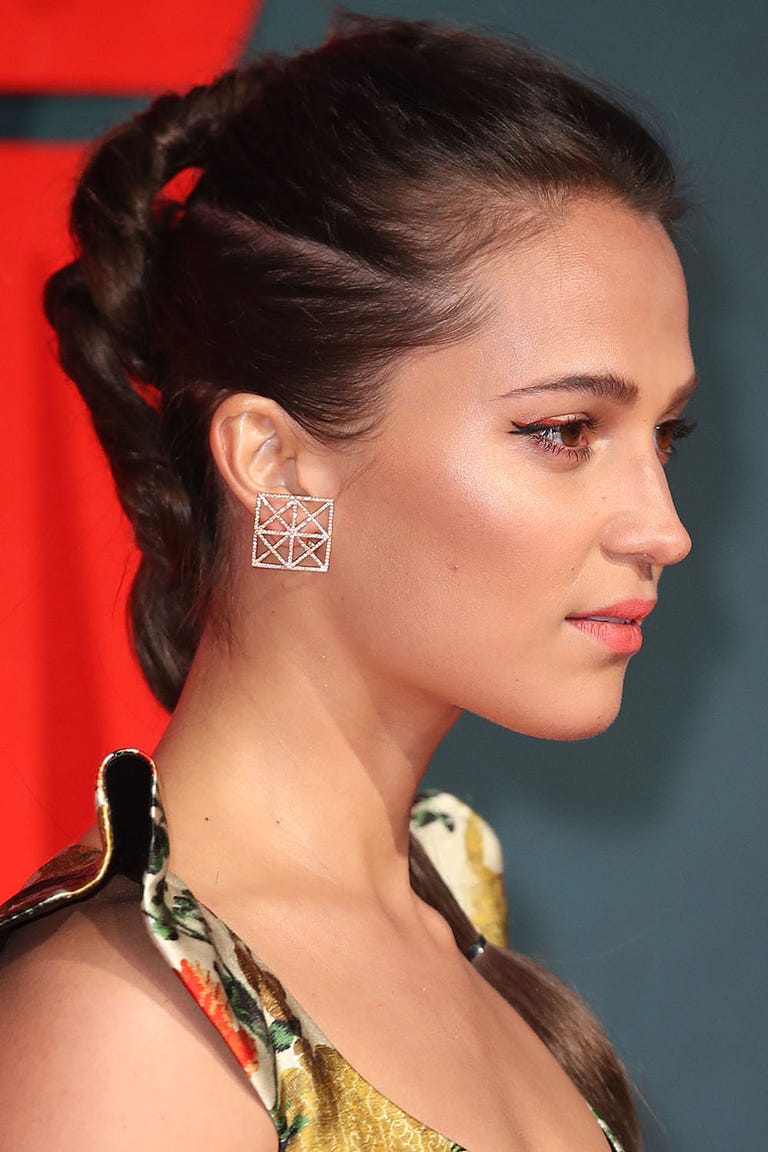 Who: Alicia Vikander
What: Segmented Ponytail Braid
How: Alicia Vikander attended the European premiere of her new film Tomb Raider wearing a powerful ponytail-braid combo that was fit for the new Lara Croft. A segmented ponytail is inherently strong, but add braided sections to it and you've got a next-level hairstyle. The segmented pony-braid works best on long hair but can be adapted to short hair (just don't braid each ponytail segment, or make smaller sections). It's key to make clean and defined parts before starting to secure the hair with small black or clear elastics. Once completed, toss the length of your ponytail over one shoulder like Vikander to ensure the style doesn't get lost from the front as well.
Editor's Pick: Scunci Mixed Size Polybands in Zippered Pouch Clear, $4.99, target.com.
SHOP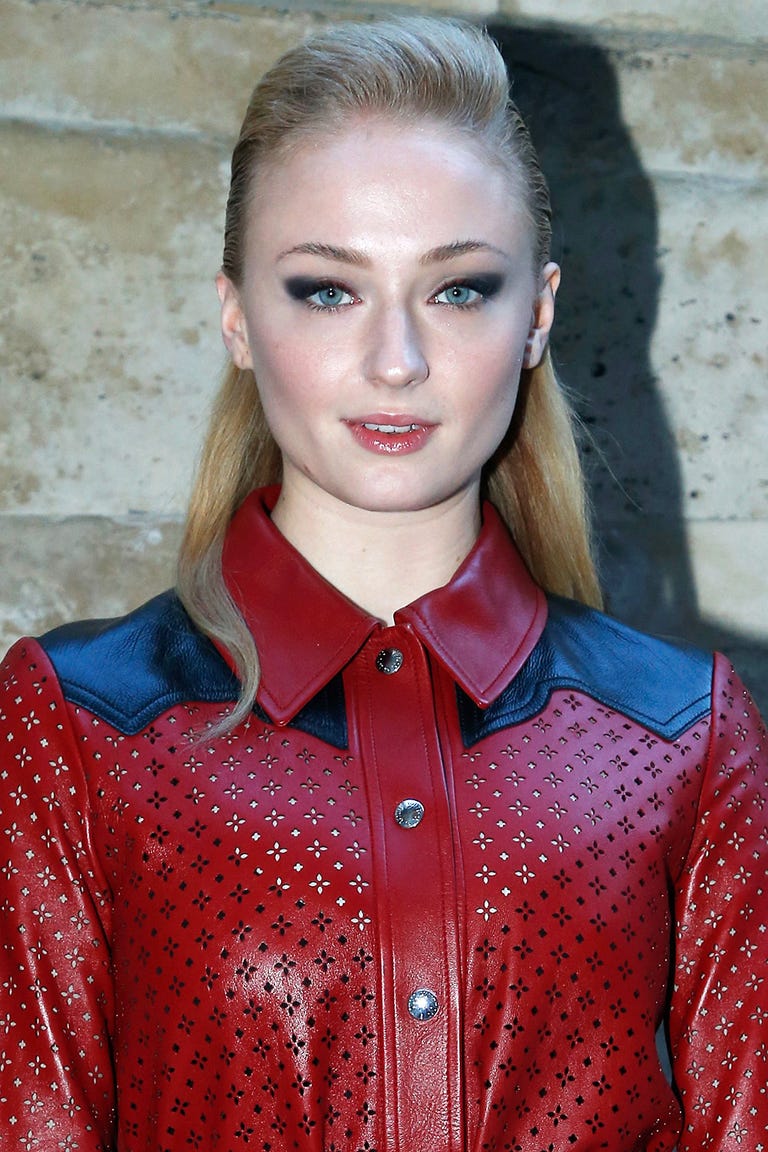 Who: Sophie Turner
What: Smoky Shadow
How: Game of Thrones star Sophie Turner sat front row at the Louis Vuitton show yesterday a wearing a smoky eye that could have prompted a fire alarm. We love how she kept the black shadow on her top lid only, sweeping it out into a rounded shape just past her crease. A little sweep of red shadow at the lashline added brightness and perfectly color coordinated with her outfit.
Editor's Pick: Surratt Beauty Smoky Eye Baton in Fumee Noir, $35, sephora.com.
SHOP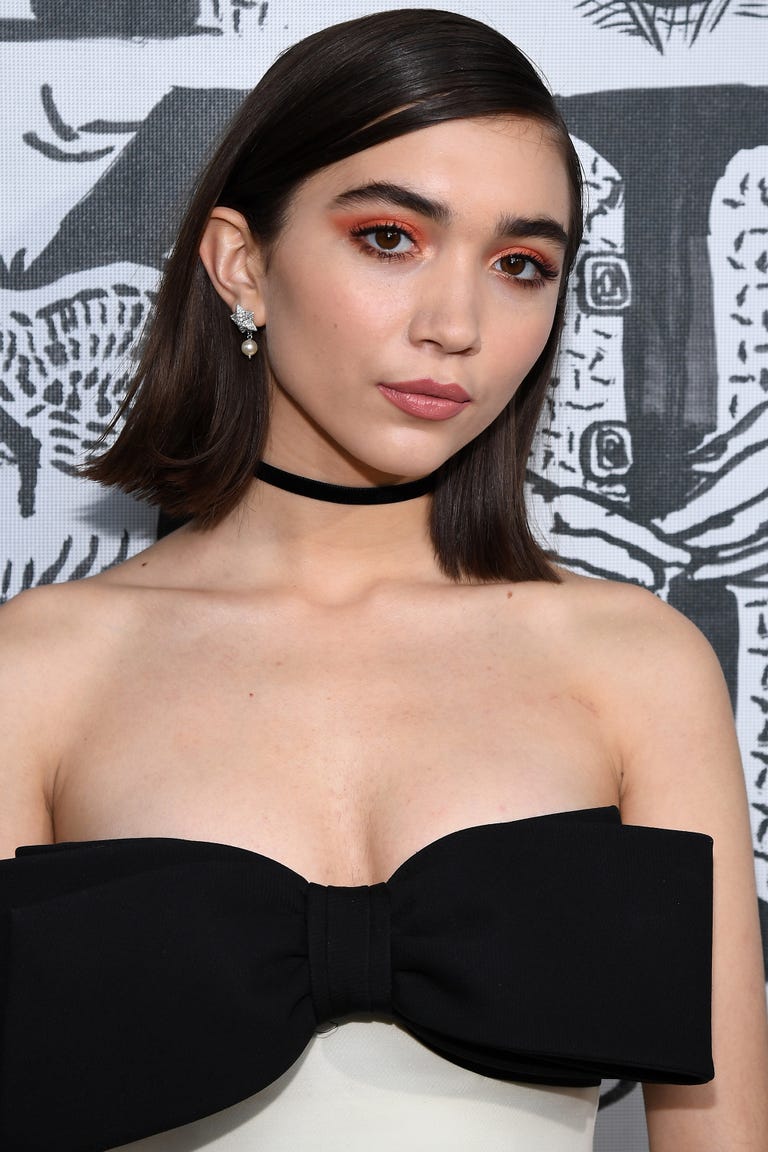 Who: Rowan Blanchard
What: Metallic Peach Eyeshadow
How: Actress Rowan Blanchard has solidified herself in recent weeks as a major new face in the world of celebrity beauty. We love the combination of her sleek '90s-inspired lob, black choker, pink lipstick, and bold metallic peach eye. The pop of eye color is totally out of left field considering she's wearing a classic black-and-white mini dress (she's just too cool for a graphic cat-eye). With any bold shade, use black eyeliner on your top lashline to add definition, then be sure to pile on the mascara on both sets of lashes to really ground your eyes.
Editor's Pick: Urban Decay Naked Petite Heat, $29, sephora.com.
SHOP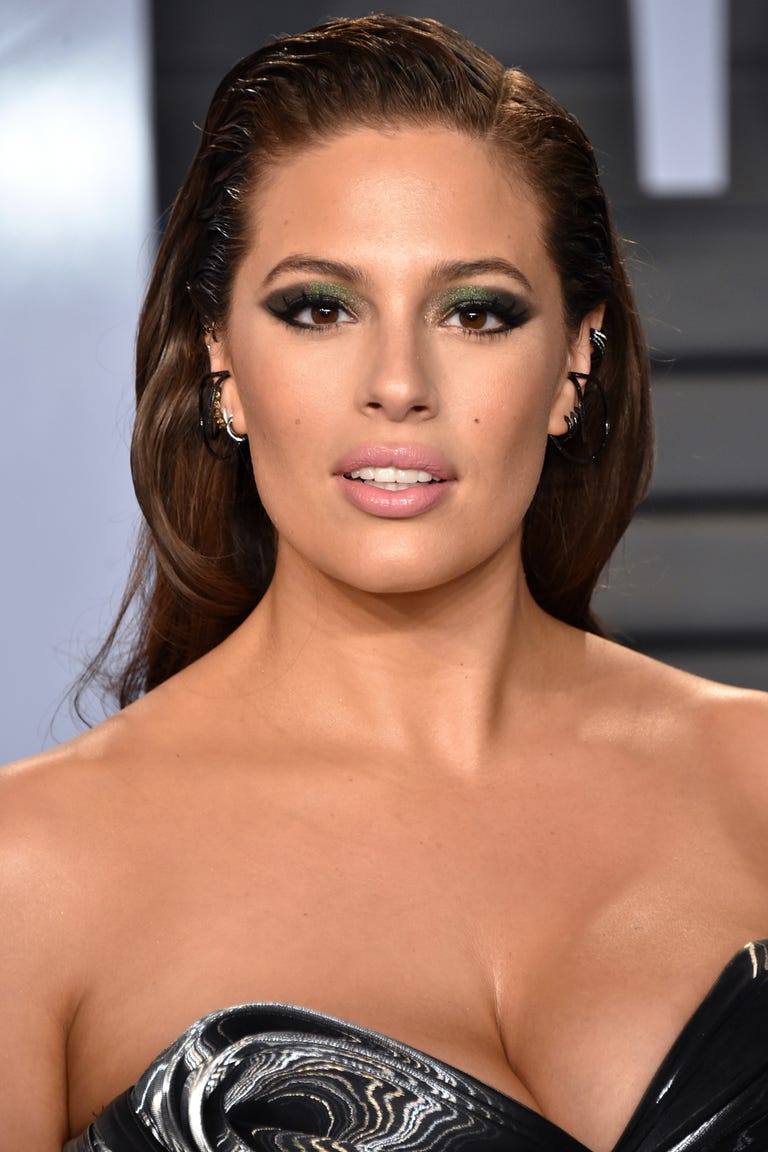 Who: Ashley Graham
What: Emerald Eye
How: We wouldn't expect anything less than a dramatic green eye from the face of Revlon, Ashley Graham, at last night's Oscars after party. We love how she concentrated the metallic green shade on the front half of her lid, then used a familiar smoky gray shade on the outside and bottom lashline. This placement allows the color to pop while not looking overdone. Let the eye stand alone by wearing nothing more than a natural pink lipstick and a little contour.
Editor's Pick: Revlon PhotoReady Eye Art in Desert Dazzle, $9.99, ulta.com.
SHOP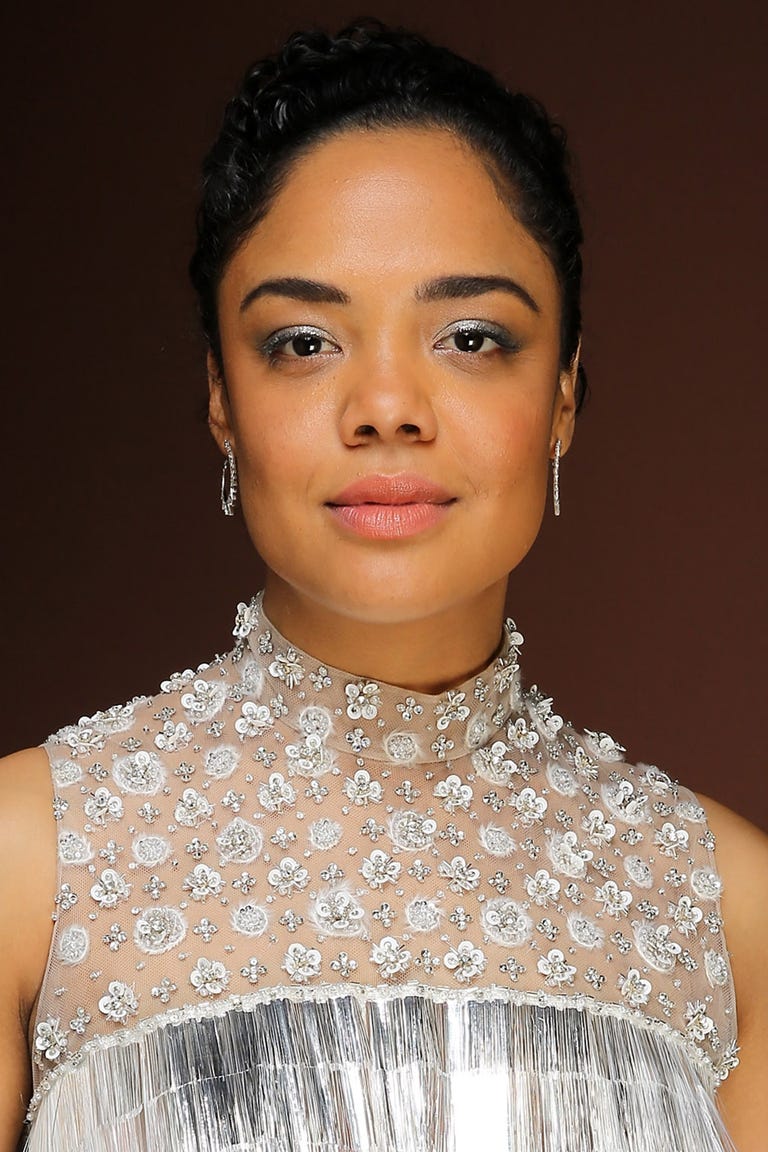 Who: Tessa Thompson
What: Silver Eyeshadow
How: Nothing calls for silver eyeshadow quite like a silver dress. We love how Tessa Thompson paired the matchy-matchy eye makeup look with a soft pink lip, defined brows, and little other makeup. Unless you're going for just a hint of shimmer, you'll want your silver shadow to be packed with pigment. If using a powder, try applying it with young finger or a damp brush to get the most impact. Otherwise, choose a liquid or cream formula and set it with a powder shadow in the same metallic shade to make it last all night.
Editor's Pick: Chanel Ombre Premiere Longwear Powder Eyeshadow in Titane, $38, nordstrom.com.
SHOP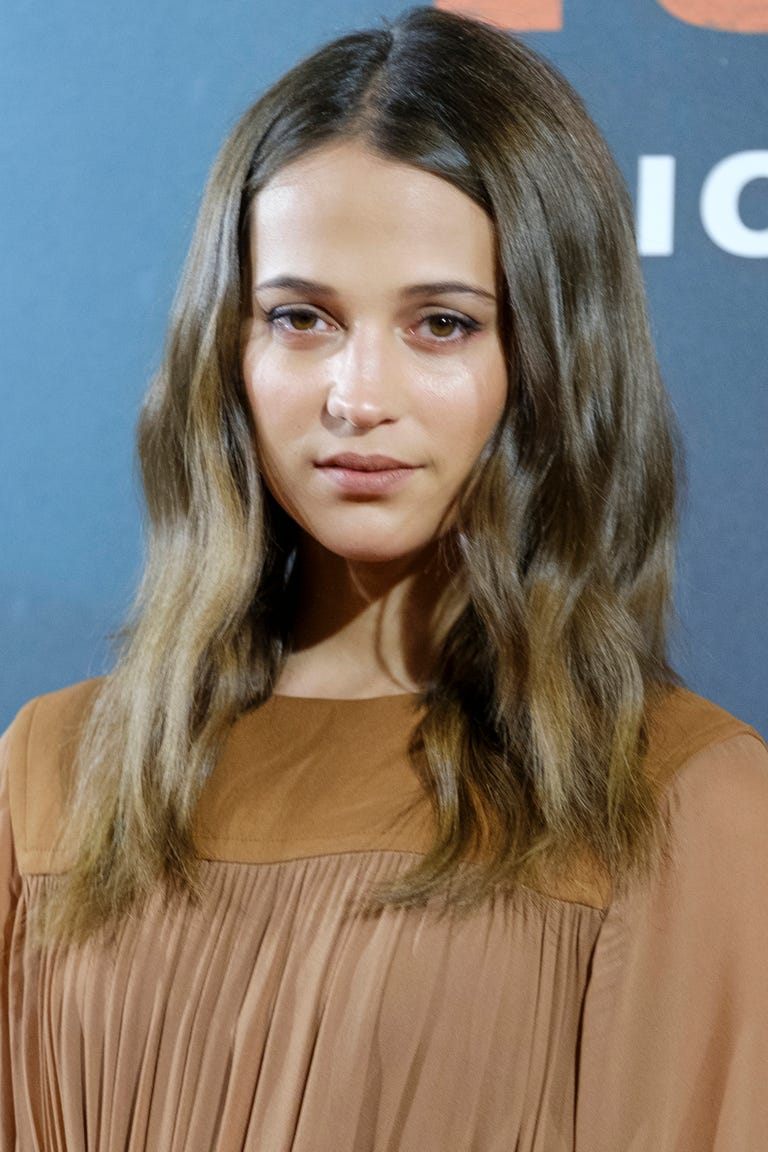 Who: Alicia Vikander
What: Soft Waves
How: Take a close look at Alicia Vikander's waves. See how there is a natural volume all-over, then a few perfectly shiny bends near her face? That can only mean one thing: she air-dried her hair, then curled a few pieces with a wand. The look only takes as long to create as it does your hot tools to heat-up. Just be sure to run a smoothing cream or serum through your ends for a little extra polish.
Editor's Pick: T3 Interchangeable Whirl Trio, $270, nordstrom.com.
SHOP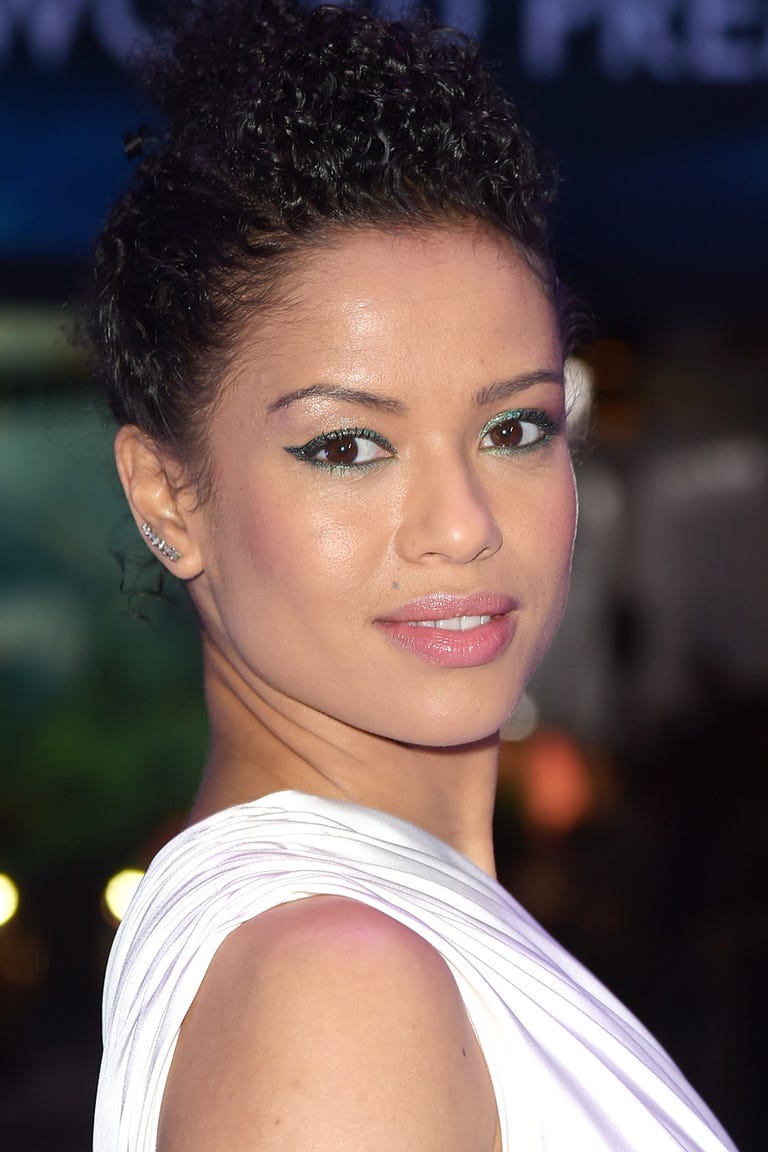 Who: Gugu Mbatha-Raw
What: Metallic Green Graphic Eyeliner
How: For the premiere of A Wrinkle In Time last night, Gugu Mbatha-Raw tapped makeup artist Nick Barose to create her stunning beauty look. After all, nobody does bold color quite like Barose. He applied a classic graphic cat-eye but did so in an unusual emerald metallic green shade, which coordinated with colorful elements in her gown. Soft pink blush and lip gloss is all you need to finish the look when your eye is this attention-grabbing.
Editor's Pick: Chanel Stylo Yeux Waterproof Long-Lasting Eyeliner in Mare-Chiaro, $33, nordstrom.com.
SHOP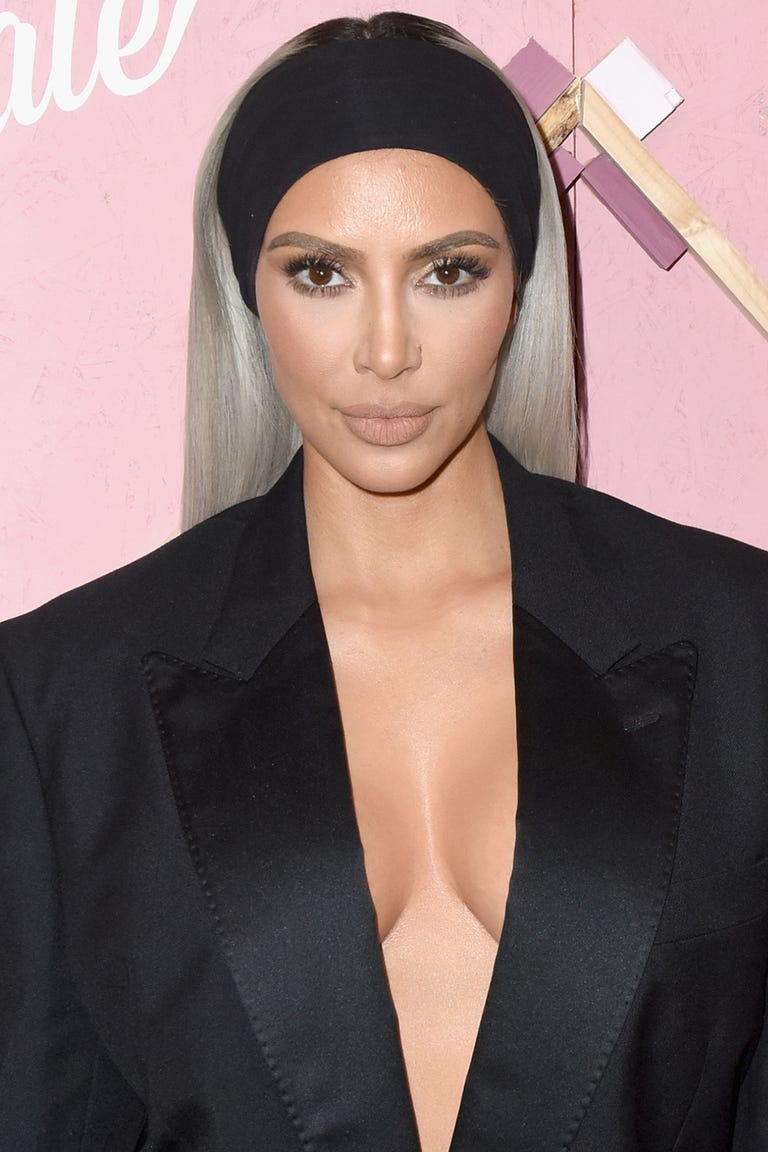 Who: Kim Kardashian West
What: Root Cover-Up
How: Celebrities—they're just like us. Meaning they also have to disguise their roots when it's been too long between colorist appointments. We love how Kardashian West chose an extra-wide elastic black headband, and kept it over her ears and flush along he hairline. It makes the look more editorial and less like you just came back from yoga class.
Editor's Pick: Scunci Effortless Beauty Wide Stretch Basic Headwraps, $5.13, amazon.com.
SHOP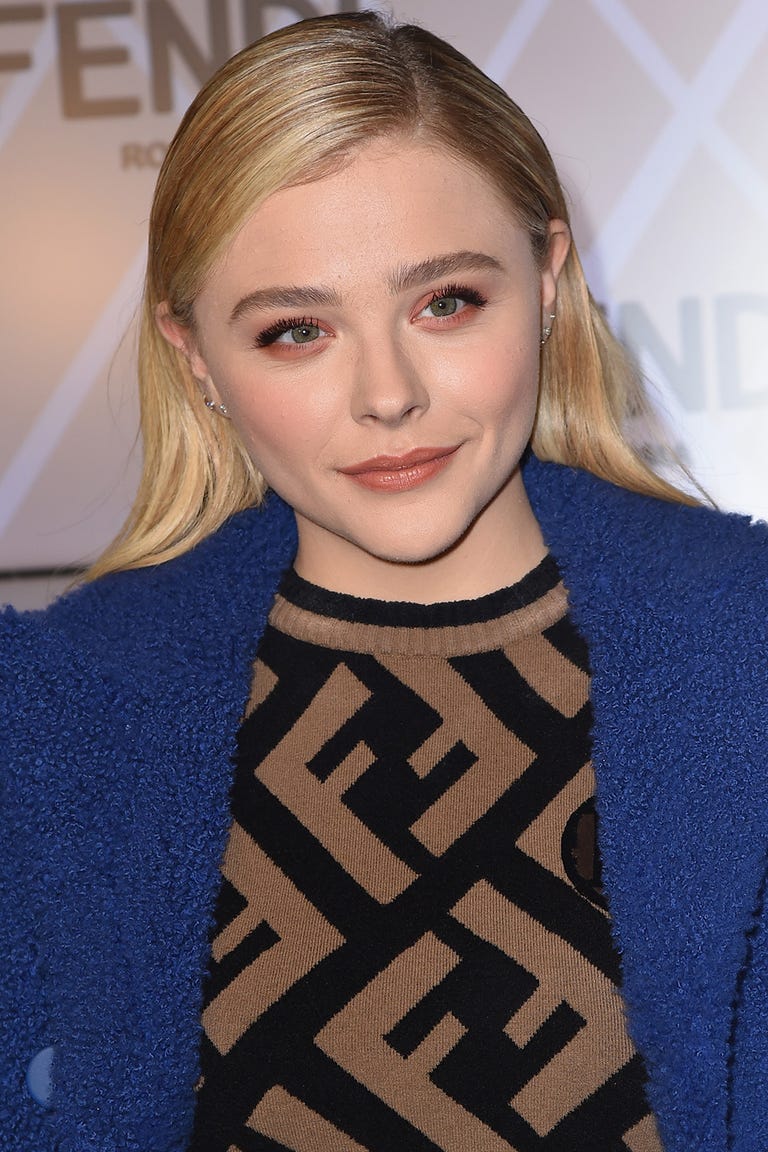 Who: Chloe Grace Moretz
What: Sienna Eyeshadow
How: Chloe Grace Moretz watched the Fendi show in Milan wearing the coolest combination of royal blue and Earth-tones. She took that inspiration into her eye makeup as well, opting for a haze of sienna orange eyeshadow instead of a more traditional nude or black shade. We love how the color is blended softly around both lids, so it's not a harsh wash of color. The warm shade also makes her green eyes really pop.
Editor's Pick: Anastasia Beverly Hills Modern Renaissance Eye Shadow Palette, $42, sephora.com.
SHOP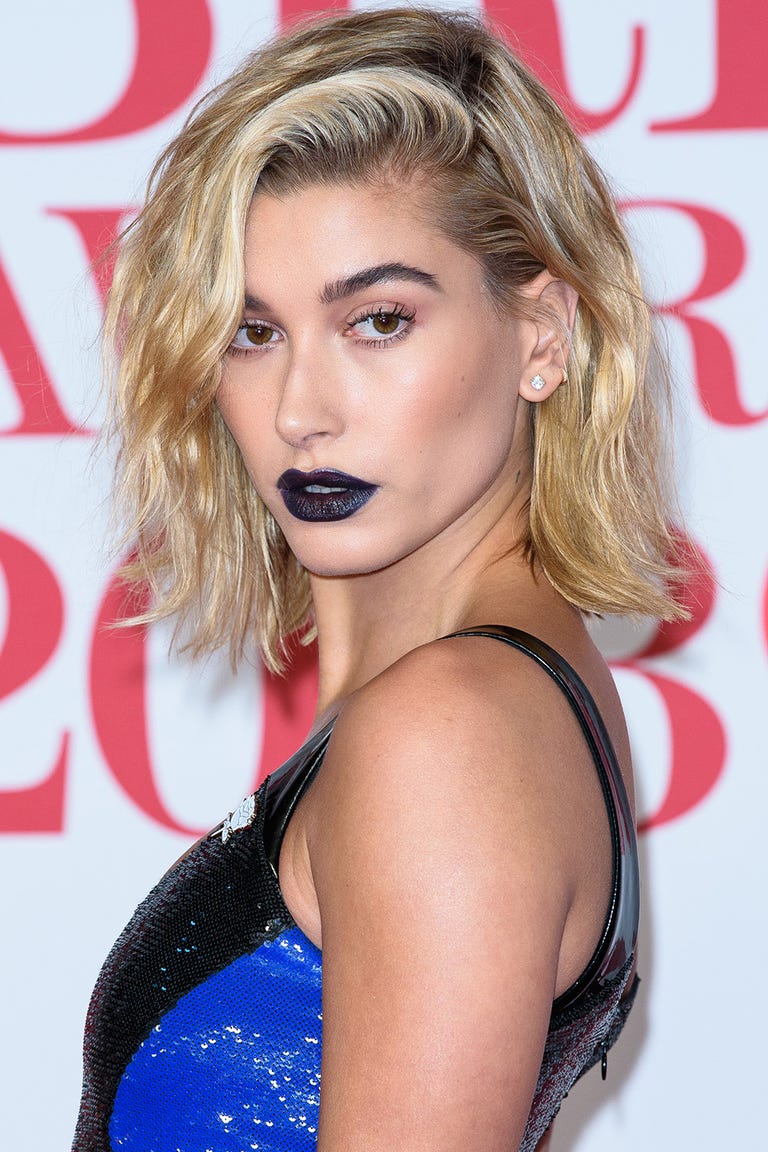 Who: Hailey Baldwin
What: Navy Lipstick
How: Navy lipstick takes guts to wear, but the end result is gorgeous. We love how Hailey Baldwin chose navy and not black—considering her dress was a mix of both. The effect is a little softer and less expected, but you'll need to use the same application technique. Apply the lipstick carefully, using a concealer to sharpen and define the edges. Blot with a tissue to prevent any from transferring to your teeth.
Editor's Pick: Fenty Beauty by Rihanna Mattemoiselle Plush Matte Lipstick in Clapback, $18, sephora.com.
SHOP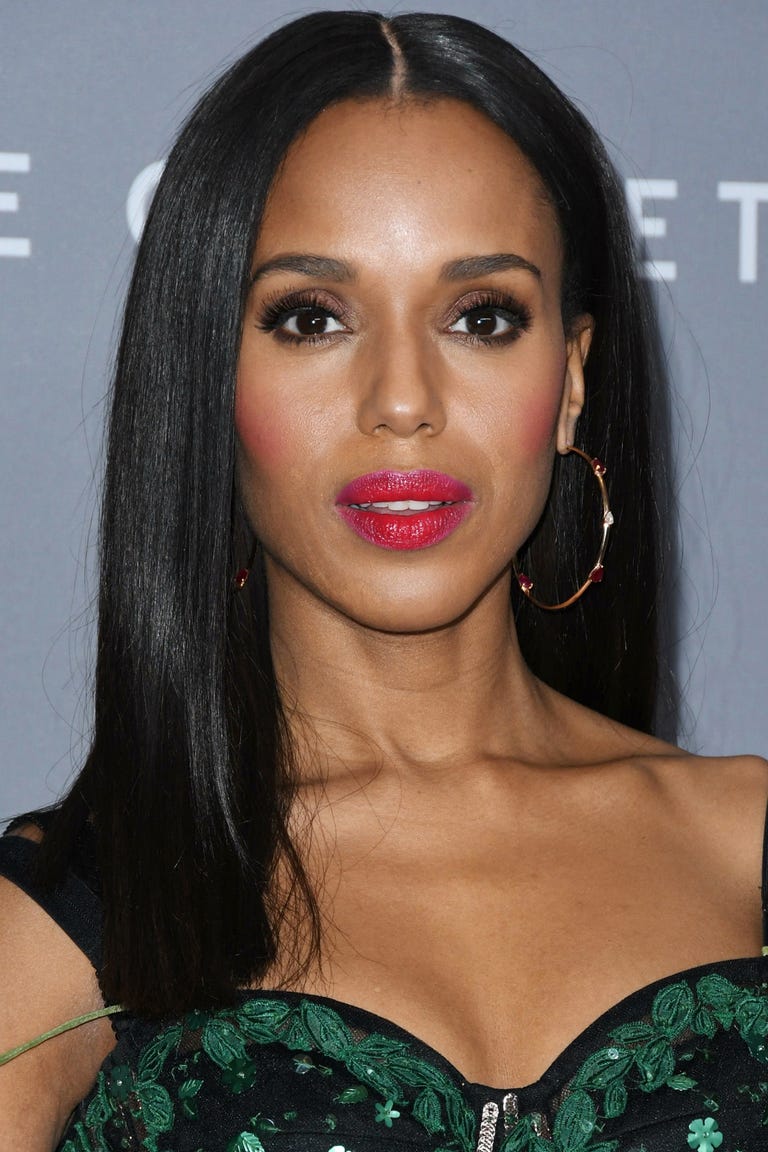 Who: Kerry Washington
What: Fuchsia Blush And Lipstick
How: If you were looking for a reason to wear more pink makeup in your life: it's here, and you can thank Kerry Washington. The actress attended the CDGA Awards in Los Angeles yesterday wearing a blurry two-tone pink lip and matching pink blush. To get a similar look, employ one of the oldest makeup artists hacks: use a creamy lipstick as blush. Dab the lipstick on with your finger, blending it from the apple of your cheek back toward your ears.
Editor's Pick: Neutrogena Hydro Boost Hydrating Lip Shine in Bright Poppy, $8.49, neutrogena.com.
SHOP

Source: Read Full Article