That didn't take long at all. Inclusive and prestige beauty brand Flesh Beauty arrived online via Ulta on Sunday, June 24 with 40 shades of stick foundation, highlighters, lipsticks, and more in gloriously retro-look packaging. One product has proven most popular upon launch. Flesh Beauty's Fresh Flesh Illuminating Primer is already sold out at Ulta, as reported by Allure.
Flesh's mission is to change the outdated notion of what "nude" makeup means. What is nude to one person is most certanly not nude to another, based on their own skin tone, their experience, and what their eyes perceive. Nude is a totally unique and subjective concept — and Flesh is aiming to change the idea that nude is just one shade. Because it's not! No nudes are created equal.
The Fresh Flesh Illuminating Primer costs $32. This miracle serum is designed to be applied to smooth, clean skin — either under your makeup or over moisturizer. If you want to go bare-faced and fresh 'n' clean for summer, you can skip foundation altogether, apply the primer solo, and enjoy a dose of radiance. You will be more "you" that way!
The light and lustrous formula makes it a perfect addition your morning makeup routine. It adds just a touch of glow and leaves your skin looking and feeling like a smooth canvas prior to makeup application.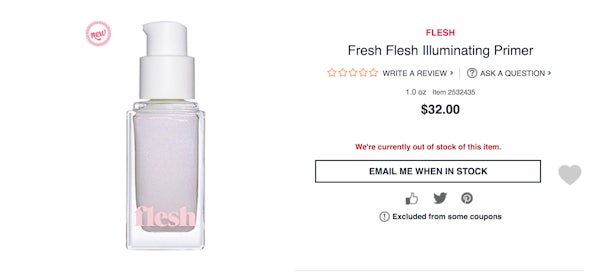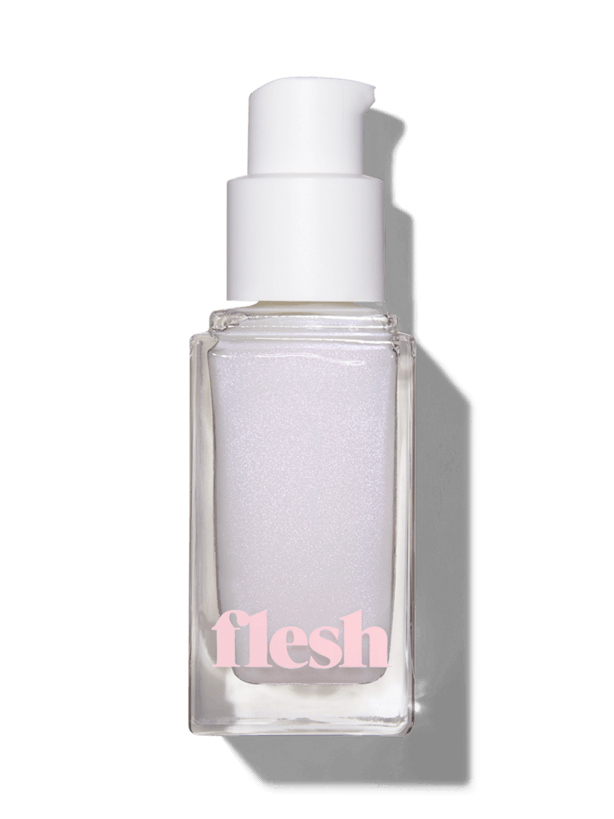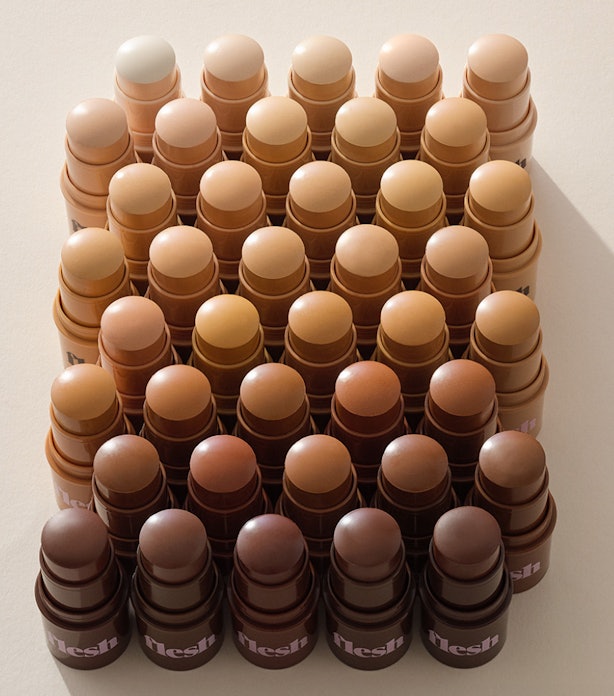 Flesh Beauty, which was created by Allure founding editor Linda Wells and incubated via Revlon as a prestige, inclusive brand, will arrive at 510 Ulta locations on July 8. So you can shop the products in person, IRL, and in the, well, flesh!
At that time, you can scoop up a bottle of the best-selling primer. You can also test the 40 stick foundation hues and see which works best for your own skin tone and personal nude.
While Flesh is a prestige band, which means it's pricier and more high end than you average drugstore brand, it's totally affordable. Prices start at $18 and go as high as $38. So purchasing these products won't blow your entire budget. The costs of these cosmetics fall right in line with MAC, Lancome, Kylie Cosmetics, and Huda Beauty, for perspective.
There are 96 products available, including lip compacts, blushes, and eyeshadows. There are no liners or mascaras yet. But there is an eye and lip gloss pot that looks dewy and divine.
The brand will likely continue to expand but it already started out expansive with its inclusive foundation offerings. While the primer is currently sold out, there are plenty more Flesh Beauty products that deserve your time, attention, and skin.
Source: Read Full Article