If you use a hair dryer daily or multiple times per week, it can be such a hassle. The heat can make you sweat while lower energy versions lead to longer styling time. The Dyson Supersonic Hair Dryer changed the game when it arrived — thanks to its $400 price tag, lightweight construction, and pure power, which decreases the dry time. The super expensive Dyson hair dryer has gotten an update and here's what's new, exciting, and water-removing!
Allure reports that the brand will drop the Dyson Supersonic Professional version on Saturday, April 28. It will arrive via the Dyson site at that time. This edition was previously available only to stylists. Now it is opened up to all consumers. Yay for that1
While you might be raising your Insta brows over a $400 hair appliance, the tool has been met with major love from shoppers. The original was one of the best-selling products at Sephora in 2017, as Allure reports. So there is a market for it, since it seriously shortens one's daily styling routine.
The upgrade has some awesome features. Of course it will cost more. The pro version will set you back by $450, since it has some premium elements that will help you love those locks a little bit more.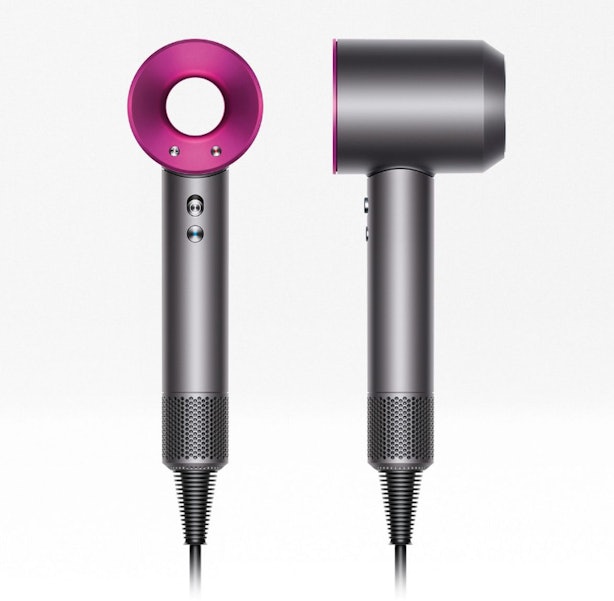 $399
It's a smart, lightweight, and effective.
Here is what remains the same. The "new" version has the same V9 digital motor and the Air Multiplier technology, which allows for mega quick drying. It boasts the same heat control system and it isn't heavy. That fact eliminates the arm fatigue that comes along with holding a blow dryer for 10 minutes while you style your locks.
Here is what's updated. It boasts a magnetic, removable, and washable filter. You can clean out any errant hairs or dust easily. There's also a brush included to help assist with that task. There is even a built-in feature that alerts the user to when the filter requires cleaning. Yes, it's a smart blow dryer.
The concentrator, smoothing nozzle, and diffuser attachments are more magnetic, which increases the performance capacity. Lastly, the cable is longer and measures 11 feet. That means you can walk around your bathroom when styling those strands.
Seriously, though. Is there anything is hairdryer cannot do?! One might wonder if it can do your homework, clean the house, or make you dinner.
While the add-ons for the professional version might seem minor and of little interest if you are casual about your coif, those who love doing their own blowouts will surely see the value in these features.
There are several editions of the dryer available. It's certainly an investment piece. But if you are hard on your hair when it comes to heat styling, it's an asset for your arsenal. Your follicles, their shafts, and their ends will thank you.
While the aforementioned Sephora sales status indicates a need and a want for a pricy but high performance heat styler such as this, Twitter isn't always convinced of its worth.
This user is so ready to make the commitment to a Dyson dryer. It is certainly an acceptable act of self-care — especially if you have a high maintenance mane that requires daily drying or styling. You'll get more time back to do other things because #perspective.
If you budget just can't handle it, that's more that fine. But if you have been thinking about splurging on a Dyson dryer for some time now but have had to save up for it due to the wallet-draining price, why not go for it with the professional version? It's built to last and to treat your locks with love.
Source: Read Full Article