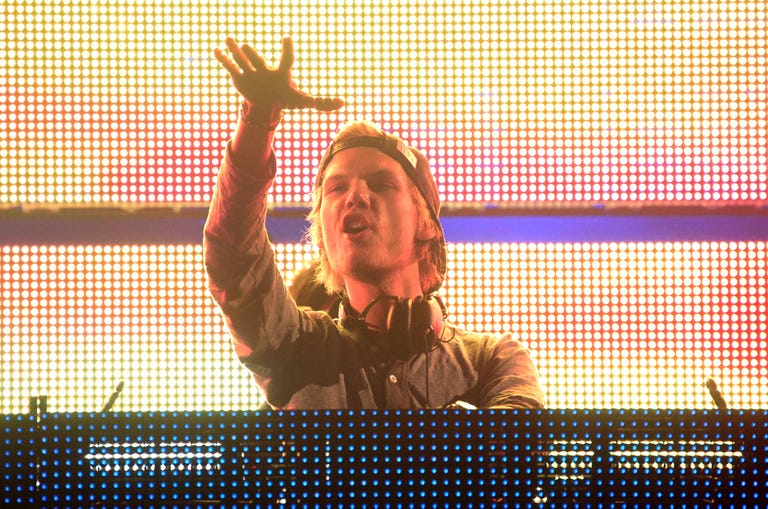 Less than a week after Swedish DJ Avicii was found dead at age 28 in Oman, his family has issued a heartbreaking statement about his state of mind at the time of his death.
"He really struggled with thoughts about Meaning, Life, Happiness, the statement, released by Variety Thursday, read in part. "He could not go on any longer. He wanted to find peace."
The statement was translated from Swedish and was written using Avicii's real name, Tim Bergling.
The full statement reads:
This latest statement could be read as saying the DJ died by suicide. The family's first statement, which came three days after his death, thanked his fans. "We are so grateful for everyone who loved Tim's music and have precious memories of his songs," they wrote, per Billboard. "Thank you for all the initiatives taken to honor Tim, with public gatherings, church bells ringing out his music, tributes at Coachella and moments of silence around the world."
The family also added that they are "grateful for the privacy during this difficult time," and "our wish is that it continues that way."
Avicii's publicist confirmed his death last Friday saying, "It is with profound sorrow that we announce the loss of Tim Bergling, also known as Avicii. He was found dead in Muscat, Oman this Friday, April 20th. The family is devastated and we ask everyone to please respect their need for privacy in this difficult time."
On Sunday, law enforcement revealed that Avicii's death had "no criminal suspicion." "Two autopsies were carried out, one yesterday and one today and we absolutely confirmed that there is no criminal suspicion in the death," an Oman law enforcement source said.
A spokesperson at the Muscat Governorate Police Headquarters told Radar Online Thursday, "I do know drugs were found on the scene."
If you or someone you know needs help, please call the National Suicide Prevention Lifeline at 1-800-273-TALK (8255).
Source: Read Full Article