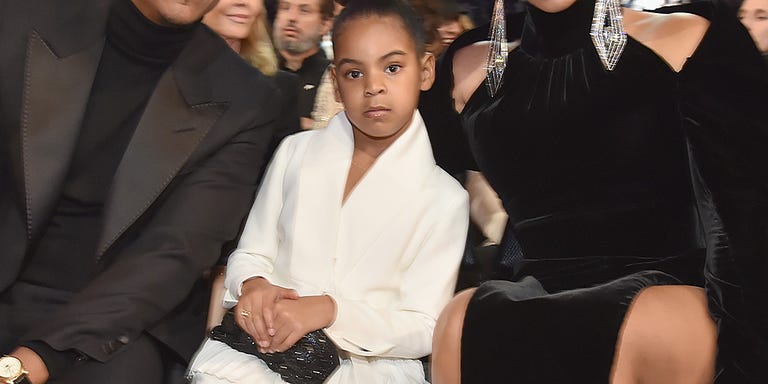 In classic Beyoncé fashion, the Queen slayed the Coachella stage for the second time this past weekend. Sadly for those of us following along from our phones outside of Palm Springs, Bey's performance wasn't livestreamed this time around. But luckily, many celebs and A-listers in the crowd snapped clips and pics of the show, giving us a little peek at Beychella 2.0.
The best finding from the insider footage? Blue Ivy Carter was once again in attendance, posted in the front row for her mom Coachella set (which her dad, JAY-Z, appeared in too). It was a different P.O.V. from where she watched last week, backstage. This time around, Blue was the spitting image of her superstar mom, styling her whole outfit to match her mama's neon pink onstage ensemble.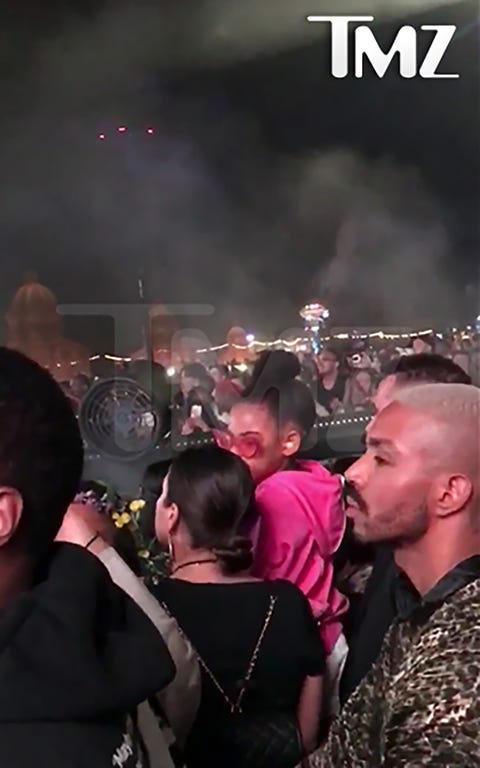 A mini fashionista in the making, Jay and Bey's six-year-old daughter was spied beside the stage, sporting a bright fuchsia sweatshirt styled with matching tiny cat-eye shades, and plugs in her ears (we imagine it's gotta be very loud that close to the action).
Some festivalgoers even caught her jumping up and down and waving to Beyoncé fans on the other side of the stage.
And once her mom was onstage doing her thing, Blue was just as captivated as the rest of the crowd.
The outfit choice was a perfect compliment to her Bey, who switched her wardrobe color scheme from Gen-Z yellow the first weekend, to vivid millennial pink on the second weekend. Once again, Queen Bey wore custom looks from Balmain, including a '90s-inspired cropped sweatshirt with sparkly silver embellishments, frayed denim short shorts, and holographic Christian Louboutin fringe boots.
We know that Blue Ivy is following in her mom's sartorial footsteps, as she's already working with her own stylist and personal shopper, Manuel A. Mendez. We're loving the elementary schooler's choice to pay a fashion tribute to Beyoncé's on-stage style.
Source: Read Full Article