"Crocodile Hunter" Steve Irwin, who was killed by a stingray in 2006, was honored with a star on Hollywood's Walk of Fame during a ceremony in which his family spoke poignantly about his life. 
Irwin's wife, conservationist Terri Irwin, told the crowd of fans ― often called "wildlife warriors" ― during Thursday's ceremony that the best lesson she learned from her late husband was saying "yes" to life.
"I found that if you put things off, pretty soon it just becomes an excuse. You're waiting until you graduate, you wait until the kids are grown, you wait until you retire. Don't even wait for the weekend. Just do it now. That's what I learned from Steve," she said.
Steve Irwin, famed for his TV series "The Crocodile Hunter," died at age 44 while filming an underwater documentary when a stingray's tail pierced his heart. 
A post shared by Bindi Irwin (@bindisueirwin) on
His daughter, Bindi, choked up as she described the unveiling of her father's star as "a special day."
"I have to tell you that I, never in my wildest dreams, imagined that this would become a reality, and this is such an honor as a family to continue in Dad's footsteps," she said. "So thank you for being here today and supporting us. And you know what? We'll always be a family. So congratulations and woohoo."
The family, which also includes son Robert, accepted the star, accompanied by a South American green anaconda snake named Angelina.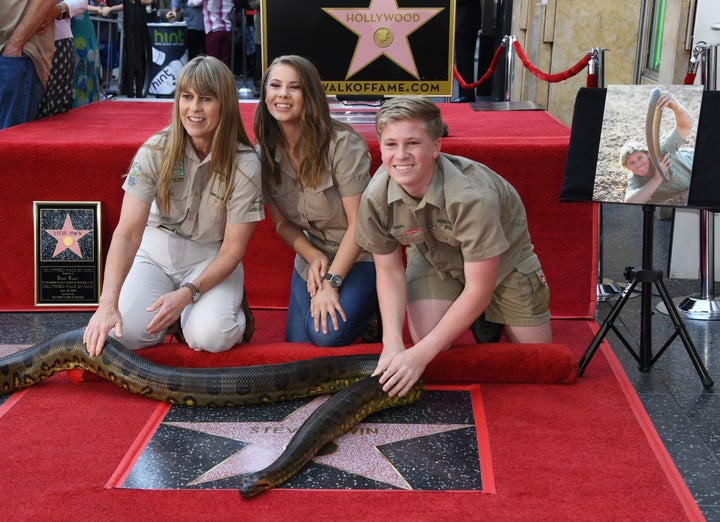 Bindi Irwin told ET Online she "cried through the whole time" and doesn't think "people realize how emotional it is." 
"It's been over 10 years now, and the grief is always going to be there, but I think now, it's moving forward and remembering everything dad worked so hard for," she said. "And this is a celebration of his life and it's always going to be emotional, but I think these are just happy and proud tears. We miss him so much."
Terri Irwin told the publication the event was "just so special."
"I don't think we'll get a star, but the beat's gonna go on. I think they'll be next," she said.
Bindi Irwin on Friday tweeted thanks to those supporting her family: "Sending all my love and appreciation for your incredible support as Dad received his star on the Hollywood Walk of Fame. The kind words we have received are overwhelmingly thoughtful. Thank you."
We're not crying, you're crying.
Source: Read Full Article