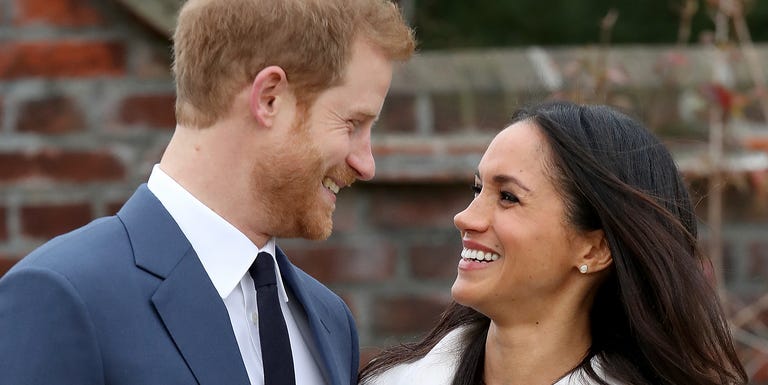 Prince Harry and Meghan Markle's royal wedding is less than a month away. But don't look for the main event in London; the couple won't be celebrating their union at Westminster Abbey and Buckingham Palace like Prince William and Kate Middleton did. Below, we round up everything you need to know about the pair's wedding location on May 19.
The wedding ceremony will take place at St. George's Chapel, Windsor Castle.
Harry and Meghan will tie the knot about 23 miles west of London's Kensington Palace (where they currently reside together) at St. George's Chapel on the grounds of Windsor Castle. The venue is much smaller than William and Kate's, with a capacity of 800 compared to Westminster Abbey's 2000, People reports. However, despite its smaller scale and "chapel" title, the space is actually quite large and looks cathedral-like.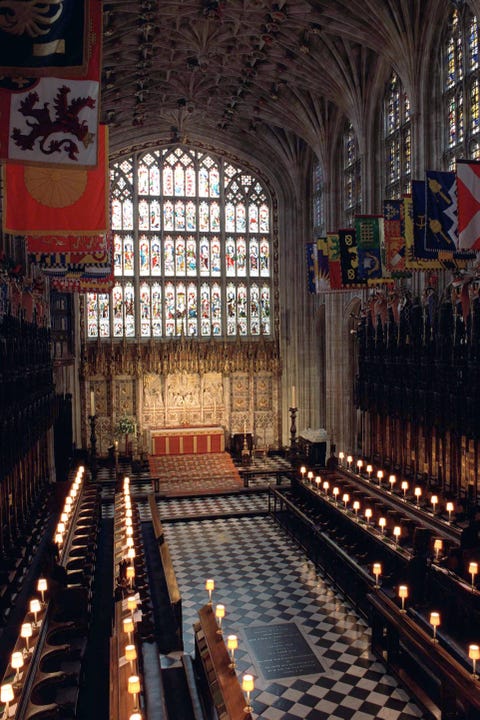 The chapel was commissioned by Edward IV in 1475 and completed in 1528, per the BBC. The king became the first monarch buried on-site. Now 10 former sovereigns have been laid to rest at the location. The space also holds some significance to Prince Harry's childhood; he was baptized there in 1984 and it's not far from Eton College, which he attended.
"Windsor is a very special place for Prince Harry, and he and Ms. Markle have regularly spent time there during the last year," a spokesman from Kensington Palace told People. "They are delighted that the beautiful grounds of Windsor Castle will be where they begin their lives as a married couple."
According to the rep, the ceremony will be "shaped so that members of the public" can also feel a part of the couple's special day.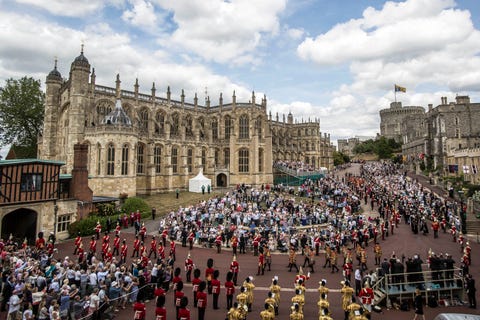 St. George's Chapel has hosted royal weddings since the Prince of Wales (later King Edward VII) married Princess Alexandria of Denmark in 1863, according to its official website. In recent history, it was the venue for Peter Philipps (Eugenie's cousin) and Autumn Kelly's wedding in 2008, Prince Edward (Eugenie's uncle) and Sophie Rhys-Jones' wedding in 1999, and Prince Charles and Camilla Parker Bowles' marriage blessing in 2005. (They were actually married in a civil ceremony, followed by a blessing at the chapel.) Later this year, Princess Eugenie and her fiancé Jack Brooksbank will also marry in the same venue on October 12.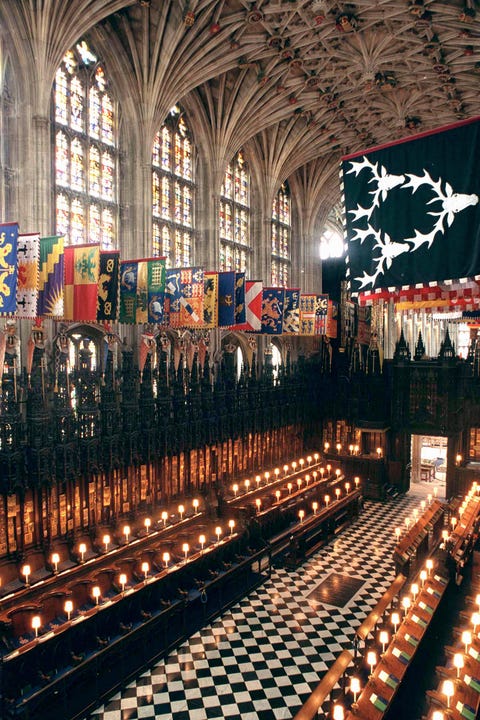 One important difference to note: St. George's Chapel reportedly does not have a balcony, so we might not be able to see Harry and Meghan's first kiss like we saw William and Kate's at Buckingham Palace—out in the open for the gathering crowds and the world to see. However, those celebrating in the town of Windsor will be able to see the newlyweds during their procession, which starts at 1 p.m., following the official ceremony.
When St. George's Chapel is not hosting royal nuptials, the chapel functions as a working church. If you want to check it out on any day that isn't May 19, plan your visit here.
The daytime reception will take place at St. George's Hall, Windsor Castle.
Kensington Palace announced that there will be two receptions following the ceremony at St. George's Chapel. The first takes place nearby, at St. George's Hall, right on the grounds of Windsor Castle. Measuring at 180 feet (55.5 meters) long and 29.5 feet (9 meters) wide, it's the largest room in the castle. In fact, Queen Elizabeth II often uses it to host banquets with foreign dignitaries. Though she usually has about 160 guests, Harry and Meghan have invited 600 people to celebrate their big day. The hall was badly damaged by the fire at Windsor in 1992, but it was later renovated with modern Gothic style, according to the Royal Collection Trust.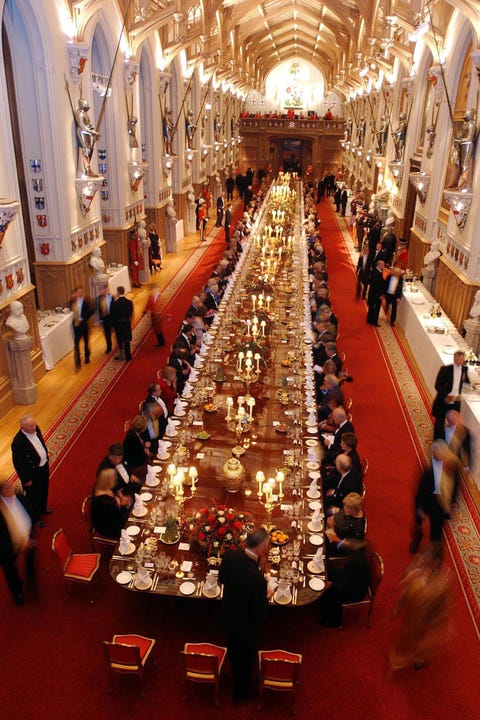 The evening reception will take place at Frogmore House.
Prince Charles will host the second reception in the evening at Frogmore House, a royal residence roughly half a mile away from Windsor Castle. About 200 people are expected to attend.
Royal fans may recall the venue as the backdrop for the couple's official engagement portraits, released in December 2017.
The estate—whose name was inspired by the abundance of frogs on the marshy premises—was built from 1680-1684 by King Charles II's architect (Hugh May) for his nephew, according to the royal family's website. The gardens were added in 1790, creating ornamental water, walks, bridges, trees, and more on the land.
Queen Elizabeth II's parents (King George VI and Queen Elizabeth the Queen Mother), spent part of their honeymoon there. Later on, when she had a family of her own, the Queen herself often brought Prince Philip and their children to Frogmore House on retreat. Several royals are buried on site, including Queen Victoria and Prince Albert, who were laid to rest in a mausoleum on the west side of the gardens.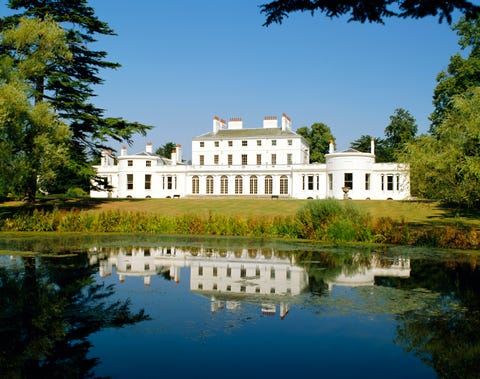 The house's interior boasts an eclectic interior design, commemorating the estate's former inhabitants (thanks to renovations in the 1980s), the royal website says. There are murals depicting scenes from The Aeneid in the Staircase Hall, from the Duke of Northumberland's time in the 1760s. Theres a Mary Moser room, painted by the eponymous artist in her signature floral motifs for Queen Charlotte (sovereign and consort to King George III from 1761-1818). There's also a museum of black papier-mache furniture, courtesy of Queen Mary. One of the latest additions came from Prince Philip, who had a room fashioned like the inside of the Royal Yacht after it was decommissioned in 1997.
Frogmore House is actually open to the public for three days in the spring, but it'll reopen for pre-planned group visits (15 people or more) in August. Plan your visit here.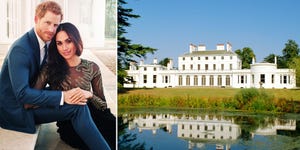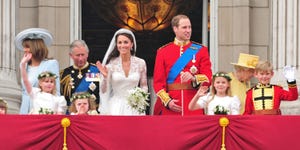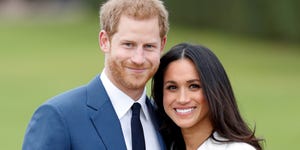 Want more royals? Now you can watch all of the best episodes from Bazaar's Royal Watch—right here on Prime Video.
Source: Read Full Article