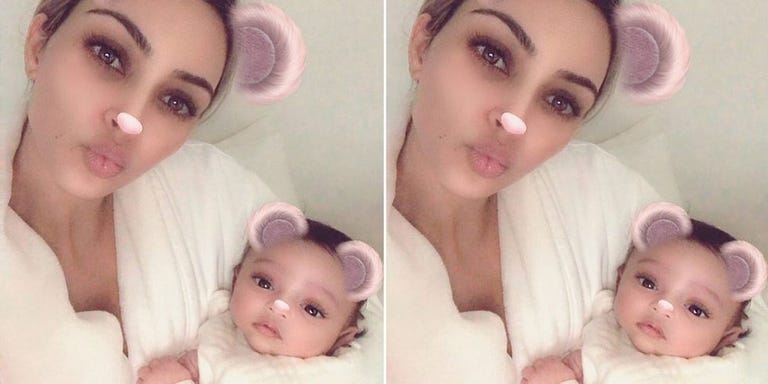 After welcoming Chicago West via surrogate back in January, Kim Kardashian has been all about sharing sweet shots of her precious third child—and we can't get enough of Kim and Kanye's new addition.
Ahead, a running series of all the mother-daughter selfies, cooing and babbling clips, affectionate sibling outtakes, and full-family photos we've seen of baby Shy since her birth.
May 13, 2018: Happy Mother's Day
On her first Mother's Day as a mom-of-three, Kim shared a sweet shot with all her little munchkins. Comfy and cozy in their pajamas, four-year-old North and two-year-old Saint snuggled up next to mom, while new baby Chicago rested in Kim's arms. "You don't even understand how many lollipop bribes this pic cost me…but it was so worth," Kim candidly captioned the photo. "Happy Mother's Day to all the moms out there. I'm the luckiest mom in the world to have these three babies in my life!"
May 1, 2018: Chi Latte
Kim shared a sweet mother-daughter selfie with little Chicago. "Are you the cutest or what?" Kim gushed over her baby girl, adding a few adorable Snapchat filters with bear ears and coffee cups.
April 30, 2018: We got love
Kanye tweeted an adorable brother-sister moment of two-year-old Saint laying a soft smooch on his baby sister. The duo's proud dad captioned the shot, "We got love."
April 23, 2018: Party of five
Kim shared a full-family shot of the group of five prepping for take-off. The Instagram photo shows Kanye cradling little Chicago, while mom Kim wrapped her arms around playful four-year-old North and two-year-old Saint.
April 14, 2018: Chicago melts our hearts
Chicago made a live-video appearance on Kim's Snapchat in mid-April. Laying on a blanket splayed across the grass, the proud mom positioned the camera over the happy baby and gushed: "Say hi! Hi cutie! Say hi!"
Upon hearing her mom's voice, Chicago began excitedly wriggling her arms and legs, with her big brown eyes wide open, and she turned her lips into the sweetest little smile. I mean, could she be more precious?
April 7, 2018: Mommy's girls
From their family Easter celebrations, Kim showed this sweet moment starring the girls in the family, with Shy resting in her arm and big sister North smiling at the camera.
April 6, 2018: Mom, dad, and baby
Another intimate Easter snap included an adorable close-up of Kim and Kanye with new baby Shy. Kim posted an Instagram photo of the happy couple gazing lovingly at little Chicago, snuggled in her mom's arms. Aside from the full-family photo taken on the same day, the post marks the first shot we've seen of Chicago with both of her parents.
April 6, 2018: Easter festivities
Another photo of Chicago and her big brother Saint, Kim shared a candid moment holding her newborn baby girl, while her son shares a golden Easter egg.
April 4, 2018: Family's first photoshoot
Kim Kardashian shared her family's first portrait, including her and Kanye's new baby girl for the first time. The photo, taken on Easter, features the full family of five: Kim, Kanye, North, Saint, and Chicago.
Keeping it real, Kim captioned the full-family shot: "I don't think you really understand how hard it is to take a good family pic. This was all we got before all three kids started crying. I think I cried too."
March 31, 2018: Saint kisses
Kim showed off the love between Saint and baby Chicago in a sweet Instagram photo."He loves her so much," Kim captioned precious pic of Saint leaning in to kiss his baby sister lightly on the nose.
March 17, 2018: Morning cutie
Kim posted this cute overhead photo of her little daughter. Chicago sported a precious pink polka-dotted onesie with a plush white bib and a big smile.
February 26, 2018: Baby's first selfie
Back in February, Kim shared a mother-daughter selfie with baby Shy. For her big public social media debut, Chicago wore a white onesie and the pink bear Snapchat filter, of course.
Source: Read Full Article