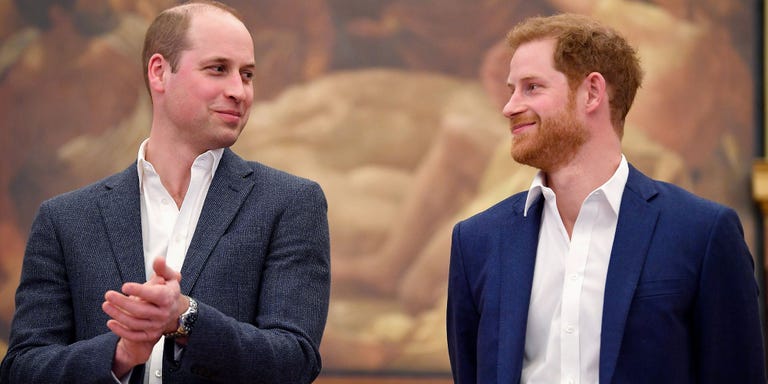 It took him a while to make it official, but Prince Harry has finally announced that his big brother, Prince William, will be his best man at the May 19 royal wedding. On Thursday evening, during a visit to the Greenhouse Center charity in London, reporters caught up with the ever-chummy brothers outside the event.
When asked about how he felt to be asked to stand beside Harry on his wedding day, Prince William seemed elated. "It feels great," he replied. "[I'm] thrilled and delighted, honestly."
It wouldn't be a candid William moment unless he threw in a good dad joke, this time in the form of a soft jab thrown at his younger brother. "Revenge is sweet," the Duke of Cambridge added, probably alluding to the fact that Harry was his best man in 2011.
Prince Harry was quick to clarify that the assignment really wasn't as last-minute as it looks. "I got down on one knee," Harry joked of how he gave his brother the good news, adding that it actually didn't come out-of-the-blue. "He's known for months," the groom-to-be revealed.
It's likely that the best man role was actually given to William well before the news broke, as a source close to the royals revealed that the title was known to be William's from the get-go.
"Harry has several close guy friends, but there's no way he would ask anyone but William to take on the top job," the insider told Us Weekly back in December of 2017. It only took four months to get official confirmation.
With the best man announcement out of the way, now royal fans are left waiting for the name of Kate and William's new baby. Prince William replied to baby name questions at today's event, too, saying, "I'm working on that."
We have to trust the big reveal is coming soon, as the precious baby boy can't stay nameless forever!
Source: Read Full Article