Elizabeth Hurley used to be a pretty big deal in Hollywood. She was a model turned actress and for a while, she was doing big things in the industry. She was also the girlfriend to Hugh Grant who was an awful boyfriend to her. In the '90s, they were the "it" couple, the ones to watch. She is the 52-year-old that can still sport a six pack as if it's the easiest thing to get. She had a pretty big career in the '90s and was, of course, the love interest in the Austin Powers franchise. Who could blame them for casting her, she's always been an absolute fox. She's so foxy, in fact, that she was able to play alongside teenagers in the popular TV show Gossip Girl and got to make out with the handsome Chace Crawford who played Nate Archibald.
She has done a few things over the years and she's currently rocking it as a badass member of the royal family in The Royals, but her career has certainly slowed to a crawl. Her career slowed down and she never went back into modeling. She's a gorgeous woman with a lot of talent. So, what happened? Why did she give up on Hollywood or was it that Hollywood gave up on her? Check out these 15 reasons why Elizabeth Hurley gave up that Hollywood life.
15

She Became Farmer Barbie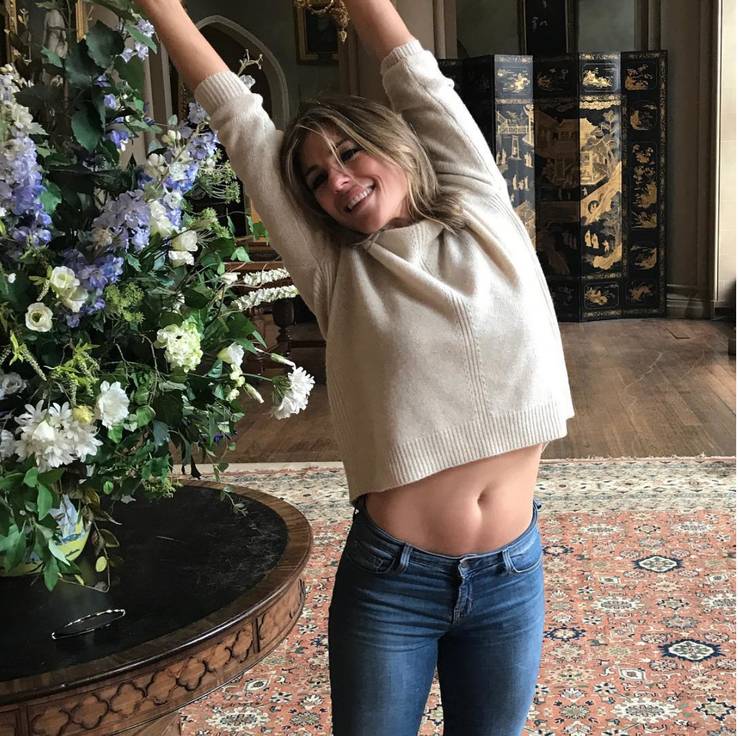 Would you believe that this amazing looking model decided to take up farming? Manual labor is actually what she attributes her hot body to. She has what you call a birthing farm and that means she is right in there helping to birth pigs, calves, and even a lamb. It's hard to believe that a model would want to be up in her arms in gunk, but whatever makes her happy. "Elizabeth is always active, she never stops moving. She's a farmer," The Royals co-star Alexandra Park revealed.
"Anytime I ask what have you been up to she's just out on a kayak or on a tractor, or she's whacking down hedges. She's really just outdoors non-stop."
Hurley has no problem agreeing with her. "It's true," Hurley laughed. "I don't do much organized sport like these two do, and they both have phenomenal bodies and they work at it. I've just been more busy. I've just got physical things I need to get done, which works for me. But some people don't have trees to chop down obviously so they use a treadmill." It's hard to believe that this girl is a farmer, but it's also pretty cool. We love that she's out doing her own thing.
14

She's A Bikini Designer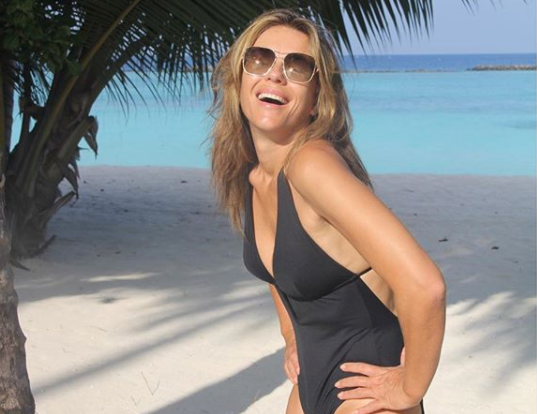 Just because she's not all over Hollywood anymore doesn't mean that she's not doing passionate ventures. She's one busy girl, so busy in fact that she doesn't have time to meet a new man. Who is more qualified to be a bikini model than Elizabeth Hurley? We're just all jealous that she is sporting them at 52 and looking incredible. Many people wondered why she was in a bikini in most of her Instagram photos, now you know, she has her own bikini line called Elizabeth Hurley Beach. She has a great philosophy about aging as well.
"If you've got time to think about aging then you're not busy enough. Being busy and interested is the key to being attractive. Narcissistic bores who stare at themselves in the mirror for hours are the dullest people on Earth."
She's definitely in the right business; we couldn't imagine a better person to start up a bikini line. If you don't believe us then just check out her Instagram page. We love the inspiration she is as a woman. It's not every day that you meet someone who refuses to worry about aging because as women that can be a really hard thing to do.
13

She's Too Busy Taking Care Of Herself
She is farming, designing bikinis, and just overall loving life. She's enjoying a little bit of modelling as well in terms of her Instagram page. Seriously, if you aren't on Instagram by now, then you are truly missing out. She is a stunning woman and probably has men still flocking to her at 52. She doesn't have time for any of it though; she is just enjoying life and going out and getting a boyfriend just isn't a priority of hers. She does keep in contact with most of her exes, however, even Hugh Grant.
"The thing is if someone's lovely how could you not be on good terms with them? None of us has ever done anything bad to one another. Hugh and Arun are very important in our lives.
Shane is still a good friend; we were texting each other last night. Damian loves Shane's three kids, so we'll always be connected to each other in one way or another." It takes a strong woman indeed to be able to embrace friendships with men that she used to love, especially when it comes to Hugh because they were together for so long before they broke up. It's truly inspirational.
12

She's Focused On Being A Great Mom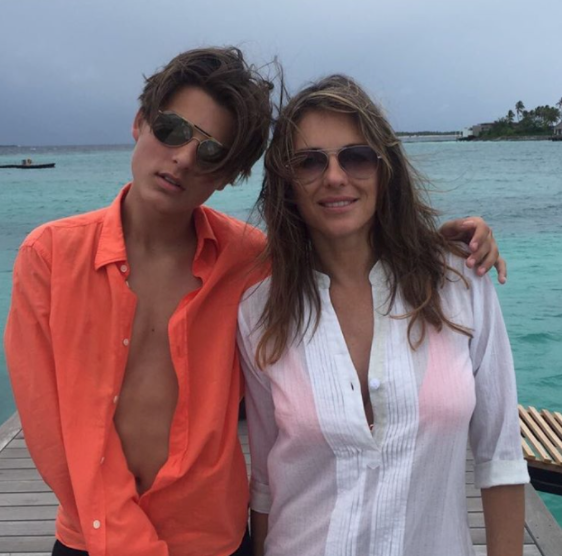 Well, he's not that young any longer, but he's the only child that Elizabeth Hurley ever had. If you remember she was dating Steven Bing once upon a time but when she found out she was pregnant, the billionaire dumped her and said the child wasn't his. Even after she proved it was with a paternity test, he still didn't want anything to do with his son.  It's too bad too because his gorgeous son looks just like him. He's 16 years old now and could certainly go into modelling if he really wanted too. He actually calls Hugh Grant, Uncle Hugh. Critics slammed her at one point because sometimes, it's her son who is taking her bikini pictures. But she defended it saying,
"Here's the thing, he doesn't take all my bikini photos, by the way. Some of them are professional, some of them are my sister, anybody who I can get. When we're on holiday together, sure he'll take some pictures. And you know, he's got a really good eye and he's studying photography and it's ridiculous."
We think a lot of people worry about things that aren't even an issue. We need to start looking within instead of judging others so harshly.
11

She's A Social Media Queen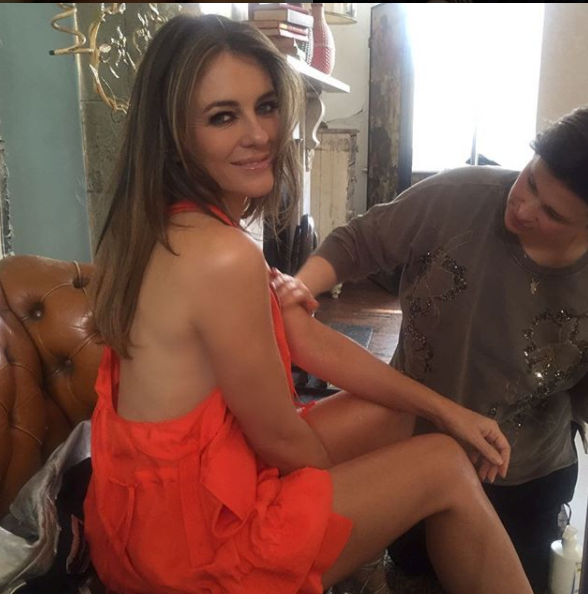 Instagram is definitely the place to be these days and we can't really blame the girl, we all love it. Who needs to be in Hollywood when you can become famous right on Instagram. It happens all the time. Her page is definitely the place to be if you like bikinis and beautiful women. She showcases lingerie and her signature bikinis on the regular. It's hard to believe that the body belongs to a 52-year-old. So, what is her beauty secret after all these years? "A bit of lusting after someone does wonders for the skin." Good to know. But more importantly, it's about how you treat your body.
"Skincare. I have one serum I use all the time. You need to look after your skin. You need to look after your health. If you want to glow from the inside, you have to be healthy. You have to watch your diet. You have to watch your lifestyle. You have to get enough sleep."
It's all good advice and if you are going to follow anyone's advice it should be the 52-year-old hottie in the bikini. Wouldn't you agree?
10

She's Still A Full-Time Royal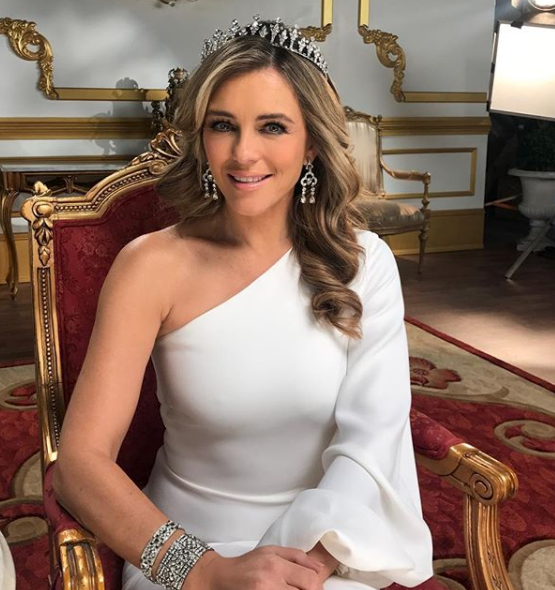 Let's not forget that she hasn't completely left Hollywood, she is still currently acting, it's just not all that she does. She was smoking it up pretty good on Gossip Girl a few years back and she is still rocking it as a member of the royal family on the TV series The Royals. This is a character you are going to want to get to know. She plays Queen Helena and this character doesn't mess around and when she demands something, she expects it to be followed. She is often vicious and ruthless, exactly what you want in a queen. This is the kind of woman that gets things done or else. She told Variety,
"I think it's like a physical pain to her when people don't do what she wants and that's what she's fighting with the whole time because her children won't do anything she wants them to do so there's a lot of friction from the get-go."
She's definitely a character you want to see more of because it's not every day that we see royals behave that way. We have to wonder if there are behind the scene secrets that make some of these fictional stories a little true.
9

She Works Really Hard To Live A Positive Life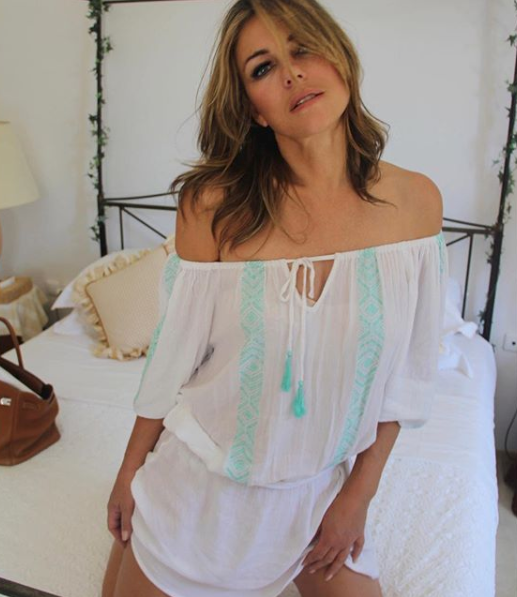 She hasn't had the best of luck in her life. The love of her life betrayed her and it was splashed all over the magazines. Her next boyfriend ditched her when he found out she was pregnant. She isn't as popular as she once was and yet, this woman always has a smile on her face. What's her secret to a happy life no matter what life throws at her? Her idea is that youthful is a blessing to those who think positively no matter what happens to them. There is a lot to be said about a positive frame of mind and considering the good life that she has and the fact that she looks so beautiful, we might have to agree with her.
"You have to try to stay positive. We all get terrible knocks in life, all of us. Some people have terrible things they have to deal with. You see some people and they just manage to keep their attitude positive.
They rise above stuff. Some people get angry. Sometimes I think to glow, you have to let go of a lot of stuff and move on. Be as nice as you can to everyone," she says.
Featured Today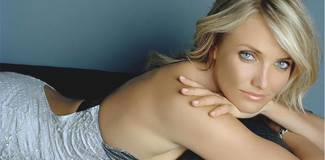 Hollywood's 5 Dirtiest Celebrities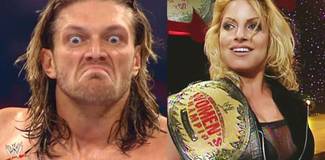 Incredible Former WWE Stars Where Are They Now Stories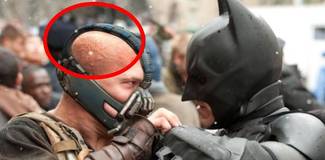 Movie Clues You Totally Missed

8

She's Still Dealing With Her Divorce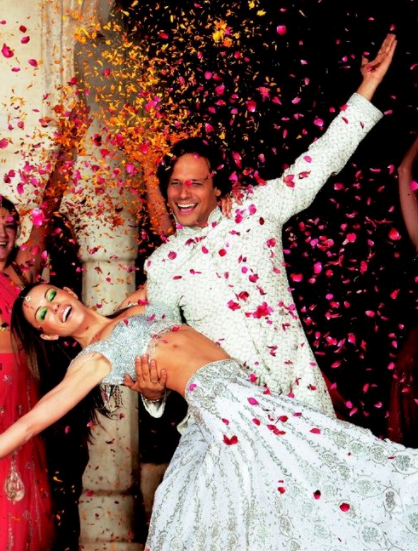 Divorce isn't easy on anyone, especially a celebrity who has to deal with it all in the public eye. She got divorced from Arun in 2011 and it happened so quickly that a lot of people weren't that impressed with her. She gave up on her marriage and many people who knew the couple didn't even know they were having problems. Even the judge agreed that the marriage was "broken down irretrievably," The Daily Mail reported. The two were only married for four years. His father didn't keep his opinion to himself about the whole thing. "We had no idea Arun's marriage was on the rocks. I'm hoping that now Arun will get back home," according to The Mirror. His father also wasn't very happy with the fact that the couple wanted a lavish Indian wedding when they got married.
"Liz and Arun treated us very shabbily and we were pushed into the background like poor relations. I knew she was very ambitious, but I never realized just how important fame and attention is to her. This has broken my heart."
After all that no wonder she is still reeling from the experience.
7

She's Dedicated To Paying It Forward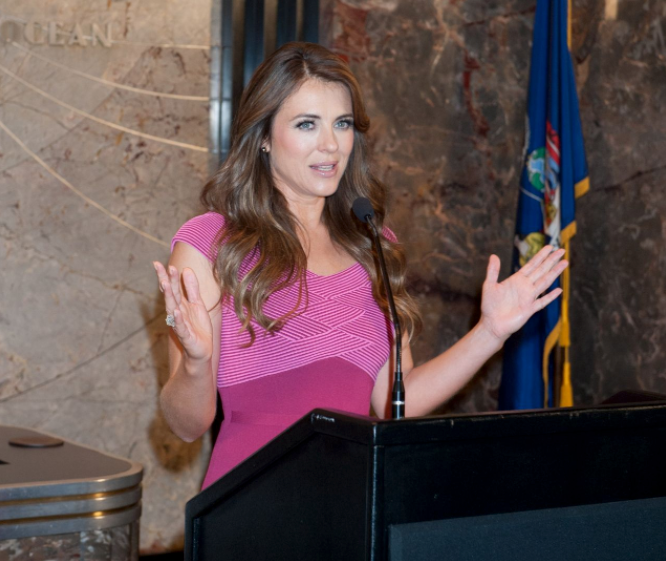 A lot of celebrities have causes that are close to their heart and when it comes to Hurley, she has a favorite as well. She has a strong love for Breast Cancer Awareness and she is determined to pay it forward and that means getting involved. She has worked with BBC and Evelyn Lauder to spread awareness and it's a passion of hers. We love when celebrities get involved with good causes "Breast cancer is being detected at an earlier, more treatable stage these days, largely because women are taking more preventive measures, like self-exams and regular mammograms. And treatment is getting better too." When it comes to protecting yourself from breast cancer, Hurley isn't taking any chances. She's doing whatever she has to in order to protect herself from cancer.
"I've learned how to rest when I need to rest. I understand that I need to do a bit of exercise. I understand about eating healthily."
Living a healthy lifestyle is probably the best means of preventing a disease that you can hope for. It allows you to live longer and you have a better chance of fighting diseases.
6

She Got Caught In A Scandal
When her marriage was falling apart in 2010, she was also involved in a scandal. It was part of why a lot of people didn't look kindly on Hurley when she got divorced. Many people believed that she was betraying Arun the whole time. But the way she explained the situation, she had informed Arun that the marriage was over before she got involved with someone else. She was caught on camera kissing Shane Warne and that's what got the gossip mills going in full force.
She went on Twitter immediately to let the world know that she wasn't betraying her husband. "Not a great day. For the record, my husband Arun and I separated a few months ago. Our close family and friends were aware of this," Hurley tweeted, reported People. Warne was also married at the time and had to take care of some damage control on his own end. "Sadly and unfortunately, Simone and I split up a while ago, our close friends and family were informed at that time," Warne said per People. "It is a private matter so we did not make it public. We remain friends and will continue to be good parents."
5

She Has Had A Hard Time Letting Go Of Grant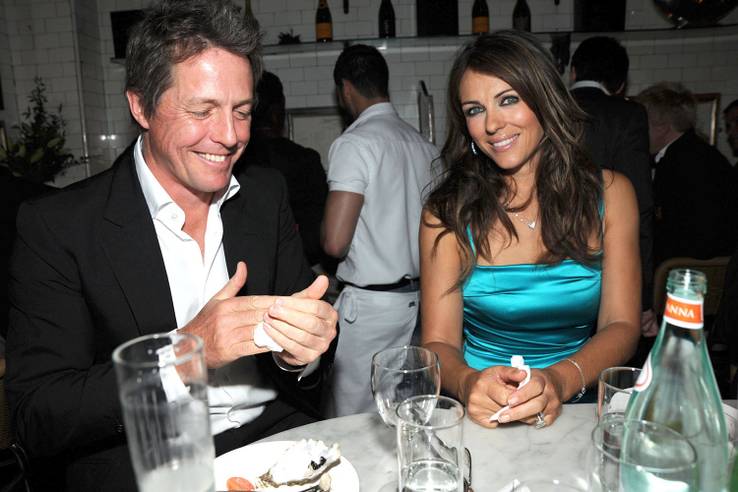 One thing is for sure, Hurley's love life is like having a full-time job, no wonder she had to take a break from Hollywood. Not long after her divorce from Arun she was engaged to Shane. That also added three more children to her life and Hurley only had one of her own. "I've added three more children [to my life]," Hurley told People. Things seemed to be going well for the couple until 2013 when they broke off their engagement. Shane blames Hugh Grant for it. Shane confessed on the Australian version of I'm a Celebrity that the foundation of his relationship started to crumble because his fiancé would have "sleepovers" with Grant. "It's hard on your new relationship when you're really good friends with the exes.
Elizabeth was really good friends with Hugh, who is like her best friend. When I used to go back to Australia, if she wasn't leaving London, he'd come and spend the weekend at the house,"
Warne said of Grant. "I went, 'I tell you what. Tell him to come when I'm there. I knew Hugh before I knew you, so just tell him to come over.' But she said, 'Oh no, he feels uncomfortable.'"
4

Her Villain Didn't Work Out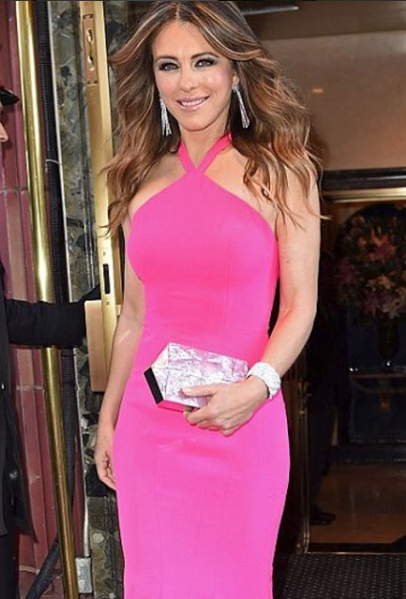 It sucks when you get the opportunity to be on a TV show and it all falls apart. What are we talking about? We have no idea what that would be like. But Elizabeth Hurley, unfortunately, knows all about it. In 2011, she was supposed to be part of the NBC drama Wonder Woman. She wasn't playing Wonder Woman but the nemesis on the show. She was super pumped about the experience and she went right to Twitter to talk about it. "Thrilled to be doing the NBC pilot Wonder Woman," Hurley tweeted and reported by Entertainment Weekly. "I'll be playing the evil villain. Can't wait."
The idea behind her character was that she would play a pharmacist that would give out drugs that made people stronger. It doesn't sound very villainous to us. But when you take into consideration that she was trying to build an army she could use against Wonder Woman, then we see her evil side. As exciting as the show sounded it was never picked up by NBC. On critic for Flickering Myth said this about the pilot, "It was both dated, in terms of content, and ahead of its time in concept. We didn't really lose anything by it not being commissioned into a series."
3

She Decided To Take Some Time Off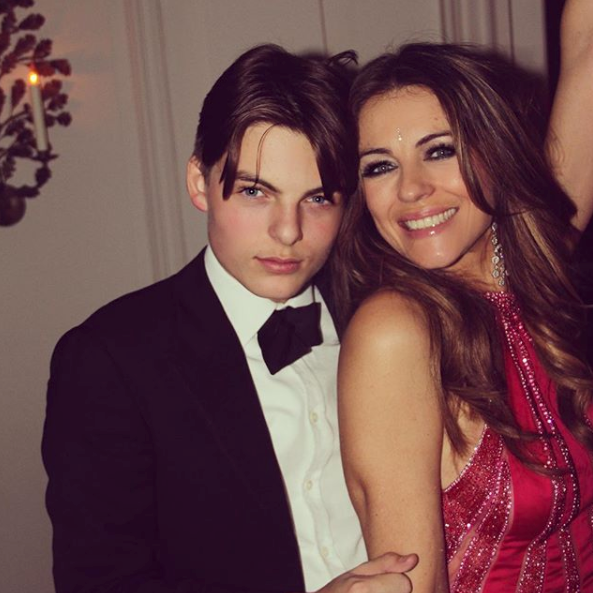 When she got ditched by Steven Bing, Elizabeth Hurley had to get used to the idea that she was going to be raising her son on her own. One of the reasons why her career may have slowed down was because she decided to take a long break from acting to be there for her son, and that was a long eight years. She made the decision in 2005 and told The New York Post, "I'm not going to do movies for now," she told them.
"I don't want to leave my son for such long periods of time. This trip to New York is three days away from him, but a movie is three months, and I've decided not to do that until he's older. I want to be there for him."
She was true to her word because she didn't do another project until 2010. She has said that she didn't regret taking time off but, we have to wonder if it did affect her career in the end. She told Closer magazine, "Looking after my son became my number-one task, and it was a joy to have someone else on whom to focus," she said. "I was 36 and had been worrying about myself for quite long enough. I stopped doing movies and TV for the first eight years of his life, and I don't regret it for a moment. I always put him first."
2

She Is Coaching Damian In Acting
She might not be doing a lot of acting herself, but she definitely wants to help her son out in any way she can. We're not surprised that he has a passion for acting himself, it's usually how it goes in the industry. He has literally been stepping in his mother's shoes and she is willing to support him in any way possible. Being sixteen now, he's at the perfect age to start acting because he can avoid that whole awkward child actor phase. He was on the most recent season of The Royals to get his feet wet.
"Everybody loved him, they promised him a part 'one day,' and suddenly this day came," Hurley revealed on Today. She was nervous like any mother would be and wondered how he would handle it. In the end, he made his mother proud. He was a knock-out when he was shooting."
When Damian was interviewed on Today, he was asked if his mother shared any advice about acting with him. He stated, "Learn your lines and don't be annoying." He is determined to finish his education before pursuing acting, but he plans on getting back into it. "I'm obsessed," he said.
1

She Has Been Trying To Avoid Another Wardrobe Malfunction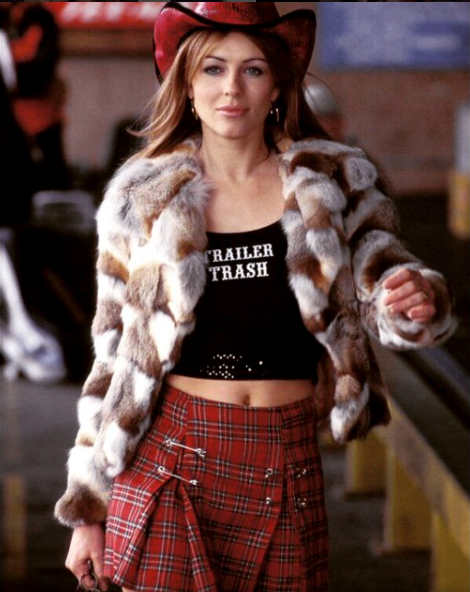 Trust us, wardrobe malfunctions have sunk some actors and singers over the years. Just ask Tara Reid and Janet Jackson. Hurley's reason for staying out of Hollywood may have something to do with being at events and worrying about wardrobe malfunctions. US Weekly reported about a wardrobe malfunction that happened to Hurley and it was something that upset her quite a bit. Apparently, while she was on the set of The Royals, her dress burst wide open and she wasn't one bit happy about the experience. "The zipper just broke!" As it was reported Hurley "raged" about the experience in front of the cast and crew. We can't blame her. All her goodies are out there for all to see. What was worse was apparently she wasn't wearing awful underwear. "The entire dress opened and I was just in unattractive nude underwear." She has now waged war on certain garments and she is refusing to wear certain things. "I won't wear anything with a zipper down it ever again," she said. "You never think it will happen — it does happen!" It's a funny story, but we also feel bad because we know it must be an embarrassing thing to experience especially in front of a bunch of people.
References: dailymail.co.uk, today.com, nickiswift.com, thesun.co.uk
Source: Read Full Article