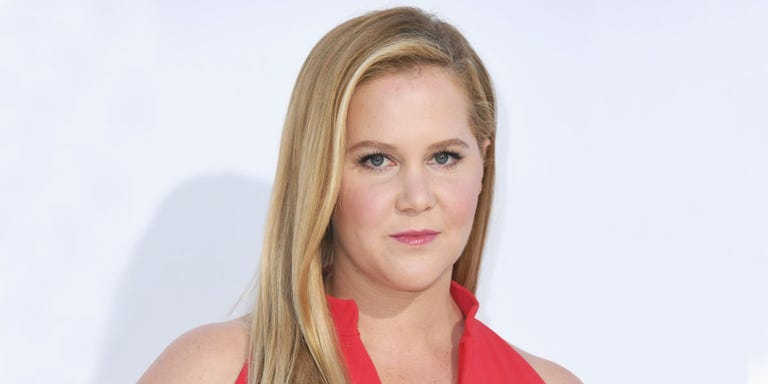 In an interview with Oprah Winfrey on her show Super Soul Sessions, Amy Schumer opened up about being sexually assaulted as a teenager by her boyfriend the first time she had sex. Schumer wrote about the assault in her memoir, Girl With the Lower Back Tattoo, and told Winfrey she's referred to it in her standup. But this is the first time Schumer's publicly referred to it for what it was: A rape.
"I didn't consent, for me, I lost my virginity while I was asleep and that's not OK," Schumer told Winfrey. Schumer said she referred to this as "grape" or "gray-area rape" in her standup, and did so in the hope that guys in the audience would hear it and internalize it.
In the interview with Winfrey and in her book, Schumer emphasizes that her experience doesn't fit the cookie cutter definition of rape, in which a stranger jumps from a dark corner and grabs you. She also emphasized that this sort of "gray-area rape" doesn't end when it ends. From her memoir:
Like countless other women who are assaulted by their partners, Schumer told Winfrey she found herself in the position of having to comfort her remorseful boyfriend. Even at her own expense. "I wanted to comfort him because he felt so bad and he was so worried, and just tried to push my anger down," Schumer said.
At the end of the segment, Winfrey asked Schumer if she would re-classify the experience now, years after it happened.
"There is the desire to label things so we can store it somewhere and put it away," Schumer said. "I personally — I feel like I lost my virginity through rape. I didn't consent, we hadn't discussed it."
Follow Hannah on Twitter.
Source: Read Full Article