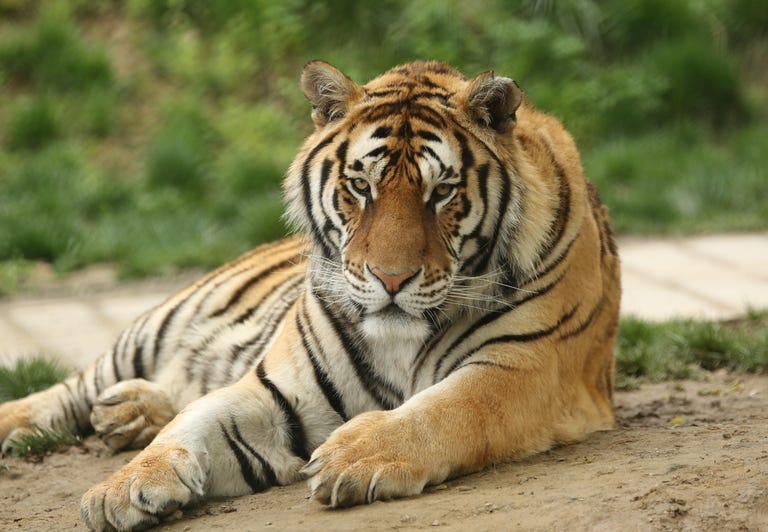 A caged tiger was one of the most memorable sights for Christopher Columbus High School students at a prom Saturday night. According to WPLG, the exotic animal was rolled into the Doubletree Hotel Miami Airport and Convention Center for the event. The theme: Welcome to the Jungle.
Maria Castellanos, whose brother attended the prom, said she was concerned not only for the safety of the students, but for the tiger itself.
Uproar after prom organizers invite surprise guest to the dance floor: a fully-grown tiger. https://t.co/65Xd43KVrM pic.twitter.com/skbBOXyHk8
"That tiger was in distress," Castellanos said. "The reason he's pacing up and down, with his tail going and ears all folded back, is showing you distress."
Cellphone video shows the tiger pacing in the cage as performers use fire to entertain the graduating class. "Those animals are not entertainment," Castellanos said.
Animal expert and ZooMiami spokesperson Ron Magill said that from what he witnessed in the video, the tiger is "obviously stressed."
"The tiger is clearly looking for a way to get out of that situation, it's not difficult to interpret that behavior," Magill told the Miami Herald. "He was surrounded by people, cell phones, lights, jugglers juggling fire. I really don't know what they were thinking. Exploiting animals for entertainment at parties — that time has passed. We know better; we've been educated."
More pictures show different animals also on scene, like birds used as centerpieces, along with a lemur, two macaws and an African fennec fox for the event.
PETA released a statement to ABC News Miami saying wild animals shouldn't be used as prom decorations.
The high school responded with a statement of their own, with a spokesperson for the high school saying, "The tiger, which was displayed for a few minutes in a cage was never harmed or in danger, was not forced to perform, was always accompanied by his handlers, and for the great majority of the time was lying down in a relaxed state facing away from the audience."
From: WCBV 5
Source: Read Full Article