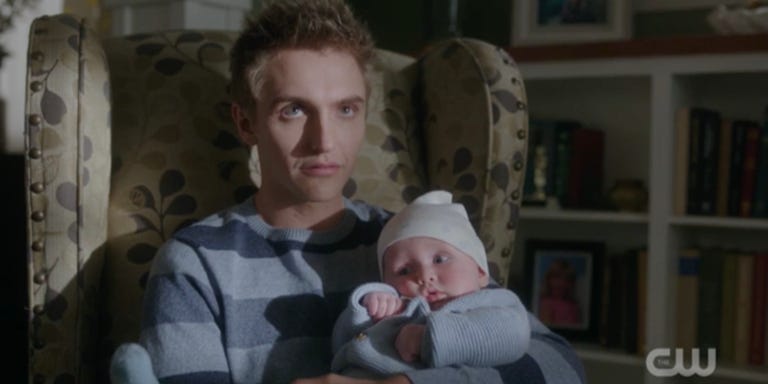 As Riverdale's second season draws to a close, there's still a serial killer on the loose.
Despite the audience being led to believe that the Black Hood had been killed after the school's creepy caretaker, Mr. Svenson, was unmasked in Season 2, Episode 9, it seemed unlikely that the murders were really over.
And, sure enough, in Episode 18, another major murder occurred, leading viewers to begin asking, once again, whether the Black Hood was still at large. While several suspects come to mind regarding the real identity of the Black Hood, it's worth examining some of the theories floating around.
The show's creator, Roberto Aguirre-Sacasa, told MTV News, "In the Archie comics, the Black Hood is much more an urban vigilante. He's a little bit like The Punisher. Our Black Hood is much more like the Zodiac Killer," referring to the real-life serial killer brought to life in David Fincher's 2007 movie.
In Episode 3, "The Watcher in the Woods," Archie interrogated Moose and Midge, who were shot by a hooded figure while parked in a make-out spot. He was disappointed to hear their description of the shooter, as it didn't match his own recollection of the person who shot his dad Fred in the Season 1 finale.
What if the person who shot Fred Andrews isn't the Black Hood? Is there more than one shooter in Riverdale right now? And if so, who are the prime suspects? Let's explore the options:
1) There might be more than one shooter in Riverdale.
Whenever there are serial murders on a TV series or in a movie, it's worth considering that there are two murderers. Just think about Scream, which stars Riverdale's very own Skeet Ulrich. Mr. Ghostface was actually two people, which is what made him so prolific—he could literally be in two places at once.
This idea gains traction when we consider Midge and Moose's statements about the person who shot them. While Archie is desperate to find a connection between the person who shot his dad and the mysterious Black Hood, Midge and Moose aren't so sure.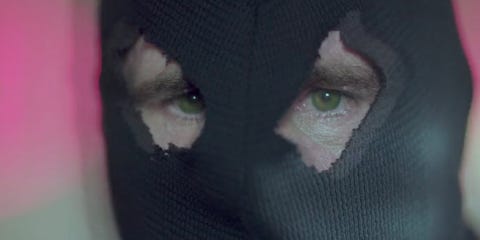 In Episode 3, Moose and Midge are sure the shooter wasn't wearing a ski mask, just a black hood, and Midge says he had the devil's eyes. Archie remembers them as green, but Midge describes them as "blank," like there was "nothing behind them."
Perhaps the person who shot Fred Andrews was instructed to do so, or possibly bribed. Could Hal Cooper be the culprit who shot Fred? If someone has dirt on Hal, they couldn've forced him to commit the crime. It would also explain why Fred is still alive but Ms. Grundy is dead. Did Hal shoot Fred in a way so as not to murder him, while a different person altogether killed Ms. Grundy?
As for the supposed letter from the Black Hood, which Alice Cooper printed in the local newspaper, perhaps someone is attempting to take credit for shootings they didn't even commit. And maybe Sheriff Keller didn't want the letter printed for this very reason. Because…
2) Sheriff Keller is the Black Hood.
Bustle recently discussed the popular fan theory that Sheriff Keller is the Black Hood. They even interviewed Casey Cott, who plays the Sheriff's son, Kevin. "That would be wild," he said. "I don't know what would happen to Kevin if that happens. But to be honest I have no idea who the Black Hood killer is."
Despite Cott's professed ignorance, it seems more than possible that the Sheriff is on a murder spree. First of all, his eyebrows look suspiciously like those of the Black Hood: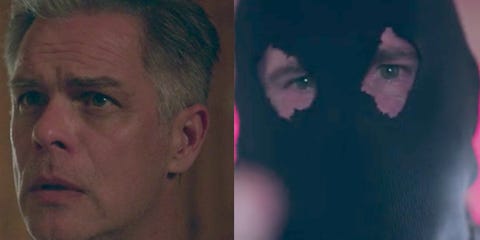 And although his eyes aren't quite the same green as the suspect's, their shape suggests he could definitely be the murderer. Even his eye bags and crow's feet match up.

Plus, as the town's most crucial law enforcement figure, Sheriff Keller has the strongest motive to be the Black Hood. Sick and disgusted at the depravity he's seen in Riverdale, particularly the crimes perpetrated by the Southside Serpents, Keller could have decided to take justice into his own hands, literally.
As the Black Hood wrote in a letter to Betty's mom, the goal of the murders in Riverdale is to wipe out sin; Fred was shot because he is an adulterer, Ms. Grundy was murdered because she was a child predator, and Moose and Midge were shot because they were having sex and doing drugs.
The attack on Midge and Moose makes even more sense when we consider the Sheriff's tearful reaction to finding out his son had been cruising the woods to meet men. While the Sheriff suggests that he is trying to protect Kevin from the dangers of the town, his disappointment in Kevin's dangerous actions is potentially a motive. The Sheriff wants to wipe out sin in Riverdale to protect his own child.
If Sheriff Keller is the Black Hood, it would also explain his ineptitude investigating the killings. This is what led Archie to start the Red Circle, a vigilante student gang. Archie expresses his frustration to the Sheriff's face, especially when told to leave the investigating to law enforcement. The Sheriff would be able to control every investigation and ensure he was never caught. It would be too perfect. Even Betty suspects the Sheriff in Episode 7.
And it's worth noting that, near the very end of Episode 18, Sheriff Keller is seen backstage in the high school theater, right before ? spoiler alert ? Midge is found brutally murdered on the stage. While Keller was probably wishing his son, the director of Carrie The Musical, good luck before the show, it's definitely suspicious that he was lurking.
3) Kevin Keller is the Black Hood.
Kevin has an alibi for the time Midge and Moose were shot in their car (he was making out with a rando in the woods at the time), but what if he's not working alone? Kevin's a suspect because of the mysterious phone calls Betty keeps getting and the jealous nature of the Black Hood's requests. The killer asked Betty to get rid of Veronica and break up with Jughead. Why? Because Kevin Keller wants Betty Cooper all to himself.
Plus, the animosity between Betty and Kevin in Season 2, with Betty disapproving of Kevin cruising for men in the woods, might give him motive to harass her. Or maybe Kevin is working with his dad, Sheriff Keller, to rid Riverdale of sinners.
Plus, the fact that Midge is murdered on Kevin's set, while playing the lead character, is totally suspicious. As the director, he would've had access to the actress backstage, and could've easily gotten away with the murder.
4) Dark Betty is the Black Hood.
Refinery29 cites a theory by Redditor dahuterschuter as a likely explanation for the Black Hood's crimes. It claims the Season 1 episode that saw Betty wear a black wig and almost boil Chuck to death in a hot tub was a sign of things to come.
According to the theory, Betty's dark actions hinted at a dissociative identity disorder, which has led her to either become the Black Hood, or work with the Black Hood and not even knowing she's doing it. Dahuterschuter points to the moment at the end of Episode 5, when Betty gives the Black Hood Nick St. Clair's name, suggesting Nick should be murdered. Nick had tried to date rape Cheryl earlier in the episode, and to save her sister Polly, Betty is forced to give the Black Hood an alternative name. But according to this Reddit theory, when Betty marks Nick for murder, Dark Betty has taken over, if only for a moment. Dahuterschuter also posits that Chic Cooper could be involved with the Black Hood as well…
5) Chic Cooper, Betty's long lost brother, is the Black Hood.
Theories about the child Alice Cooper gave up for adoption have been circling for a while now. While the actor playing Chic looks nothing like the Black Hood, MTV points out that Chic has the motive to want to rid Riverdale of sinners, as he was given up for adoption at birth and grew up without a family.
Throughout Season 2, Chic has only grown more and more suspicious—he even murdered a man inside the Cooper household and made his mom and sister dispose of the body.
However, Chic's creepy persona and the fact that he's such a live wire, make him too easy a suspect to be the Black Hood. If Chic Cooper is the murderer, it feels way too obvious. But it's also worth noting he was backstage right before Midge's murder was discovered; he wished Betty luck right before the show started.
6) Dilton Doiley is the murderer.
Another popular theory involves Dilton, the kid who gave Archie a gun. While Dilton likely didn't physically commit any murders (he doesn't have the build of the masked killer, after all), he could be orchestrating the murders behind the scenes. Perhaps he's bribing residents of Riverdale to kill on his behalf?
7) Cliff Blossom's twin is the Black Hood.
We already know that Cheryl's uncle, Claudius Blossom, is capable of dark deeds. From pushing Nana Blossom down the stairs in her wheelchair and helping poison her to assisting Penelope Blossom in sending Cheryl to gay conversion therapy, Claudius is a bad man. But is he a murderer? Thereotically, Claudius has the perfect motive: his brother, Cliff, and nephew, Jason, are both dead, and he's come to exact his revenge on the town of Riverdale.
8) Cliff Blossom isn't dead after all. He's the Black Hood.
What if Cliff Blossom switched places with his long lost twin, Claudius, before Jason's murder? Perhaps Cliff wanted to skip town and got the perfect opportunity when Claudius appeared unexpectedly. This would explain Jason's death at the hands of his own father—what if it wasn't Cliff who murdered Jason, but his uncle Claudius instead?
I admit that this theory is a little wild, but this is Riverdale, so literally anything can happen before Season 2 ends.
But for now, we'll just have to wait for more clues regarding the true identity of the Black Hood.
Source: Read Full Article