On Monday, the British Royal Family welcomed another baby to the monarchy and it's all anyone can talk about. For example, while recently chatting with POPSUGAR (via Marie Claire), Serena Williams commented on Kate Middleton and royal baby #3. The 23-time grand slam title holder in tennis is seriously impressed with Middleton and her ability to throw on a pair of heels after giving birth.
"I was really busy, but I saw the baby, and Kate was dressed, and I was like, 'Oh, maybe she had him a couple days ago,'" Williams told the outlet about seeing Middleton outside of the hospital for the first time since giving birth to her third child and looking fabulous in the process. Williams continued, "That's one heck of a woman! Let me tell you: I was not in heels [after I gave birth]. I thought she gave birth maybe two days before! Wow."
The 36-year-old royal family member is known for her flawless appearance after welcoming her children. Every time she's exited the Lindo Wing at St. Mary's Hospital in London, Middleton's stepped out wearing a cute dress and heels or wedges. Plus, her hair is always on point and her makeup is gorgeous. After each royal birth, the family (including Prince Charles and Princess Diana) takes the opportunity to introduce their child to the world with a photo op.
When it comes to Middleton, it amazes people how she can look so perfect after giving birth to a human being only a few hours earlier. While some might find the expected photoshoot problematic, others see Middleton as a hero for getting out of bed and sucking up whatever she may be feeling to give the people what they want and stick with tradition.
If you think about it, these expectations of Middleton are a lot, but as a member of the royal family, she probably has to do it. Unlike with Princess Charlotte and royal baby #3, Middleton waited until the next day to show off Prince George, so there is some flexibility there when she needs it. And just because she's outside taking photos for a few minutes doesn't mean Middleton doesn't immediately go home to rest, relax, and ensure her body is healing — without heels and her hair and makeup done. However you may feel about Middleton's post-partum appearances, there's no denying she is "one heck of a woman", like Williams has dubbed her.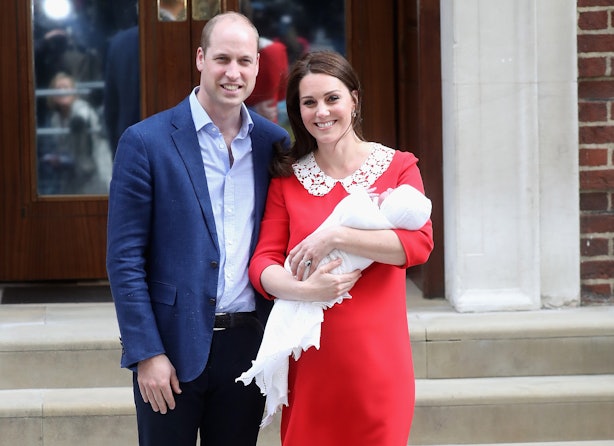 Like Middleton, Williams is also "one heck of a woman". She may have not worn heels only a few hours after giving birth to her daughter, Alexis Olympia Ohanian Jr., but the tennis champ did win the 2017 Australian Open — while pregnant. The way the seven-time Wimbledon winner normalized pregnancy in relation to what women can accomplish was applauded by many. She showed pregnancy doesn't and shouldn't restrict women from achieving their goals.
Williams isn't known as the "GOAT" for nothing. The 36-year-old tennis player will go down in history as one of the most talented and awarded athletes. Her husband, Reddit co-founder Alexis Ohanian, knows just how fabulous Williams is. In February, Ohanian surprised Williams with four billboards calling her the "GMOAT", aka the Greatest Mother of All Time. This was his way of welcoming her back to tennis after giving birth to their daughter.
It's no surprise Williams is championing Middleton. She's been doing it for awhile. Believe it or not, but they actually know each other — kind of. In July 2016, Middleton showed up on Williams' Snapchat at Wimbledon. After meeting the royal, Williams gushed to People in November 2016 about their interaction and said, "She was super sweet, super level, so beautiful — she was really nice."
Maybe one day Williams and Middleton will get in touch and share tips about motherhood. It's definitely possible and not just because they've met before. Did you know Williams is friends with Meghan Markle? There's always the chance Middleton and Williams will cross paths again. Who knows, but there's no doubt Williams and Middleton have a lot in common as powerful, fierce, and inspiring women.
Source: Read Full Article