On Sunday, the highly anticipated adaptation of Gillian Flynn's novel Sharp Objects premiers on HBO, and if you're looking for a new Sunday night TV obsession, you're going to want to tune in. Directed by Jean-Marc Vallée of Big Little Lies fame and starring the incomparable Amy Adams, this new miniseries is poised to be a huge hit. If you haven't read the 2006 novel it's based on, or read it when it came out over a decade ago and just don't remember the details, you might be asking yourself: what happened in Sharp Objects the book? Don't worry, I'm going to break down the plot of Flynn's Gothic tale and talk about *that* ending right now, but be warned: there are major spoilers ahead.
With her New York Times bestselling novel Gone Girl, which became a hit movie starring Ben Affleck and Rosamund Pike, author Gillian Flynn became a household name. But before she penned the perverted love story of Amy and Nick Dunne, she wrote her debut thriller Sharp Objects. It's a dark and unsettling tale about a damaged heroine who returns to her hometown to report on a series of gruesome murders. What unfolds once she gets there includes disturbing family drama, twisted romance, and a series of startling secrets you won't see coming. Just when you think you've unmasked the monster, Sharp Objects reveals that real danger, that true evil, isn't as easy to spot as you think.
Let's dive in.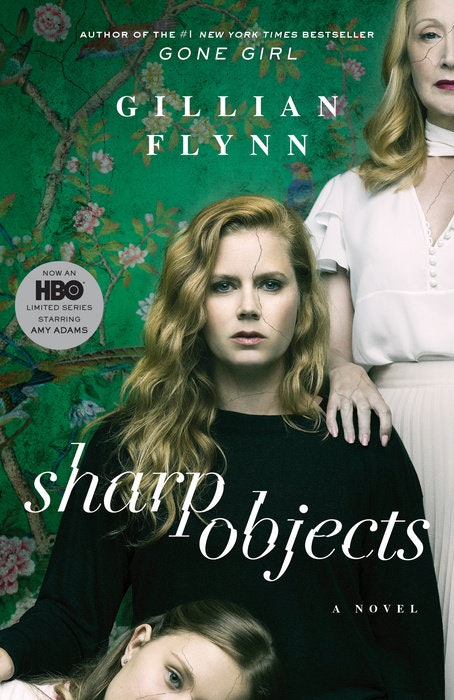 Sharp Objects by Gillian Flynn, $9, Amazon
At the center of Sharp Objects is Camille Preaker, a young and overworked journalist in Chicago with a traumatic past she's been trying to shake for years. After the tragic death of her sister Marian when she was a child, Camille has suffered from hallucinations, and frequently carves the words she sees onto her body. When she was 13, she carved the word "queasy" above her bellybutton. Over 15 years later, she cut "vanish" into her neck. During the years in between, Camille covered her entire skin, from the chin down, with words she cuts into it. Now, a hard-drinking, hard-living adult, she barely has an uncut spot on her body.
Essentially estranged from her family, especially her controlling mother Adora, Camille leans on her boss Curry, who was the only person there for her during her most recent hospitalization due to self-harm. But when a young girl is murdered, the second in a span of nine months, in Camille's hometown of Wind Gap, Missouri, Curry asks her to return to investigate and report of the disturbing story.
Reluctant to go back to the place that holds her darkest secrets, the place where Adora still lives with her new husband and Camille's half-sister, Amma, Camille takes the assignment. Once in Wind Gap, the kind of small town where cliques are as important to teens as they are to adults, she quickly realizes it is going to be harder to get information than she originally anticipated. The police are reluctant to discuss the matter, but during an off the record conversation with the town sheriff, Camille learns that investigators suspect a local person is responsible for the crimes. She also learns about the most disturbing is the similarities between the two murders: both girls, Natalie and Ann, were strangled and had all of their teeth removed from their heads.
Anxious to leave Wind Gap, Camille writes a short article about the horrifying murders and gets ready to head home to Chicago. Unfortunately, Curry has other plans, and seeing how much easier it is for Camille to learn about the case as a local, he asks her to remain in town to follow the investigation. Forced to stay in a place she has always wanted to leave, Camille finds her way back to her family home, and quickly begins slipping back into her childhood ways. Her already shaky self-confidence wavers as she finds herself competing with Amma, a sister she had never met before, for their mother's affection, not unlike she had to do with Marian all those years ago.
While investigating the murders, Camille meets Richard, a detective from Kansas City who has been sent in to investigate the unusual murders. The two strike up a somewhat romantic relationship, and although it is clear their could be a real bond between the two, it is equally clear that they are using each other to get information. Richard wants to see the town through a local's eyes, and Camille wants the scoop for her articles. Though they have sex a few times, Camille always wears her cloths so Richard never sees her scarred body.
Meanwhile, Camille begins a tenuous friendship with Amma. A snarky Queen Bee who rules the school, including girls much older than her, she's a gorgeous young teen with a serious mean streak. The control she exerts over her friends is obvious, and so is the way everyone in town worships her. She also reconnects with old classmates of her own, who are living like Stepford wives, only with a lot more alcohol, drugs, and sexual manipulation. In an attempt to get information, she also starts a questionable relationship with John Keene, Natalie's older brother, whose dramatic mourning process has landed him under the eye of suspicion.
It isn't Camille's job to solve the murders, but it is her duty to report on them, so she tries to re-immerses herself in the community she left all those years ago. That means sitting down with her Adora and her clique of older, gossipy, horribly competitive women for drinks. It also means trying to infiltrate the younger cliques at the school and get information from the town's teens. Overly eager to help is Amma, who takes Camille to a party with her. While there, the newly bonded sisters drink and take drugs together, and after the night slowly spirals out of control, Camille essentially blacks out. Hours later, she wakes to find her mother taking care of her, but it doesn't take long for Camille to figure out that the pills Adora is giving her are actually what makes her ill. It's then that she discovers Adora has done this several times before to Amma, and that her deceased sister, Marian, was a victim of it, too.
In one of the juiciest twists in the novel, readers learn that Adora has Münchausen syndrome by proxy, a condition in which caregivers make up, exaggerate, or even induce illness on the person in their care in order to draw attention to themselves and earn the sympathy and affection of others. Determined to prove her mother was the cause of Marian's death, Camille searches for evidence until she eventually finds a letter written by one of Marian's nurses that echo her suspicions. Then, in another startling reveal for both Camille and the readers, Richard admits that he believes it is Adora who killed the Ann and Natalie.
Back at her mother's, Camille tries to confront Adora, who poisons her before bathing her and attempting to care for her self-inflicted wounds. Hours later, Camille awakes when Richard bursts into the bathroom, police behind him, to reveal that Adora is being arrested in connection to the murders of Ann and Natalie, as well as Marian's death years ago. For the first time, he sees Camille's carved body, and in that instant, any chance at romance seems to disappear.
Following Adora's arrest, Camille takes Amma back to Chicago to live with her. In the beginning, both girls seem happy and on the road to healing from their years of abuse at the hands of Adora. But a few months later, one of Amma's classmates goes missing on the way home from school. When her body is discovered next to a dumpster, it is revealed the girl has six teeth missing. Camille immediately calls Wind Gap to confirm her mother was in her home, which she was, and that is when she realizes she had suspected the wrong family member of the murders all along. It is then that she discovers one of the floors in Amma's precious dollhouse, the one in room created to look like Adora's, is made out of human teeth, and one of its rugs is made of human hair.
Amma isn't the only one implicated in the murders of the girls from Wind Gap. Her friends admitted to helping Amma lure Ann to the woods, where they held her down while Amma strangled her. They also revealed they were there to help when Amma, dressed like a ghostly goddess, kidnapped Natalie and held her prisoner for a full 48 hours. Just after midnight on the second day, the girls once again held their victim down while Amma strangled her. Amma was solely responsible for the murder of Lily, her classmate in Chicago, who she struck in the back of the head with a stone and strangled before removing six teeth and cutting her hair.
In the end, Adora is found guilty of murder in the first degree for the death of Marian. Amma was also sentenced to stay locked up until her eighteenth birthday, or possibly longer. Unable to resist, Camille visits her in prison to get answers about how and why she could commit such gruesome murders. Amma explains that she was jealous of her friends, and especially the attention Adora paid to them. As for the trinkets, the disturbed girl only took them to make her dollhouse perfect.
Utterly devastated, not to mention completely traumatized, Camille turns to cutting again. Locked in her bathroom with a knife she slipped up her sleeve so she could sneak it by Curry and his wife, Eileen, who were at the apartment at the time of Amma's arrest, Camille begins to carve away the one untouched spot on her back before reaching up to cut her face. Luckily, Curry breaks down the door just in time to stop her. The older couple decide to take Camille into their home, where she takes on the role of their daughter. At the end of the story, Camille is finally "learning to be cared for."
Now that you are all caught up on the plot of Flynn's fascinating thriller, you're ready to watch Sharp Objects, which premiers on HBO Sunday, July 8.
Source: Read Full Article