After a six year relationship, Nikki Bella took her followers by surprise after she posted a paragraph via social media discussing that she and John ended things despite the fact that they were to be married very soon. Instantly, fans linked the post as a way to lure in viewers for Total Bellas, however it was later revealed that the split was legitimate due to on-going issues between the two pertaining to the future.
Looking back, both were in a different place prior to the start of their relationship; Bella wasn't a prominent name with the company. In this article, we take a look at her personal and WWE life before meeting John. From her Divas Search audition, debut match on SmackDown and prior romances, we feature photos of Nikki during her pre-John Cena days. It's truly remarkable to see how much the two grew together as a couple, especially Nikki who has turned into an entertainment icon due to her involvement with the WWE and on reality television. She's a woman lots of females aspire to be like.
Enjoy the article folks and like always, be sure to share it with a friend. Without further ado, here are 15 photos of Nikki Bella before she started dating John Cena. We begin with a throwback photo from Nikki's promiscuous WWE TV days.
15

Valentine's Day With The Miz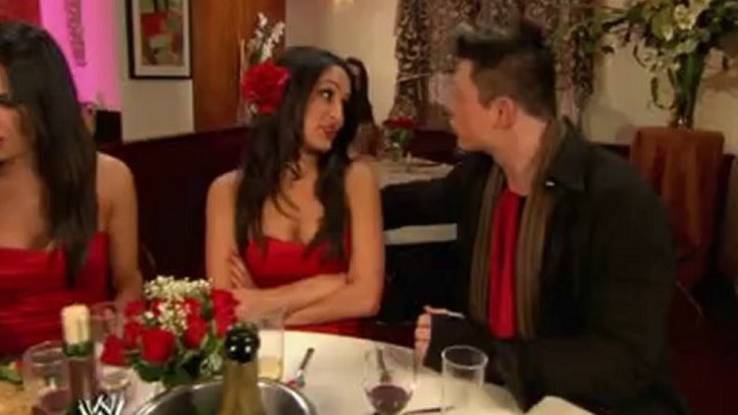 Before Nikki met John, her role with the WWE was quite different. Instead of getting pushed as an in-ring act, Bella was primarily used as eye candy early on, working backstage segments alongside her sister Brie. One of their first roles back in 2008, years prior to dating John, was in a love triangle storyline alongside The Colons and Miz and Morrison. The rare photo above shows Nikki and Brie out on a date alongside The Miz; such a storyline seems laughable nowadays given the way things played out for all involved.
Instead of choosing sides, Nikki would end up joining team Miz and Morrison while Brie, opted for The Colons. The angle would come to an end with a match between the two on the ECW brand. They were drafted to Raw shortly after during the 2009 Supplemental Draft.
14

Living It Up Behind The Scenes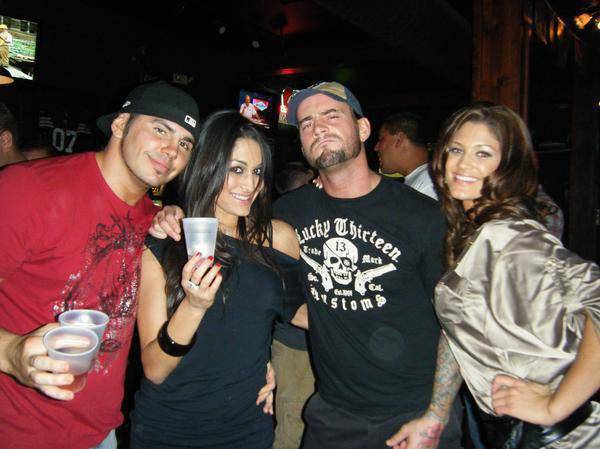 Prior to Nikki and John starting to date, both Bellas were known as party animals behind the scenes. They loved to have a good time with their fellow peers and lots of photos from the past indicate such. This photo features Nikki Bella alongside Matt Hardy and CM Punk. Judging by the photos from her pre-John Cena days, Nikki loved to have a good time with these two dudes. Also in the photo is Eve Torres, a former Divas Champion who is now retired.
All four have moved on since those days. Matt completely reinvented himself with the Broken gimmick. He's also a proud husband and father of two boys. Eve's also enjoying the family life with a second child on the way. As for Punk, he's married and completely out of the wrestling business with an upcoming fight for the UFC. Yup, the pre-Nikki and John days took place some time ago.
13

Managing On The Indies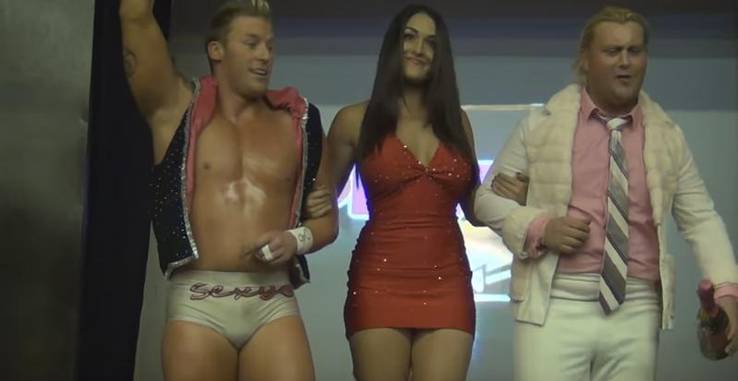 Just as the Bellas finally began to gain steam inside of the squared circle, they left the company due to poor contract negotiations with the WWE. At that time, it appears as though Nikki and John were starting to talk behind the scenes. A forgotten fact: the Bellas would leave the WWE for a little while. One of their bookings took place on the indie scene for a promotion called CTWE Pro Wrestling. At the event Seasons Beatings, both twins accompanied a tag team to the ring. Of course, the event took place in a smaller venue and was nothing compared to the bright lights of the WWE.
They would return to the company just three months after the appearance. Both Bellas would get a major push during their return and a lot of critics believe some of that had to do with Nikki and John's relationship backstage that was starting to blossom.
12

More Good Times Before John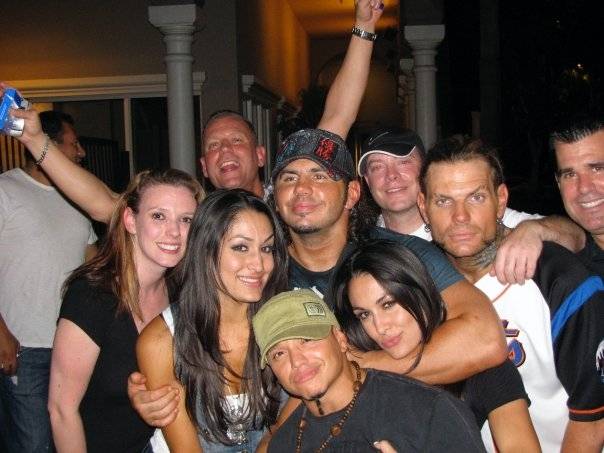 Yup, the dude in front of the Bellas is none other than the great Rey Mysterio. Don't get any ideas though, the master of the 619 has kept the same relationship throughout his North American wrestling stint. He got married in 1996 and has stayed with the same partner ever since. Others featured in the photo include Jeff Hardy, along with his wife Britt who's standing next to Matt. Also, who said referees don't know how to party? Veteran official Mike Chioda looks completely out of it in the background with his hands in the air. Oh, the stories these wrestlers must have from life on the road!
Once Nikki and John started to date, the partying days subsided for the both of them. Instead, the couple enjoyed nights out at fancy restaurants while sipping on a fine glass of red wine.
11

Prom Day Throwback
Before she met John, a surprising fact about Nikki is that she married her high school sweetheart at the age of 20. Even her family didn't know about the marriage and it was revealed during an episode of Total Divas. After struggling with her high school boyfriend, the two decided it was best to get the marriage annulled. One can only imagine how different Nikki's current life could have been had she stuck around.
Instead, Nikki would move to Los Angeles in search of fame. She worked as a waitress for a high end hotel, she also took on a serving gig at Hooters… yes, times were tough before their WWE fame. They got some minor gigs on a reality show called Meet My Folks along with modeling gigs for Budweiser. They would get their biggest break shortly after with the WWE.
10

The Diva Search Audition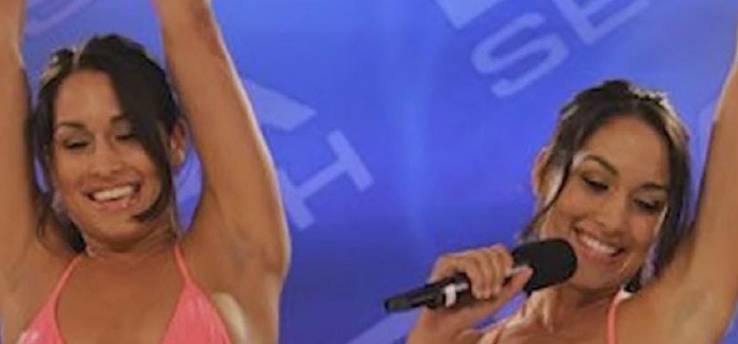 Nikki's biggest break prior to meeting John came in 2006 when she and sister Brie, auditioned for a spot on the Diva Search competition. Although the audition went well, the two did not make the cut and that was a blessing. Shortly after, the twins were contacted by the WWE for a full-time contract to join the company's developmental brand. Nikki was all-in while sister Brie contemplated the offer. Ultimately, both agreed and that was the correct decision given their current fame and success nowadays.
We'll have more on Nikki's FCW run a little later, however the stint was short-lived and by 2008, the duo was already working their craft on the main roster. Like they say, timing is everything in the wrestling business and who knows if the Bellas would have been given the same opportunities today given the changed culture of the Women's Division.
9

Graduation With Her Dad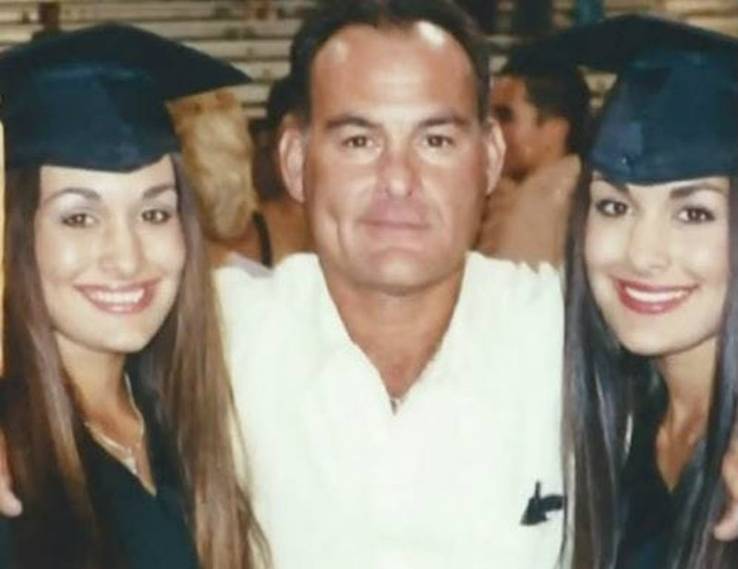 During Total Divas and Total Bellas, we see a lot of Kathy Colace (Nikki's mother) but rarely do we see Nikki's actual father, Jon. After divorcing their mom, the twins had a falling out with their dad. They're on talking terms nowadays, however they aren't as close as they once were. Born in San Diego, Nikki grew up on a farm with her father in the Scottsdale area.
The photo above is a rare shot of Nikki alongside her father smiling from ear to ear during her high school graduation. She graduated back in 2002 from Chaparral High School. Dating her high school sweetheart at the time, perhaps Nikki would have never thought that a decade later she'd be dating the face of a billion dollar industry. Also, who would have thought that she would date someone that's invisible… Okay, cheap pop.
Featured Today
20 WWE Stars Who Look Unrecognizable Without Makeup

15 WWE Divas Who Dislike Each Other In Real Life

10 Wresters Who've Made Multiple Enemies Backstage (And 10 Who Everyone Loves)

8

Fighting Over Bryan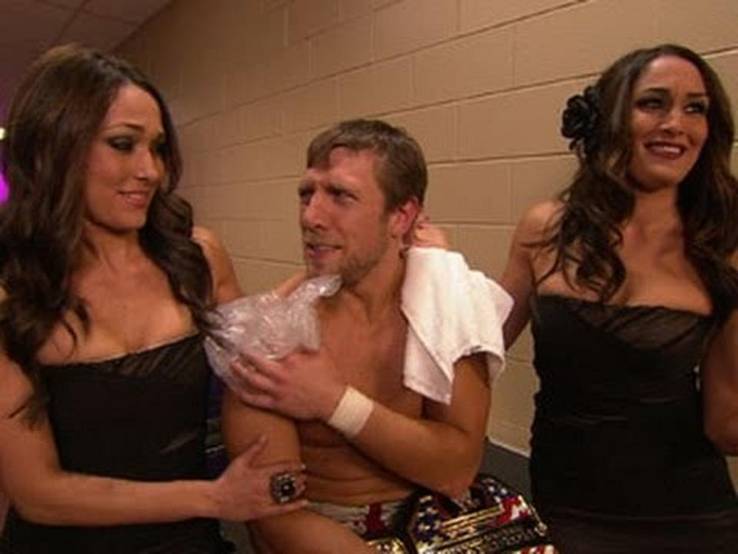 Looking back at Nikki's life before John, it's hilarious to see some of the storylines she took on. Following an NXT angle that saw her serve as a mentor, both Bellas moved on to a love triangle with Daniel Bryan. Yes, Brie's future husband. The storyline actually lasted a couple of months with both twins trying to gain the upper hand on one another fighting for Daniel's love. Eventually, it was established that Daniel was going behind both of their backs with none other than Gail Kim. Yes, folks, it was a complicated time for the division.
Right around that time, sister Brie would also start to date a prominent act, Daniel Bryan. Sheamus told the hilarious tale of walking in on the two during an intimate session; this was back when they first started to date.
7

The Soccer Days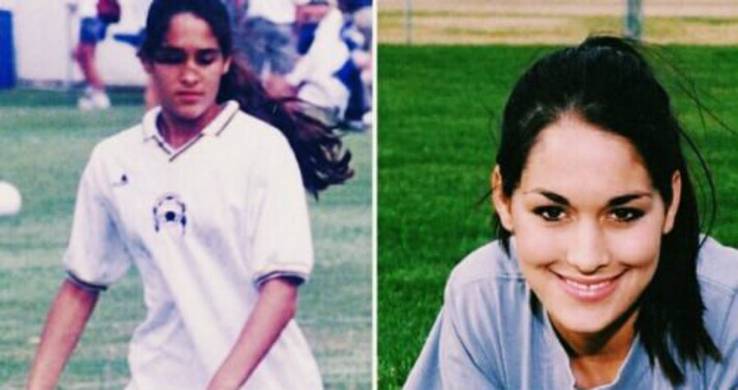 Nikki was unfairly criticized for having a lack of athleticism when entering the wrestling business, however what fans tend to forget is that she was a great soccer player during her teens. She played professionally during her college days joining the Grossmont team when returning to the San Diego area. An injury derailed her momentum, however Nikki fully intended on continuing her career. It was Brie that steered her in another direction with the intent of moving to Los Angeles and getting gigs in acting and modelling.
Thankfully, Nikki listened to her sister and it has paid off in a major way. Not only are the two major WWE Superstars but they're well known names in the entertainment world due to their reality show fame with Total Divas and Total Bellas.
6

Wrestling In The Developmental Brand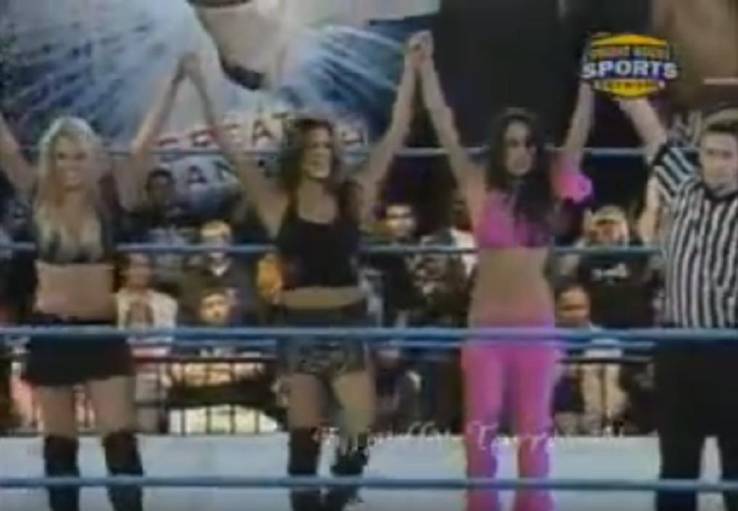 Before NXT, FCW was the developmental brand for the WWE. Now the facility was nothing like the Performance Center and extremely outdated. Nikki got her training down in Florida and her matches were pretty cringe-inducing to watch earlier on, which in fairness was completely normal for someone new to the business. Nikki was primarily featured in tag matches, she usually was the one to take the bumps and the beat downs as well.
One of her matches can be found on YouTube. Her partners for the six-women tag included Eve Torres and Tiffany. The bout is pretty hard to watch and Bella's team came out with the W in the match. Some of her other storylines involved a feud with Rosa, a couple of bikini contests and a battle royal.
5

Nikki's WWE Debut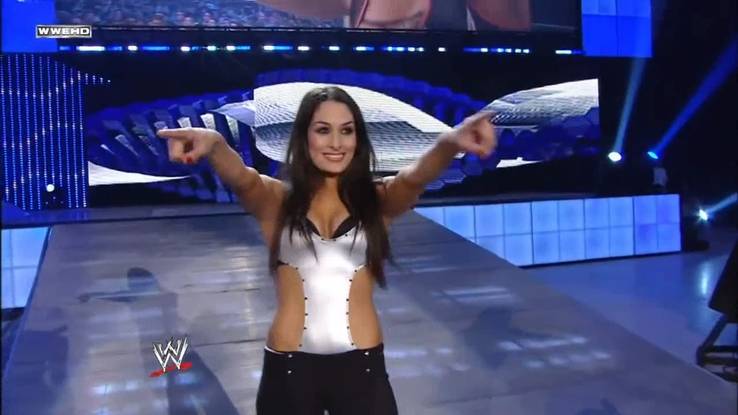 In the summer of 2008, Nikki made her main roster debut during an episode of SmackDown. Hard to believe that it's almost been a decade since her debut on the show. It was actually Brie was took part in the match taking on WWE alum Victoria. The bout was a short one and it concluded with Brie rolling under the ring while Nikki replaced her sister and pinned Victoria with a rollup. The same story would continue for a couple of weeks till it was finally established that Brie had a twin sister Nikki, who was subbing in during her matches.
As we discussed earlier in the article, both twins spent most of their time working backstage segments early on. Just prior to their first release, Nikki would capture the Divas Championship briefly. She would lose the title shortly after while leaving the company briefly.
4

NorthEast Wrestling With Brie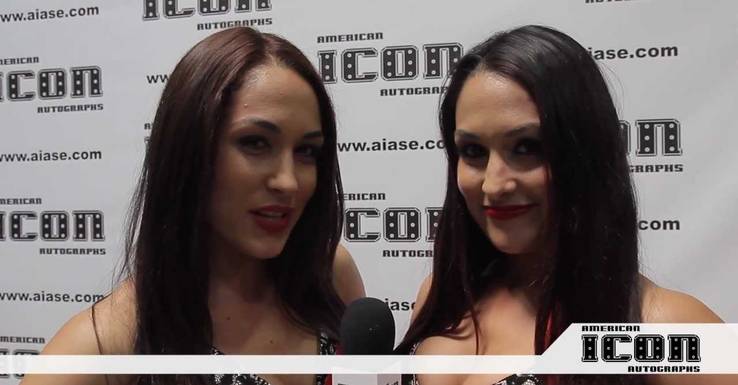 Prior to their cameo with CTWE, the twins made a brief pit-stop in the New York area appearing for the promotion, NorthEast Wrestling. You can find a vintage video on YouTube featuring the twins promoting the event. Kevin Nash was among the other alums booked for the event at the time. The Bellas did lots of wrestling conventions and shoot interviews during their brief departure.
A chance at a reality show lured the two back in. With the WWE planning to launch Total Divas, several alums were contacted by the company including the Bellas. According to the rumors, the twins played a significant part in who was cast on the show. For that reason, a falling out took place between the Bellas, Maryse and Maria Kanellis, as it's believed that the twins encouraged the company not to bring them back for the show.
3

Sister Versus Sister For The First Time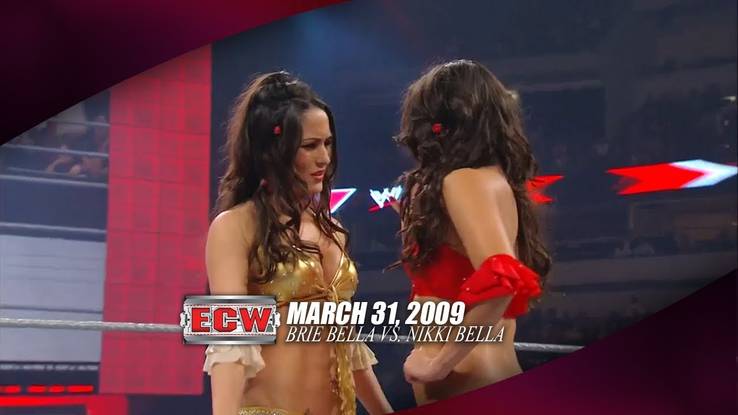 A lot of fans might think the beef between Nikki and Brie took place while Cena and Nicole dated behind the scenes. Who can forget a surprising turn by Nikki at SummerSlam helping Stephanie McMahon to victory. However, as memorable as that story is, it wasn't the first time that the two fought against one another.
The storyline, which was a pretty forgettable one, took place during the pre-John Cena and Nikki era; the bout was featured on an episode of ECW. As we discussed earlier, the twins had beef with one another following a split that saw Brie join the Colons while Nikki sided with Miz and Morrison. The feud reached a climax during an ECW show. Nikki took home the win (a short match due to help from both Miz and Morrison).
2

The Price Is Right Episode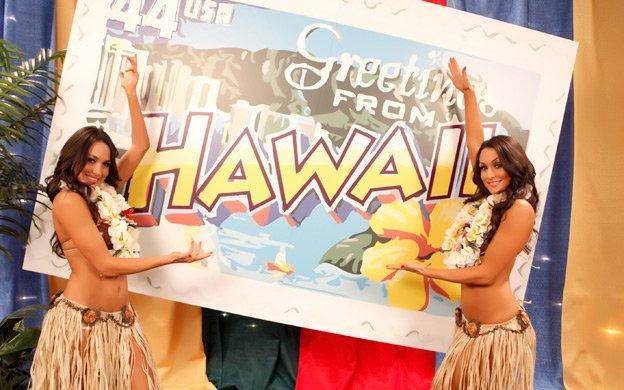 Looking back at Nikki's career pre-John Cena, one of her most memorable episodes on the show took place outside of the ring serving as a model for the special Price Is Right themed episode. The Bellas received some massive pops throughout the show including some pretty big cheers during their modelling inside of a hot tub. Without a doubt, even Bob was impressed. One could imagine what the wrestlers backstage were thinking, including Cena himself.
It was right around 2012 when the two started dating. According to Nikki, Cena approached her backstage and asked her out on a date. Nikki recalls turning as red as a tomato and being super nervous about the date. Of course, the two hit it off and would spend the next six years as a couple.
1

Dating Dolph Ziggler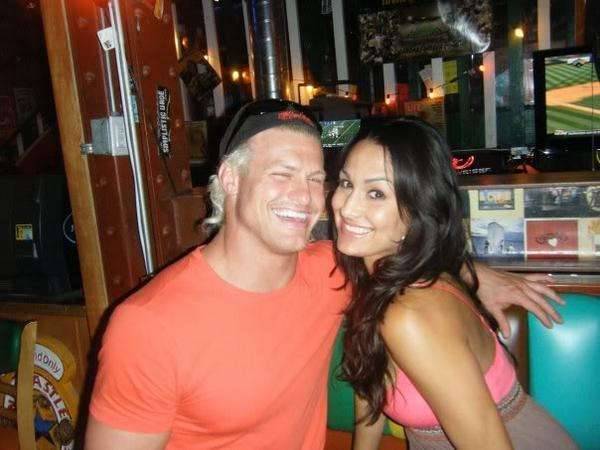 Of course, when the news broke out that Cena and Nikki had finally broken up, the internet had some fun with the story. One of the most hilarious memes featured Dolph Ziggler cashing in his Money in the Bank contract following the announcement that his ex had split up with her fiancée. Yes, wrestling fans are pretty darn creative when it comes to lightening a serious situation.
When you think of Nikki before John, Ziggler's usually the face most fans think of. The two started dating more than a decade ago in 2007 during Ziggler and Bellas' time with FCW. Photos of the two are easy to find, however the two would split up eventually. Ziggler admitted he still had feelings for Nicole during an episode of Total Divas, though that part seemed staged to bring in extra views more than anything else.
Source: Read Full Article