Keeping a healthy relationship when you're always under a microscope must be quite the challenge, and honestly, it's almost the same in Hollywood, where it's virtually impossible to keep a low profile. However, if there's one slight, yet visible, difference between Hollywood and the sports department, it's the persistence and unwavering mentality of the latter. Most celeb couples aren't at all interested in fighting for their partner during hard times. In fact, it's the other way around. Unlike the following couples, who've been together for decades, most Hollywood pairs are just waiting for the right time to dump their partner. After all, it's always easy to give up rather than try harder to fix the issue, right?
Today, we'll walk you through some of the loveliest sports couples we're so glad to see in 2018. Most of these sports couples have been together for decades and they still seem to be just as smitten with each other as they were years ago. So, what's their recipe for a loving, blossoming relationship after years of togetherness? Well, the answer probably lies in the essential concept of mutual understanding, sacrifice in the name of love, and dedication in its purest form. From Andy Roddick and Brooklyn Decker to Victoria and David Beckham, today, we bring you 25 sugar-sweet sports couple whose romance is still blooming like a flower in spring.
25

Andy Roddick And Brooklyn Decker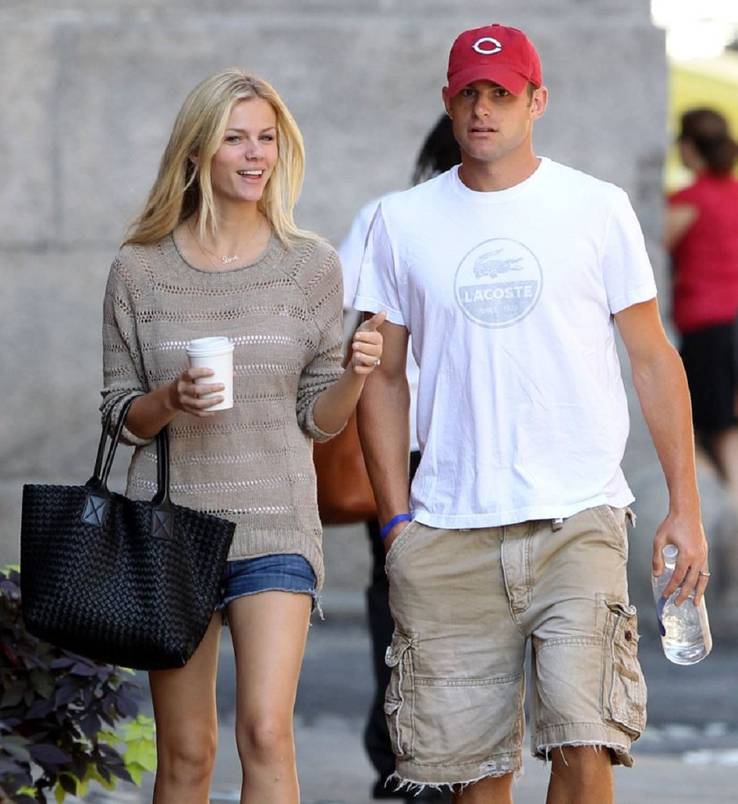 She's the charming Sports Illustrated swimsuit cover girl who is never easy to forget, while he's the N2 ranked American tennis player in the world. Top model and actress, Brooklyn Decker, revealed that her romance with the tennis ace, Andy Roddick, began with a silly phone call between their agents.
Sports Illustrated model, Brooklyn Decker, shared that she continually rejected Andy's requests for a date. However, it soon dawned on her that Andy is quite the perfect match for her. So, as you can imagine, Brooklyn welcomed him with open arms and heart.
The lovely couple got married in a spectacular twilight ceremony in Texas, with Decker sporting a fabulous Vera Wang gown that truly accentuated her natural beauty. Shortly after the wedding, the newlywed pair was off to Costa Rica where they celebrated a marvelous honeymoon. When asked about Andy's charming ways, she said: "It took Andy five months to woo me. So, being married is great. It's amazing."
Not only do they make a cute couple, but Andy and Brooklyn welcomed a son, Hank, in September 2015. Last year, the fabulous sports couple announced that they're expecting their second child, while on vacation in Rhode Island. Now that Brooklyn's family is expanding, she shared that her heart's set on combining a family with a film career.
24

Derek Fisher And Gloria Govan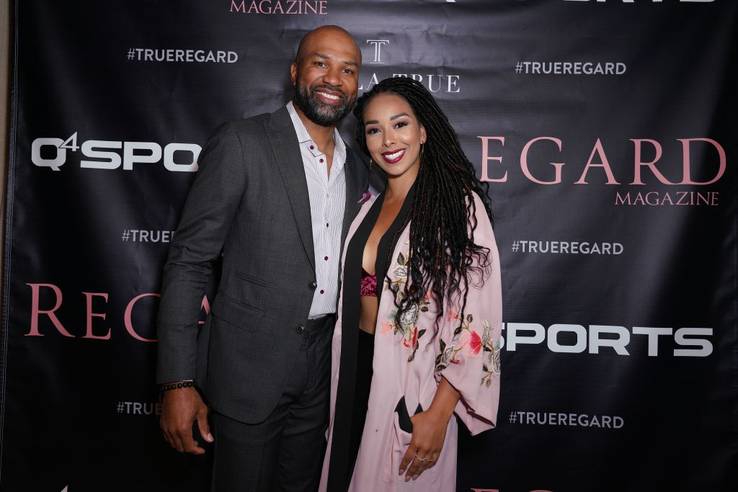 Former basketball wife, Gloria Govan, was previously married to the former NBA player, Matt Barns, with whom she shares twins. But apparently, she wasn't as happy as she appeared to be since she was involved in a scandalous love triangle with the former Knicks coach, Derek Fisher. Of course, Matt and Gloria had their happy moments too, but their relationship was apparently at death's door.
In 2016, Gloria Govan was spotted on a vacation with none other than the Knicks coach, Derek Fisher, who eventually lost his job because of the love triangle. When Memphis Grizzlies player, Matt Barnes, got wind of his estranged wife's affair with his former teammate, Fisher, Matt lost his temper. Allegedly, the two even got into a physical altercation after he found out about Gloria's secret affair. Speaking of her flame, Gloria and Fisher have been a romantic item for over two years now, which only proves that Gloria's might have finally found her soulmate.
It was recently reported by Okmagazine.com that the ex-coach already popped the question! The romantic couple is now headed to the altar, despite the shady interviews and social media pettiness with Matt Barnes.
23

David And Victoria Beckham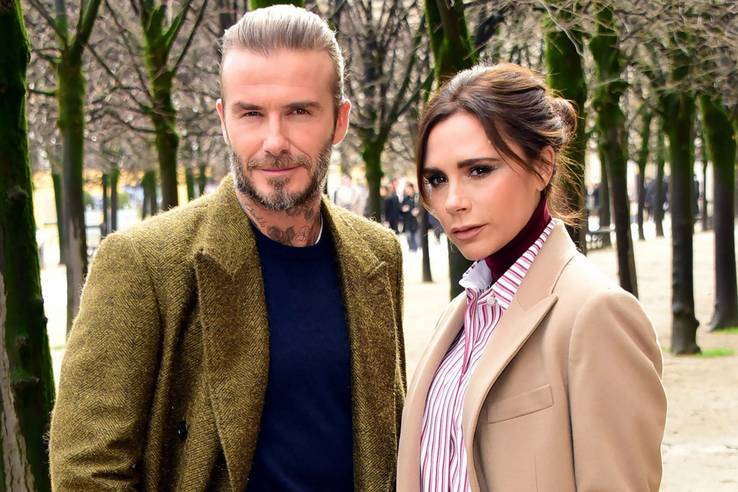 All right, let's admit it— we didn't believe that the marriage between the gorgeous Posh Spice and David Beckham would ever last, but it did. When they first appeared as a couple, we didn't believe that their love was that strong and powerful. But in fact, David and Victoria proved the world wrong by sticking together through thick and thin. Not only are they one of the most rock-solid couples, but their love hasn't stopped thriving since the beginning.
Addressing her 18-year romance with David, the star told Vogue Netherlands: 'David and I have a lot of fun together. If I really were as miserable as I appear to be in some of those paparazzi pictures, my children wouldn't be as happy as they are. And I certainly wouldn't be married anymore,' she added.
Of course, they, too, must have had some terrible moments like any other couple, but they've lasted as a pair, despite the challenges. Also, the cherished sports couple marked their 20-year marriage last year, as they also made sure to immortalize the moment with an apt wedding anniversary. When they paired up almost 20 years ago, David and Victoria had the world at their feet and their fairytale soon traversed around the world.
22

Russell Wilson And Ciara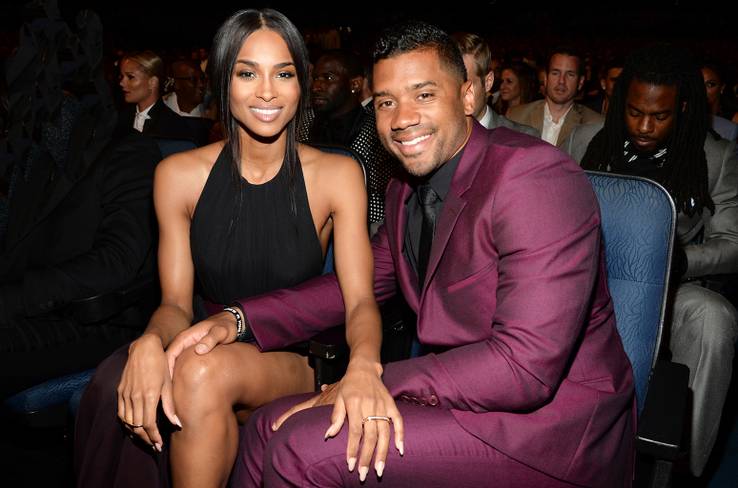 The charming R&B songstress, Ciara, and the renowned NFL quarterback, Russell Wilson, make it clear as to why all of you should believe in the existence of true love. Not only are they a beautiful couple, both at the top of their careers, but their romance is still blossoming at a rapid pace. But just because they're now one happy family, doesn't mean that Ciara and Russell had it easy in the beginning. Over the years, we've all witnessed how certain quirks have raised a few eyebrows. They may be huge celebrities, but they're still just as regular as any other romantic couple in the neighborhood.
There was a time when people believed that their love is already at death's door. However, Ciara and the Seattle Seahawks star proved that their love is still alive. When the footballer shut down the Seattle Art Museum and kept all visitors locked out, he showed the world that he knows how to treat his lady. The two enjoyed a miraculous evening, which proved that their romance is anything but over. Now that their romance has stood the test of time, the world is even more intrigued to reveal the secret to Ciara and Russell's happy relationship.
21

Tom Brady And Gisele Bundchen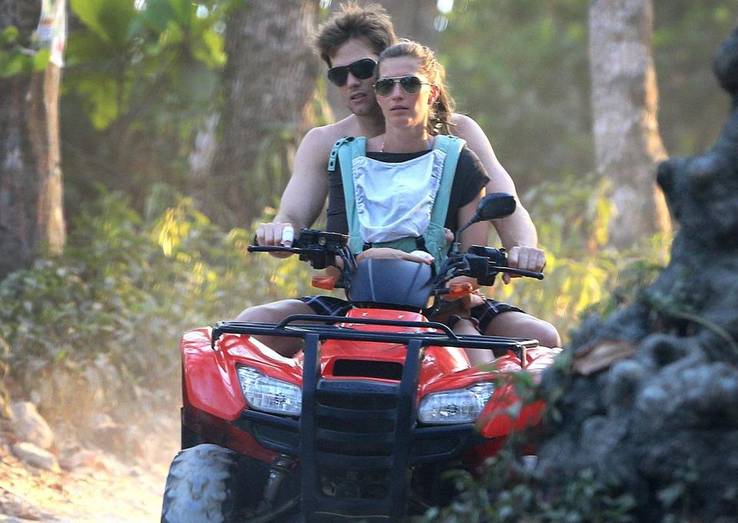 Another charming sports couple that's anything but boring is Tom Brady and Gisele Bundchen. Barely two months after their first date in 2006, the couple already had plans for their future together. Top model, Gisele Bundchen, also revealed that she didn't need much time to realize that she's found her prince on a white horse. The couple first met in 2006 and, if you ask Gisele, it was love at first sight. A few years later, the superpower couple tied the knot and expanded their lovely family by welcoming two kids.
The married couple, who's been together for nine years now, has always been vocal about their beautiful romance. But don't think that their marital status has turned them into two boring folks. The famous Patriots quarterback, Tom Brady, surprised his lady with an out-of-this-world vacation to Costa Rica. The sugar-sweet couple also immortalized the moment with a string of snaps, kissing one another with the backdrop of the tropical island. Indeed, Tom Brady and Gisele Bundchen are a beautiful inspiration to any couple that still struggles to find the key to a happy marriage.
20

Stephanie McMahon And Triple H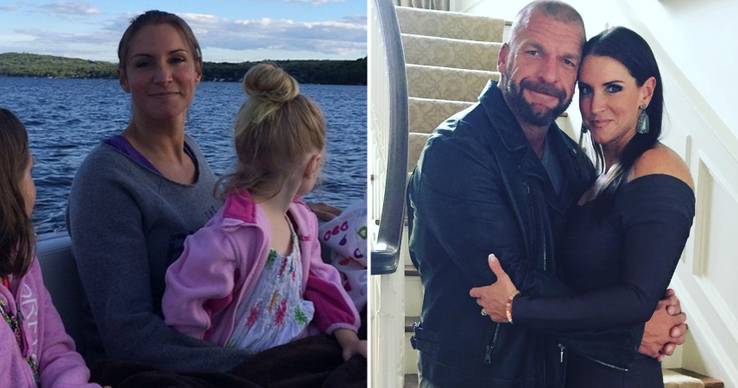 The cherished World Wrestling Entertainment's, Triple H and Stephanie McMahon, are still in a healthy, loving relationship, even after almost 14 years of togetherness. They first met through WWE, which practically marked the beginning of their hot romance 14 years ago. Although most of these WWE relationships don't enjoy enormous popularity, Triple H and Stephanie weren't at all bothered by the attention their love has gained. In fact, most WWE relationships are regularly kept private. But apparently, their love isn't going to be another story shrouded in mystery.
Triple H and Stephanie are making the most of their romance, as it is frequently brought up during promos. Ironically enough, the two appeared on Raw where they were engaged in an on-screen romance. But obviously, they had such intense chemistry that it soon spilled over into real life. Their hot and beautiful relationship has been an intriguing topic in the wrestling community for years. Their onscreen courtship soon turned into a real-life fairy tale that's been talked about ever since.
19

Laila Ali And Curtis Conway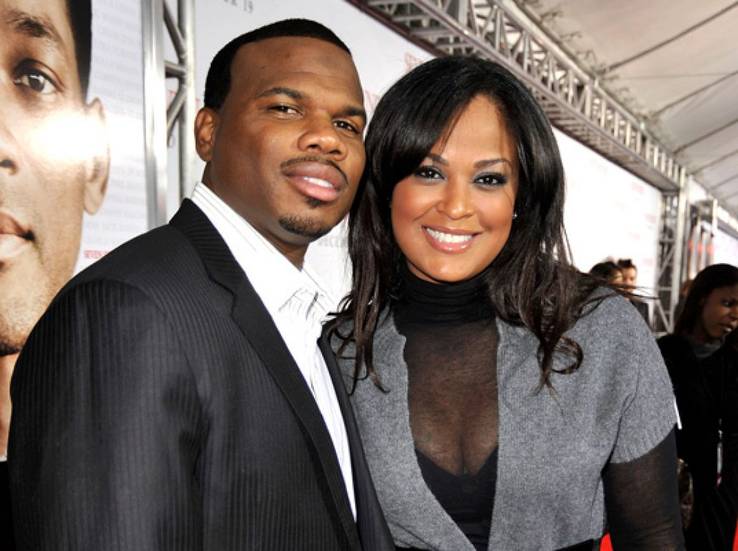 Laila Ali and Curtis Conway are, without a doubt, the ultimate image of a healthy relationship that has stood the test of time. The former boxer, Laila Ali, must've been profoundly struck by Cupid when she first met the charming NFL wide receiver, Curtis Conway. After dating for quite some time, the mighty sports couple walked the aisle in 2007. Most guys would usually get cold feet around a woman like Laila Ali, whose father is the epic boxer, Muhammad Ali, but Curtis isn't intimidated that easily.
Ironically, Conway often teases his wife by calling her a "sweetie pie" although, Laila is one hell of a boxer, who could always swing her right arm around just for the show. During a quick chat with People magazine, the NFL wide receiver opened up about his long relationship, as he once again joked about Ali's cute nickname.
The famous pair wedded in a romantic ceremony, although, they tried to keep it as simple as possible. Laila and Curtis shared a sweet kiss, as they walked down the aisle as husband and wife. "Laila's approach to the wedding was simple but elegant," said wedding coordinator Juliet Ryan to People. "There were no lions and tigers and bears. It was all about love."
Featured Today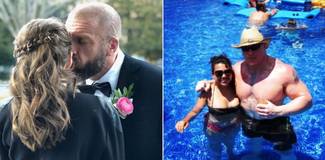 20 Real-Life Photos Of WWE Superstars Looking Like Total Softies

10 WWE Stars Who Stayed In The Same Relationship Their Entire Career (5 That Didn't)

Check Out Curt Schilling's Huge Tattoo Of Jesus

18

Mike Fisher And Carrie Underwood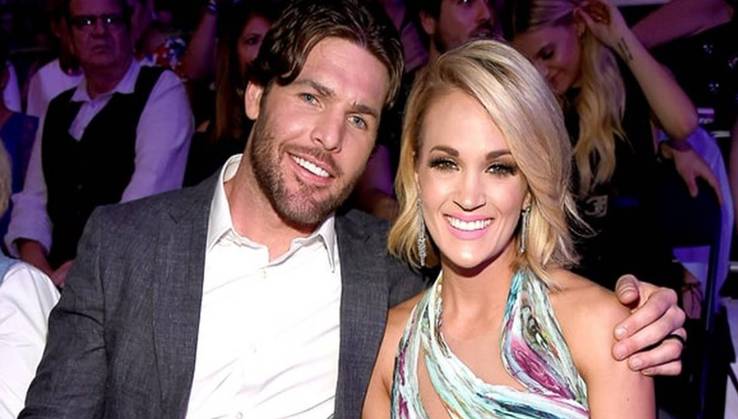 Carrie Underwood is a real vocal beast whose voice floats through the air like a mellow tune on a lazy afternoon. Admittedly, Carrie Underwood's unique vocal skills have helped her become a household name over the years. Her magnetic presence caught the eye of the Canadian NHL star as well. The cherished sportsman, who plays for the Nashville Predators, has finally met his dream girl, Carrie Underwood.
Allegedly, the two first met at a concert in 2008, and have been growing strong as a couple ever since. Only two years later, the couple tied the knot and they soon welcomed a son, Isaiah Michael Fisher. Even though it's clear that these two are happily married, there were still rumors of a possible separation.
But much to the surprise of the tabloids, Carrie recently shut down any divorce rumors, admitting: "We've never really been there. My husband is wonderful, and I feel like that's rare. He's amazing. He's such a great dad and he's so supportive of what I do and I'm supportive of him and we just love our little family."
17

Pete Sampras And Bridgette Wilson-Sampras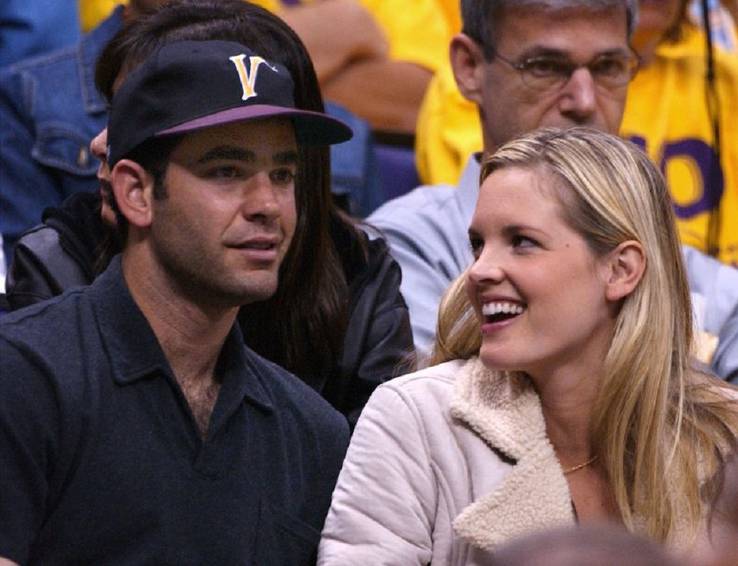 Athletes make the best husbands, and Pete Sampras's romance with Bridgette Wilson has just proven that. After dating for quite some time, the superpower couple finally decided to take their love to the next level. Besides, Bridgette is a naturally beautiful and talented lady, so it's hardly a surprise why Pete Sampras fell for her so quickly. The charismatic blonde, who's captured the heart of the eminent, Pete Sampras, starred in the movie, Last Action Hero, which was a great step in her acting career.
Their beautiful relationship began in a movie theater in L.A. in 1999, where Sampras saw the charming Wilson for the first time. The six-time champion recalled the moment saying, "I said to my friend, half-kidding, 'I'd love to meet her."
Their classic love story blossomed into a 17-year marriage, as they got married in 2000 after nine months of dating. You see, Pete Sampras and Bridgette Wilson-Sampras once again proved their love is not only alive, but it's healthier than ever. So, whether the world likes it or not, Bridgette and Pete are still doing quite well.
16

Anna Kournikova And Enrique Iglesias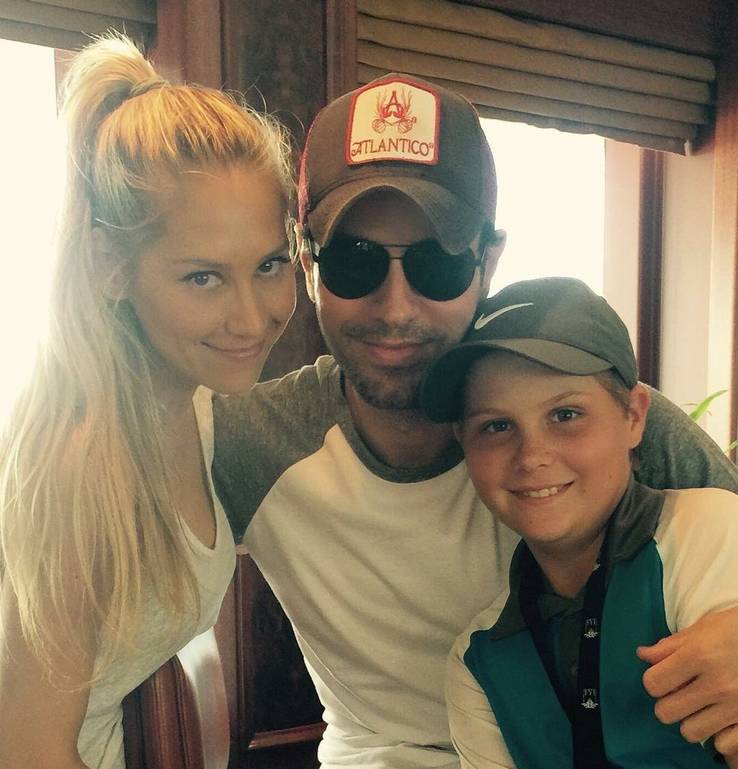 Aren't they a perfect match? Anna Kournikova and Enrique Iglesias are, indeed, quite an elusive celebrity couple. Despite their 16-year romance, the two have managed to keep their relationship out of the spotlight for years. Even now, Anna and Enrique aren't at all speculative about their love story that's still as strong as it was back in the day. The duo was first linked in 2001, and it instantly made the world re-check Enrique's relationship status. But even though they're pretty hard to spot at an event or even at the local supermarket, Enrique and Anna's romance is no less popular. While they may not disclose too many details about their love, it's still clear that they are happy together. The lovely duo has been together for almost 16 years now, and we can't be any happier about their healthy relationship.
During an honest interview with Women's Health in 2011, Anna Kournikova opened up about her romance with the famous singer as she also shared that marriage wasn't "important" in her eyes.
"I absolutely want to have children, whether I have my own or adopt. I love taking care of people," she said. "I'm in a happy relationship ― that's all that matters … I believe in commitment. I believe in being open and trusting each other and respecting each other completely."
15

Dwyane Wade And Gabrielle Union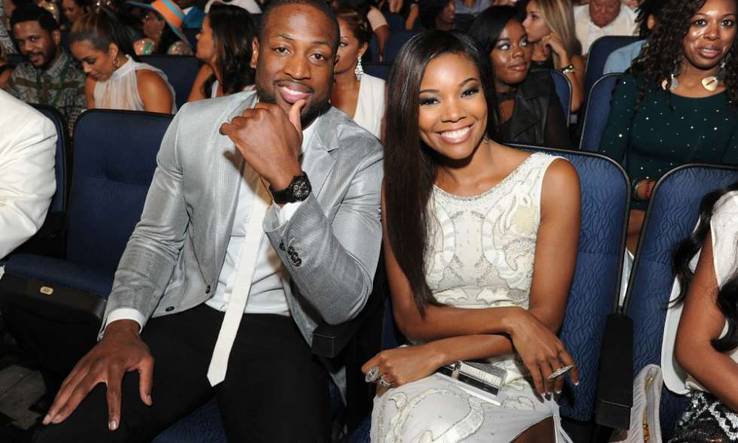 Dwayne Wade and Gabrielle Union were two lucky people who've found love in a hopeless place that was their friendship. The two had been close friends for years until, one day, they realized they shared an intense chemistry.  The beautiful, Gabriella Union, was first linked to Dwayne Wade in 2009, but it was believed that they were only friends at the time. Eventually, it became clear that the two were head over heels in love with each other. A few years later though, the couple went through a brief split, which eventually led to a romantic proposal, followed by a gorgeous wedding. Whatever the reason for their split in 2013, Gabrielle and Dwayne have put it behind them.
And despite the age difference between them, the couple appears to be going pretty strong in 2018. The professional basketball player is about ten years younger than Gabrielle Union, which is hardly typical for celeb circles, but as you can see, they are doing quite well, regardless of the age gap. Here's what the couple said about their beautiful relationship and the obstacles along the way:
"If you have good, effective, honest communication, you can handle any issue or problem in a relationship," the Being Mary Jane star said. "D is literally my best friend. We really, really enjoy spending time with each other more than anybody else."
14

Laird Hamilton And Gabrielle Reece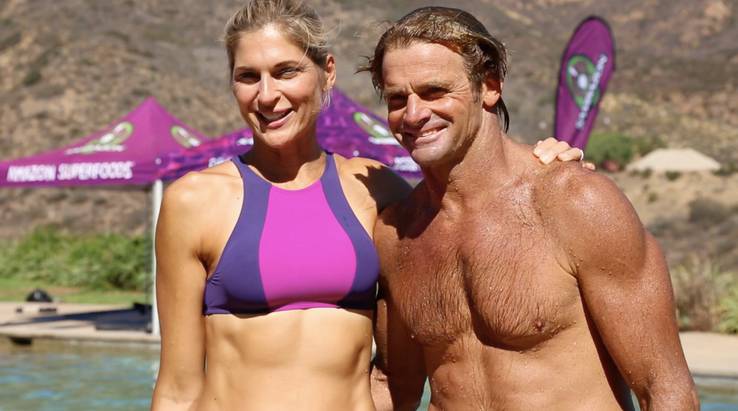 Here's how Gabby handled the question about the secret to their lovely romance: "I say it's called a relationship— we are on a boat, so we have to work together. Sometimes it's stormy, sometimes it's calm, but you have to put the effort in, and you have to want to. Then, Laird Hamilton jokingly added, "I just agree with everything that she says, and then it works fantastic."
13

A.J. Feeley And Heather Mitts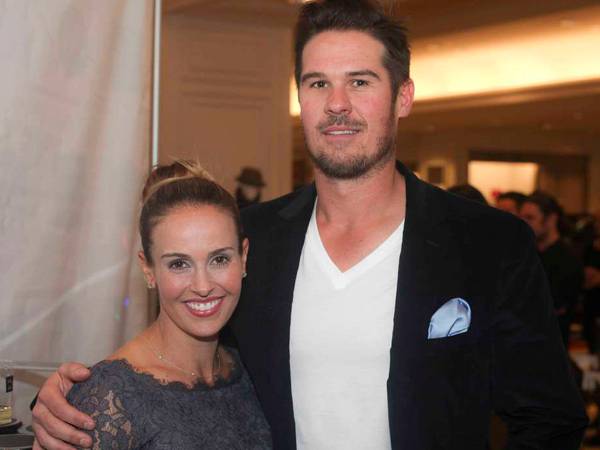 Unlike many other celeb couples who didn't make it into 2018, A.J. Feeley and Heather Mitts appear to be doing pretty well.  The on-again, off-again love story of the soccer star, Heather Mitts, and the Eagles backup QB, A.J. Feeley, might have seen a few severe periods, but they're happier than ever now. A few years back, the duo decided to legalize their love with a beautiful wedding in the resort town of Cabo San Lucas, Mexico. It's believed that the duo had lots of celebs on the guest list alongside many football and soccer players. Heather Mitts and Feeley, who live in Old City, have been together for almost five years before they finally said "I do" at the altar.
In 2016, the couple expanded their family by welcoming a healthy baby girl, Blake.  The Enquirer caught up with the star to talk about sports and family life, and how it changed their lives completely.
"It's crazy, especially right now. I have the utmost respect for all parents out there. You think it's tough when you have one but looking back on that now – I mean, that was easy. That was a piece of cake."
12

Cole And Heidi Hamels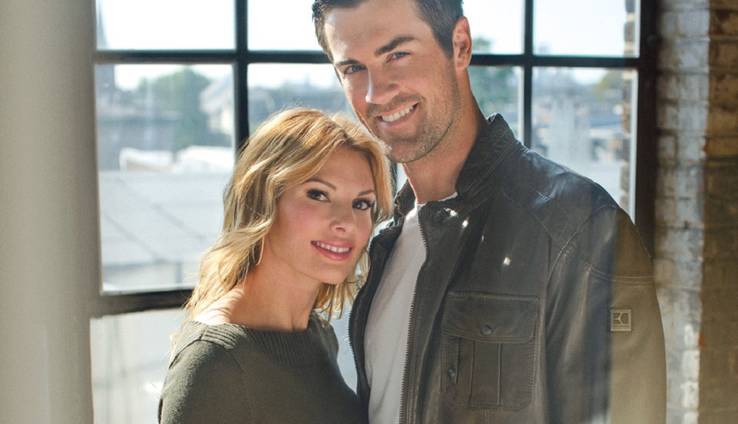 Cole and Heidi Hamels are easily one of the most charming sports couples. Their love story spans over 11 years, but they still look like they've just started dating. Cole Hamels, 34, is a cherished professional baseball pitcher that the MLB is so proud of having. Before he joined the Texas Rangers team, Cole also played for the Philadelphia Phillies until 2015.
Originally, the two started dating in 2004 and after two years of togetherness, they decided to legalize their relationship. The adorable couple got married in 2006, and they still appear to be just as infatuated with each other as they were on their magical day.
In 2016, Cole Hamels and his wife, Heidi, traveled to Ethiopia where they decided to adopt their daughter. Since then, the couple hasn't stopped trying to make the world a better place by raising more and more awareness about the kids of Ethiopia.
"The girl is loved so much more than I think she could ever understand, and she is going to be protected probably more than she could ever understand."
The two recently announced that they're donating their lavish home in Missouri to a children's charity: the opulent mansion is worth around $9.4 million. Indeed, Heidi and Cole are not only a perfect pair but two good-hearted and generous individuals.
11

Ana Ivanovic And Bastian Schweinsteiger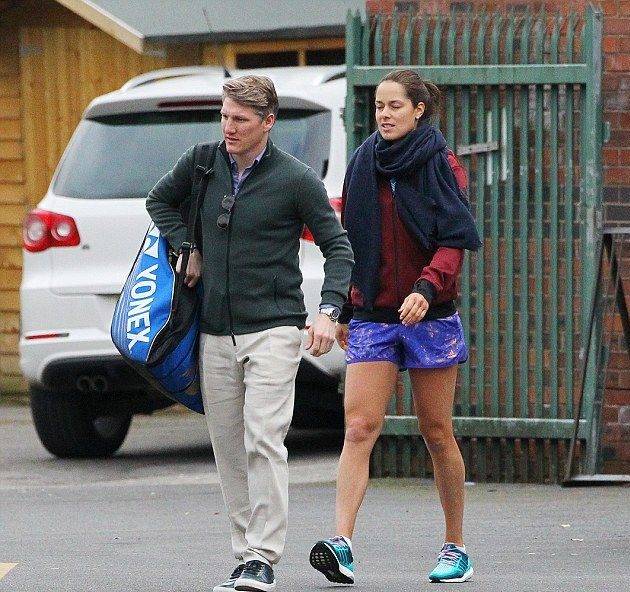 The legendary footballer proved that he had an impeccable taste in women when he proposed to the gorgeous tennis player, Ana Ivanovic. The respected sporting pair enjoyed a marvelous, lavish wedding ceremony at the famed Palazzo Cavalli in Venice, which sure is a pretty spectacular place to get married. They were all smiles as they said "I do" at the altar in a marvelous Italian-inspired wedding ceremony. You see, these two certainly know how to add a touch of excitement to their perfect relationship.
The ex-Serbian tennis ace Ivanovic and the German footballer revealed that they enjoy the little things in their marriage like cooking together. Isn't that sweet?! When asked about the typical dinner menu, Ivanovic jokingly admitted that her husband isn't much impressed by her seafood delicacies. But other than that, they look just as smitten with each other as they were back in the day.
Over the years, the famous sports couple has been spotted on many exotic vacations where they celebrated their beautiful romance. The famous footballer even took her to the exotic land of Spain where they explored the beauty of Madrid. Indeed, these two know how to have fun wherever they are!
10

Matt And Misty May-Treanor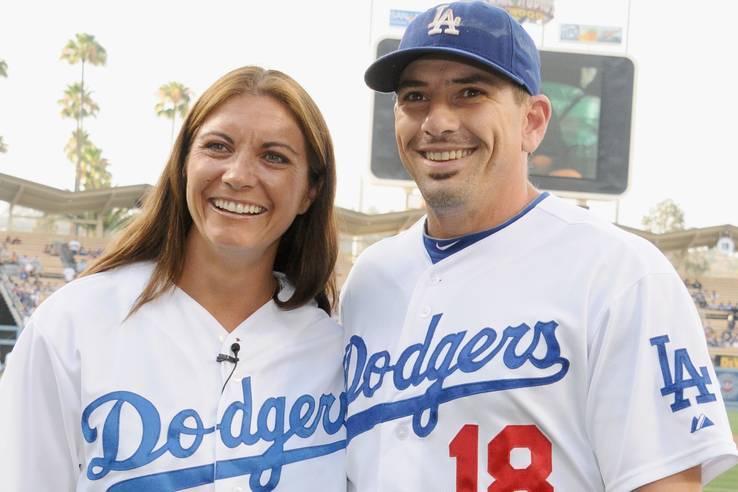 Originally, Indians,' Matt Treanor, might not have believed in true love, but it all changed when he met the lovely, Misty May. But before things got serious between Matt Treanor and the three-time Olympic beach volleyball gold medalist, Misty May, he was still living with his parents near Disneyland. Initially, he was too shy to approach her, which is understandable, given Misty's mystical beauty. In fact, he didn't even believe that she'd go out with him. Although they met a couple of times before, it was not until 2003 that they became close pals. At the time, he was at a crossroads in his professional career as a baseball player, so Misty came into his life at the right time. "I wanted to meet somebody and have a quality relationship for the longest time, and it just wasn't happening," Treanor said. "I said, 'I'm going to concentrate on my game and go home and focus on making this baseball thing work.' Then all of a sudden, here she comes."
9

Andre Agassi And Steffi Graf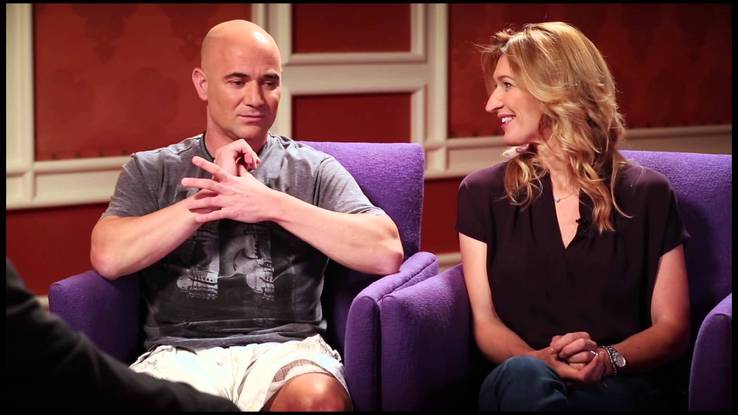 Tennis legends, Steffi Graf and Andre Agassi, have allegedly found love off the court, and it's probably making lots of other pairs green with envy. These two epic tennis players have probably won every tennis title, so it was about time they left the limelight for a while. The sports pair, which previously served as brand ambassadors for Longines, share a considerable success in tennis. Over the years, Steffi and Andre showed us incredible skills, endurance, and precision on and off the court. Indeed, this sounds like a perfect recipe for a lasting marriage. Now that each is a proud owner of incalculable tennis titles, it was about time they've settled into their current ones of a loving husband and wife. Well, it turns out that Steffi and Andre's romance is no less legendary.
They are not only a fabulous sports couple, but their romance is an inspiration to any newly dating pair. The tennis star, Andre Agassi, also shared that he feels that he can confide his darkest secrets and worries to her. Indeed, this is what love and marriage are all about.
8

Nomar Garciaparra And Mia Hamm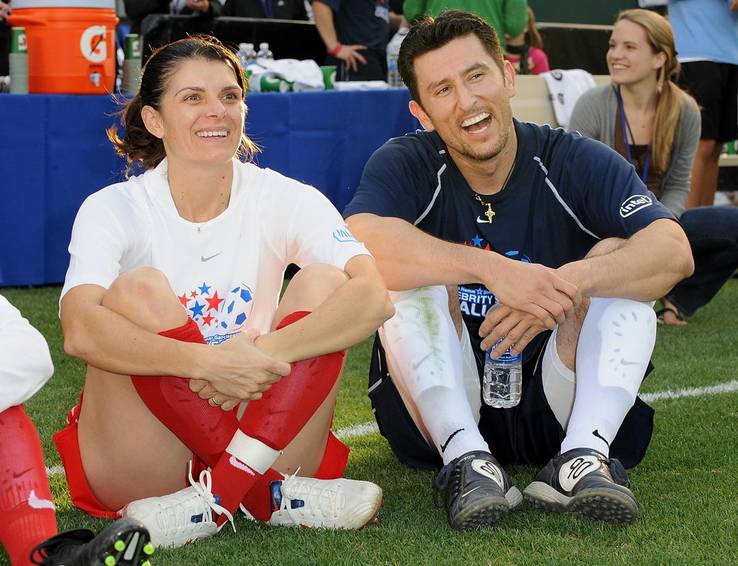 The cherished two-time Olympic gold medalist, Mia Hamm, is hailed as a soccer icon, as she played as a forward for the US soccer team. Maybe her persistence was what caught the eye of the eminent Boston Red Sox shortstop, Nomar Garciaparra. After all, Mia is quite a dangerous lady on the soccer field.
As a legendary forward of her team, Mia's become a household name as she went on to a career that inspires other ladies to take up the sport. Mia and the famous Boston Red Sox shortstop first wet at a promotional soccer event, presumably in 1998, and they clicked right away.
At the time, the legendary, Mia, was still married, so Nomar had no other choice but to take a step back. A few years later, Hamm filed for divorce from her first husband, and it wasn't long before Nomar made his first move. Eventually, the couple got married in 2003 and they soon became parents to beautiful twin girls. As charming as they are, Mia and Nomar are just another adorable sports couple we're glad to see in 2018. Such great pairs can only prove that true love exists and it can be preserved no matter the circumstances.
7

Michael Jordan And Yvette Prieto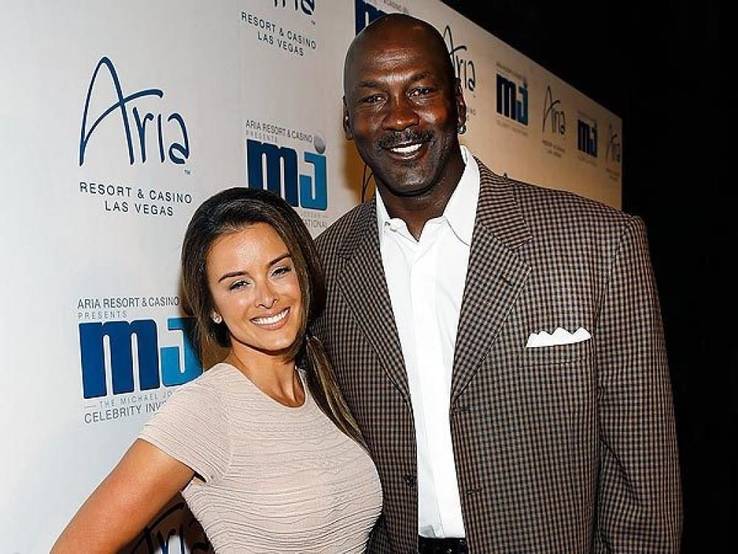 Yes, opposites do attract like magnets— just have a look at Michael's gorgeous ex-model wife, and you'll see what this is all about. These two have such an intense chemistry that it's physically impossible to break free from its spell. For instance, the exotic romance between the legendary basketball star, Michael Jordan and his beautiful ex-model wife, Yvette Prieto, is a perfect illustration of it.  Although she's Michael's complete opposite, they seem to be doing pretty well as a couple.
He may really love her, but Michael Jordan also made his lady sign a prenup before they got married. The widely famous basketball player understands the essence of a prenup agreement, as a way to protect nearly his $650 million fortune. So, he made her sign it before taking their love to the next level.
"Michael loves Yvette, but he won't let that interfere with his common sense," reported National Enquirer.
The gorgeous, Yvette, who's now Michael's beautiful wife, used to be a model before she met the legendary basketball star. Since their marriage, the fabulous couple has been photographed at various events looking cozy and in love. The lovebirds were also recently spotted at a Spring Break party in Miami. The basketball legend chomped on a cigar, as his beautiful Cuban wife danced to the mellow tunes on the beach.
6

Jeff Gordon And Ingrid Vandebosch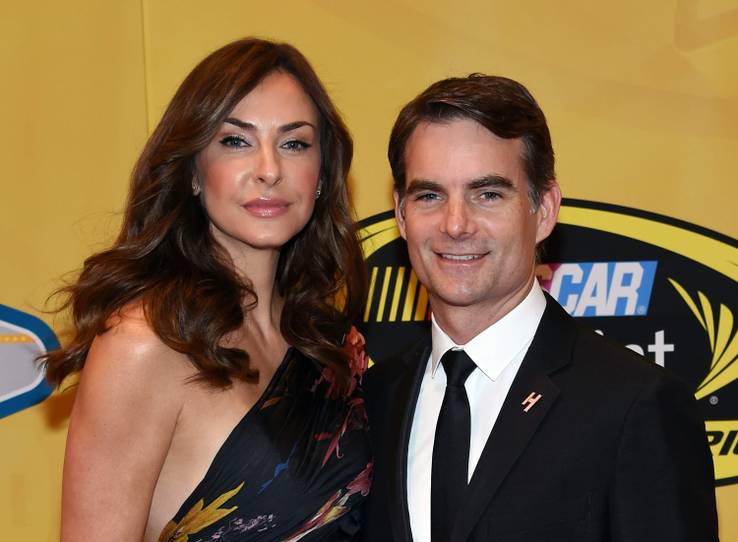 The retired NASCAR driver, Jeff Gordon, might have said goodbye to his adrenaline-packed career, but his romance with the beautiful, Ingrid, will undoubtedly make up for it. Since his retirement from the sport in 2015, Jeff Gordon has focused more on his private life, and specifically on his gorgeous Belgian actress and model, Ingrid Vandebosch. The cherished NASCAR champion has embarked on a passionate storybook romance with the model, Ingrid Vandebosch, since their beautiful engagement in 2006. Now that he's finally off the track, Gordon can finally enjoy more quality time with his best friends and stunning wife, Ingrid Vandebosch. Before he met her, Jeff dated Brooke Sealey until 2002 when they parted ways. A few years had to pass before he finally met the love of his life and started a family with her. Toda,y they seem just as infatuated with each other as if they were at the beginning of their romance.
Jeff Gordon, who's a real daredevil on the track, has recently shared that his Belgian wife is a lovely wife and mother.
"You've got to have a wife that's very understanding. I'm lucky to have that." He also adds: "I'm married to an amazing wife and person; she wakes up every day at 7 a.m. and does everything that she possibly can for her little girl – our little girl – and for me."
5

Casey Daigle And Jennie Finch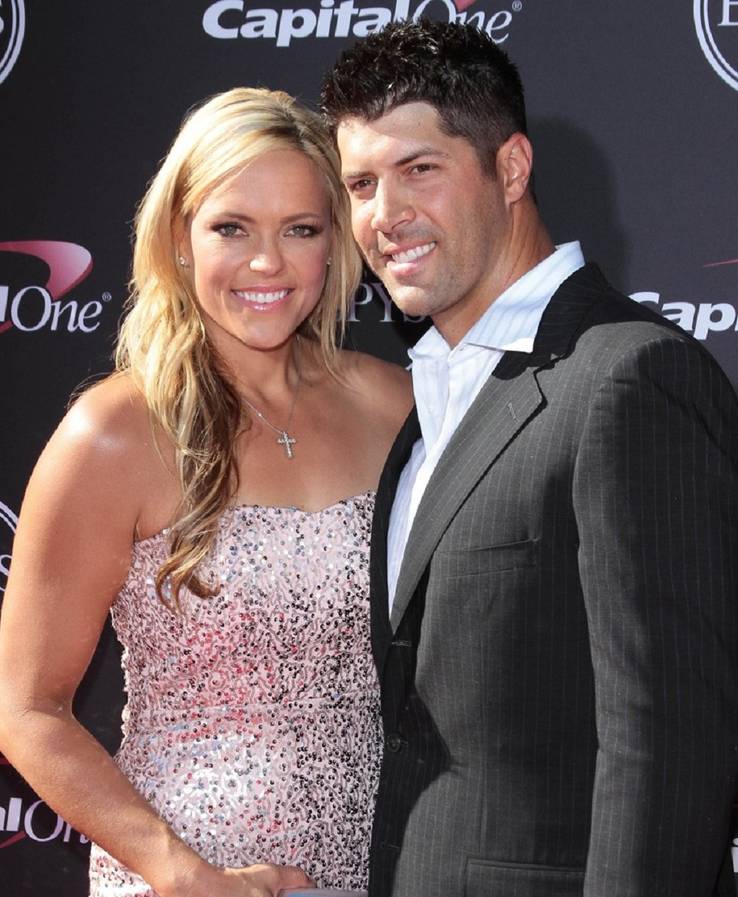 The former Major League Baseball pitcher is not only an epic player on the field, but he's one hell of a gentleman. Although the couple enjoys a blissful marriage with three lovely kids, Jennie Finch didn't let down her guard that easily. In fact, she continually rejected Casey and his creative efforts to win her over, which she described as "creepy" anyway.
Ironically, the baseball pitched had to try different approaches with Jennie because his masculinity wasn't enough for the charming Jennie Finch.
Before they become an item, Casey wanted to impress her and ask her out, but he couldn't believe when Jennie turned him down. Apparently, Casey sent her four dozen of roses which might've scared her away at the time. Unfortunately for him, Jennie's reaction was, "I said no because that was too creepy." But gladly for the currently married couple, Casey revolved around her until they became a pair.
Unlike lots of other broken celeb marriages, the charming couple knew how to make their marriage work even after years of togetherness. They, too, must've had some terrible obstacles along the way, but Casey and Jennie believed that they could fix any issue as long as they're together.
4

Nadia Comaneci And Bart Conner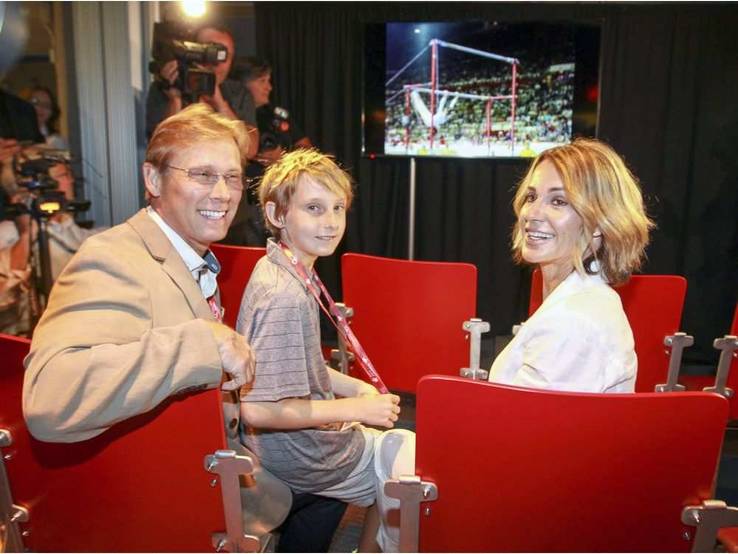 The retired American Olympic gymnast is a member of the 1984 gymnastics team and a proud owner of two gold medals. Bart Conner, 60, is currently an owner of the Bart Conner Gymnastics Acadamy, located in Oklahoma, which he operates alongside his beautiful Romanian wife and Olympic gold medalist, Nadia Comaneci. Allegedly, the "golden couple" first met in 1976, as they both attended the American Cup at Madison Square Garden. Since their first kiss, which was captured on camera almost 40 years ago, Bart and Nadia have been enjoying a thriving romance that's still as exciting as it was back in the day. Sharing your bed with your partner for so many years isn't really typical in the celeb circles. But unlike many other people, these two athletes knew that their marriage is like a sports game: you either go for it and win or you simply lose it all. Gladly for their fans, Bart and Nadia aren't quitters who give up easily.
A few years later, the two got married at an Orthodox church in Bucharest, Romania and they soon welcomed their first baby boy, Dylan. Well, such a beautiful romance can only happen when two gymnasts flip and fall for each other.
3

Sanya Richards-Ross And Cornerback Aaron Ross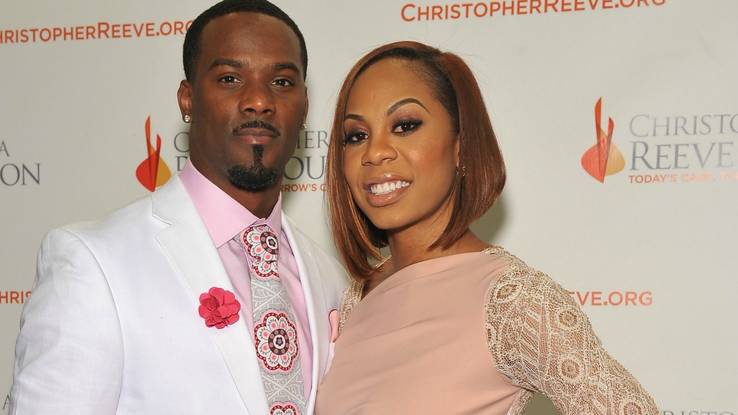 Last year, the track-and-field professional, Sanya Richards-Ross, and the handsome NFL cornerback, Aaron Ross, welcomed their first child, Aaron Jermaine Ross II, and the fans can't be any happier about them! Olympian star, Sanya, and the NFL player, Aaron Ross, had been dating for years before they finally expanded their lovely family. The arrival of the newborn member shut down all rumors regarding the health of their relationship. Sanya opened up about the challenges of being a parent, as she touched upon the unbreakable bond she has with Aaron.
2

Ray Ferraro And Cammi Granato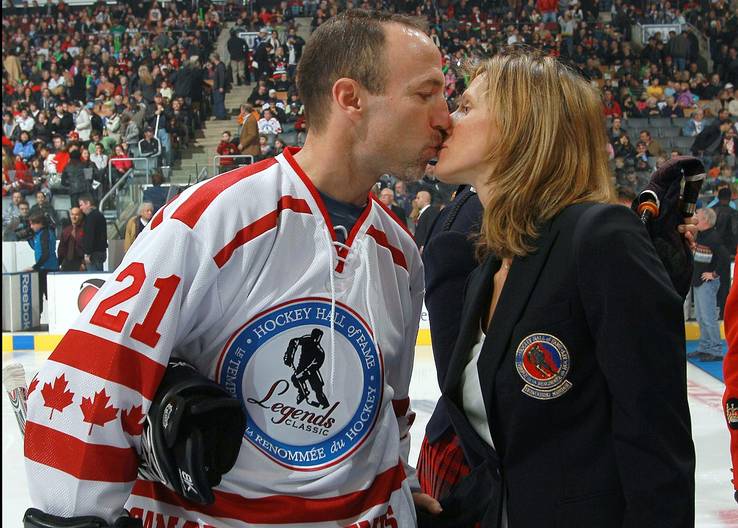 Instead of wasting more time, he confessed his feelings to the lovely, Cammi Granato, who wasn't at all indifferent to the famous NHL star. Today, they still look just as happy and smitten with each other as they were back in the day.
1

Kristi Yamaguchi And Hockey Player, Bret Hedican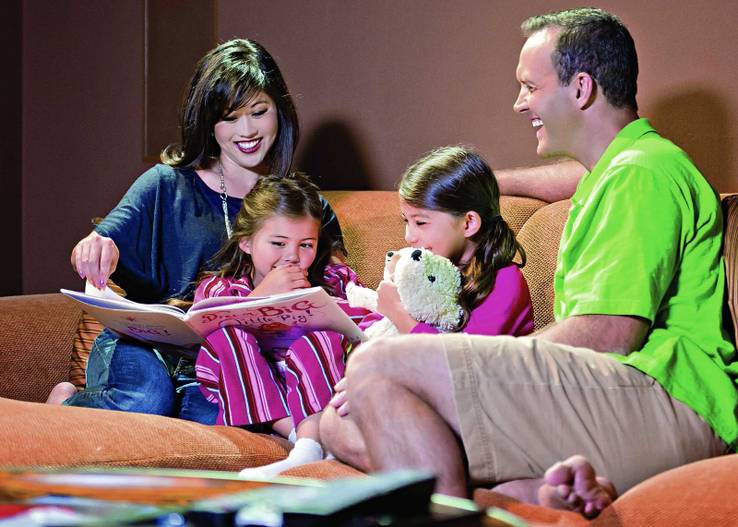 Bret Hedican and Kristi Yamaguchi is another pair who have proven that their love hasn't faded at all over the years. The former professional ice hockey player has become a worldwide sensation after becoming a Stanley Cup champion. And if it weren't for his professional sports career, he might not have met the love of his life, the beautiful, fellow Olympian, Kristi Yamaguchi. It was around 1992 when they first met at the Winter Games where they represented their US Olympic Teams. The couple first met at an Olympic opening ceremony, and they've been together ever since.
During an interview with USA Today, the lovely, Kristi revealed that Albertville was a pretty good experience for her. Well, given her marital status, we must say that it's certainly been more than that.
References: foxsports.com, bleacherreport.com
Source: Read Full Article