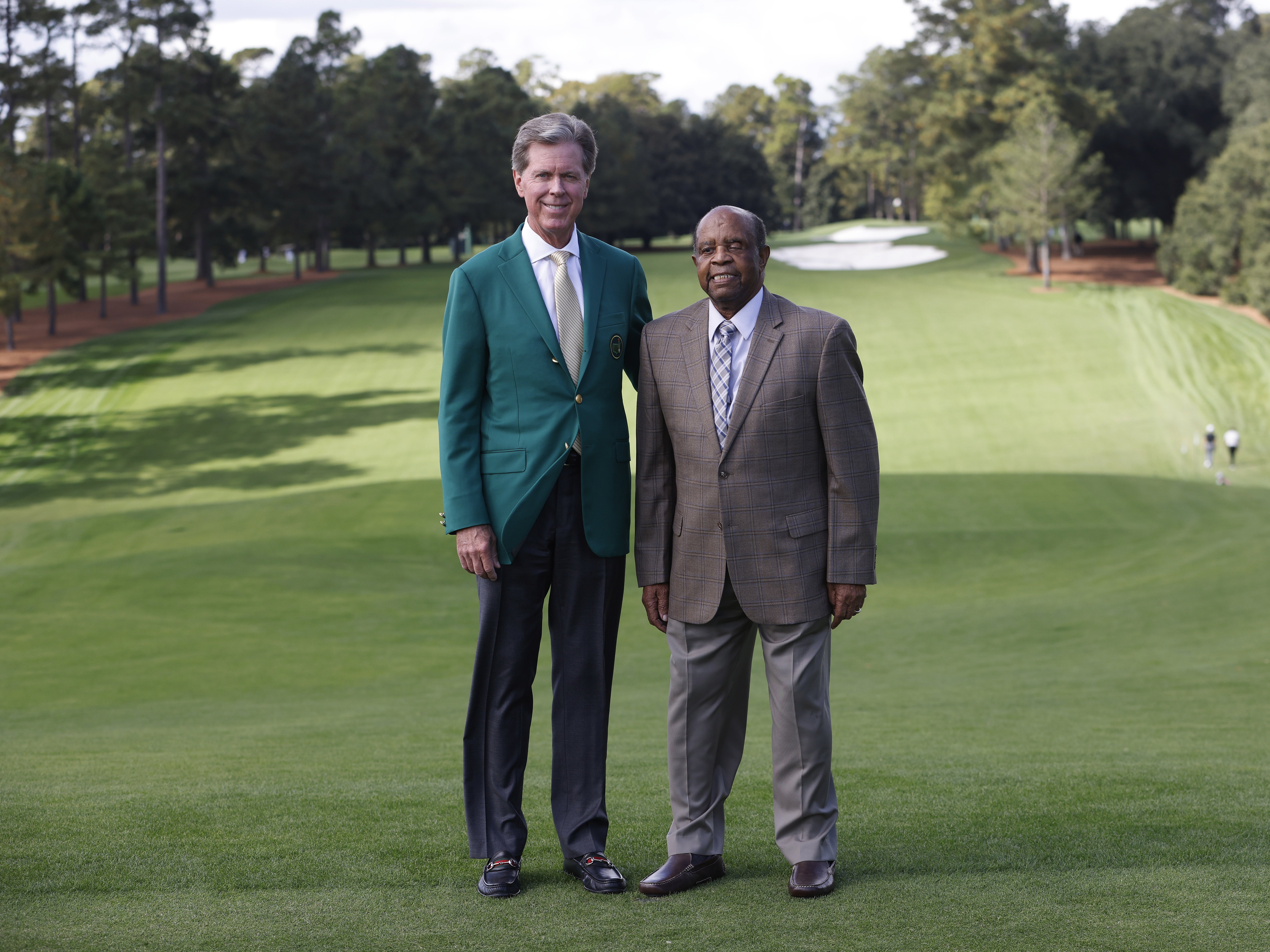 Augusta chairman Fred Ridley and Lee Elder, the first black professional to compete at The Masters
On Monday, Augusta's chairman, Fred Ridley, announced that Lee Elder, the first black professional to compete in the Masters, would take part in the ceremonial tee-shot next April. Elder, now 86, was subjected to a torrent of abuse after qualifying for the tournament in 1975 and had to rent two houses, switching between each at random, to reduce fears over his safety.
Elder was not actually the first black golfer to qualify for the Masters, though. Charlie Sifford won two recognised PGA Tour events in the sixties, but was refused entry because "he didn't meet the qualifications". Augusta's co-founder and then-chairman, Clifford Roberts, allegedly declared that "all the golfers will be white and all the caddies will be black," in response to Sifford's hopes of participating. "To my mind, the Masters was the worst redneck tournament in the country, run by people who openly discriminated against blacks," Sifford wrote in his book, Just Let ME Play. "But somehow [the club] got away with it."
It would be foolish to point the finger solely at Augusta. Like every evil, it has its figureheads, but is propped up by a presiding acceptance and deafening silence. "Every time I go to a major country club, I always feel it, always sense it," said a young Tiger Woods. "People always staring at you: 'What are you doing here? You shouldn't be here.'" Around the same time, Woods's father, Earl, began shouting abuse at his prodigious son to harden him against the racism he would inevitably face as a professional.
So for golf, a sport which once strolled through scandal with unimpeachable immunity, these past few months have provided an uncomfortable and belated reckoning. Ridley also announced that scholarships will be funded in Elder's name at a nearby college in response to the "events of 2020" – namely the protests that followed the killing of George Floyd in police custody in May. The PGA Tour's commissioner, Jay Monahan, admitted that golf "needs to grow" and "become part of the solution" in a conversation with Harold Varner III, one of just three black players on its roster – a position that was echoed publicly by a wealth of its players.
They are only the preliminary steps, the most surface of processes sputtering into action, but they are at least material changes. Even the story of Charles Howell III, who last year admitted to 'blacking up' and pretending he was Tiger Woods during the latter's public unravelling in 2009, evidenced how golfers are gradually becoming more aware of the entrenched issues they have inherited. Howell, a 20-year professional and Georgia native, is said to have undergone required racial sensitivity training, prompting a period of depression, further voluntary counselling, and has since made several efforts to aid minority golfers aiming to breakthrough professionally. The African-American journalist who confronted Howell after he told the Woods story at a sponsor's event last year now accepts him as a friend, having seen the 41-year-old's apology and awakening over the past year.
It's not to say that racism still isn't rife within the sport, but that while its politics and demographic remain largely unchanged, it is slowly beginning to face up to its past, rather than attempting to elide and revise it. Even as Trump has stoked racial tensions in an increasingly polarised country, the sport has stopped at the very least being complicit in its silence and in that, it has been unified.
It was, allegedly, Tom Lehman, the former world No 1 of Brookline infamy, who derided Clinton on the range in San Antonio. Lehman was born in Minnesota, less than 100 miles from where George Floyd was killed. "I think everybody needs to understand that when you have an absolute disregard for the suffering or pain of somebody else or the death that you cause on somebody else, if you have no regard for that, you are a part of the problem," he said.
Source: Read Full Article