Kurtley Beale says something needs to be done to hold on to rugby talent in western Sydney as the president of the Penrith Emus made it clear his axed club would be appealing the Sydney Rugby Union's decision to cut them from Shute Shield.
Ahead of club rugby round, Beale, who has always played with Randwick, appeared in his new Easts rugby attire at Waratahs training.
Banter: Kurtley Beale and Bernard Foley wearing their club colours at Waratahs training.
But Beale has a soft spot for the Emus given he grew up in Mount Druitt and knows fully well how important it is to keep the game healthy in the west. He has urged NSW Rugby to ensure the game doesn't die in an area of rugby league heartland.
"There's so much talent out there," Beale told reporters. "Being born and bred from the area and growing up seeing talent being pushed to league, it's certainly something we need to tap into.
"I know speaking to Dave Dennis and Cliffy Palu in the past few years, [we should be] trying to figure out something to try and help out wherever we can to be able to do what we can to be able to keep some of the talent and a lot of the supporters out there in the game.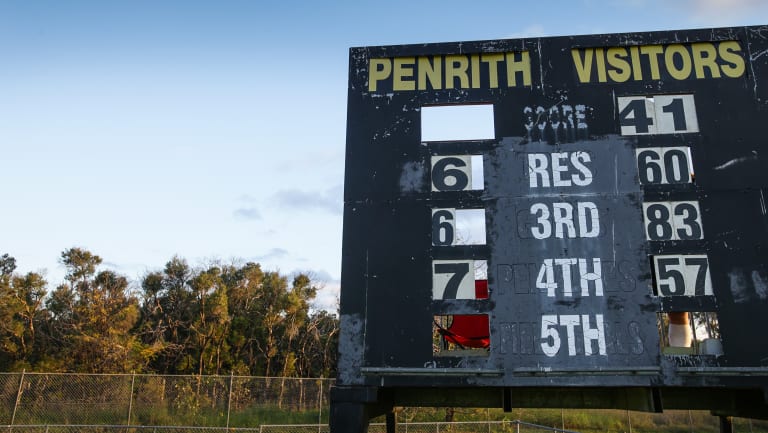 Battling: A scoreboard from the 2015 Shute Shield season shows the Emus have struggled for some years.
"We trained out at Penrith Park for the Wallabies last year and that was pretty cool. No doubt there's a lot of support out there for rugby union, it's a matter of getting out there and doing it."
Informed of Beale's comments on Tuesday, Emus president Jim Hook said it was nice to have the support of such a high profile player in what has been a difficult few weeks for the club since news broke last month they had been cut from the Shute Shield competition.
"That's all relevant what Kurtley's said," Hook said. "That is probably the tip of the iceberg. People need to realise that the development of rugby in greater western Sydney has been left to the club without any support, funding and based on the goodwill of volunteers and sponsors to support that development."
Hook said the club had officially appealed the SRU's decision and will front up at Rugby Australia headquarters on May 22 to hopefully have their club reinstated into the competition.
"We obviously think there are issues that need to be further investigated, in relation to the development of rugby in western Sydney and how important it is," Hook said.
While Beale was sporting his Easts kit, Israel Folau was also on deck wearing a Sydney University jersey, which he is realistically almost zero chance of wearing other than at a photo opportunity.
In other interesting club coups, Curtis Rona has pledged his allegiance to Parramatta, while Rob Simmons has been poached by Randwick.
Waratahs players will wear club socks this weekend for their match against the Highlanders on Saturday at Allianz Stadium.
"To be able to represent their colours and be the role models for a lot of our young guys to look up to, it's a really good opportunity to do that," Beale said.
Source: Read Full Article