Newly signed Sydney Kings player Andrew Bogut will meet with National Basketball League officials to discuss their social media policy.
Bogut is quick on the draw when it comes to his Twitter account, firing off brutally honest missives and observations as they seemingly pop into his head. He's enterraining and controversial.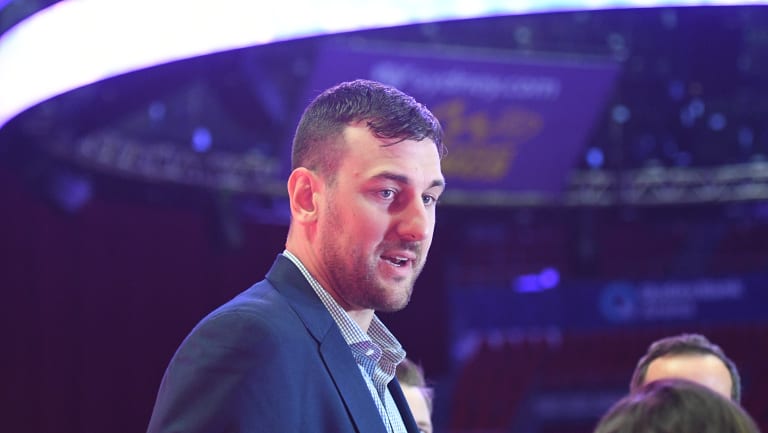 Controversial: Andrew Bogut will meet with NBL officials to discuss their social media policy.
Asked whether he anticipates any blowback from the governing body at any stage, he said with a smile: "We'll find out. I wear my heart on my sleeve. I'll have a conversation with the NBL. I doubt they will want to tone me back too much because it helps the NBL in a way. I put something out that some might see as controversial. My opinion is not right or wrong — it's what I believe."
Freedom of speech versus freedom of thought has become a tricky one for sporting administrators following Wallabies star Israel Folau's comment on his Instagram account about gay people going to hell unless they repent of their sins.
Dare we ask what Bogut thinks about the issue, which has divided opinion?
"I think what he said was very controversial but I am all for his right to say that — he has to deal with the consequences," Bogut said. "It's tough because I'm not overly religious but he's basically quoting the Bible. It's a tough one now. That's his religion so you have to respect his ideas and what he lives by.
"What I struggle with is that if you're going to criticise him you better make sure your house is in order. What Israel said I don't condone but let's be honest: from that community, most people in the community who were offended don't believe in God anyway, so who gives a shit? God's fictitious [to them] and someone who is make-believe, so why is it so offensive to anyone? Get on with it. He's not saying he wants to kill you. He's saying that's his belief. But he's got to deal with the consequences from it."
Whatever the case, Bogut is a lightning rod on social media. He has 333,000 followers on Twitter.
The Kings created a #kingbogut hashtag at Tuesday morning's media conference confirming his two-year deal.
By mid-afternoon, the Bogut hashtag was trending on Twitter stronger than Anzac Day.
Not all of the reaction has been positive, though. Has he been trolled since signing with the Kings?
"Of course," he said. "People saying it's a publicity stunt, that I'm going to get hurt and not play a game. That's your opinion. Cool, no problem … You have to learn to live with it. I never insult someone, unless they go at me. I'll look at their profile and have a crack back. I'll stick up for myself."
Source: Read Full Article