Sydney FC coach Graham Arnold has accused Melbourne Victory of resorting to an overly aggressive style of play in trying to stop the Sky Blues and praised the appointment of one of the A-League's most astute referees for Saturday night's Big Blue semi-final.
Speaking ahead of his last match against Melbourne Victory, Arnold couldn't resist a series of jabs against his rivals and reserved stinging criticism for Victory's style of football.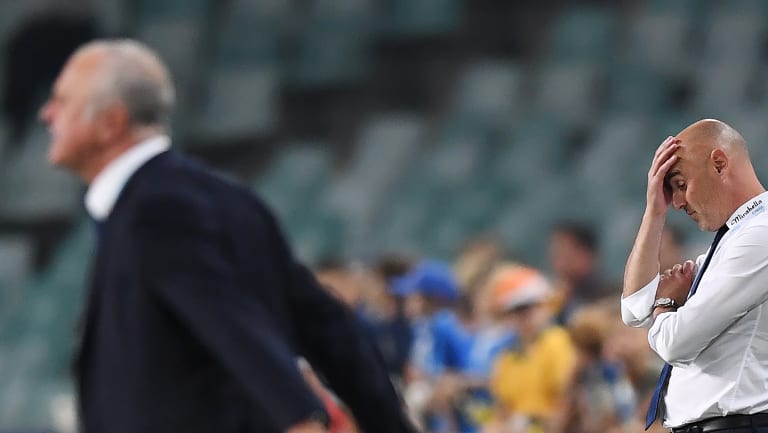 Thinking again: Victory coach Kevin Muscat he will tinker his tactics against Sydney.
Arnold expressed his delight in the appointment of refere Kurt Ams for the semi-final, a referee who has quickly established himself as one of the more discerning in the A-League.
Ams has issued 48 yellow cards in the 14 games he has officiated this season and has sent off five players but none for straight red card offences.
"I expect a war tomorrow night. Every time you play them that's what you get."
After a series of  physical  encounters bordering on spiteful, Arnold made no secret of his pleasure in having a strict official in charge.
"It's great we have a very strong referee tomorrow night with Kurt Ams. He's shown his strength over the season, so no doubt he will do a fantastic job," Arnold said.
"They have shown they've got the [third] highest amount of yellow cards in the A-League. [Bedart] Berisha's got 50 fouls but only two yellows this season. For us, having a strong referee is great."
The Sky Blues have the cleanest record in the A-League this season with 38 bookings, wheras  Victory are equal third for most yellow cards with 59.
"I expect a war tomorrow night. Every time you play them, that's what you get. We expect that tomorrow night. The boys are in great shape, they're ready and whatever is dealt, we'll deal with," Arnold said.
Sydney have won seven successive games against Melbourne, and Arnold suggested their star striker Berisha had  conceded that they were losing hope of beating the Sky Blues.
Arnold claims  Berisha approached one of Sydney FC's foreign players after the 1-0 win for the Sky Blues a fortnight ago and said his team were struggling to find ways to break their Big Blue  hoodoo.
"When Besart tells one of our boys after the game that we're such a great team and they can't beat us, that gives us even more belief," Arnold said.
Arnold also had a dig at his usual sparring partner, Kevin Muscat, after the Victory coach told the media he was devising "a new game plan" to beat Sydney FC . That prompted Arnold to question the merit in  tweaking things late in the season and before such big games.
Arnold was confident Dutch defender Jordy Buijs would play against Victory on Saturday night despite struggling with a minor back injury during the week.
Buijs trained alone on Thursday while undergoing treatment  but  resumed normal training on Friday.
"Jordy, no problem. He's training today, he just had a bit of a stiff back but nothing at all. A hundred per cent," he said. "He came off in the last game against [Shanghai Shenhua] in the last five or 10 minutes with a bit of a stiff back. It just tightened up again, but he'll be fine. Ben Warland is in great shape, Aaron Calver is in great shape but Jordy, trust me, a hundred per cent he will play."
Source: Read Full Article