One carved a reputation on buying a Golden Slipper winner for $20,000, plus another runner-up in the world's richest race for two-year-olds for $10,000. The other has bought horseflesh for an assortment of the richest equine-mad royalty in the world.
An unlikely match? On face value, it would appear so.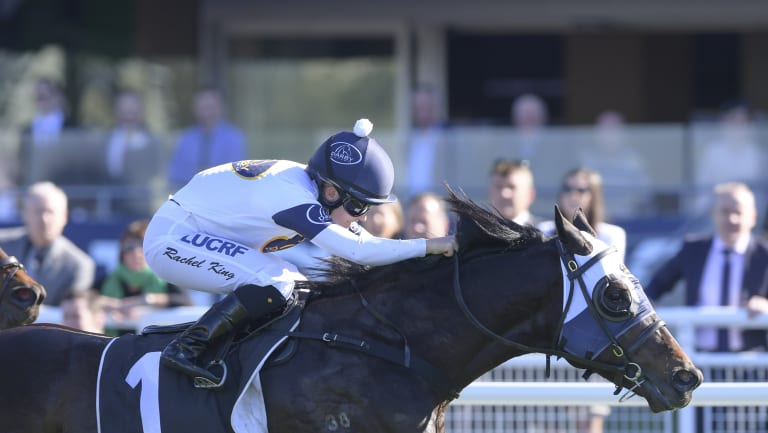 Stylish type: Rachel King rides Dio D'Oro to win at Randwick.
Yet for mum-and-dad syndicators Darby Racing, there's something that just works with European bloodstock guru Hubie de Burgh.
"When you've got that sort of knowledge – he wants to be with us and we want to be with him – it's more like, 'hey, why not?' He's amazed at what we do at the cheaper end and he's got the experience of buying for the sheikhs and at the top end," Darby Racing's managing director Scott Darby said.
"He's a great guy and it's been a great partnership. James Harron put us in contact with him and we just clicked. We've built up a great friendship and I just added him to the team. He tags along with us and has his input in some of the sales we go to."
And even ones they can't. As one of the shrewdest operators at Australian-based sales, Darby Racing has spread its tentacles in the hope of importing even further success to these shores.
Frustrated at the asking price for tried horses in Europe, Darby asked de Burgh for help.
They made northern hemisphere yearling sales a priority, where the going rate for babies from stallions proven in Australia is well below market value here. And they bought a catalogue of yearlings due to make their presence felt on the racetrack later this year.
Without the intimate knowledge of de Burgh, who spent two decades developing the bloodstock interests of Sheikh Hamdan, there's a chance Darby Racing would not be excited about the prospects of the European band later this year.
"You're importing that staying blood into Australia and you might have to be patient, but they were a hit with the owners last year," Darby said. "Hubie was saying on the back of what we did there were a lot of people inquiring saying, 'This could be another avenue [to bring stayers to Australia]'."
What they already have in Australia is a horse who might get over more ground, might not. But the Darby-de Burgh partnership is certainly enjoying the ride with Dio D'oro, on trial for the Golden Rose as he chases a third straight win this campaign at Rosehill this Saturday.
The Gary Portelli-trained colt was a $210,000 Magic Millions buy for Darby Racing and de Burgh,  and has emerged as one of the finds of the winter with an eye to the early season three-year-old features.
"I'd say if he runs well on Saturday he will have a short let-up and then go to the Run To The Rose and have a crack at the Golden Rose," Darby said. "If there's a race there to take [in winter] you might as well take it.
"If you go to those better races and run fourth or fifth or don't quite measure up you've forgone races you could have won. Once you go past that two-year-old stakes brigade you've just got to build a bank and hope you can keep going in that direction."
Dio D'oro bumped into Golden Slipper heroine Estijaab and crack colt Performer in his first two starts during the autumn carnival, but has revelled in the heavy going in two starts this preparation.
Jean van Overmeire, who is six wins behind Rachel King in the race for the Sydney apprentices' title with just a month of the season to go, will replace King on Dio D'oro at Rosehill by virtue of his two-kilogram claim. Dio D'oro is battling Toulouse for early favouritism in the two-year-old 1400-metre race.
"He's getting a bit of a tag as a wet tracker – he certainly handles a wet track – but he's good on top of the ground as well," Darby said. "We always thought he would be more of a 1400-metre or 1600-metre type of horse. This trip should suit him to a tee.
"He certainly showed enough early and whether it was spring or autumn we wanted to see him contest some of those better races. At the moment we're just trying to build a bit of a bank and make hay while the sun shines. I can't see any reason he can't win again on Saturday."
Source: Read Full Article