After a tremendous autumn carnival, headlined by the superstar that is Winx, attention has turned immediately to the most coveted 12 spots in racing in The Everest.
Discussions have already started, with slot-holders trying to position themselves to have the pick of bunch now the owners of Australia's best sprinters have more understanding around how the process works in the second year of the world's richest race on turf.
Climbing the mountain: Kerrin McEVoy punches the air as Redzel win the first Everest.
It would be safe to assume that Redzel, In Her Time and Viddora will race for the $13 million in stakes in October, but they will all need to find a slot.
In Her Time owner Peter Brown has taken up the negotiations for his mare, which comes off lease next month and will revert to his ownership. The lease proved a tripping point for In Her Time getting a slot in the race last year.
"I'm leaving it up to Peter and just want to know when we have a spot in the race," In Her Time's trainer Ben Smith said. "Last year it happened so late that we weren't in a good position to negotiate but this time we are a group 1 winner and people know In Her Time.
"I don't need to be in the discussions because my job is to train the horse and knowing where we stand early would make that easier for me.
"She is going to the Doomben 10,000 and the Kingsford-Smith Stakes in Brisbane and hopefully after that we will have a slot."
There is some intrigue for a variety of reasons around Chautauqua, Tarpeze Artist, Happy Clapper and Winx.
Chautauqua is guaranteed a slot from one of his owners but he will have to fix up his barrier manners. If he decides to step out of the gates and gets back to racing, he will definitely get a start.
Trapeze Artist has a stud deal on the table, but would be the ideal Everest horse if he was to race on.
The two best horses in the country, Winx and Happy Clapper, are being mentioned, but a fourth  Cox Plate is the big lure for Winx and doing both in the same campaign would be beyond even her.
Happy Clapper's owner Michael Thomas is very keen to see his charge return first-up in The Everest and is eyeing off potential opportunities with three slot-holders – the ATC, Inglis and The Star, which sponsored the Doncaster that his horse won.
At least one Everest slot-holder is in discussion with Wesley Ward about bringing Lady Aurelia out to Australia.
Trapeze Artist still worth $30 million after All Aged win
What was the win of Trapeze Artist in Saturday's All Aged Stakes worth to his value as a stallion.
It added a track record and a third group 1 to an impressive resume and showed he had a will to win. But once you get to discussing value, Trapeze Artist probably only held his market value, which is around the $30 million mark.
A loss would have hurt his value but a win was never going to increase it. The studs are all around the same mark, so owner Bert Vieira has some decisions to make in the next couple of weeks.
He would love to continue racing the Snitzel colt, but it comes down to the fact he can make more money as a stallion.
"I'm a racer," Vieira said. "I won't get another horse like him."
Schofield set for time on the sidelines
Glyn Schofield looks set for an extended period on the sidelines after suffering painful back spasms at Randwick on Saturday.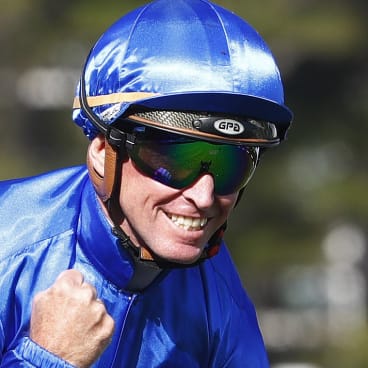 Back soon: Glyn Schofield returns after winning the Randwick Guineas on Kementari.
He ended his day in hospital, where he had an MRI scan to work out the problem. He was still having trouble walking on Sunday, despite being on pain-killers. He will spend the next couple of days resting and recovering before making a decision when he will be right to return.
Winx less Awards
Winx was the undoubted star of the carnival, with each of her three wins underlining her dominance. So, as this column, takes a look at the carnival for the R&A awards, we have decided to follow the lead of the bookmakers and run a "Winx out" option.
Also, special mention must be made of a horse that didn't even make it to raceday in Chautauqua. His stubbornness  to leave the gates in barrier trials was frustrating for all concerned.
Ride of the carnival: Brenton Avdulla's effort to win the Golden Slipper on Estijaab from an outside barrier showed his maturity. A preconceived plan set out by John Hawkes was executed with class. Avdulla was told he would be able to lead, despite there being plenty of speed to inside. He got Estijaab to the front after 200m but it was the next 300m where the race was won. "I got some soft sections," he said. It left a good kick in the straight and gave Avdulla his biggest win.
Golden moment: Brenton Avdulla reacts to winning the Golden Slipper on Estijaab.
The quote: "You can have your Golden Slippers and you can have your Cox Plates but when we were kids the Doncaster was always the race we wanted to win." Pat Webster after fulfilling a 50-year dream when Happy Clapper won Randwick's biggest mile.
The storyline: Hugh Bowman is a major part of Winx's success, as was seen in February when her program was changed because of his suspension. But it was his spectacular fall from Performer in the Todman Stakes that would influence the carnival. He missed the Randwick Guineas meeting the following week and then was clearly not at his best when he returned to win the Rosehill Guineas on D'Argento. He took another two weeks off following that, missing Tancred Stakes day and the first day of The Championships. He came back and gave a masterclass in the Australian Oaks on Unforgotten. He is off to Japan for the next couple of months where he will look to the Japanese Derby and other high-profile races.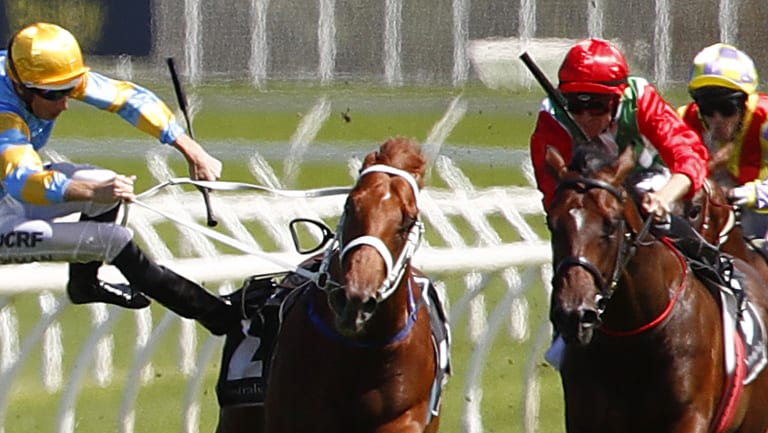 Sent flying: Hugh Bowman falls from Performer in the Todman Stakes.
Most popular win: Who Shot Thebarman is perhaps the most loved horse in the Chris Waller stable, outside of Winx, so to see him finally lift the Sydney Cup at his fifth attempt was a special moment. "I probably didn't get to enjoy it as much as I should of, because of her," Chris Waller said. "He is a horse you just love because he turns up year after year and deserved that win." It was part of a sentimental group 1 double for Black Shinn, who won the Doncaster on Happy Clapper. He became only the 13th jockey to win the double in the same year in 153 years.
The queen: Winx will not be heading to Royal Ascot as she enteres the twilight of her career
Announcement of the carnival: It was a story that ran in parallel to the carnival – whether Winx would travel to Royal Ascot. Chris Waller announced it wasn't to be after her George Ryder Stakes win, cruelling a thousand holiday plans for Australian race fans. "There were a diverse range of matters to be considered, from wellbeing risks associated with travel to seasonal changes her hormones may undertake. As her trainer, it is my responsibility to continue to carefully manage her career as it enters the twilight phase," Waller said in press release. "Following lengthy discussions between the owners, Hugh Bowman and I, it has been decided that Winx will remain in Australia following the Queen Elizabeth Stakes …. and not embark on an international campaign."
Source: Read Full Article