Football Federation Australia has dropped ticket prices for the A-League semi-finals and grand final in response to dwindling crowds this season.
The FFA came under fire last season for the price of tickets in the A-League finals, which was compounded by uninspiring crowds in Melbourne for the first two finals games last weekend where just over 23,000 fans watched the two games.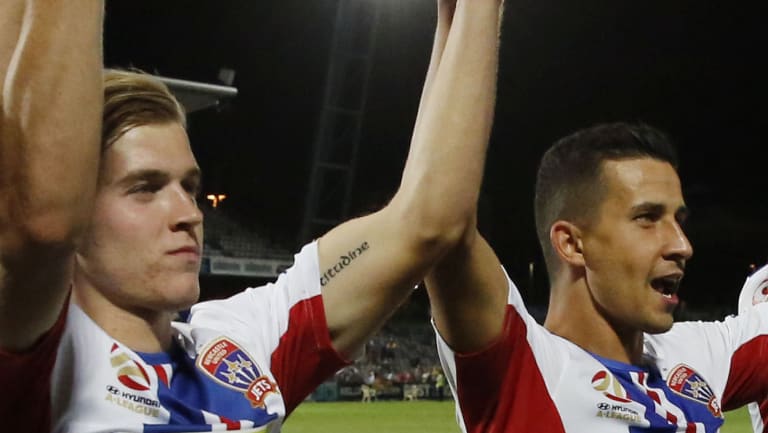 Back to form: The Jets players thanks their travelling supporters.
The decision to drop prices for the lower categories follows long-held complaints from fans over inflated ticket costs for FFA fixtures, such as the FFA Cup and A-League finals series.
Unlike the regular season, clubs have no control over ticketing for the finals series with all prices set by the FFA, which also keeps all gate revenue.
The cheapest family tickets for this weekend's semi-final match between Sydney FC and Melbourne Victory at Allianz Stadium have been cut by 20 per cent from last year, while the lowest category junior tickets have been halved.
Premium tickets remain unchanged, but the bottom two categories of adult ticket prices will range from $39 to $75, while family tickets between $88 and $150 for the Big Blue on Saturday night and Friday night's match in Newcastle between the Jets and Melbourne City.
It is understood approximately 10,000 tickets had been sold for the Big Blue as of Wednesday evening, while a crowd of about 18,000 is expected in Newcastle on Friday night.
Regardless of where the A-League grand final is held, the ticket prices have been set and prices have been lowered to the level of the semi-finals.
"FFA believes the prices are good value compared with other similar events and provide a reasonable return to the sport while being affordable for families," an FFA spokesman said.
The move follows a season where A-League attendances have slumped by more than 12 per cent across the competition and TV audiences have fallen dramatically. It also follows complaints from fans for last season's finals series where it was revealed by Fairfax Media that A-League finals tickets were among the most expensive of any football code's knockout stages in Australia.
Melbourne City attracted 7757 spectators to their elimination final against Brisbane Roar last week, representing a 22 per cent drop on the crowd figure from their home finals fixture against Perth the year before.
On Sunday, Melbourne Victory attracted 15,502 supporters for their home final against Adelaide United, 1200 fewer than when they first hosted the Reds during the season and 11 per cent lower than their season average.
Meanwhile, the A-League grand final could be the final audition for any World Cup hopefuls to impress coach Bert van Marwijk with the Socceroos boss set to attend the competition's decider.
The Dutch coach has not been to Australia since his unveiling as Socceroos coach in late January but has confirmed he will travel to Australia to watch the final, set to be held in either Newcastle, Sydney of Melbourne before announcing his preliminary World Cup squad the next day. Van Marwijk will select a squad of about 30 for Australia's World Cup camp in Turkey before trimming it to 23 players on June 4.
Source: Read Full Article