Japan coach Akira Nishino hopes his gamble of resting players in their previous game against Poland will bear fruit on Monday against Belgium when his side will be bidding to make it third time lucky and reach the quarter-finals.
"We have been here twice in the past in round of 16 but this is different, we haven't exhausted ourselves yet so we can create a new opportunity," Nishino told a news conference on Sunday.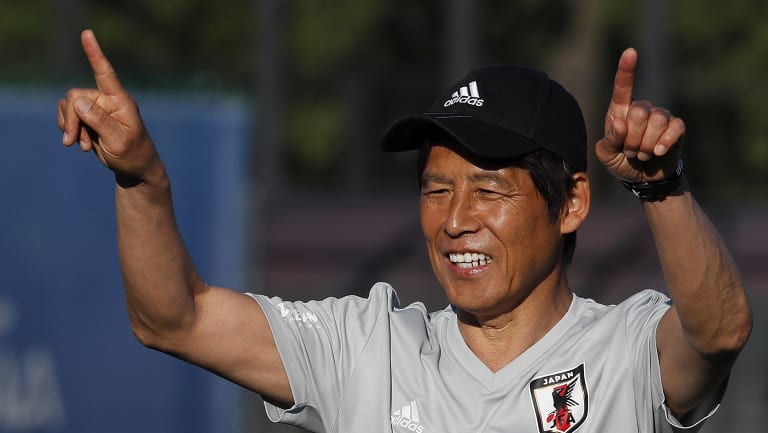 Big dreams: Japan's head coach Akira Nishino.
"The players and coaching staff would like to create something big tomorrow."
Replay
Nishino risked his side exiting the competition by making a remarkable six changes from his line-up from the 2-2 draw with Senegal for their final Group H match against Poland which they lost 1-0, sneaking through due only to their superior disciplinary record over Senegal.
Nishino also attracted criticism back in Japan for his negative tactics during the defeat to Poland, when he was seen ordering his players to pass the ball around in their own half in the final minutes even though they were losing.
But he stressed the importance of having fresher legs when they come up against the highly fancied Belgians, referencing his nation's two previous last-16 exits in the World Cup to Turkey in 2002 and Paraguay in 2010, when they lost 1-0 and on penalties respectively.
"In those games our players were exhausted, they had nothing left, they had left everything in the group stage. This is our third time in the last 16 and we have been very tactical in our approach," Nishino said.
"Now we can be more aggressive, we have the spirit and mentality to win and I think we can match Belgium mentally. The game is a huge challenge, Belgium are a formidable foe, they are among the top three in the world so we have to think hard about how we attack them as we are ranked 61st."
Belgium coach Roberto Martinez said Nishino's negative tactics against Poland showed he had a ruthless edge.
"When you are in the World Cup it's about achieving your aim so it's not something to criticise; the opposite. I think it shows that Japan are really competitive and try to do whatever it takes to win," he said.
"This is a group of players who know what they are doing on the pitch, so I expect a very, very difficult game, one where we will have to concentrate at all times because they are capable of creating problems due to that dynamic approach they have."
Reuters
Source: Read Full Article