You tell James Maloney you plan to write a yarn about the success he has had in his first year at NRL clubs and he barks back in his trademark husky voice: "Why only the first year?"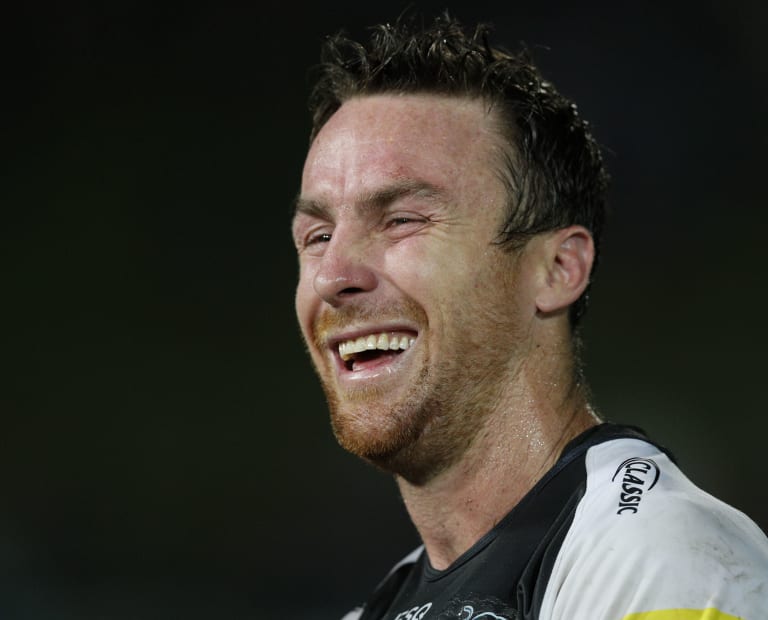 Quick wit: Panthers half James Maloney is always one to answer back.
Maloney arrived at the Roosters in 2013 and won the title later that season. He did the same in his first year with Cronulla in 2016.
Now he's looking to do the same at Penrith.
The larrikin playmaker returns to the Shire for the first time on Sunday after being squeezed out of the Sharks as part of a swap deal with Matt Moylan.
Cronulla fans are expected to give him a warm welcome after he helped break their premiership drought.
Maloney looks like he has plenty of fun on the field and at training, so it was little wonder a few of his former teammates had the giggles when recalling their favourite Maloney stories.
Mitchell Pearce won the title with Maloney at the Roosters and went into battle with him for NSW.
Fast starter: James Maloney has always enjoyed success in his first years at NRL clubs.
Pearce remembered one pre-season at the Bondi club when all the players decided to go on a detox diet.
"Everybody bought into it except Jimmy,'' Pearce recalls.
"He said, 'I'm not doing it'. We'd be sitting around eating salmon and raw vegetables, and he'd walk in every day with his chicken sandwich from Subway.
"He can be stubborn. But I have a lot of time for him. We're good mates. He's a larrikin, but he's also a family man, genuine, kind. He has that image of not caring, but you don't play good footy for so long by not giving a rat's arse. There's a competitor beneath.''
Steve Price was at the Warriors when the little chatterbox crossed the ditch after playing a handful of games for Melbourne.
Price said it was his brother-in-law, Brent Tate, who was also at the Warriors at the time, who hounded the club to sign Maloney.
"He'd seen him play before an Origin in a residents team and said to our CEO we needed to sign this guy,'' Price says.
"I don't know if that was the reason he came to the Warriors, but Brent had a rap on him after watching one game.
"He was never quiet. I don't know if Jimmy knows how to be quiet. But he's not a smart-arse, just a typical cheeky playmaker. He's old-school, he carries on like he's relaxed, but he's competitive and makes sure he ticks all the boxes he needs to when preparing.''
When at Cronulla, coach Shane Flanagan asked the players at the end of a marathon video session what the key message was.
Maloney stood up, looked Flanagan in the eye and said: "When Jimmy Maloney wants the ball, give Jimmy Maloney the ball.'' He then turned and walked out. The story would have been better if Maloney held out a microphone and then dropped it.
"There might be some merit to that story,'' Maloney admits.
The bloke who loves a beer and a punt, and has been in outstanding form for Penrith while star half Nathan Cleary has been out with injury, and will be one of the first players picked for NSW, was happy to bounce between clubs.
"It takes you out of your comfort zone; there's a new challenge in front of you, and it's something I've always enjoyed as a footballer,'' Maloney says.
"You get to know more about the game, and having worked under different coaches who have different ideas about footy. All those different perspectives give me a more rounded view.
"One of my strengths has been my ability to read the game. I understand footy pretty well.
"I've also selected where I've wanted to go quite intently. None of the clubs have been luck of the draw.
"I've always known the reason why I'm going to a club and what I thought I could add.
"I always make sure I'm going somewhere that has a quality pack that allows me to play off the back of. For a half, that's almost the prerequisite."
Reagan Campbell-Gillard, who like Maloney will be a walk-up start for Brad Fittler's Blues, Trent Merrin, James Tamou, Viliame Kikau and James Fisher-Harris are just some of the battering rams who will try to make life hell for the injury-ravaged Sharks on Sunday afternoon.
Maloney knew there was some untapped talent at the foot of the mountains, but even he has been stunned by the quality.
When Cronulla humiliated the Panthers in their own backyard in this corresponding game last year, the players chanted "Three cheers for Gus" because he had suggested they had won a ''soft competition'' in 2016.
Gould looks to have pulled the right rein signing Maloney. Maybe "Three Cheers For Gus'' will be heard from the Panthers' sheds this time around should Maloney shine against his old club.
Source: Read Full Article