The much-maligned Roosters forward pack has drawn a line in the sand ahead of Saturday's clash with the high-flying Warriors in New Zealand, vowing to turn from the hunted to the hunters after an inconsistent start to the NRL season.
Bondi's big men are sick of hearing they aren't measuring up this season, that opposition forward packs have been rolling over the top of them, and that they've lost their fearsome edge in attack.
Hunting as a pack: Isaac Liu has called on his fellow Roosters forwards to fire up against the Warriors.
Fiery youngster Victor Radley sparked a turnaround in last weekend's narrow win over Manly, earning a week on the sidelines for his troubles, and lock Isaac Liu said the rest of the pack was ready to follow suit.
"As a pack, we're tight knit but we haven't really gone after other forward packs," Liu said.
"For us as middles we need to get together and we need to start going after other forward packs. Not just one guy, everyone in the whole middle, we need to go after the whole pack.
"It's just come up recently. We're tight, we've been doing our jobs but we haven't really gone hunting after other packs.
"It's just talking to each other, [saying] let's just go and get them. You get that vibe, you know what I mean, that mentality, let's go after these dudes and let's just run over them."
Radley personified exactly what the Roosters need in the 22-20 win over Manly, targeting prop Martin Taupau on more than one occasion despite giving away about 20kg.
He also produced a bell-ringing try saver on Dylan Walker when the Manly five-eighth looked destined to score drawing supreme praise post match from coach Trent Robinson.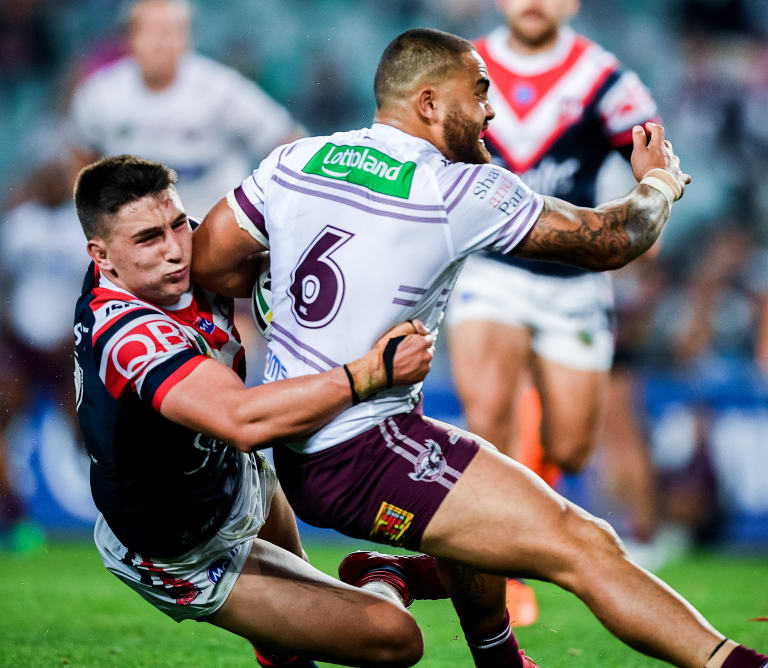 Big impression: Victor Radley produced an incredible try-saving tackle last week.
The Roosters have been their own worst enemy this season, dropping too much ball and plunging themselves into defensive duties far too often.
They've been forced to make 3091 tackles this season, second only to struggling Parramatta, and have made a league leading 119 errors.
Perhaps most damning is the ineffective tackle statistic, which reads 216 in the opening nine rounds, 52 more than the next worst offenders in Gold Coast.
"There is definitely more improvement in our defence and our attack," Liu said.
"We need to lay that platform and it just starts with us [forwards], you need to own that middle and just build a platform to work off.
"[It's] just more playing simple, getting back to knowing your roles, just playing simple combos especially with the middles and when opportunities come for the backs just swing it out wide to Latrell [Mitchell] and them."
Saturday's blockbuster against the second-placed Warriors is the first match the Roosters will play outside of Sydney this season.
Liu's team is looking to land consecutive wins for just the second time this season.
"They're playing really well, and their pack, they're pretty big boys, they're physical and for us we need to step up to them and we need to get rolling," Liu said.
"It's going to be a tough game against those guys at home especially."
Source: Read Full Article