We keep being told the problem at Manly is just one player. His name is Jackson Hastings.
It's a line that's getting harder to swallow as the Sea Eagles slip further into crisis with every miserable loss.
Exiled: Jackson Hastings was nowhere near Manly's thrashing by the Eels, but is apparently their biggest problem.
Against the Eels, Cherry-Evans passed balls over the sideline, sent kick-offs over the sideline and generally failed to get his spluttering side going at any stage.
We know there's only one problem at Manly — his name is Jackson Hastings — but would you, coach Trent Barrett, consider bringing him back for the match against the Knights next Friday night at Brookvale in the wake of back-to-back defeats?
"The last game only finished five minutes ago, mate, so I haven't really thought about the side next week," Barrett said, struggling to contain his anger at the question.
Was the drunken fight involving Hastings and Cherry-Evans in Gladstone a fortnight ago — which saw Hastings demoted to feeder club Blacktown Workers and Cherry-Evans fined $10,000 — a reason for the side's poor performances?
"No. No…"
Is the door still open at all for Hastings, who played solidly for Blacktown in their win over Wyong on Saturday?
"Look," said Barrett, taking a deep breath, talking slowly and deliberately like a teacher addressing a room of schoolchildren. "Can I just say one thing again? I said it when I spoke about it the other day. The incident in Gladstone was a little bit of the straw that broke the camel's back. This isn't an isolated thing when I've gone bang, bang, bang and made a decision. There's been things leading up to that. That's all I'm gonna say on it. It isn't the reason why we lost today. It certainly doesn't help. And who I pick next week … I will sit down on Tuesday and pick a side. I will not be answering another question on it."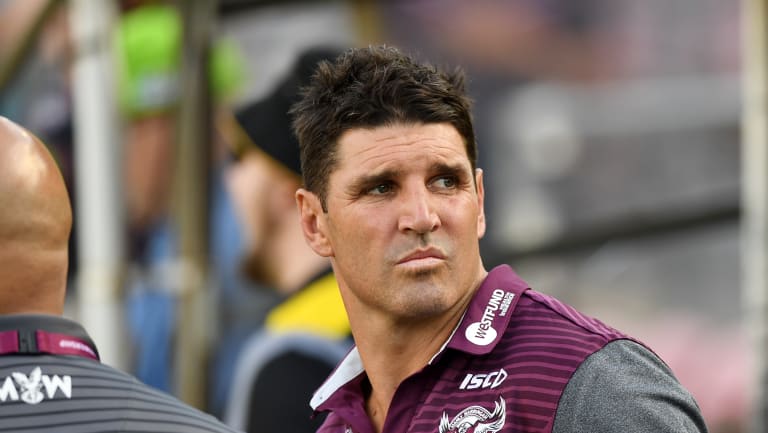 Unimpressed: Manly coach Trent Barrett saw his side dominated by Parramatta.
Barrett and Manly can keep telling us that they're problem is only one man but the more they lose, and the more Sea Eagles players both privately and publicly say they have no problem with Hastings, the suspicion won't go away that something is seriously amiss.
A month ago, they put on 54 points against the Eels. A month later, against the same team, they looked like reserve graders.
Hastings is a tricky person to read and has many issues to deal with. But it's becoming trickier to read the situation at Manly.
Barrett is backing Cherry-Evans and you can understand why. He is the $10 million player the Sea Eagles are building their future around.
But for all Hastings' weirdness, he's got his supporters. His phone lit up with text messages of support from teammates when Barrett said last week he was on the outer with the playing group.
That sounds suspiciously like a divided playing group to me. We'll see.
Asked about his relationship with Hastings, Cherry-Evans answered with the diplomacy of a UN peacekeeper.
"It's fine, yeah," he said. "It's fine. We cleared the air straight away. It's a shame to see so much written about it considering how quickly we moved on."
Is it having an impact on the side?
"Not at all. Considering how quickly we moved on from the situation, there was no lingering awkwardness. It certainly didn't leave it as an excuse to play poorly today.
"I've copped it [the $10,000 fine] all on the chin. I've accepted the punishment. I'm certainly not proud of what happened. The best way I can respond is to play good football and while that certainly wasn't the case today I can't wait until next week to get our season back on track and show everyone what we're capable of."
Whatever the case, Manly need to start winning or, at the very least, losing better.
So said Barrett: "We're in a hole," Barrett said. "The only way to get out of it is to stick together."
Except for Jackson Hastings, who is apparently Manly's only problem.
Source: Read Full Article