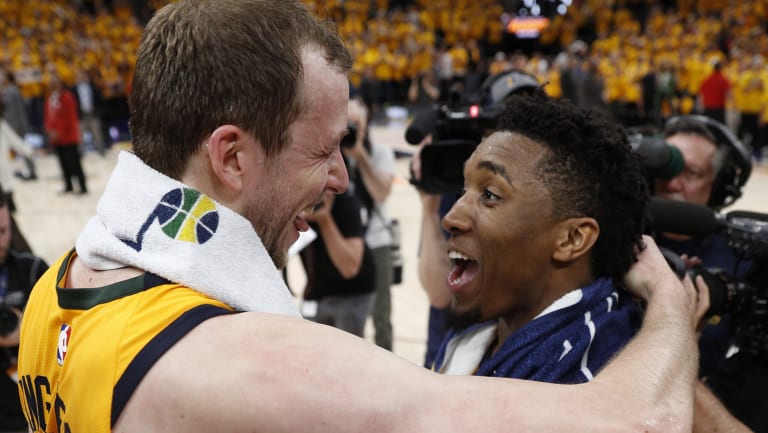 Joe Ingles (left) and Donovan Mitchell celebrate Utah's series win.
Jazz 96 d. Thunder 91
Jazz win series 4-2
Rookie star Donovan Mitchell scored 38 points in game 6 and the Utah Jazz closed out the Western Conference first-round series with a 96-91 win over the Oklahoma City Thunder on Friday night at Vivint Smart Home Arena in Salt Lake City.
The Jazz won the series four games to two. The fifth-seeded Jazz will face the top-seeded Houston Rockets in the second round, with the series starting Sunday.
Russell Westbrook made seven 3-pointers while recording 46 points and 10 rebounds for the fourth-seeded Thunder. It was Westbrook's seventh career postseason 40-point outing. Carmelo Anthony (seven points on 3-of-7 shooting) and Paul George (five on 2-of-16 shooting) both had subpar outings.
Australian Joe Ingles continued his strong play-offs form, contributing 12 points and seven rebounds for Utah.
Mitchell has scored 171 points, third most through six games by a rookie in NBA history. Lew Alcindor, who later changed his name to Kareem Abdul-Jabbar, had 216 in 1970 and Wilt Chamberlain scored 199 in 1960.
Kyle Lowry fires up for Toronto.
Raptors 102 d. Wizards 92
Raptors win series 4-2
Kyle Lowry scored 24 points, and Toronto got a big lift from their bench in a clinching win over Washington Wizards in game 6 of their first-round play-off series at Capital One Arena in Washington.
The Raptors, the top seed in the Eastern Conference, outscored the Wizards 29-14 in the fourth quarter. Toronto will face the winner of the series between the Cleveland Cavaliers and Indiana Pacers.
DeMar DeRozan scored 16 points, and Jonas Valanciunas added 14 points and 12 rebounds to help Toronto notch the only road win of the six-game series with the Wizards. Bradley Beal scored 32 points, and John Wall added 23 points to lead the Wizards.
Victor Oladipo dunks for the Pacers.
Pacers 121 d. Cavaliers 87
Series tied 3-3

Indiana guard Victor Oladipo paced a potent Indiana attack with team highs of 28 points, 13 rebounds and 10 assists in a rout of Cleveland in Indianapolis to even the first-round series at three games apiece.
The winner of Sunday's game 7 in Cleveland advances to the Eastern Conference semifinals against top seed Toronto.
Oladipo, who was 12-of-50 from the field in the previous three games, sank 11 of 19 shots, 6 of 8 from 3-point range. Along with his triple-double, Oladipo had four steals. LeBron James led the Cavaliers with 22 points and sat out the fourth quarter. Jeff Green added 13 points and Rodney Hood had 12 for the Cavaliers, who shot 41.8 percent.
Reuters
Source: Read Full Article