Serena Williams is a lesson in the varieties of strength. There is absolute strength, explosive strength, sustained strength. All of which she has, to one extent or another.
And then there is the out-of-category strength it took to return to the top of her profession at 36 years old with a baby on her shoulder and scars on her belly and in her lungs from the childbirth ordeal that almost killed her.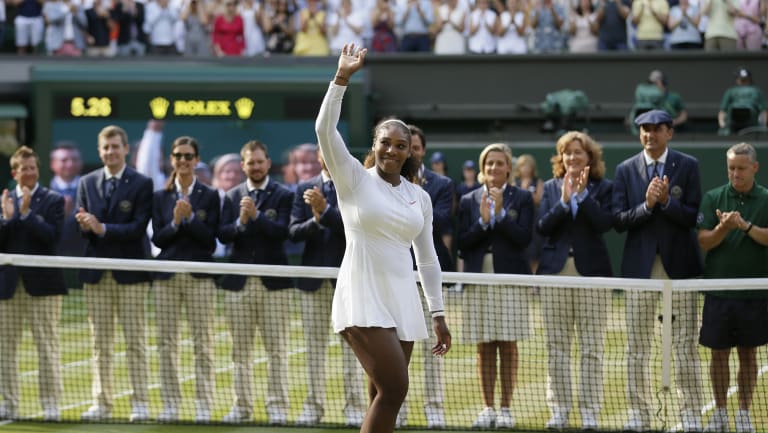 "To all the moms out there, I was playing for you today. And I tried": Serena Williams.
Nothing against Angelique Kerber, who is a great champion, but Kerber was playing just one opponent in the Wimbledon final. Williams was playing against a lot of them, including time and nature. In the end, time and nature won, but didn't Williams give them a run for their money?
Replay
In addition to the C-section and the blood clots and the baby weight, there was a torn pectoral muscle that meant she couldn't serve for three weeks.
A touch of something was missing off that serve, a lack of heat. The feet were a tad slow, which made the ball tick the net or spin just beyond the baseline. Result: 6-3, 6-3. Afterward, her voice broke as she said: "To all the moms out there, I was playing for you today. And I tried."
It was only her fourth tournament back. There hasn't even been a full change of seasons since Alexis Olympia was born in September, followed by weeks of medical complications, to which Williams was startlingly defenseless despite all of her wealth and winning.
In dealing with them she demonstrated a more commonplace kind of strength, one that doesn't make her world class but rather is shared by innumerable women.
It's a brand shared in particular by black women in America, who are three to four times more likely to suffer from life-threatening childbirth complications than whites, according to the Centers for Disease Control. One speculative reason for this is something called allostasis, which is the body's response to withering lifelong stressors and challenges.
Another is that "doctors aren't listening to us, just to be quite frank," Williams said in an interview with the BBC this spring.
For a few years now, Williams has been taking a slow walk toward becoming a powerful social messenger and an influencer on the level of a Billie Jean King, addressing issues from the gender pay gap to body image to sexism in Silicon Valley.
Embrace: Angelique Kerber and Williams hug after the match.
There was a time when Williams was a somewhat facetious interview. Not anymore. At a pre-tournament news conference podium, she ruminated on myths around breast feeding. "I feel like everyone says, 'You're so thin when you breast-feed.' I'm going to be totally frank…" she said.
Offstage a woman interrupted and said, "That's a lie."
"Isn't it?" Williams said. "Thank you."
In an interview with Vogue she talked plainly about her post-birth complications – the pulmonary embolisms, the rupture of her C-section wound and a large hematoma in her abdomen that left her bedridden for six weeks – and the emotional surges of new motherhood while trying to reclaim her body after all the trauma.
Replay
"No one talks about the low moments – the pressure you feel, the incredible letdown every time you hear the baby cry," she said.
How much easier, she said with an amused ruefulness, it was for Roger Federer to come back after the births of his two sets of twins.
"He produced four babies and barely missed a tournament," she said. "I can't even imagine where I'd be with twins right now. Probably at the bottom of the pool."
In every interview and appearance, she has never let anyone forget the statistics and the disparities and the dismissiveness that black women can face when they complain of pain even in a state-of-the art hospital with the best doctors and medicines. She talked about women who give birth in countries where they have no access to medical care and pleaded for contributions to UNICEF.
"I was in a really fortunate situation where I know my body well, and I am who I am," she said. "…I had a wonderful, wonderful doctor. Unfortunately, a lot of African-Americans and black people don't have the same experience that I've had."
Shannon Sullivan, a philosophy chair at the University of North Carolina Charlotte, has argued that racial disparities can be manifested physiologically, even cellularly. She wrote: "Our cells – our bodies – are dynamically co-constituted by things both inside and outside of us." Does this contribute to hypertension and preeclampsia, and is this partly why a black woman is 22 percent more likely to die of heart disease, 71 percent more likely to die of cervical cancer and a staggering 243 percent more likely to die during pregnancy or childbirth? I'm not smart enough to know.
But I do know that this spring while Serena Williams was recovering her form, another great and beautiful but less prominent athlete, Daedra Charles, complained of not feeling well.
Charles was a two-time national champion center at the University of Tennessee, the 1992 winner of the Wade Trophy given to the nation's best female college basketball player and an Olympian.
She worked as an assistant coach at Auburn and at Tennessee, but after a bout of breast cancer she struggled to find employment in a coaching profession that is ungenerous to black women.
She moved back to Detroit to work as a youth counselor while putting her son Anthonee through college. In April, she went to a hospital complaining of terrible fatigue. They told her it was just dehydration, gave her some fluids, sent her home. Two days later she collapsed with heart failure. She was buried at 49, cracking the hearts of all of us who knew her.
At every turn, Serena Williams has refused to let her new motherhood be a story about a stud-heroic athletic feat but instead has continually made a vital pivot to other women.
What, physiologically, do years of internal pressure and emotional abrasions do to struggling expectant mothers? As for Williams herself, what did fighting out of that bottle-shattered court in Compton do to her – and her mother, Oracene – and what has been the toll of the long duel with the cool suspiciousness of the tennis establishment, which persists to this day (she was drug tested five times in June)? It's hard to say.
What's certain is that Williams has triumphed over all to stand on the cusp of equaling Margaret Court's record of 24 Grand Slam titles, and with her health restored, she has plenty of chances ahead to become the greatest champion ever. But more interestingly, she already has become an important, transformational one.
The Washington Post
Source: Read Full Article