When Darren Lehmann was appointed Australian cricket coach in 2013, he was asked about his goals. 'Winning,' he said. Anything else?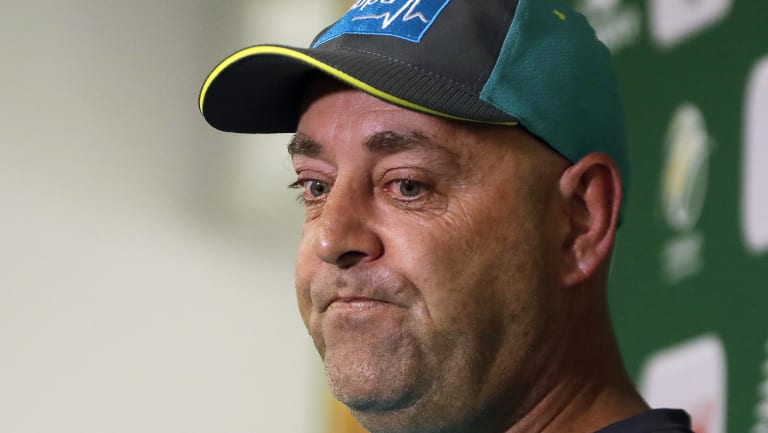 Winning's the only thing: Darren Lehmann had one goal when he arrived at the helm.
Lehmann scanned the room as if mystified by an audience who thought he'd been joking.
'Nup. Just winning.'
His successor will have to come up with a different answer.
Winning was pretty much the right answer when Lehmann was airlifted into the job a fortnight into an Ashes tour. Australia were losing: losing in India, disappearing without trace from the Champions' Trophy, and given no chance in the coming Ashes series.
Mickey Arthur had tried to institute *cough* cultural change, but the urgent need was to start winning. Lehmann, with Michael Clarke, soon fulfilled the brief.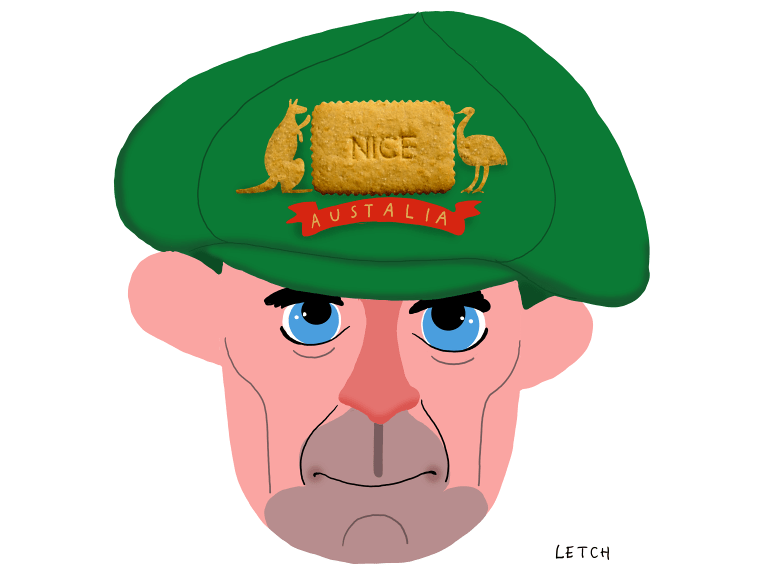 Illustration: Simon Letch
Justin Langer is the favoured candidate, having been groomed for the job in preparation for Lehmann's retirement, which had been scheduled for next year.
Does the acceleration of the timetable, brought on by events in South Africa, mean Langer is less than ready? Cricket Australia will examine other possibilities, including Jason Gillespie, Michael Di Venuto, David Saker and the successful stand-in Twenty20 coach Ricky Ponting if he can be
torn away from the Metropolitan Golf Club.
Most likely, though, the answer will be Langer.
The question, however, has changed dramatically in the past month.
Like Lehmann, the new coach is being asked to solve a crisis. Notwithstanding Australia's record defeat in Johannesburg, the crisis is not about losing, or not yet. Having completed a full circle in five years, the crisis has returned to where Arthur left it, in team culture and what it was that was lost when winning came first.
Replay
So what will happen when the team culture is 'fixed', whatever that means, and Australia are still losing? What pressures will be brought to bear upon a coach who took the job in one crisis, only to find himself facing its flipside?
The fix Australia finds itself in is that those two aims, winning and playing the game like decent human beings, have long been construed as oil and water: incompatible.
Unfortunately, there is much evidence to support what seems a primitive dichotomy. Case study one is Australia since 1877, the most successful country in world cricket and, since its earliest days, the most uncompromisingly competitive.
They weren't always winning at all costs, but their history showed a preparedness to give away more morality than most of their opponents. Before Australia, cricket's biggest winner was W.G. Grace, gentleman only in name. Through the history of international cricket, there have been occasional groups of nice people who also won games, but the dominant pattern has been for winning teams to strip off one more layer from the fictitious façade of the gentlemen's game. Douglas Jardine's and Ray Illingworth's Englishmen, the West Indian teams of the 1960s and 1980s, the pre-isolation South Africans, and of course Australia, Australia and Australia all set a
template for winning cricket.
Play hard, stay the right side of the 'line' that you make up as you go along, and win. The foremost current international team, Virat Kohli's India, soon to scorch the earth near you, have conspicuously stepped out of their own shadows and cast off the passive behaviour of their forebears. The Australian way has permeated all elite cricketing cultures.
Against this, Australia is to appoint a coach with a brief to make the national team…nicer? Let's see how long this lasts. A nice Australian team succumbed at the Wanderers by 492 runs. Not since uncovered wickets had Australia, or anyone for that matter, lost a Test match so heavily.
We presume that when Cricket Australia interviews its candidates, it won't be looking for more of the same niceness.
The question for a new coach might well have flipped since South Africa. Who would
want the job? Initially, the new coach will be deflecting uncomfortable attention from interim captain Tim Paine.
As a character, Paine is widely admired and an obvious antidote to the recent excesses. But it must be remembered that not since the 1890s has an Australian wicketkeeper been the full-time, long-term Test captain. Juggling two extremely demanding jobs was deemed beyond the capacity of Rodney Marsh, Ian Healy and Adam Gilchrist. Brad Haddin didn't want a bar of it. Why should Paine, at the end of his career, plagued by finger injuries and fighting to prolong his batting form, be better equipped for the captaincy than any Australian gloveman since Jack Blackham?
Given the pressure already on Paine, the new coach is taking on an extra load, certainly more than Langer was being prepared for.
Another consideration is that the role of national cricket coach, still only a quarter-century old, is constantly evolving.
The head coach is now a senior line manager, responsible for a large crew of under-coaches, cooks and bottle-washers. He or she must be a bureaucrat as much as a technician of batting, bowling and fielding. Langer is familiar to Australians for his qualities as a player.
We all know he is tough, passionate, honest and almost intimidatingly dedicated. As a one-on-one batting mentor, he has worked wonders with some first-class cricketers, and as West Australian team coach, he has overseen a renaissance.
But the Australian head coach's daily WhatsApp agenda, come December, will read something like: '1. Defend team's indefensible performance to the media. 2. Avoid getting thrown under the bus by James Sutherland and Pat Howard. 3. Throw balls for an extra hour at Usman Khawaja. 4. Attend various meetings. 5. Get iPad working. 6. Counsel Tim Paine. 7. Locate team bus, so as not to get thrown under it. 8. Fix team culture. 9. Get team winning.'
How much relevance will all of Langer's demonstrated qualities have for this task?
I'm backing him to succeed on items 1, 3 and 6, but for the rest, Cricket Australia might be thinking too small. A triumvirate of Langer, Gillespie and Ponting might be needed to do this job.
The other looming complexity is to do with the combination of coach and captain. Bob Simpson was the right coach for Allan Border, but not for Mark Taylor. John Buchanan was the right coach for Steve Waugh, but not for anyone else. Duncan Fletcher gelled with Michael Vaughan at England and Gary Kirsten with M.S. Dhoni at India, but sometimes the chemistry between a particular coach and captain is like capturing lightning in a bottle.
India's current ascendancy is very much a creation of Kohli and his senior players, with Ravi Shastri playing a constantly evolving secondary part. There is no set formula.
Cricket Australia is trying, in the short-term, to find something for (the) Paine – but what about later, when the Paine is over? The new coach is to be appointed without any idea who will be the leaders and dominant personalities in this team in a year's time. Will the perfect match for Tim Paine also be the perfect match for Steve Smith, if Smith is to be captain again?
If it's not Paine or Smith leading Australia to England in 2019, who will it be? And how can a coach be appointed now with so much uncharted territory lying ahead?
If there's one thing the new world of cricket management likes, it's planning. The Australian situation currently defies all plans. More turmoil awaits. There is only one certainty, which is at least two years of uncertainty.
To the person, or people, selected for the job, we can only say good luck with that! And a tip for the interviews: when asked what is your aim as Australian coach, 'winning' is the wrong answer right now. But get ready, it might become very much the right answer in eight months' time.
Source: Read Full Article