Australia might well need the luck of the Irish to put a dent in the Six Nations champions in June's opening Test with the Wallabies restricted to as little as two meaningful training sessions thanks to a nightmarish Super Rugby schedule.
The Wallabies host Ireland at Brisbane's Suncorp Stadium on Saturday, June 9, and would normally have the benefit of a full camp on the Sunshine Coast before embarking on the traditional Test week schedule.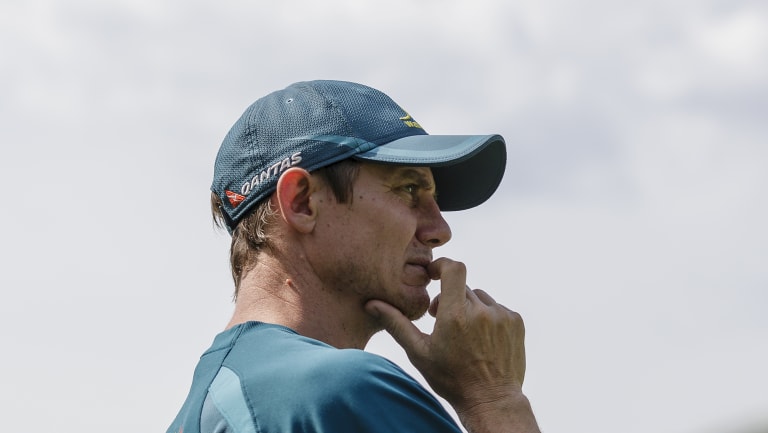 Tough gig: Stephen Larkham says the Wallabies may have as little as two training sessions to find their form.
But with round 16 of the Super Rugby season running right up until the afternoon of June 3, the Wallabies won't assemble in full until the Monday before the match, leaving them with precious little time to prepare for the champions of Europe.
Brumbies players will be in action from 4pm against the Sunwolves and could catch a late flight to Brisbane that night but, more realistically, would appear in camp on Monday.
The Reds play the Waratahs in Brisbane on Saturday night, June 2, while the Rebels must travel back from Auckland after taking on the Blues that same day.
Wallabies assistant coach Stephen Larkham said that would leave the Wallabies with as little as two complete field sessions before they faced the Irish, who were undefeated in their Six Nations triumph.
"It's very unusual," he said. "We normally have a week of preparation before we get into the Test week. All it means for us is we can't do anything too different to what we finished with last year.
"There's less than one week to get everyone on the same page. We have to be very careful with what we bring into that first Test match and things will evolve after that.
"Realistically, we'll have two good training sessions in us. But there could be some guys in the 23 that haven't played Test rugby before, so I think there will be plenty of excitement around that week."
Wallabies coach Michael Cheika has utilised the pre-Test camp to full effect in recent years, taking an expanded group to Caloundra, hammering them with fitness and field drills and, on occasion, using it to help decide line-ball selections.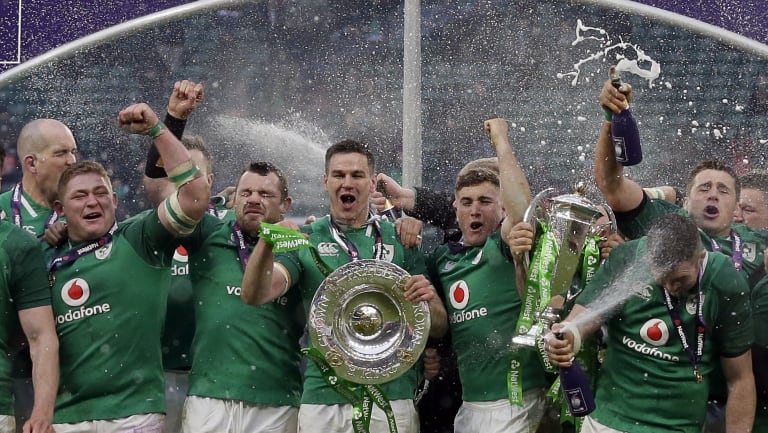 Grand Slam: Ireland are ranked second in the world ahead of their June tour to Australia.
He will have no such luxury this time, but Larkham said that didn't mean the Wallabies would play it safe at the selection table, insisting any new faces would simply have to hit the ground running.
"That's not going to limit the selections though," Larkham said. "Are we simply going to pick the guys from the last Test last year? The answer is no.
"We've been reviewing all of the Super Rugby players each week and have a good idea of who is going well and who we think we might select for the Test matches.
"But there will obviously be some decision making to be made after that last game, depending on how they've pulled up really.
"We've got guys injured and are still waiting for some guys to come back and play some rugby. We don't want to throw them straight into rugby if they are coming off an injury break."
Larkham and the other Wallabies coaches have been regular visitors at Australian teams Super Rugby games throughout the season and he suggested there could be some discussion about the use of certain personnel for the round 16 games.
Replay
While it's unlikely Super Rugby coaches would agree to rest players to spare the Wallabies last-minute injuries, Larkham said there could be some movement on how certain players were deployed and for how long.
"Selections for the Test match would ideally overrule Super Rugby, but we're very conscious of the fact we need to support our Super Rugby teams," he said.
"We'll have to have a look at the squads going into that round and see if any of the players have had significant game time already, or guys need game time. Maybe we can work with the Super Rugby clubs to make sure we get a good outcome as well?"
While the schedule looks less than ideal for the Wallabies for game one, Larkham said there would be no excuse for the home side and he felt significant strides had been taken in 2017.
"We made a real positive step last year with the program, beating New Zealand and probably should have won the Bledisloe," he said. "There's a fair bit of belief in the team now and that carried through to the northern hemisphere tour, even if we probably dropped away in the last two performances."
The second of the three-Test series will be in Melbourne on June 16 before it wraps up in Sydney on June 23.
Source: Read Full Article