When Sydney last took to the field without Lance Franklin, Kurt Tippett or Sam Reid, Carlton was in the eight, Greater Western Sydney was the competition's easybeat and Hawthorn, with Franklin still in the brown and gold, had yet to win its three flags in a row. It was round 11, 2013. If it feels an age ago, it's because in football it is.
Having such talented talls made the Swans' plan well known but hard to overcome. Their absence suddenly makes the Swans unpredictable.
Their plan under John Longmire has few secrets. They back their blue-chip band of hard-nosed midfielders to win the contested ball, send it long inside 50 – generally to Franklin – and if they do not score they lock it in so that any exit is rushed and easily handled by their defence.
Opposition coaches know what to expect but, because the Swans do it so well, their predictability has been a strength more than a weakness – even if it has not delivered them a flag in the Franklin era.
It's now time to expect the unexpected.
Franklin is likely to be out for several weeks, Reid won't be back until the second half of the year at the earliest, and Tippett has retired. In the past five seasons, they have been the Swans' go-to men inside 50, targeted nearly half the time.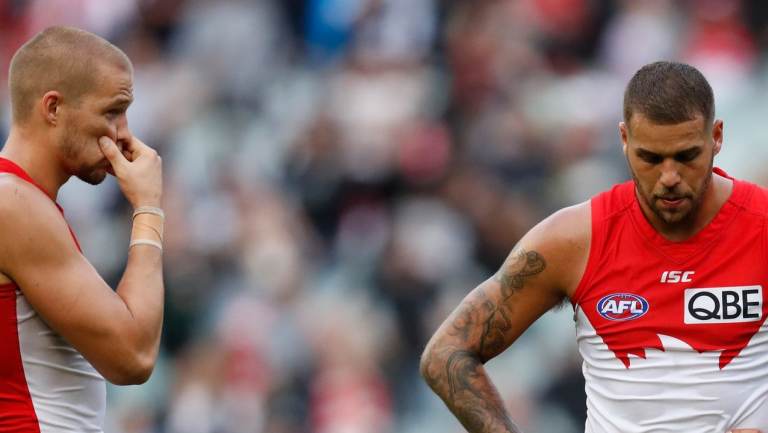 Out: Sam Reid and Lance Franklin.
Richmond coach Damien Hardwick found his unconventional, small forward set-up almost by accident last year. Longmire, it seems, is taking it one step further. Whereas the Tigers had Jack Riewoldt as their key tall to stand under the high ball, the Swans may not have one at all.
There had been a school of thought they would bring in another ruckman to allow Callum Sinclair to spend more time forward, but the Swans, even with a late injury to relief ruckman Dean Towers, brought in three running players.
The expectation is medium-sized types like Gary Rohan (189cm) and Will Hayward (186cm) and midfield duo Isaac Heeney and Luke Parker – all of whom are strong overhead for their size – to be their mobile targets. The aim, as one opposition analyst at another club put it, will be to create spillage then get to work at ground level.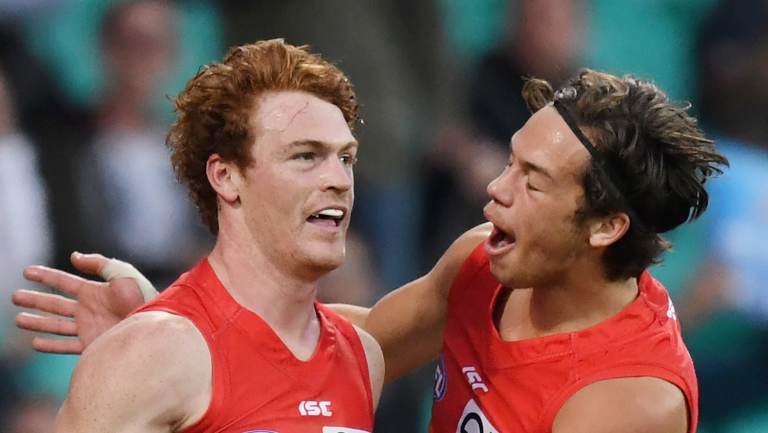 Stepping up: Gary Rohan (left) may have to play as the Swans' tallest forward.
"They're at a desperate point, that's the only way around it at this stage," the opposition analyst said.
"Let them put on pressure. You play an ugly scrappy style but that's fine, that suits Sydney.
"For this week, Geelong are so good at rolling off and intercepting. They hold their back six really well. You need guys to make a contest against the Geelong defenders."
Champion Data have the Swans as the number one long-kicking team in the past three seasons. This year they are averaging 66 long kicks and 71 short per game, against a competition average of 58.7 and 80.7.
With no Franklin, Reid or Tippett stationed inside 50, they will have to kick through the maze rather than over it.
"If you haven't got key position guys to kick long to, you have to lower your eyes, shift the angle of the ball a bit more," he said.
This approach would be markedly different to last week against Adelaide when the Crows defence double- and at times triple-teamed Franklin, so confident were they that the Swans would look for the four-time Coleman Medallist.
Such is the presence he commands, it's understandable the Swans would play through Franklin. But problems arise when they use him even when he is not in the best position.
"They have become exceptionally one-dimensional in there. This will force them to adapt the way they move the ball," the opposition analyst said.
"It will make them hit the shorter ones on the way through. They might move it smoother without him. You'd rather have him but it'll remind them of what to do when he's not there.
"I expect they will go a lot shorter [kicks] through the midfield, a lot of little hit-ups. It will be a different type of ball movement but should still generate quality shots."
That, of course, is dependent on their midfielders finding a way out of their early season hole. Trouble looms if they cannot win the ball and play the game on their own terms, which means the engine room of Josh Kennedy and Parker, when he is not forward, cannot splutter like last week.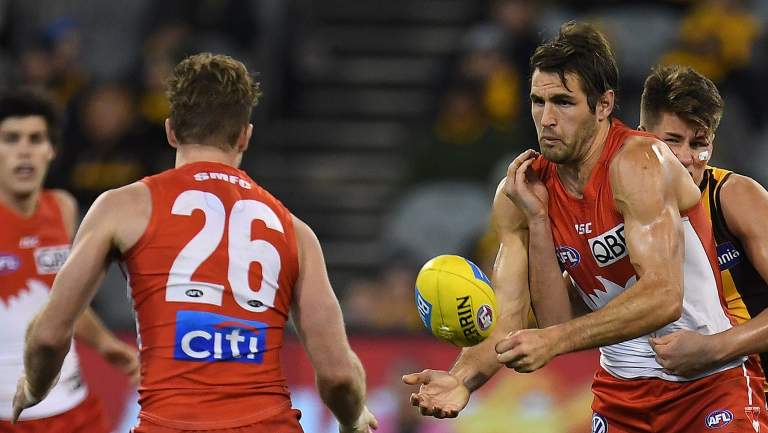 Key: The Swans need Josh Kennedy to fire in the engine room.
The Swans have been under pressure to inject fresh blood into their midfield – a criticism which drew an unusually testy response during the week from Longmire. Longmire believes they already have via the likes of Heeney, Zak Jones, George Hewett, Tom Papley and even half-back playmaker Callum Mills.
"The knock on Sydney is they are the same, you know exactly what they're going to do," the opposition analyst said. "And they're very good at it."
We're about to find out if they are as good when they're not as predictable.
Source: Read Full Article