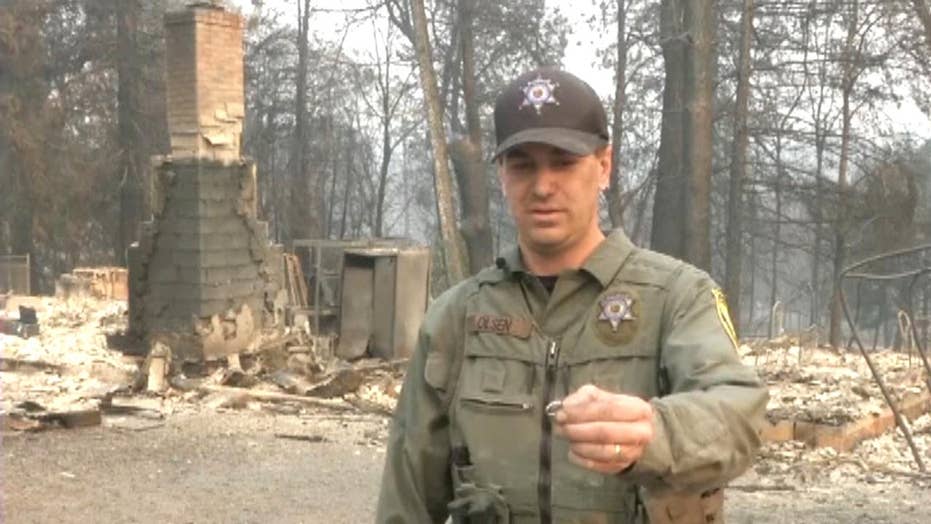 Husband finds wife's wedding ring in ashes of Camp Fire
California man returns to the remains of his home, which was destroyed in the Paradise wildfire, and finds his wife's wedding ring in the rubble.
A California game warden whose family was forced to evacuate from the deadly Camp Fire got a surprise Saturday when he sifted through the rubble of his burned-out home and found his wife's wedding ring.
Jake Olsen and his family were one of the many who had to drop everything and run from their home in Paradise when the blaze broke out Thursday and quickly incinerated the foothill town.
When he returned during the weekend to inspect the damage at his property, Olsen told the Associated Press he checked the area of the home where his wife said she last left the ring.
"She told me where she had left it, on the counter – the sink counter," he said.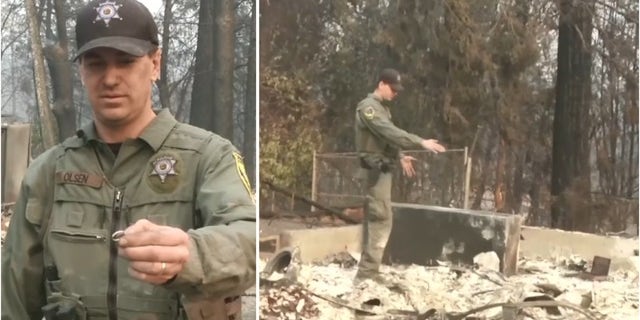 California Game Warden Jake Olsen said he found his wife's wedding ring while inspecting the damage at their Paradise property.
When Olsen sifted through the burnt-out rubble of his home, the ring was still there among the ashes.
"It's just amazing," he told the AP, describing how he started digging. "I just didn't think we were going to find it, but we had to try."
AT LEAST 29 CONFIRMED DEAD IN NORTHERN CALIFORNIA WILDFIRE, SHERIFF SAYS
During the initial hasty evacuation, Olsen was one of many law enforcement agents who rushed to a retirement home to help evacuate people, according to KTVU. The game warden crammed three patients into his truck while his partner rode behind in the bed under a fire blanket with a fourth patient.
When he returned Saturday, he discovered the home where he and his wife and four children lived was burned to the ground.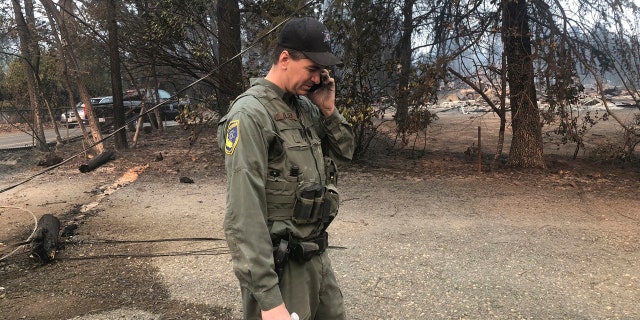 California Department of Fish and Wildlife warden Jake Olsen tells his wife her wedding ring was found in the ashes of their home they share with their four children in Paradise, Calif.
(AP Photo/Paul Elias)
"My wife couldn't believe it when I told her the washer and dryer was still standing," Olsen said. "How's that happen?"
"It's just amazing. I just didn't think that we were going to find it, but we had to try."
Besides his family's own misfortunes, Olsen said that his parents, his wife's parents, grandfather, uncle, and sister all lost their homes in the Camp Fire.
"We have a church family and they've provided a house for us," he told the AP. "There's five households that are staying in the house together and they've brought us clothes and food and we're good. We're very lucky to have that family."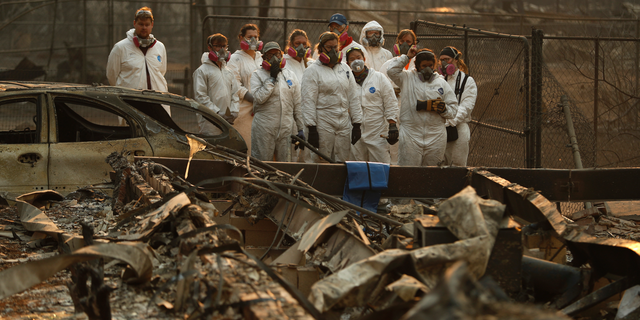 Anthropology students observe as human remains are recovered from a burned out home at the Camp Fire, Sunday, Nov. 11, 2018, in Paradise, Calif.
(AP Photo/John Locher)
A GoFundMe campaign to help out Olsen has raised more than $39,000 to help them rebuild.
"The story of Jake Olsen, a California Department of Fish and Wildlife Officer, and his family is pretty amazing," a post on the page states. "Jake and his whole family moved to Paradise to support his dream of becoming a Wildlife Officer. His whole family moved here to support him and then the Camp Fire happened."
So far, the Camp Fire has been blamed for at least 29 deaths, matching the deadliest wildfire on record in California history. Butte County Sheriff Cory Honea said Sunday night that 228 people remain unaccounted for after the blaze tore through the area.
Fox News' Elizabeth Zwirz and The Associated Press contributed to this report.
Source: Read Full Article