Washington: Another day, another casualty. Or two.
By the time the sun set on Thursday, Dr Ronny L. Jackson was a failed Cabinet nominee whose life had been picked apart for public consumption, and Michael D. Cohen was back in court facing criminal prosecution.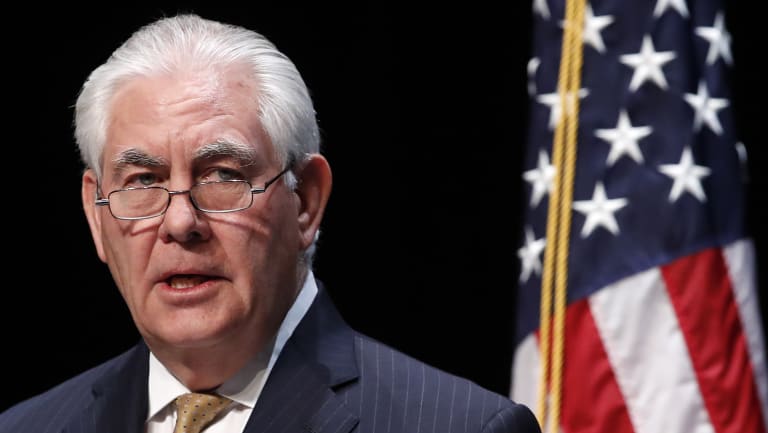 Former secretary of state, Rex Tillerson, is just one of a staggering number of Trump staffers to leave.
All of them, of course, had varying degrees of responsibility for the troubles that would ultimately befall them. But like Jackson and Cohen, they have all emerged from the other end of Trump's world deeply damaged. And their collective fate serves as a cautionary tale for those who might otherwise be tempted to join the President's team but worry that they, too, might pay a price that would be too costly.
Trump expressed outrage on Thursday about the toll exacted on some people close to him. Jackson, the White House physician and rear admiral who withdrew as nominee for secretary of Veterans Affairs after accusations of drinking on official trips and badgering his staff, is "an incredible man" whom Democrats were "trying to destroy," Trump said on Fox & Friends.
The President attributed it to the toxic atmosphere of the capital, saying he warned Jackson. "I did say welcome to Washington," he said. "Welcome to the swamp. Welcome to the world of politics."
Trump likewise said that Cohen, his longtime lawyer who paid $US130,000 ($170,000) to Stephanie Clifford, the pornographic film actress known as Stormy Daniels, before the 2016 election and now faces a federal investigation, is "a great guy" who "did absolutely nothing wrong" in that matter.
But as he has with other advisers who have gotten in trouble, the President also distanced himself, suggesting that Cohen was in trouble for business dealings separate from any legal representation he had done for Trump. "I'm not involved, and I've been told I'm not involved," he said.
Over many decades, people who have entered Trump's circle have discovered that they are bit actors in a movie he sees himself starring in.
"People are not people to him, they are instruments of his ego. And when they serve his ego, they survive, and when they don't, they pass into the night," said Tony Schwartz, the ghostwriter on The Art of the Deal, Trump's first book.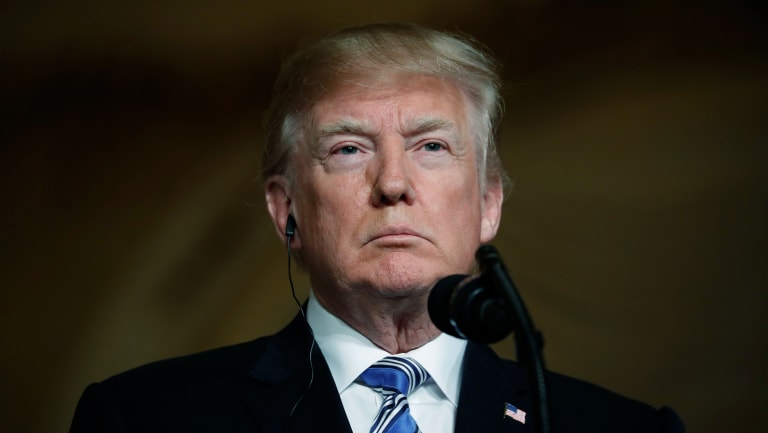 President Donald Trump lacks empathy or loyalty, former biographers said.
"Ultimately, the fate of anyone who casts their lot with Trump is – you are passing through. And I just can't think of anybody for whom it is not true."
Jack O'Donnell, the former president of Trump Plaza Hotel and Casino in Atlantic City, and a vocal critic of his former boss, said many people have cycled through his world remarkably quickly without leaving much of an impression on Trump.
"This is an individual who completely lacks compassion and empathy, and therefore the recycling of people, people crashing and burning, it means nothing to him," O'Donnell said. "He might put on a public frown for a day because he's upset that, in his mind, the admiral got railroaded out. But Trump couldn't care less about the admiral."
The President tapped Jackson because he had come to like him and was impressed by him even though he had little management experience to run the government's second-largest department. Shortly after his selection, several senior White House officials warned Jackson that it was a bad idea and that it was likely to end poorly.
But Trump is a transactional person, and many have made transactional decisions to work for him understanding the risks. For some, it is a sense of public service and duty to country. For others, it is a calculation that the return on investment would be worth it. Indeed, Cohen has attracted enormous attention over the years as he built business ties because of his affiliation with Trump.
Some who have come and gone managed to benefit from the experience in their own way despite the ordeal. Sean Spicer, the White House press secretary who was mocked on Saturday Night Live and maligned by the President and the news media, nonetheless has received lucrative speaking contracts and has a book coming out in July.
Tillerson and Gary D. Cohn, the former national economics adviser, lost power struggles, but both still have hundreds of millions of dollars to console themselves, and friends say no one should feel sorry for them.
Still, former advisers like Michael T. Flynn, Paul Manafort and Rick Gates have all been charged or pleaded guilty to crimes and are looking at prison time.
Others worry they may face the same fate. Scott Pruitt, the head of the Environmental Protection Agency whose spending and security practices were spotlighted on Thursday at a contentious House hearing, may yet lose his job.
Other presidents have seen associates get caught up in investigations or scandals that were highlighted or magnified because of their closeness. Plenty of advisers, aides and friends of Ronald Reagan and Bill Clinton met untimely ends to their political careers or even went to prison, and critics of both presidents often said they did not seem to care about the consequences to those around them.
The closer someone gets to a president, the harsher the spotlight can be. Many who seek the power and stature of the White House somehow convince themselves that their own foibles or misdeeds will not be exposed, only to learn otherwise, or become intoxicated by their new positions of influence and exercise poor judgment. And Washington can be especially unforgiving.
"Here, ruining people is considered sport," Vincent W. Foster jnr, a longtime Clinton friend and aide, famously wrote before killing himself in 1993.
Several people who have been close to Trump over the years say that he is exceptionally good at rationalising his own behaviour to himself, and compartmentalising the types of personal catastrophes that would leave other people emotionally ravaged.
"I think that loyalty has always been a one-way street with Trump, and he doesn't really care about the wreckages he engenders as long as he comes out where he wants to be," said Tim O'Brien, a biographer who was sued by Trump over a book reporting that Trump had inflated his net worth.
"Ronny Jackson's reputation would never have been in play had the President not put him up for this job," O'Brien said, adding that in Trump's mind, the issue is: "Ronny was great, but Washington is a snake pit".
Michael D'Antonio, another Trump biographer, said: "Anyone who engages with the President and, before that, with him as a business person, had to practice self-defence even if they were his allies."
"All that matters to him," he added, "is what you say and do in the moment in front of him".
Source: Read Full Article