Four days after his birth, the Duke and Duchess of Cambridge have finally revealed the name of their third child, and it's not what the bookies predicted.
Prince William and Kate Middleton have named their new baby boy Louis Arthur Charles.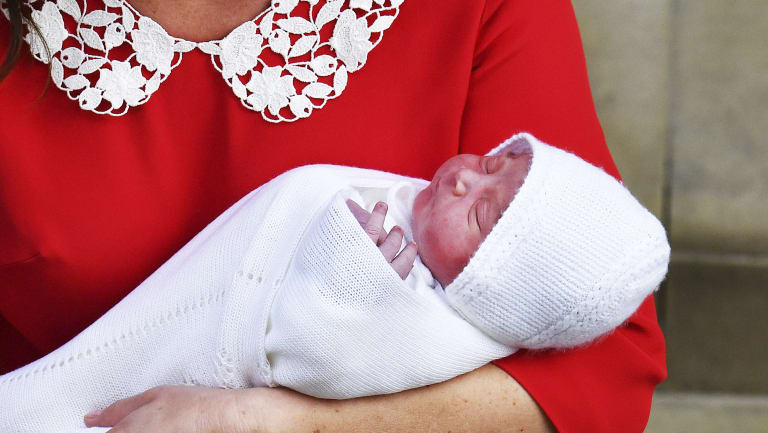 Louis Arthur Charles will be known as His Royal Highness Prince Louis of Cambridge.
As tweeted by the official Kensington Palace Twitter account just after 11am London time on Friday, he will be known as His Royal Highness Prince Louis of Cambridge.
The three names honour both the Prince's grandfather, Prince Charles, and Louis Mountbatten, the Duke of Edinburgh's mentor who was killed by an IRA bomb in 1979.
Prince George and Prince William both have Louis as middle names, with the announcement confounding bookies and experts who had believed it would not be repeated for William's third baby.
Royalists and gamblers alike have been keenly awaiting the announcement of the name since Prince Louis was born on Monday.
On Friday, punters were thrown off the scent when a glitch on the official website of the Royal Family appeared to suggest the baby's name would be Albert, after Queen Victoria's husband.
Prince William also appeared to enjoy teasing the waiting public.
When asked what he would call the new prince after his birth on Tuesday, Prince William revealed that it was a "strong name".
He promised: "I'm working on that … You'll know soon, you'll know soon."
He was still "working on it" on Thursday when he made an appearance with his brother Prince Harry at a London sports centre.
It followed a number of 'hints' the Duke of Cambridge made throughout the week, including his response to Australian High Commissioner Alexander Downer asking: "Have you thought of the name Alexander for him?"
The Duke replied: "Well, it's funny you should say that. It's a good name."
The response caused Ladbrokes to cut odds on Alexander from 10-1 to 5-1 after William's comments prompted a rush of bets.
But Albert was the firm favourite with on Friday, shortly before the truth was revealed. Arthur and Alexander were also strong contenders.
with Telegraph, London
Source: Read Full Article