London: Alfie Evans, the terminally ill boy at the heart of a long-running legal battle, died in the early hours of Saturday, his parents have said.
Tom Evans, the father of the 23-month-old child, announced the news on Facebook, saying he passed away at 2.30am.
"My gladiator lay down his shield and gained his wings at 02:30," he wrote. "I love you my guy."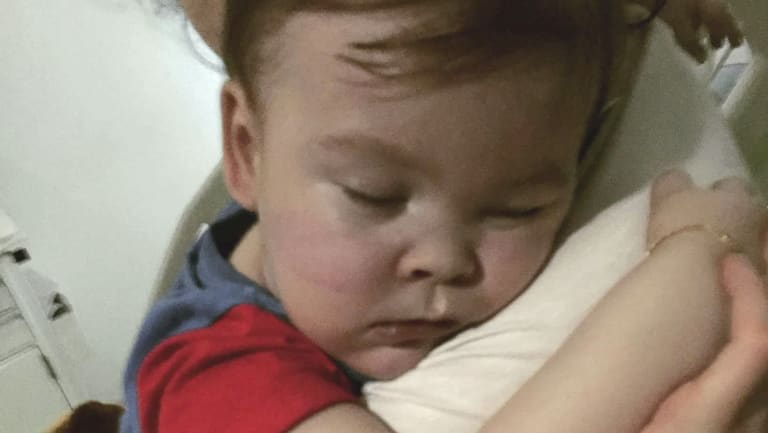 Alfie Evans cuddles his mother Kate James at Alder Hey Hospital, in Liverpool, England.
Kate James, Alfie's mother, wrote: "Our baby boy grew his wings tonight at 2.30 am. We are heart broken. Thank you everyone for all your support."
Mr Evans had been fighting Alder Hey Children's Hospital in court to take the toddler to Rome for continued medical care.
The 21-year-old, whose son suffered from a rare neurological disease, lost a series of appeals against the decision by the hospital in Liverpool to withdraw life support for Evans.
Alfie had his ventilator removed late on Monday after his parents exhausted all legal avenues to stop a February court ruling permitting the move, but has continued breathing independently this week.
His parents suffered their latest court defeat on Wednesday, when three judges rejected taking the boy to Rome for treatment, despite high-profile interventions in the case from Pope Francis and the Italian government.
After weeks of ramping up support for his son to be allowed to travel abroad to receive treatment, Mr Evans had a change of heart on Thursday, making a dramatic u-turn asking supporters to 'return to their lives'.
Speaking outside the hospital in Liverpool he said the lives of his little family "had been turned upside down…and it has meant we have not been able to live our lives as we would like."
Striking a note of reconciliation with medical staff he asked Alfie's supporters to "allow myself, Kate and Alder Hey to form a relationship, build a bridge and walk across it."
Telegraph, London
Source: Read Full Article