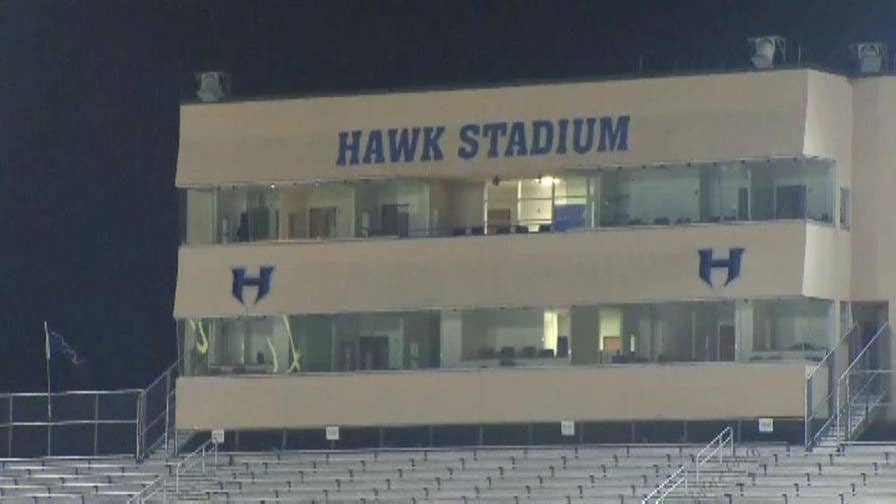 Raw video: Police respond to shooting at Texas football game
Police say an argument at a Carrollton, Texas high school football game led to shooting.
A man was shot Thursday night during a Texas high school football game, and witnesses said the man accused of firing at him "acted in self-defense," according to police.
In the midst of the third quarter of the junior varsity game at Hebron High School, two men starting fighting on the home side of the athletic stands around 8:30 p.m., prompting witnesses to notify authorities, a news release from the Carrollton Police Department's Facebook page on Friday said.
The men ultimately went toward the stadium parking lot, "where callers then reported hearing a gunshot," police said.
Officers arrived and took the 47-year-old suspect into custody and the wounded man, 31, was brought to the hospital, where he was listed in critical condition, an earlier news release from police said.
Authorities have not identified the men involved. No students were wounded or otherwise involved in the encounter, police said.
"Several witnesses support the 47-year-old Carrollton man's account that he acted in self-defense against the 31-year-old Fort Worth man who he shot in the upper chest," the news release said. "The man who was shot is in critical condition at Texas Health Presbyterian Hospital of Plano, but is expected to survive. He is cooperating with the investigation but does not want to file charges."
Law enforcement chose to refer the case to a grand jury, and the suspect has since been released, police said.
"After consulting with the Denton County District Attorney's Office, detectives have decided to refer the case to grand jurors who will examine the facts to determine whether criminal charges will be brought," the news release said. "The man has been released from custody pending the decision of the grand jury."
The Associated Press contributed to this report.
Source: Read Full Article