video
FOX Business Flash top headlines for February 6
Check out what's clicking on FoxBusiness.com
Tom Brady wrapped his career as arguably one of the greatest football players of all time with seven Super Bowl titles and as record holder for the NFL's major statistical passing categories.
There's at least one mark he's still yet to break and it's something that is mostly out of his control at this point. It has to do with the value of his trading cards. The former New England Patriots and Tampa Bay Buccaneers star will see some of his memorabilia value increase over the next few weeks on the heels of his decision to retire from the league. But reaching the upper echelon of the industry is still a ways away.
The most valuable trading card among any sport is the 1952 Topps Mickey Mantle, which was sold for $12.6 million through Heritage Auctions in August. The famed Honus Wagner 1909-11 T206 was sold for just over $6.9 million in August 2021 through Robert Edwards Auctions.
CLICK HERE FOR MORE SPORTS COVERAGE ON FOXBUSINESS.COM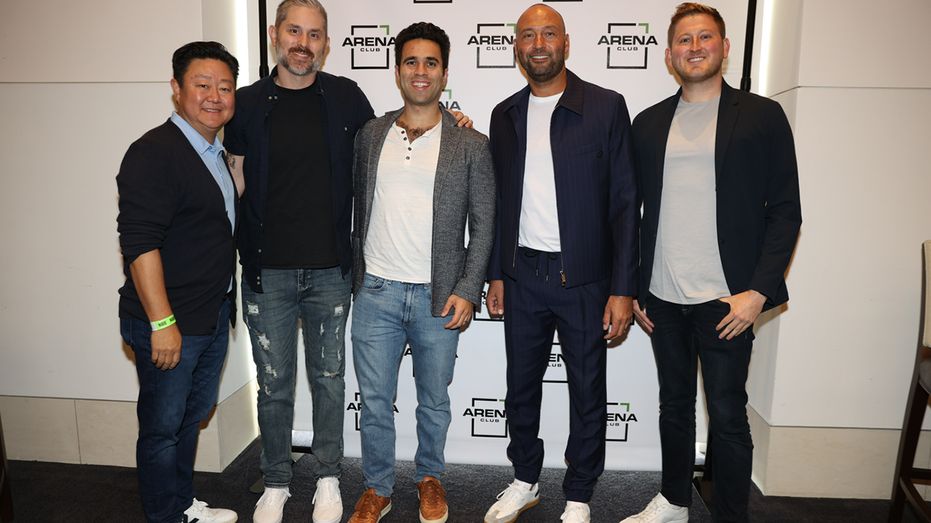 Brian Lee, far left, is the co-founder of Arena Club. (Arena Club)

Among NFL cards, Kansas City Chiefs quarterback Patrick Mahomes has the record there. Mahomes' 2017 National Treasures NFL Shield autographed rookie card was sold in July 2017 for $4.3 million in July 2021 through PWCC Marketplace.

When it comes to Brady, his 2000 Playoff Contenders Championship Rookie Ticket Autograph numbered to 100 sold for more than $3.1 million. That was sold through Leland's Auctions. The number is higher than Michael Jordan, whose top card is the 1997 Upper Deck Game Jerseys Autographs, which sold for $2.7 million in a private sale.

Brian Lee, the CEO and co-founder of Arena Club and trading card expert, told FOX Business in a recent interview that he could see Brady trading cards becoming as valuable as Jordan's but there's a caveat for the NFL legend reaching that mark – the popularity of football trading cards.

"It's interesting, I would say, yes. I mean, Tom Brady is one of those players that is beloved by so many, has had so many wonderful years of giving everything to the sport and has won just more championships than anyone and no one comes close," Lee said. "Joe Montana had four Super Bowls, I think Terry Bradshaw had four Super Bowls but you know who's got seven. That's a lot of rings. And just one of the greatest pocket passers of all time. This guy is very, very collectible. I got a few Tom Brady cards myself, I'll hold them forever in my personal collection.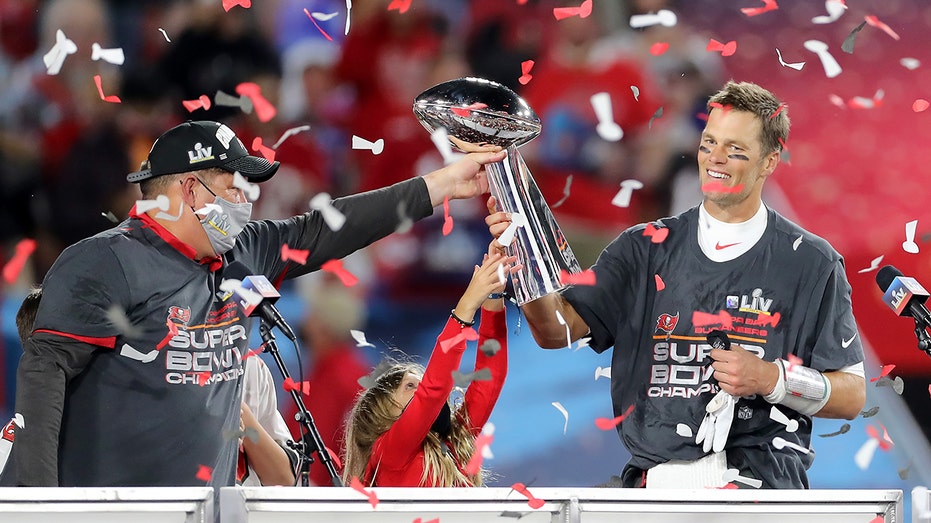 MVP Tom Brady accepts the Lombardi Trophy after the Buccaneers defeated the Kansas City Chiefs in Super Bowl LV on Feb. 7, 2021, at Raymond James Stadium, in Tampa, Florida. (Cliff Welch/Icon Sportswire via Getty Images / Getty Images)

"But the thing is, it'll take a while for football cards in general to catch up to basketball and then especially to catch up to baseball. And the reason for that is pretty simple – their faces are covered. It's just not as iconic as Jordan flying through the air that he does or even a baseball player you can see clearly and there's only nine players on the field. It's a little different but football cards are growing in popularity because it's the No. 1 sport now in America."

Lee said that even while Brady was starting to play and play well in his early days with the Patriots, his 2000 Bowman Chrome rookie card was only trading for around $600 and peaked at about $1,500 when he won his first title.

With the popularity of trading cards on the rise once again, the interest could be there for Mahomes and Philadelphia Eagles quarterback Jalen Hurts should either of them take home the Vince Lombardi Trophy in Super Bowl LVII.

TOM BRADY MEMORABILIA RED HOT FOLLOWING RETIREMENT ANNOUNCEMENT

Lee speculated that he didn't think Mahomes' prices would soar that much.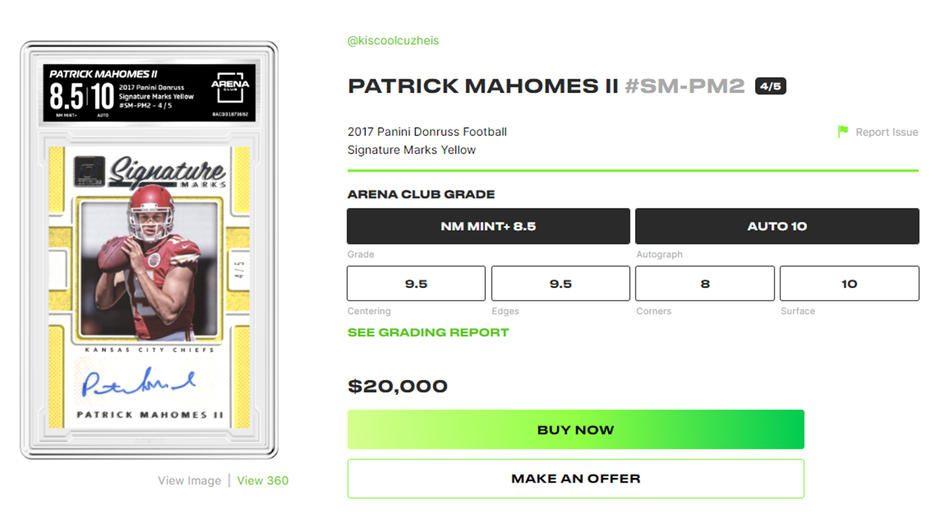 A look at the price of a Patrick Mahomes card. (Arena Club)

"Even if he wins, I don't think the price spikes all that much," he told FOX Business. "People are only kind of pricing in the fact that he could become one of the greatest of all time. It's Jalen Hurts you have to pay attention to.

"If he wins, I think his cards triple in value – his first cards. His most well-known card is a Donruss Optic. You could probably pick it up anywhere from $100-$150 right now. The autograph version of it probably trades for $800 on average. I think those cards are very collectible because if he wins, it's going to spike up and it'll stay elevated for a while. It will come back down once it spikes."

Lee, along with Jesse Glass and New York Yankees legend Derek Jeter, launched Arena Club late last year. Collectors on the platform can buy, sell and trade their cards on the company's marketplace. The company is also offering card grading and vowed to be "quicker, more accurate and transparent." 

Collectors can have their cards graded, slabbed and sent back to them, or the collector can have the company hold onto the raw card and in turn have it replaced with a digital card, which the user can then put up in their "showroom."

Arena Club raised $10 million in funding led by M13, which Lee described as "big believers in the trading card industry." He added that current users can expect more functionality when it comes to pricing their cards. The company launched a new tool called comps.

"We basically show you the price trends of that card, what it's trading for depending on the grade your card got and that way it's a lot easier to price your card. It's really picked up a lot of the action in the marketplace because now you don't have to go offline to figure out what the card is."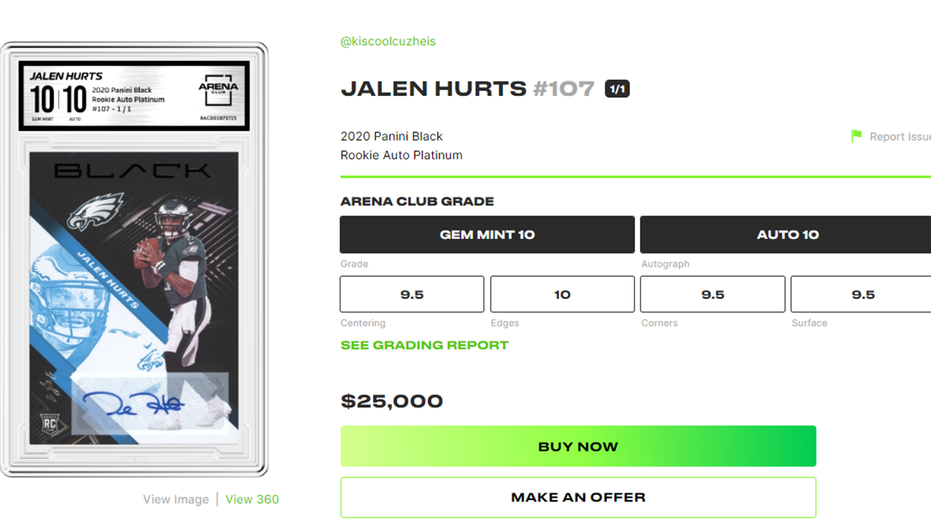 A look at Jalen Hurt's price value on Arena Club. (Arena Club)

GET FOX BUSINESS ON THE GO BY CLICKING HERE

Lee said the platform has about 20,000 cards on it.

Source: Read Full Article