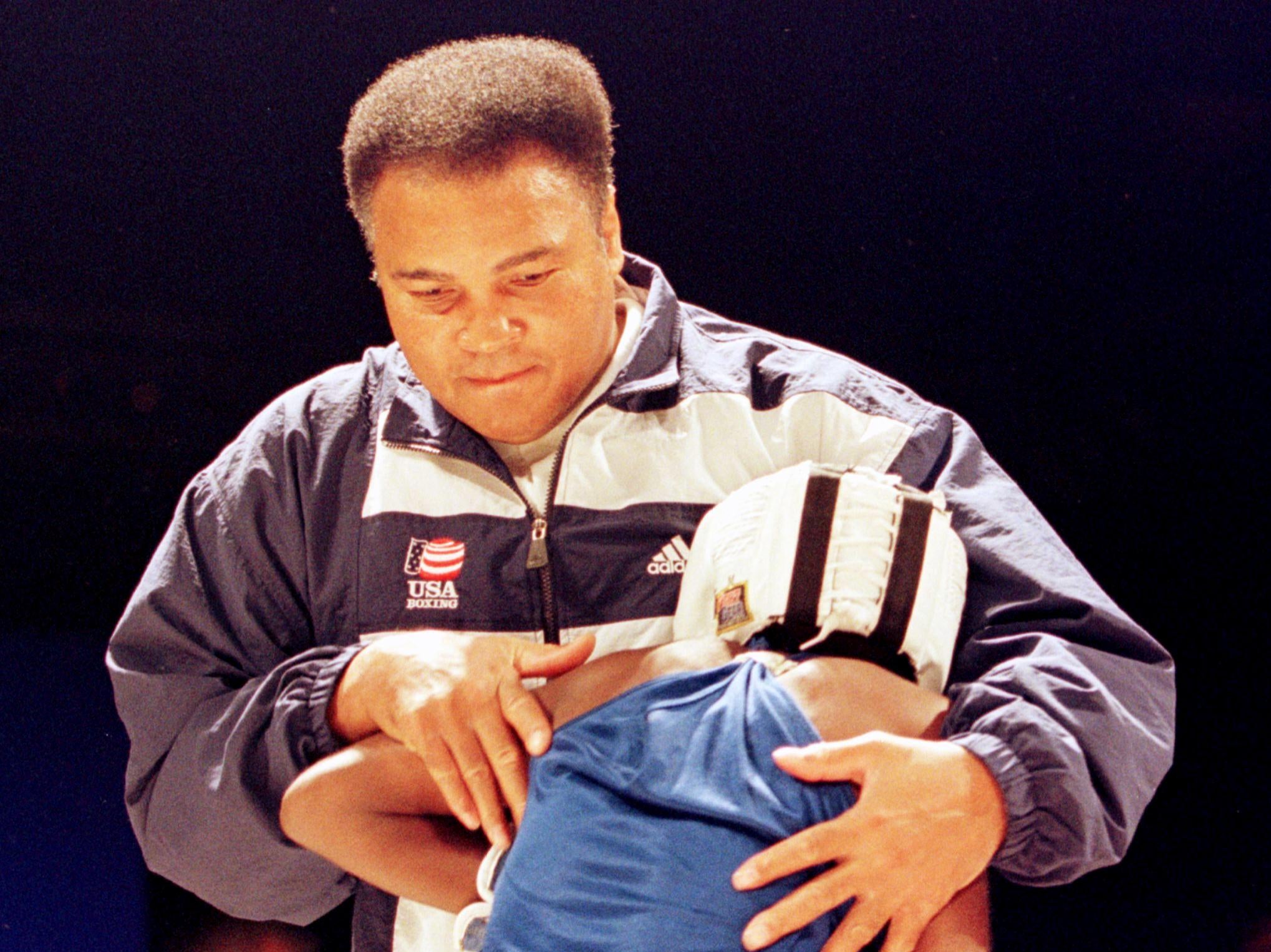 Muhammad Ali at the Ali Cup in Louisville in 1997
It was in the Freedom Hall that Ali had his first fight back in 1960, beating a police officer called Tunney Hunsaker in six rounds. Hunsaker would later become the police chief of Fayatteville, West Virginia. "He was a nice young man," said Hunsaker in 1978, talking to Brennan. "He drove a pink Cadillac, but he was in no way brash." Hunsaker is part of Brennan's book, They Must Fall: Muhammad Ali And The Men He Fought.
It has to be said, in Tunney's defence, that it is hard to pull off a pink Cadillac and not be brash.
Independent Rugby Newsletter
Live Rugby union coverage direct to your inbox every week
Read our full mailing list consent terms here
Independent Rugby Newsletter
Live Rugby union coverage direct to your inbox every week
Read our full mailing list consent terms here
Ali was only 55 at the time, he was all over his town, happy, content, home. He went to his old high school, local radio, civic events and it felt like a late, late homecoming – just 37 years after winning the gold medal at the Olympics.
Ali had just started some new medication for his Parkinson's and it appeared to be working; Ali looked sharper than he had for years, a sparkle was back in his talking eyes. I'm looking at other pictures from the night as I type and Ali looks so young, so fresh – so sad now to see.
Part of Ali's mission on the night – and there was always an Ali mission – was to bring together Tyson and Holyfield and hold their hands as they shook hands; the Bite of the Century – their heavyweight title rematch – was just ten weeks earlier, Holyfield still had the raw scars left behind on his damaged ears by Tyson's gold teeth. There was still blood on the wounds.
Holyfield was in town most of the week, watching the 200 boxers from 20 countries compete for gold. Tyson was due in on the Saturday morning from New York, the meeting for peace was that night; James Earl Jones was narrating, telling the story of Ali's life. It was going to be heady stuff, trust me.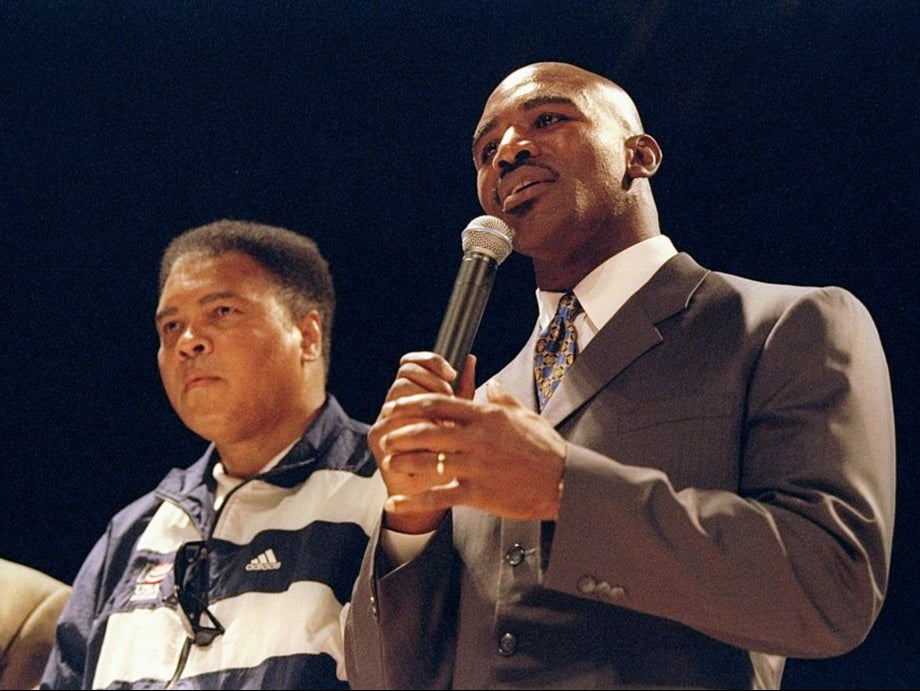 Muhammad Ali stands beside Evander Holyfield
Instead of a contrite Tyson, head down and apologising for the bite, a political spin doctor called Sig Rogich, an operator from inside Don King's cavalier court, was sent. Rogich read an apology and was booed by 12,000 people and they chanted "Ali, Ali, Ali." The crowd were not interested in apologies, Ali kept his head down as Rogich talked and Holyfield just shook his head. Tyson's plane had broken down. There was the obligatory offer of cash from King, made by Rogich, to support future Ali Cup events. I have no idea about King's cash, but the event never took place again. Rogich even dared to kiss Ali on the cheek.
Ali had his great rivals Norton and Ernie Terrell as his permanent minders, two grand fighting sentinels standing proud next to their King. It was a night of pomp and ceremony and then it went to another level. The King really was back, not just the sparkle in his eyes.
The lights went out and a single beam illuminated Jones sitting in the darkened ring; Jones was reading from one of Ali's books, telling of a childhood in Louisville, a dream of boxing, the story of fights. Nobody sounds like James Earl Jones when he is in full flow, nobody.
It was mesmerising stuff in the silence of a Louisville night. There was a sense of movement in the dark, a gentle disturbance, the sense of something truly incredible. The lights came slowly on, the crowd stood and, in that ring, in that four-cornered stage of bloody sacrifice and greatness, Muhammad Ali was moving, moving like a man with no damage or shackles or fears or cares. He was moving like the old Ali and Jones kept reading, the crowd kept cheering and then it happened.
Muhammad Ali, The Greatest, did the Ali shuffle in a boxing ring one final time and it was a great shuffle, not an uneasy stumble, but fluid and clean and beautiful. "Ali, Ali, Ali," they howled. That's it, son, pack your laptop away and retire. I swear I saw a tear in mighty Brennan's eye from my ringside seat.
A local kid, a young boxer of 13 called Christopher Jordan entered the ring wearing blue gloves and a white headguard. He weighed 85lbs dripping wet, had lost one of his nine fights. Christopher was the last man with gloves on to share a ring with Ali.
Ali moved around Jordan, shuffled again, picked the kid up and gently placed him on the canvas. Ali then stood over Jordan, recreating the iconic photograph taken by Neil Leifer of Ali, with his arms raised, standing over Sonny Liston in their second fight. That was his first defence of the world title and in Louisville that night Ali was defending for more than a title – he was defending the sport against the outrages of Tyson's teeth and against all the critics of our business, a business that had left our greatest man so hurt.
He was, for one night only, the Greatest once again.
Source: Read Full Article