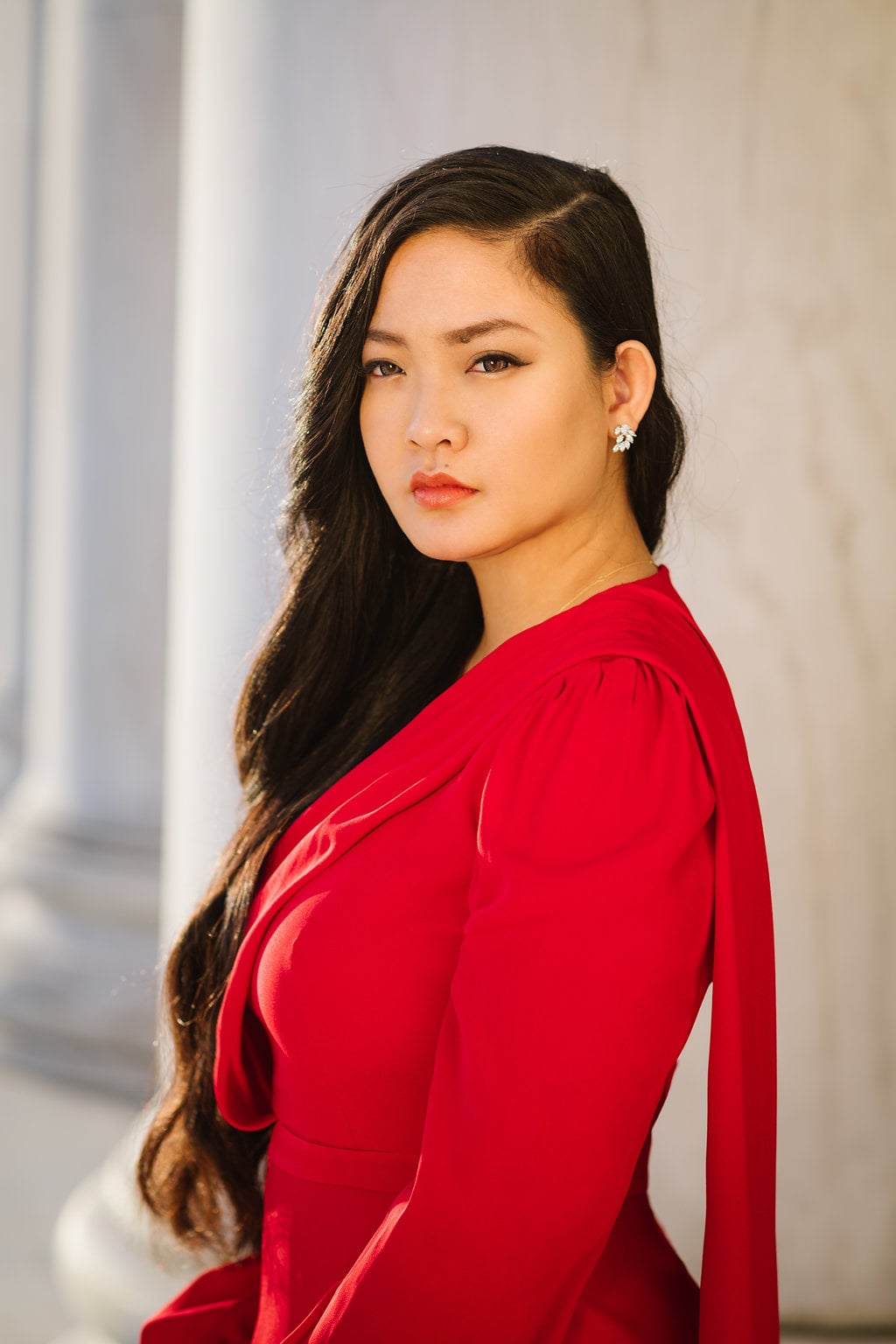 Image Source: Kate Warren For Rise
"I want to thank you for wearing red lipstick," civil-rights activist Amanda Nguyen recalled a fellow sexual-assault survivor telling her, after recognizing her while shopping at a plant store. "At first, I was like, 'Oh, this is a new one,'" Nguyen told POPSUGAR. But then, the woman went on to say, "No, I just want to say that it's so nice that you didn't give up who you are in order to fit whatever box there is or what an activist is supposed to look like."
That moment stood out as a powerful one for Nguyen. She explained that activists focused on sexual violence are often expected to "replay their trauma over and over again" and that there's "this kind of voyeurism, this idea, where [they] need to be perpetually sad." Nguyen, who founded the Rise organization and survivor coalition in 2014, has reset that expectation, and as a result, she's grateful her focus on "healing and joy" has resonated with people.
Society has ways of defining what an activist might or might not look like, with their passions and interests simplified. But Nguyen contains multitudes. Her signature red lip, love of bold fashion, dream to go to space one day, immigrant upbringing, and own experience with an unfair justice system are just a few facets that inform her activism, which earned her a Nobel Peace Prize nomination in 2019. "You can absolutely take parts of your life and use them to make the world a better place," she said.
Here are a few examples of how Nguyen has done just that: In early February, she shared a powerful video highlighting the then-recent hate crimes committed against Asian Americans. The clip instantly went viral, driving mainstream media outlets and people of influence to bring attention to the widely unreported incidents. While she admitted it's "exhausting" to consistently wake up to news of her community being attacked, she found hope in the positive responses to her video, particularly from those willing to help and spread awareness.
"The return on effort is extraordinary, you know?" she said. "I know that people do care." While discrimination against the AAPI community has been exacerbated by ignorant rhetoric and misplaced blame during the COVID-19 pandemic, it is unfortunately not new and dates back to as early as the late 1800s when East Asian immigrants first arrived in the US. Yet this year, this moment, felt like an "inflection point" for Nguyen. "People can choose now whether or not they will speak up and what kind of future we want for our country." She added, "Is it possible that we live up to the creed, the promise of this country, and are able to continually push for a more perfect union at this moment? Each of us gets to decide, and I'm so glad that people in this moment are deciding to speak up and join."
Nguyen thinks visibility has been lacking, urging people to make the AAPI community visible in any and every way, whether it's through amplifying the voices of those crying for help, learning about AAPI history, asking others to join the fight, or donating to organizations working to combat hate. "It really does start with the self," she said. "It starts with everyone realizing the power they have in order to shape our democracy and our country."
Source: Read Full Article