As soon as Ice-T's wife Coco Austin took to Instagram to share a photo of the couple's young daughter, Chanel Nicole, a bunch of amateur genealogists hopped online to talk about the family's apparently very strong genes. We'll be honest, the little girl looks a lot like one of her parents in particular — in the cutest way of course.
Coco and her rapper and "Law and Order: SVU" star husband Ice-T first shared their baby girl's picture to the world just minutes after her birth in 2015, when her little face was still snuggled up against her mom. "I had the best delivery! I pushed Chanel out in 3 tries! This was taken not 5 minutes after delivery, called skin to skin contact.. better for a more bonding experience," Coco captioned the sweet photo on her Instagram page.
While Chanel is Coco's first child, she is number three for Ice, who also has a 45-year-old daughter, Letesha Morrow, and a 29-year-old son, Tracy Morrow Jr. Now that she's six years old, here's who fans think little Chanel most takes after.
Chanel Nicole looks like one parent in particular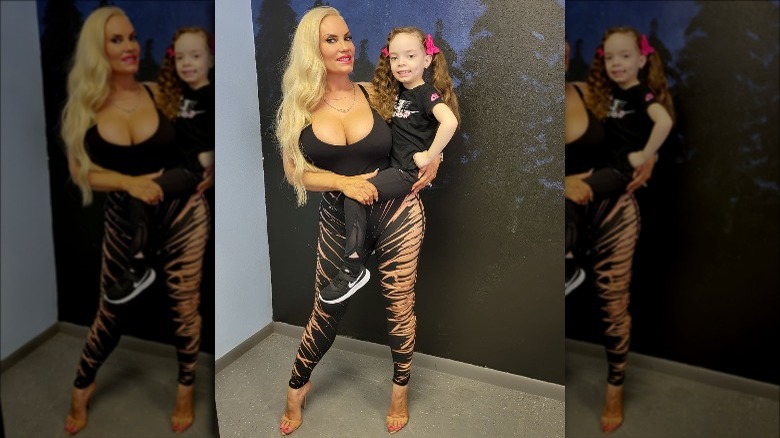 If you've been following little Chanel on the Instagram page her mom Coco Austin made for her when she was born, you may have noticed that while she definitely has a bit of both her mom and dad in her, the Ice-T just leaps out of this baby's face. And this was definitely clear in the photo Coco shared with fans on Sunday, modeling ripped leggings and holding Chanel on her hip.
People immediately started commenting things like, "That kid look just like her daddy," and "ice T dont need no paternity test." Zero lies spotted. On Twitter, one user wrote, "Ice T daughter looks more like Ice T than Ice T looks like Ice T…" Another took the "Law and Order" thing to hilarious lengths, writing, "Ice T daughter: In the preschool justice system childish based offenses are considered especially heinous. In NY City the dedicated preschoolers who investigate these vicious childish crimes are members of an elite squad known as the Preschool Victims Unit These are their stories."
Brings a whole new meaning to the term "daddy's girl."
Source: Read Full Article