Simone Biles' boyfriend, Jonathan Owens, has reacted to her bronze medal win at the Tokyo Olympics. Biles returned to the competition on August 3 after a very difficult week in Japan that saw her struggle with her mental health. As fans will know, Biles withdrew from several elements of the competition, including the vault and the uneven bars (per CBS Sports).
Biles made her big return to the Olympic Games to compete on the balance beam alongside fellow U.S. gymnast, Suni Lee. After a difficult few days experiencing the gymnastic phenomenon known as "the twisties," Biles proved once again why she's one of the greatest gymnasts of all time as she pulled out all the stops to earn a bronze medal.
Biles came in third place behind Chinese athletes Guan Chenchen and Tang Xijing, getting a score of 14.000 (via NBC News). The star was clearly happy to be back in the game, as she showed off a huge smile and excitedly hugged her team after dismounting the beam.
Immediately after her bronze medal was confirmed, Biles was spotted on a FaceTime call with her family as they celebrated with a watching party back home in the U.S. But what did Owens really make of it all? Scroll on for how he shared his thoughts about Biles' big win.
Jonathan Owens couldn't contain his pride for Simone Biles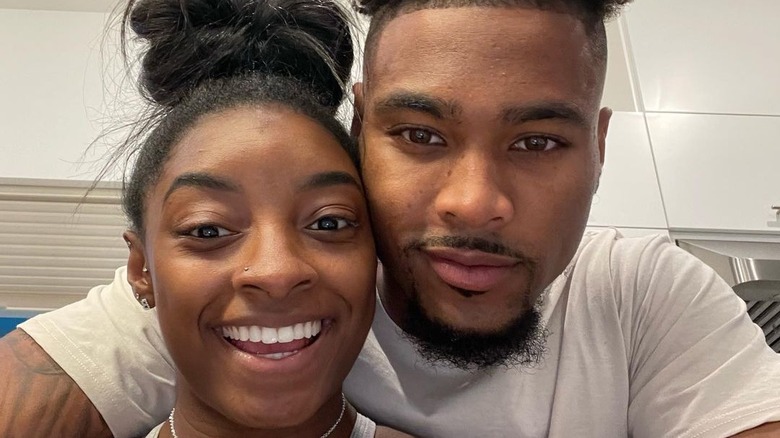 Understandably, Jonathan Owens was clearly thrilled for his girlfriend. Per People, the Houston Texans football player took to Instagram Stories shortly after seeing Simone Biles on the balance beam to share a stunning photo of the gymnast in her leotard with a huge smile on her face. "Words can't explain how proud I am of you right now!!" he captioned the image, adding a red heart and a clapping hands emoji before tagging his girlfriend.
Owens then shared a post from Bleacher Report that detailed her many accomplishments, including seven Olympic medals and 25 World Championship medals. He then shared a third upload, another gorgeous photo of Biles taken at the Tokyo Olympics on August 3 as she smiled from ear to ear.
The two haven't been afraid to show off their love on social media, and Owens has also been nothing but supportive of Biles amid her openness about her mental health. He took to Instagram on July 29 to share several photos of Biles and promised to stand by her side, writing, "Your strength and courage is unmatched and you inspire me more and more everyday." He continued in the caption, "You always gone be my champ baby and don't you ever forget that, I love you so much and I can't wait till you come home and I get to see that beautiful smile again."
Couple goals!
Source: Read Full Article