He's a third-generation wrestler following in the footsteps of some of the most legendary performers of all time. She's the daughter of a famous baseball player. Together, Bray Wyatt and JoJo Offerman are the very definition of a tag team dream team. 
Both of them perform for the WWE — Bray performs as the leader of the villainous Wyatt Family, while Offerman got her start with the Total Divas brand before becoming a full-fledged wrestler. In fact, Offerman's life was well on display on the "Total Divas" reality show, especially when she broke up with her high school sweetheart Sebastian. She then briefly dated Justin Gabriel and Randy Orton before finally settling down with Bray Wyatt. 
But, as things are wont to do in the world of the WWE, there's a lot of drama behind how Bray Wyatt and JoJo Offerman got together. We decided to find out the truth about their pairing, and what we learned will definitely shock you.
Bray Wyatt cheated on his wife with JoJo Offerman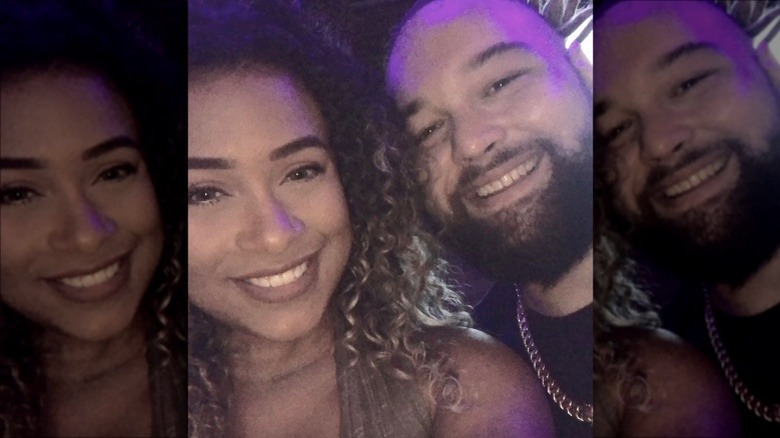 In 2017, Pro Wrestling Sheet (via The Sportster) confirmed that Samantha Wyatt, Bray Wyatt's wife of five years, filed for divorce from the wrestler, alleging he had an affair with JoJo Offerman. "Ms. Rotunda will not only prove Husband's misrepresentations and lies, but prove that Husband's allegation and claims are nothing more than a media ploy and endeavor to create an offense to defend his adultery and misdeeds," his ex said in her filing. "Husband is responsible for his own poor choices; Husband is responsible for their consequences."
The outlet also went on to say that the pair, who share two children, initially wanted to keep the divorce civil, but when Bray accused his wife of trying to tarnish his reputation, she included the adultery charge in the paperwork. Ultimately, according to Bleacher Report, after initially refusing to pay spousal and child support, the couple settled their divorce. 
Bray and JoJo are still together, and share two children: son Knash, who was born in 2019, and daughter Hyrie, who was born in 2020. So… all's well that ends well, we guess.
Source: Read Full Article