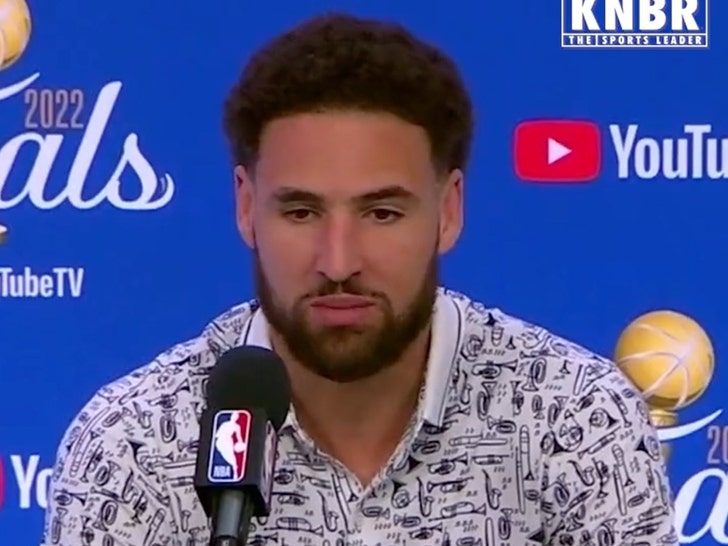 Klay Thompson is straight-up pissed over the "F*** You Draymond" chants that rained down on the Warriors on Wednesday night … ripping Celtics fans for the vulgar words and calling Boston supporters "real classy."
While Boston was up big late in the fourth quarter of Game 3 of the NBA Finals at TD Garden, their fans let Draymond Green have it — chanting "F*** You" over and over again at the star after the Golden State forward had ruffled feathers in Games 1 and 2 of the series.
In fact, the shouts were so loud, the game's announcer, Mike Breen, had to mention it on the broadcast … saying, "And Draymond Green hearing it from the crowd with an obscene chant,"
After the game, Klay was asked about it all — and he made it clear, he wasn't a fan of Cs supporters.
"We've played in front of rude people before," Thompson said. "Dropping F-bombs with children in the crowd. Real classy. Good job, Boston."
Dubs head coach Steve Kerr also chided the Celtics fans for the chant … adding in his postgame news conference, "Classy. Very classy."
Green himself actually didn't seem to have an issue with it — he told media members he expected it — and, in fact, he himself dropped a cuss word in his presser while his son sat next to him.
As for Green's wife, she clearly didn't love it … calling the chants "disgusting" in a lengthy social media post following the Warriors' 116-100 loss in Boston.
"My kids were at the game tonight hearing that mess!" she said, before adding, "Just shameful!"
Tip-off for Game 4 of the series is slated for Friday … will the Warriors' vocal issues with fans stop the chants then?
Don't hold your breath …
Source: Read Full Article