The former NSYNC member has posted and deleted a clip of him acting out the 'Aquaman' actress' testimony during the defamation trial against her ex Johnny Depp.
AceShowbiz -All eyes are on the ongoing defamation trial between Johnny Depp and Amber Heard which has lasted for more than five weeks and Lance Bass is the latest celebrity who has shared his take on the courtroom drama. The singer has posted a video of him mocking the actress' testimony.
In the since-deleted clip which he uploaded on Monday, May 16, the NSYNC member dramatically acted out the "Aquaman" star's recount of the first time Johnny allegedly struck her. The former "Dancing with the Stars" contestant stumbles into a room, perches on a sofa and rolls on the carpet as someone off-screen throws a few leaves at him.
He used audio of Amber's testimony in which she recalled, "At this point, we're sitting next to each other on the edge of the couch. I was just sitting there on this carpet, looking at the dirty carpet, wondering how I wound up on this carpet and why I never noticed that the carpet was so filthy before."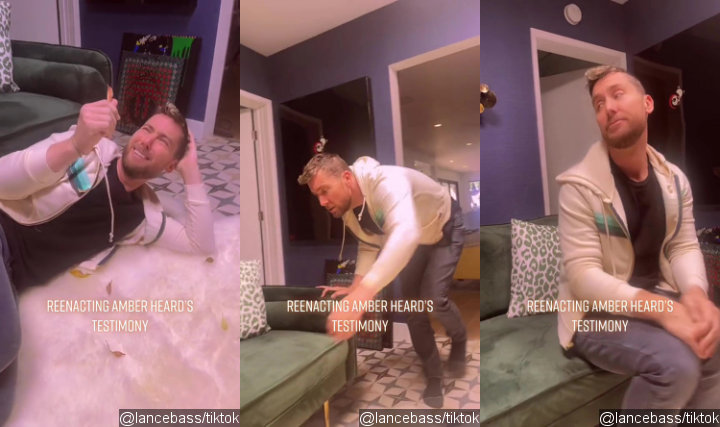 Lance Bass dramatically acted out Amber Heard's testimony in TikTok video.
"I've heard of dirty pop," Lance wrote in the caption, referencing "Pop", a 2001 NSYNC song, "but dirty carpet… that's a new one." In a comment, he added, "In honor of the trial starting back up…Had to do it!"
Meanwhile, in the latest development from the trial on Tuesday, Amber was grilled by Johnny's attorney about James Franco's visit to the penthouse that she shared with Johnny. She wasn't explicitly asked about the affair allegation by the "Alice in Wonderland" star, but she described the nature of her relationship with "The Disaster Artist" actor.
Amber said she was "close" pals with James, adding, "He was my friend and he lived next door." She explained, "And I had, frankly, exhausted my support network with my usual friends. I was happy to welcome as much friendship at that time that I could possibly get."
Of James' seemingly romantic gesture in the surveillance footage from an elevator, she admitted that he "kinda touched the side of my face and responded to what he saw." When asked if she was aware her then-husband was out of town at that time, the 37-year-old said she can't recall remembering Johnny's schedule or not at the time.
Source: Read Full Article