In an ideal world, people who work within the realm of broadcast journalism would do their best to function as purveyors of truth who avoid bias at all costs. In reality, we know otherwise: that bias is inescapable, if not inevitable. Even so, it's largely expected, if not demanded, that commentators, anchors, and journalists must at least do one thing: above all, stick to actual facts. Now, it seems a recent admission by none other than the controversial conservative Fox News host Tucker Carlson could throw this basic rubric out the window — at least for Carlson's reputation, that is.
In a video uploaded on September 8 by The Rubin Report, a YouTube Channel and podcast with libertarian political leanings, Tucker Carlson spoke with host David Rubin about his opinion on a slew of CNN anchors — namely Don Lemon, Chris Cuomo, and Brian Stetler — in an apparent attempt to bash the news network as a whole (via The Guardian). After referring to the aforementioned CNN anchors as "clown people," then making an odd pivot to the question of his own veracity as a network host, Carlson ended in a startling revelation. "I lie," Carlson told Rubin during the segment. But is there more here to put this statement into context? Read on to find out.
Tucker Carlson says he might 'lie,' but he doesn't mean to do it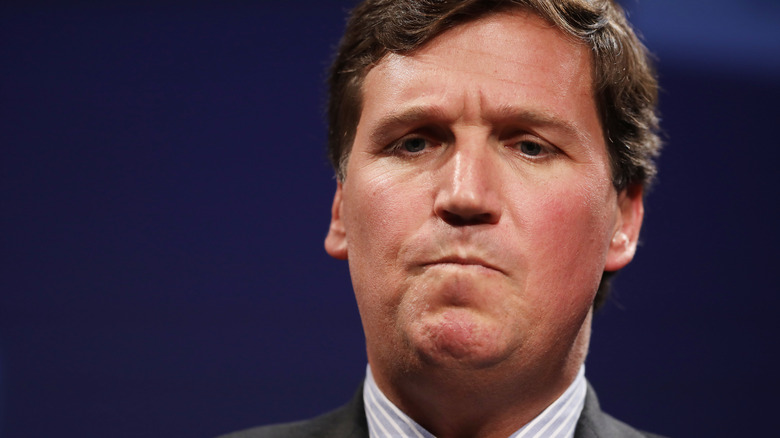 While Tucker Carlson seemed to outright admit to having lied on air at least a few times over the course of his career, the Fox News host then added a caveat to clarify himself. "I guess I would ask myself, like, I mean I lie if I'm really cornered or something … I really try not to," the conservative pundit explained to Rubin Report host David Rubin (via The Guardian). "I try never to lie on TV. I just don't — I don't like lying. I certainly do it, you know, out of weakness or whatever." 
The Fox News host then proceeded to turn his focus back to his original point — the staff and producers of CNN — and accuse the network wholly of "systematically" lying to the public at large. Carlson, who worked at CNN as a political commentator from 2000 to 2005, then concluded his monologue by accusing the network hosts of putting their "boot on the neck of the weakest people."
Notably, Carlson has been repeatedly accused of engaging in the very behavior he claimed to despise, which he seemed to acknowledge by stating he was guilty of "[putting] pictures on the screen to hurt weak people." As CNN reported in April, the Anti-Defamation League previously called for Carlson to step down from Fox News over his repeated negative commentary about marginalized groups, among them undocumented immigrants. Overall, Carlson's admission was certainly shocking, and only time will tell when his next mistruth comes. 
Source: Read Full Article